The Trump Administration's Slow But Steady Undoing of the Department of Education
The Trump Administration's Slow But Steady Undoing of the Department of Education
Here are seven alarming signs that President Trump and Secretary of Education Betsy DeVos are slowly but steadily making good on their promise to diminish the U.S. Department of Education.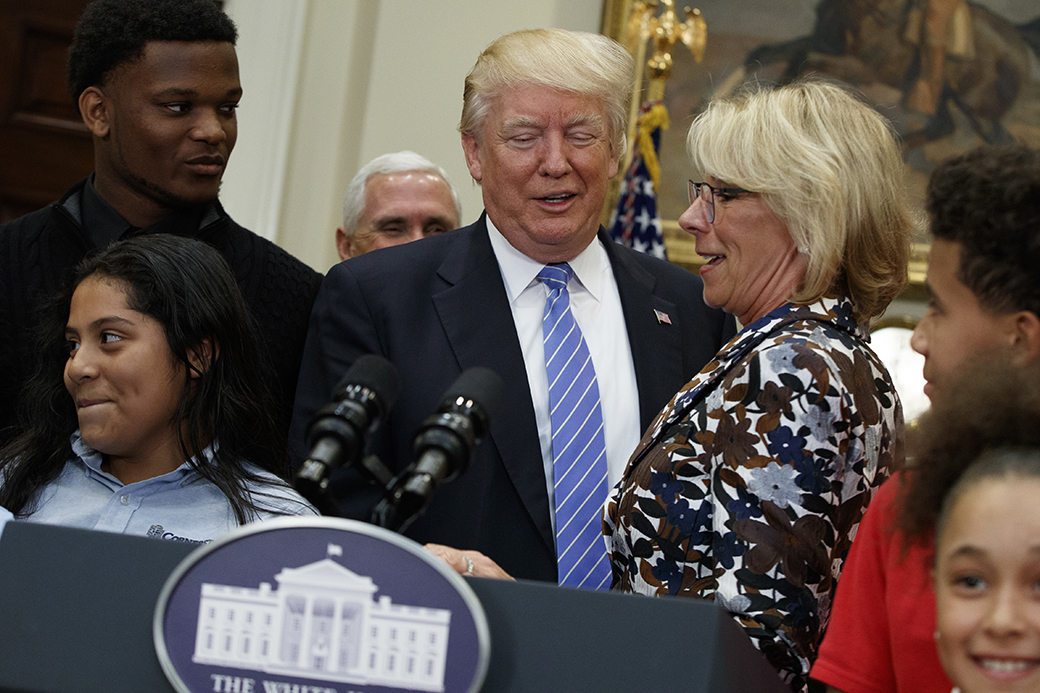 Nearly one year ago, on November 23, 2016, then-President-elect Donald Trump announced that he would nominate Betsy DeVos, a pay-for-play billionaire with no experience working in public schools, to be his secretary of education. This move signaled to students, parents, educators, and public school advocates that Trump intended to make good on his promise to eliminate the U.S. Department of Education. During his 2016 campaign, Trump rarely mentioned education except to call repeatedly to eliminate the department or to chastise urban public schools and districts. Once in office, he quickly nominated DeVos to turn his campaign rallying cry into a reality.
Historically, the Department of Education has worked to make sure that students are prepared for an increasingly global economy by providing supplemental funds to support students in low-income schools, students with disabilities, and other students who are historically underserved; distributing and monitoring trillions of dollars in funds to help students pursue higher education; and collecting and disseminating data about the nation's schools. The department also protects students by ensuring that factors such as race, income, language, sexual orientation, and disability are not barriers to high-quality schooling.
Over the past year, however, President Trump and Secretary DeVos have proven again and again that they have little regard for the nation's public education system and the role of the Department of Education in protecting vulnerable students and supporting and improving public schools. Here are seven signs that Trump and DeVos are slowly but steadily making good on their promise to diminish the Department of Education.
1. Trump nominated the most unqualified secretary of education in U.S. history
President Trump's efforts to scale back the role of the Department of Education began soon after his election, when he announced his intention to nominate Betsy DeVos for secretary of education. Despite his own lack of knowledge about education, Trump selected DeVos, who has arguably the least amount of experience in public education of any former education secretary. According to EdWeek, DeVos has not attended or worked in public schools, and her children have never attended public schools. After a fiercely fought confirmation battle during which she showcased her lack of knowledge about the U.S. education system, DeVos was confirmed as secretary of education after Vice President Mike Pence cast a historic tiebreaking vote in her favor in early February 2017.
Much of the pushback from critics centered on DeVos' limited experience in the education sector and her role as a billionaire megadonor to many of the congressional members who would eventually vote in her favor. Indeed, she made $115,000 in personal donations to sitting Republican senators who voted on her confirmation and admitted that it is "possible" her family has donated $200 million to the Republican Party. Furthermore, at an education convention in 2015, Secretary DeVos voiced her view that the "government really sucks." And after just one month on the job, DeVos said in an interview that "[i]t would be fine with me to have myself worked out of a job," showing her willingness to cut the role of the secretary of education.
And Trump's nominee for deputy secretary, Mitchell "Mick" Zais, said that he was "unaware" of research showing that students who received vouchers in states such as Indiana, Louisiana, Ohio, and Washington, D.C., performed worse on tests than their public school peers. Following in DeVos' footsteps, Zais demonstrated that he, too, has little to no understanding of well-known research about student outcomes under voucher programs—a policy which he, like DeVos, supports.
2. Trump and DeVos proposed drastically cutting the Department of Education's budget
In their first budget proposal, released in May, President Trump and Secretary DeVos slashed 13.6 percent, or $9.2 billion, of the Department of Education's funding. This funding supports essential programs that train, support, and pay teachers and provide after-school programs for low-income children and families, among other things. Their budget proposal also outlined plans to cut the staff of critical Department of Education offices—such as the Office for Civil Rights—by 40 percent. Budgets reflect an administration's priorities and values, and this budget proposal made it clear that Trump and DeVos simply do not value public education or the department's role in supporting critical programs.
3. Trump and DeVos want to redirect funding for public schools into the private system
In addition to these massive cuts, President Trump and Secretary DeVos also proposed in their budget proposal using $250 million to create a federally funded, nationwide school voucher program. Years of research have shown that private school vouchers are not an effective or equitable way to improve the nation's schools. Because of geographic and demographic realities, for example, vouchers are not viable in most of the country.
Worse still, vouchers have not been shown to improve the quality of education for the students who use them. In fact, several studies have shown that they make things worse. Indiana students who received vouchers to attend a private school actually moved backward on reading and math tests compared with students who remained in public school. Similarly, a study of Washington, D.C.'s, voucher program found no significant difference in test scores between students who received vouchers and those who did not.
4. DeVos has repeatedly refused to protect all students
Secretary DeVos disregards her department's obligation to protect all students from discrimination. In one of her first decisions as secretary of education, in February, she rejected the Obama administration's position that nondiscrimination laws require schools to allow transgender students to use the bathrooms of their choice. Rescinding this guidance sent a signal that the administration would not stand up for students' civil rights.
Later, when testifying before the House Subcommittee on Labor, Health and Human Services, Education, and Related Agencies in defense of the budget proposal, Secretary DeVos declined to say whether the Department of Education would intervene if schools receiving federal funding discriminated against students. DeVos also demonstrated utter confusion about the Individuals with Disabilities Education Act during her confirmation hearing in January, saying that states should be allowed to decide whether schools should get taxpayer funding if they do not follow federal law.
5. DeVos is rolling back protections for sexual assault victims
In June, Secretary DeVos announced her department's plan to scale back the Obama administration's approach to investigating civil rights complaints. The prior administration issued guidance reminding universities of their obligation to protect students from sexual violence and clarifying requirements for necessary procedures. Earlier, DeVos' acting top civil rights official, Candice Jackson, disregarded "90 percent" of victim's claims as mistaken drunken hookups. In a speech, DeVos confirmed her intention to roll back the Obama administration's approach because it "weaponized the Office for Civil Rights to work against schools and against students."
In September, Secretary DeVos followed through on her stated plans by completely rescinding the Obama-era Title IX protections and offering interim guidance, which together allow colleges to decide what standard of proof they will use to investigate claims of sexual assault and misconduct. The new guidance has come under fire, with the organization Equal Means Equal and three additional plaintiffs bringing a federal lawsuit against DeVos and her Department of Education for issuing rules that they claim violate Title IX of the Education Amendments of 1972, the Administrative Procedure Act, the First Amendment of the U.S. Constitution, and the equal protection clause of the Massachusetts Constitution.
6. Betsy DeVos unilaterally eliminated guidance she deemed 'unnecessary'
In her attempt to undermine the Department of Education, Betsy DeVos scrapped nearly 600 guidance documents, including more than 70 that her department deemed "outdated,  unnecessary, or ineffective" pertaining to the rights of students with disabilities. Among other things, the now-rescinded guidance provided schools, parents, and disability rights advocates with information on the rights of students with disabilities under the Individuals with Disabilities Education Act and the Rehabilitation Act.
By eliminating hundreds of guidance documents with no explanation or transparency about the decisions, DeVos is undermining a core function of her department—to provide states and districts with support in serving all students. In particular, DeVos' elimination of guidance pertaining to how schools should use federal money for special education services in schools has given disability rights advocates serious cause for concern. As reported by The Washington Post, "Lindsay E. Jones, the chief policy and advocacy officer for the National Center for Learning Disabilities, said she was particularly concerned to see guidance documents outlining how schools could use federal money for special education removed."
7. DeVos is shrinking the Education Department workforce
Secretary Devos recently offered buyouts to 255 employees to shrink key offices in the Education Department's workforce—a move aligned with President Trump's March executive order urging the downsizing of departments and agencies. Although buyouts themselves are not unusual, what's more concerning is that the broader understaffing of Education Department offices compromises their ability to perform key functions. For example, just 14 staffers are working on more than 87,000 borrower defense claims by students defrauded by "predatory" colleges. In addition, DeVos has proposed cutting staff from the Office for Civil Rights—the office responsible for addressing discrimination complaints, which have risen to record levels under President Trump. This means that investigators from the Office for Civil Rights would each handle 42 cases as opposed to the 26 they are projected to be handling now.
The Department of Education is largely understaffed, and DeVos' actions make it clear that she is sabotaging the Education Department's ability to function by not only downsizing crucial department staff but also refusing to allow department offices to do their jobs and meet their full responsibilities.
Conclusion
Supporting and protecting the nation's students should be a priority of every president and secretary of education. This administration's actions, however, clearly demonstrate that it is willing to sacrifice critical resources for the nation's most vulnerable students to push an ideologically driven agenda. This intentional erosion of the Department of Education's role is alarming and should be seen for what it is: a deliberate attack on U.S. public schools and critical student protections. By proposing a smaller budget, moving public funds to private schools, and withdrawing necessary protections, President Trump and Secretary DeVos are intentionally creating a department with fewer resources and less capacity to support America's public schools and all the students who attend them.
Coleton Whitaker is the campaign coordinator at the Center for American Progress. Abel McDaniels is a research assistant for K-12 Education at the Center. Stephenie Johnson is the associate campaign director of K-12 Education at the Center.
The positions of American Progress, and our policy experts, are independent, and the findings and conclusions presented are those of American Progress alone. A full list of supporters is available here. American Progress would like to acknowledge the many generous supporters who make our work possible.
Authors Coleton Whitaker
Campaign Manager Abel McDaniels
Research Associate Stephenie Johnson
Associate Campaign Director