Returning To School Must Include a Reinvestment in Section 504 Plans
Returning To School Must Include a Reinvestment in Section 504 Plans
The pandemic has highlighted the need for increased funding and support for 504 plans, as students of color and students from low-income households are continuously left behind.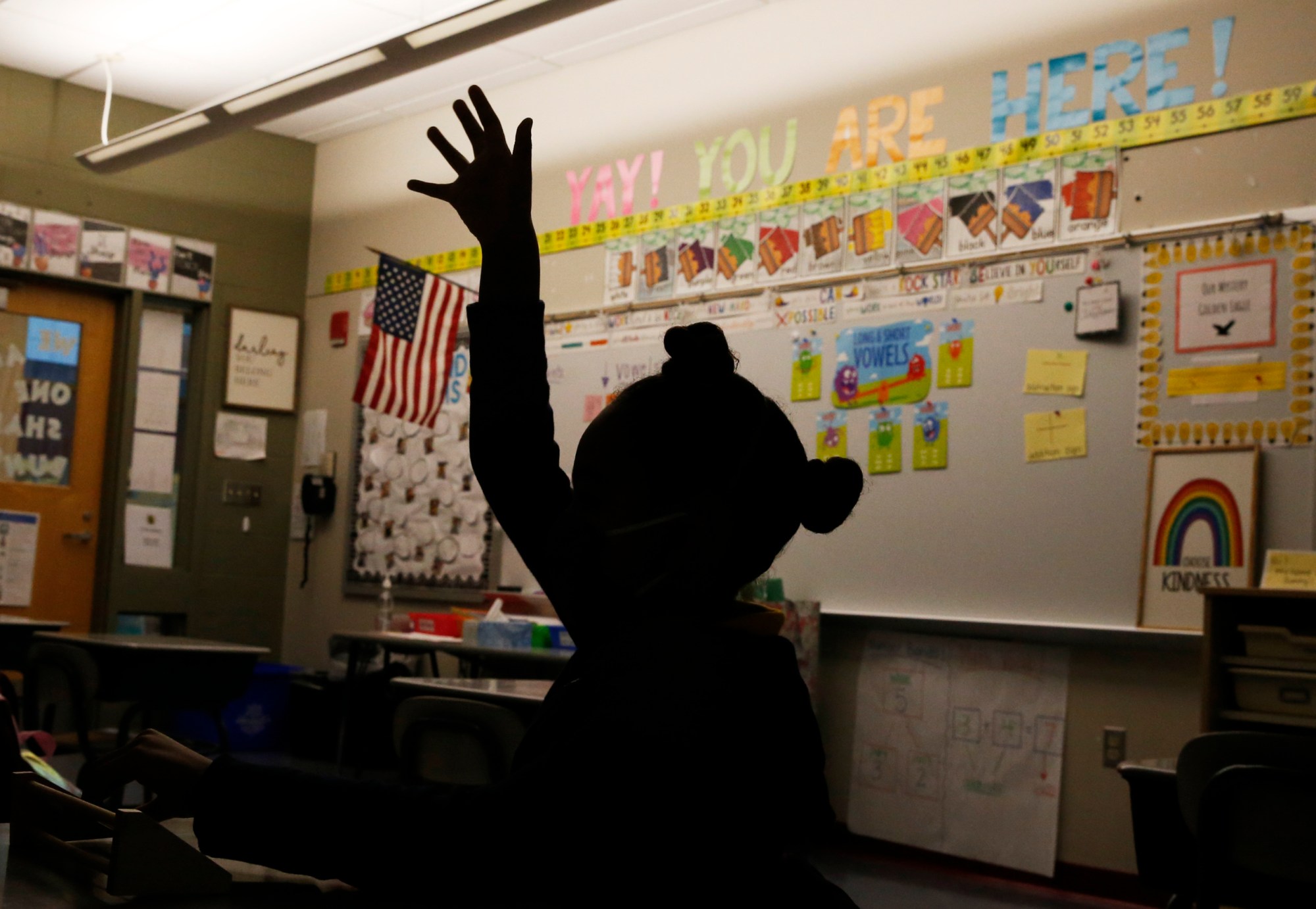 Authors' note: The disability community is rapidly evolving to using identity-first language in place of person-first language. This is because it views disability as being a core component of identity, much like race and gender. Some members of the community, such as people with intellectual and developmental disabilities, prefer person-first language. In this column, the terms are used interchangeably.
As schools grapple with returning to in-person learning, the education system must account for and prioritize the unmet needs of students with disabilities. While students with disabilities are entitled to services and supports in school under the Individuals with Disabilities Education Act (IDEA) and the Rehabilitation Act, they still face barriers in school that lead to educational disparities—issues that have only been compounded by the pandemic.
Prior to COVID-19, students with disabilities already had lower graduation rates and college enrollment than their nondisabled peers. But during the pandemic, learning for all students took a hit. According to McKinsey & Company, student achievement data show that students have fallen four and five months behind in reading and math, respectfully, as a result of the pandemic. For students with disabilities, however, the pandemic's effects have been even more pronounced: One study found that during the 2020-21 school year, students with disabilities had higher rates of incomplete assignments and course failure than their nondisabled peers.
Families of students with disabilities have also reported disruptions in their education services. In a survey conducted in May 2020, only 20 percent of parent respondents said their children were receiving the services in their Individualized Education Program (IEP), an IDEA program that helps identify special education services and supports for disabled students; meanwhile, 39 percent of parents reported receiving no services. While not conclusive, school districts have also reported that students with disabilities are disproportionately failing classes compared with their peers.
Schools should better utilize Section 504 of the Rehabilitation Act to fully support students who do not qualify for IEP plans as they return to classroom settings. Section 504 of the Rehabilitation Act of 1973, commonly referred to as a "504 plan," prohibits discrimination against people with disabilities in federally funded institutions and is typically reserved for students who do not qualify for special education under IDEA but have conditions that interfere with learning. Section 504 has a broader definition of disability than IDEA and may include students who have chronic medical conditions, psychological conditions, or other learning disabilities. Moreover, unlike IDEA, Section 504 does not have a specific funding source to support students, which means that it's up to states and school districts to implement. This can lead to vast disparities in services, negatively affecting multi-marginalized students in particular.
This column discusses inequities in Section 504 plans and provides recommendations to overcome these challenges. To help meet the needs of students with disabilities as well as those from multi-marginalized backgrounds, policymakers must develop policies to 1) help increase knowledge about services and supports under 504 plans, 2) increase proactive enforcement measures, and 3) fund counselors and other support services.
Section 504 inequities
Currently, the use of 504 plans is highly inequitable. In particular, students of color and students in poorer school districts have less access to 504 plans. In 2008, Congress made efforts to enhance access to Section 504 services; however, data suggest that there has been no noticeable increase in the number of children receiving Section 504 plans and supports. In addition, disparities among racial and socioeconomic status have continued.
For example, according to a study released in 2014, white students are more than twice as likely than Black or Hispanic students to have a 504 plan. Furthermore, male students are almost twice as likely as female students to have 504 services. Data also suggest that 504 plans are easier to obtain at schools that are wealthier and whiter. Specifically, in Arizona, students are half as likely to have a 504 plan if they attend the poorest district schools, while white schools are three times more likely to have 504 plans than schools with at least 75 percent students of color. Another study examining students with attention-deficit/hyperactivity disorder (ADHD) found that children living in poverty had the lowest odds of having a 504 plan. Meanwhile, a New York Times article—using data from the U.S. Census Bureau and Department of Education—found that the average rate for 504 plans was 5.8 percent for schools in the top 1 percent of medium household income and only 1.5 percent for schools in the bottom 1 percent of household income, compared with the national average of 2.7 percent.
These disparities can be attributed to the advantages of families that can spend the time and money advocating for 504 services, securing professional help, and paying for psychoeducational testing. Furthermore, if a school does not evaluate the needs of a student suspected of requiring a 504 plan, support may only be provided after parental intervention or litigation, which also takes time and money.
These disparities indicate a racial and economic gap in services that needs to be remedied. While some may highlight recent scandals whereby students or their parents were accused of using unfair diagnoses to gain academic advantages, these stories actually represent the inequities in the education system and the difficulties that disabled students from low-income backgrounds face in attempting to access services. The real focus should be on granting greater access to educational testing and 504 services for all. Education support and services should not be based on race or wealth.
Section 504 and mental health
Even before the pandemic, students faced significant barriers to receiving mental health supports. Roughly 1 in 5 children have a mental, emotional, or behavioral disability, but only 20 percent of these children receive care from specialized providers. Another study found that only half of children with emotional or behavioral conditions receive medication or psychological services, and over the course of a year, only 7.4 percent report visiting a mental health professional. The lack of local providers, long travel times, long waiting lists, cost, and insurance coverage requirements all contribute to the inadequate support for families trying to access child mental health services.
Students are coming back to schools with a higher likelihood of mental health issues.
Black, Latino, and Indigenous students face additional barriers when receiving mental health support. Obstacles to quality access include lack of adequate prevention programs, socioeconomic disadvantages, stigma attached to mental health, and a lack of culturally competent services. In particular, Asian Americans are the least likely of any racial group to use mental health services, despite the fact that this demographic is seeing a significant rise in mental health issues, especially among young adults.
The pandemic has only exacerbated the problem. Across the U.S. population, mental health issues have nearly doubled during the pandemic. There have been countless stories as well as new research suggesting a rise in mental health and substance use issues for children and young adults, which puts already underfunded programs in worse financial situations. Indeed, students have faced significant trauma as a result of the pandemic, with millions of children having lost parents, grandparents, and caregivers to COVID-19. Moreover, racial tensions amid the pandemic have particularly affected mental health in Black and Asian American communities.
In essence, students are coming back to schools with a higher likelihood of mental health issues. Policymakers need to make significant policy changes to support these students' recovery and not create further traumatization.
Policymakers need to make significant policy changes to support students' recovery and not create further traumatization.
Recommendations
504 plans are not being provided equitably, particularly for low-income students of color. That must change.
The policy recommendations below represent a starting point:
Eliminate the knowledge gap
Eliminating the disparities in obtaining 504 services can start with education. Many families simply do not know the resources that are available if a student has a disability, how to access those services, or their rights and protections under the law. Increasing targeted funding to the Center for Parent Information and Resources (CPIR) could improve outreach to marginalized communities—including linguistic minorities—by providing culturally relevant information in communities' native languages.
Increase proactive enforcement
The U.S. Department of Education's Office for Civil Rights is tasked with enforcing Section 504; however, it rarely issues penalties or even launches compliance investigations. Since 1984, the office has only initiated about 200 investigations against educational institutions accused of failing to provide services and supports required under Section 504. To take some of the onus off parents, policymakers must provide legal ability for state education departments to help monitor and enforce 504 law as they monitor IDEA.
Fund counselors and other support services
Instead of investing in punitive resources such as resource officers, schools should invest in counselors, school therapists, psychologists, and other mental health supports. In addition, schools should prioritize and recruit diverse specialists and supports that are representative of their student body. When students see people who represent their identities, they are more likely to feel satisfied with treatment and the outcome of those services. Moreover, adding federal funding tied to 504 implementation may help alleviate the burden on schools that rely on low-income community tax revenue. States can also choose to expand Medicaid in schools to support Medicaid-eligible mental health services.
504 plans are not being provided equitably, particularly for low-income students of color. That must change.
Conclusion
As students return to school—whether in person or online—school systems must be ready to provide services and supports. Moreover, they must do so equitably, particularly addressing the needs of disabled students of color and lower-income students. Yet Section 504 plans are only one part of the problem and solution; to truly combat the lack of resources that disabled students have faced throughout—and before—the pandemic, as well as the growing mental health crisis, policymakers must fully fund and support enforcement efforts under IDEA and Section 504. In addition, local officials and schools must increase funds for Section 504 and mental health services.
The positions of American Progress, and our policy experts, are independent, and the findings and conclusions presented are those of American Progress alone. A full list of supporters is available here. American Progress would like to acknowledge the many generous supporters who make our work possible.
Authors Megan Buckles
Former Senior Policy Analyst Kelly Moh
Director, Disability Justice Initiative