It's Easy Being Green: Money Can't Buy Me Sustainability
It's Easy Being Green: Money Can't Buy Me Sustainability
Free methods of consumption will make both the earth and your bank account very happy.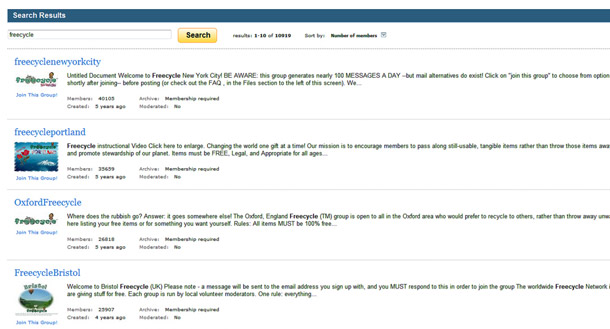 Read more articles from the "It's Easy Being Green" series
Many people subscribe to the notion that buying certain items while eschewing others is the best way to live an environmentally friendly lifestyle. This logic suggests that you vote with your dollar, and if you buy fuel-efficient, organic, and "green" products you're contributing to sustainability. But what about simply not buying things at all?
True, completely abandoning the consumer economy is probably an untenable goal. But an increasing number of people have turned to no-cost solutions when acquiring home furnishings, clothes, food, and other necessary items. In doing so, they're keeping items out of landfills, cutting the carbon it takes to manufacture new products, and generally living a more sustainable lifestyle.
Some of the more hardcore practitioners of free consumption call themselves freegans. They use sites like freegan.info to get information about which grocery stores and restaurants throw out the most food and to meet up with other freegans in their cities. The loosely organized social movement also draws liberally from such ideological strands as anticonsumerism, radical environmentalism, and punk rock.
Freeganism's central practice is dumpster diving, which tends to draw mixed reactions. Grocery stores and restaurants toss plenty of perfectly edible, often unopened food on a daily basis, and freegans rummage through these establishments' dumpsters for groceries. But people don't just go dumpster diving for food. They also get furniture, clothes, home furnishings, and a myriad of other valuables from piles of other peoples' refuse. Knowing when and where to go dumpster diving is a kind of art to these environmentalists.
A New York Times piece in 2007 focused on a group of freegans who converged on New York University the day after many students moved out of the dorms. They found a Sharp television, a desk lamp, a working iPod, a dish rack, Swiffer dusters, and laundry detergent, among other valuable items. You can be sure these items were all put to good use, too. Freegans fill their homes with castaway items and cook their meals with discarded food as a way to both critique rampant consumerism and reduce their personal carbon footprint.
But there are other methods of free consumption if standing knee-deep in trash and digging through dumpsters isn't your cup of tea. Websites like freecycle.org are great ways to find free alternatives to purchasing new items when perfectly good used ones exist and would likely end up in a landfill if no one claimed them. Members of freecycle.org sign up to receive emails from other users in their city. People post items they no longer need or want. If the other users see something they like they can arrange to meet with the person who posted the ad to pick up the item. No money changes hands.
Similar systems and websites are also set up for acquiring free entertainment items. PaperBackSwap.com has a platform for users to exchange their used books and find books that they would like to read. Not only does this save the trees that would've gone into making new copies of books, but it's entirely free. These kinds of systems are the ultimate win-win for people who are tightening their belts during the recession yet still want to remain environmentally conscious.
This type of nontraditional consuming may take some effort—and put some outside their comfort zones—but it helps keep perfectly good items from going to waste and epitomizes the slogan of "reduce, reuse, recycle." And reassessing the way we acquire and use the items that fuel our everyday lives can help all of us live more sustainable lives.
The positions of American Progress, and our policy experts, are independent, and the findings and conclusions presented are those of American Progress alone. A full list of supporters is available here. American Progress would like to acknowledge the many generous supporters who make our work possible.