Resources on Deferred Action for Childhood Arrivals
Article
• Last updated on Jun 16, 2022
Resources on Deferred Action for Childhood Arrivals
As the courts decide the future of DACA, here is CAP's latest research on the topic.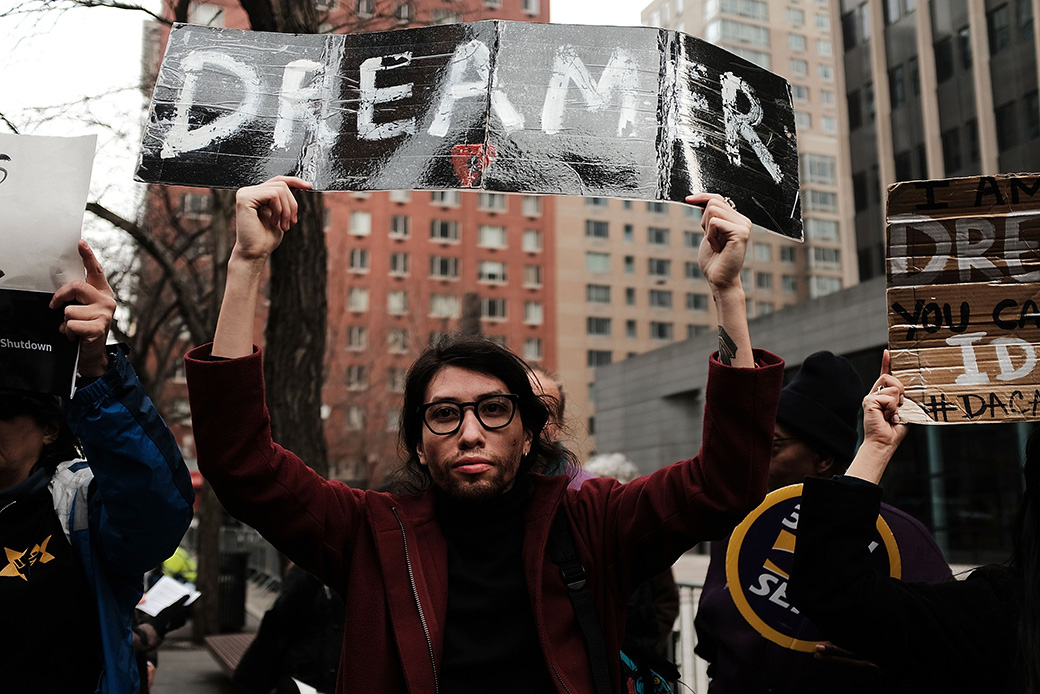 This page may be periodically updated with new resources and information. 
Since its inception in 2012, Deferred Action for Childhood Arrivals (DACA) has served as a critical relief from deportation and an opportunity to apply for work authorization for more than 825,000 undocumented immigrants who arrived in the United States as children. By creating new avenues of opportunity for these young immigrants to pursue their American dream—such as being able to apply for driver's licenses and pursue new educational opportunities; access health care; and move into better aligned, better paying, and more secure jobs—DACA has expanded their contributions to their families, their communities, and to U.S. society as a whole. At the height of the COVID-19 pandemic, 3 in 4 DACA recipients were working as front-line essential workers in the health care, education, or food production industries, providing critical care and labor to keep communities and the nation running.
Despite the overwhelming gains of the DACA program to recipients and the United States as a whole, many recipients continue to experience uncertainty as the program faces legal battles.
DACA litigation status and the urgent need for protection
In June 2020, the U.S. Supreme Court ruled that the Trump administration's attempt to rescind DACA in 2017 was illegal. Although the court's ruling provided necessary relief and reassurance to recipients and their communities, the program remains at risk of further legal challenges. In July 2021, U.S. District Judge Andrew Hanen for the Southern District of Texas ruled that the DACA program is unlawful in its current form and the power to create such a program lies only in Congress. As a result of his ruling, new enrollments into the program have been blocked, leaving more than 91,000 potential DACA recipients with pending applications in limbo. While current DACA recipients are unaffected by this ruling and can renew their status, it raises concerns about whether their livelihoods may be disrupted in the future.
In response to the decision from the Southern District of Texas, the Biden administration proposed a formal rule on September 28, 2021, to fortify and protect DACA. The rule keeps the current DACA eligibility criteria intact while attempting to envision multiple scenarios for the program's future depending on actions in the courts: one in which the courts continue to allow recipients to benefit from both deferred action from deportation and authorization for work permits, and another where the courts provide deportation relief but rescind work permits.
However, if the grant of deferred action is severed from the accompanying work authorization, the proposed rule could create an additional hurdle for recipients by requiring them to apply for each protection separately. By making work authorization a separate application process, the rule could potentially undermine recipients' ability to work and threaten their and their families' livelihoods and economic stability. The strong economic and social gains that DACA has enabled can only be ensured by guaranteeing that recipients are able to access the full protections of the program without new restrictive changes.
Only Congress can guarantee the permanent protections that will give DACA beneficiaries and their families the security they need to continue building their futures.
As the fight to protect DACA continues, the list below includes the Center for American Progress' top resources on DACA:
This video highlights the achievements and contributions of DACA recipients and the continued need for a pathway to citizenship for all Dreamers.
The comment emphasizes CAP's concern about potential changes to the work authorization component of DACA, which is critical for recipients' economic stability and the entire U.S. economy.
The seventh annual survey of DACA recipients documents the program's positive impact on education, employment, and earnings for those enrolled.
This piece includes data on DACA recipients, their families, and their economic contributions in all 50 states.
Drawing from three interviews with DACA recipients, this article examines how the program enables recipients to pursue educational opportunities, participate in the economy, and attain stability for themselves and their families.
This column describes the Trump administration's legal obligations in the aftermath of the Supreme Court ruling and describes the population of people who should have been permitted to apply for protection at that time.
Written prior to the Supreme Court's announcement that the Trump administration's termination of DACA was unlawful, this piece provides month-by-month estimates of DACA recipients who could lose protections as a result.
This piece provides details on the 203,000 DACA recipients working in health care, education, and food services occupations at the forefront of the COVID-19 response.
This piece includes interviews with four DACA recipients working on the frontlines of the COVID-19 response.
This graphic allows viewers to see all signatories on the amicus briefs in support of DACA submitted to the U.S. Supreme Court.
This piece highlights the experiences of DACA recipients in health care practitioner and support occupations.
This piece includes annual gross domestic product losses from removing workers with DACA, by state.
This piece includes a state landscape of policies related to driver's licenses, affordable higher education, and occupational licenses for DACA recipients.
While only Congress can create permanent protections for DACA recipients, this piece provides five actions that President Donald Trump could take to protect them in the meantime.
This piece includes data highlighting the heightened state of fear of deportation and detention for LGBTQ DACA recipients under the Trump presidency.
Annual, national surveys of DACA recipients, conducted by Tom K. Wong of the University of California, San Diego; United We Dream; the National Immigration Law Center; and CAP, measure DACA's impacts on recipients' lives and are discussed in the columns below:
The positions of American Progress, and our policy experts, are independent, and the findings and conclusions presented are those of American Progress alone. A full list of supporters is available here. American Progress would like to acknowledge the many generous supporters who make our work possible.