13 Facts that Set the Record Straight on DeVos
13 Facts that Set the Record Straight on DeVos
During her confirmation hearing, Betsy DeVos expressed confusion and avoided questions. Here's what her record shows.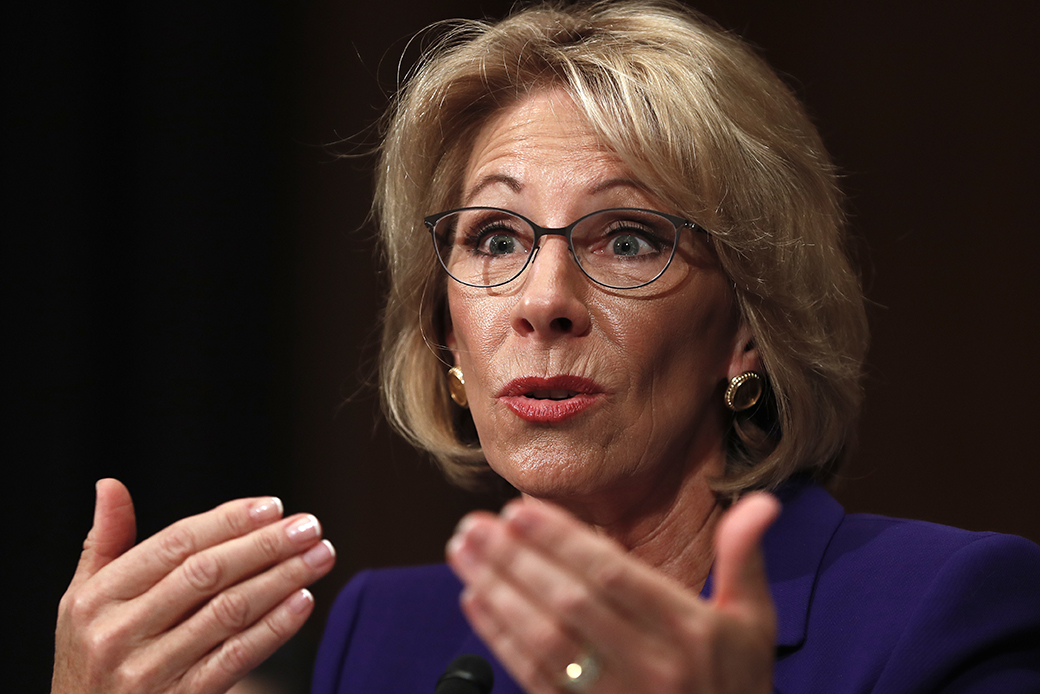 Betsy DeVos, President Donald Trump's nominee for secretary of education, sat before the Senate Health, Education, Labor, and Pensions Committee on January 17, 2017, for her confirmation hearing. During that hearing, DeVos made a series of statements that avoided straightforward answers, conflicted with her record on various subjects, and expressed confusion about the basic issues affecting students in public schools across America. Spokespeople from President Trump's transition team and others have similarly made statements about DeVos that diverge from what her record shows.
This column presents 13 facts that set the record straight. These facts debunk DeVos' "alternative facts" with actual facts and evidence regarding her history as a career megadonor and political influencer.
Fact 1: DeVos supports unregulated for-profit charter schools with little accountability or oversight
During her confirmation hearing, Sen. Tim Kaine (D-VA) asked, "If confirmed will you insist upon equal accountability in any K-12 school or educational program that receives taxpayer funding whether public, public charter or private?" Instead of answering the question, DeVos stated the following phrase four times: "I support accountability."
However, DeVos' record on the issue shows that she does not support accountability. DeVos has supported and encouraged an unregulated for-profit school environment in Michigan by blocking legislation that would have provided more oversight and accountability for schools in Detroit.
Fact 2: DeVos has dedicated her life to defunding and devaluing public education
In her opening statement during her confirmation hearing, DeVos said, "If confirmed, I will be a strong advocate for great public schools."
Through her family fortune and political influence, however, DeVos has spent her career promoting voucher programs and for-profit charter schools, which steer taxpayer dollars away from public schools and into the pockets of private entities. Later in the hearing, Sen. Patty Murray (D-WA) asked, "Can you commit that you will not work to privatize public schools or cut a single penny for public education?" DeVos eventually replied, "I guess I would not characterize it in that way."
Fact 3: DeVos lacks any experience working in or attending public schools
During her confirmation hearing, Sen. Bernie Sanders (I-VT) asked DeVos whether she believes she would be considered for secretary of education if she were not a billionaire donor. DeVos replied, "I do think there would be that possibility. I have worked very hard on behalf of parents and children for the last almost 30 years."
The truth is that DeVos has never attended public school nor has she sent any of her children to public school. She has never been a teacher and has no experience leading a classroom or school. Furthermore, DeVos has spent her career plundering public schools and steering taxpayer dollars toward voucher systems and for-profit charter schools. While she has served on foundation boards, she has no government experience and has never managed an organization nearly as large as the U.S. Department of Education, which employs thousands of people.
Fact 4: DeVos insisted that student debt has grown 980 percent in the past 8 years, even though it has only grown 118 percent in that time
During her confirmation hearing, DeVos stated that student debt has grown 980 percent in eight years. "That's almost 1,000," she said, before Sen. Al Franken (D-MN) corrected her.
DeVos' figure was off by more than 800 percent. Between the third quarter of 2008 and the third quarter of 2016, outstanding student debt grew from about $659 billion to nearly $1.4 trillion, according to Federal Reserve data. That is a jump of more than 100 percent, but it is still nowhere near the 980 percent figure DeVos cited.
Fact 5: DeVos could not articulate the difference between 'proficiency' and 'growth'
When Sen. Franken asked for DeVos' "views on the relative advantage of assessments and using them to measure proficiency and growth," she expressed confusion. "I think," she said, "if I'm understanding your question correctly around proficiency, I would correlate it to competency and mastery, so each student is measured according to the advancements they are making in each subject area."
Instead of explaining the meaning of the term "proficiency," DeVos defined "growth." As The Atlantic put it, "The 'proficiency' approach amounts to evaluating kids based on whether they arrive at a set benchmark—whether, for example, they achieve a certain math score on standardized tests." On the other hand, "growth" refers to how much a student has improved on a certain topic or skill over a period of time. Both terms are at the center of a crucial education policy debate about how tests should be used to measure student achievement—should students be measured by a strict cutoff score or by how much they have grown over the course of the year?
Fact 6: During her hearing, DeVos would not commit to keeping the Office for Civil Rights intact
Before her hearing, a spokeswoman for the Trump transition team said, "Betsy DeVos supports the civil rights of all students and the role of the Office for Civil Rights within the Education Department to handle these matters."
As The Washington Post reported, however:
DeVos declined to say during the hearing Tuesday whether she would enforce new regulations meant to hold schools accountable for educating all students. She passed up an opportunity to reassure Democrats concerned about a downsizing of the Office for Civil Rights, which is responsible for investigating allegations of discrimination in the nation's K-12 schools and colleges.
Fact 7: DeVos incorrectly stated that enforcement of the IDEA can and should be left to the states
When Sen. Kaine asked DeVos about enforcing the federal Individuals with Disabilities Education Act, or IDEA, she replied, "I think that is a matter that is best left to the states."
In reality, states cannot choose whether to enforce the IDEA because it is a federal law, which DeVos would be responsible for upholding as secretary of education. DeVos later admitted that she was "confused."
Fact 8: DeVos would not commit to upholding the 2011 Title IX guidance meant to protect sexual assault victims on college campuses
When Sen. Bob Casey (D-PA) asked DeVos if she felt that sexual assault on college campuses is a "significant problem," she replied, "I agree with you that sexual assault in any form or any place is a problem." But when Sen. Casey followed up on this response by asking DeVos to commit to upholding the 2011 Title IX guidance that makes it harder for campuses to ignore sexual assault, she would not do so. Instead, she offered that taking a position on guidance would be "premature."
Fact 9: The DeVos family has donated to groups that push conversion therapy
During her confirmation hearing, DeVos denied support for so-called conversion therapy for lesbian, gay, bisexual, transgender, and queer, or LGBTQ, people. "I've never believed in that," she said. "First of all, let me say I fully embrace equality and I believe in the innate value of every single human being and that all students, no matter their age, should be able to attend a school and feel safe and be free of discrimination."
While DeVos claimed that she does not believe in conversion therapy, the DeVos family has a long history of supporting anti-LGBTQ causes and donating to organizations, including Focus on the Family, that promote practices such as conversion therapy. These practices are particularly harmful to LGBTQ children. Despite DeVos' response during her hearing, groups such as the Human Rights Campaign have continued to express concern over whether she will protect LGBTQ students in schools through federal guidance and protections.
Fact 10: DeVos supported marriage between one man and one woman
BuzzFeed recently reported that DeVos supports marriage equality and that she has never previously spoken about this issue publicly. However, the Associated Press quoted her as saying the following in 2004 as chairwoman of the Michigan Republican State Committee: "Republicans support traditional marriage. … We support marriage between one man and one woman because that is the way God set it up and because children need a mother and a father to love and care for them." Given this position, confirming DeVos could send a regrettable and damaging signal to LGBTQ students and students with LGBTQ parents that they are not welcome or worthy of an equitable education.
Fact 11: DeVos believes that states should be able to choose whether to have guns in schools to protect against potential grizzly bear attacks
When Sen. Chris Murphy (D-CT) asked DeVos about firearms in schools, she stated, "I will refer back to Senator Enzi, and he was talking about Wapiti, Wyoming. I think probably there, I would imagine that there is probably a gun in the school to protect from potential grizzlies."
Schools in Wyoming do not, in fact, have guns. They use fences and spray for protection. The school in Wapiti that DeVos referred to does not have a gun on the premises, per state law forbidding guns on school property. Furthermore, in Wyoming's Yellowstone National Park, there is an average of only one grizzly bear attack per year. The odds of getting hurt by a grizzly bear inside Yellowstone are 1 in 2.7 million. On the other hand, there have been 200 school shootings since the Sandy Hook shooting in 2012.
Fact 12: DeVos was listed as a vice president of her mother's foundation for 17 consecutive years on tax returns dating back to 1998
During her hearing, DeVos indicated that she has never made decisions on her mother's behalf on her foundation board. She blamed a clerical error for the confusion over her role in her mother's multimillion-dollar foundation, which has donated to groups that oppose same-sex marriage and the LGBTQ rights movement.
But tax return filings from nearly two consecutive decades indicate that DeVos did, in fact, serve on the board of her mother's foundation. The supposed "clerical error" dates back to the foundation's 1998 federal tax returns. DeVos was listed as a vice president of the foundation's board as recently as 2014.
Fact 13: DeVos and her family have given a massive $4 million to the Republicans in Congress who will decide whether to confirm her
During her hearing, DeVos indicated that she would avoid all conflicts of interest by divesting any holdings in companies that would create such a conflict in her new role as education secretary. But she cannot take back the millions of dollars that she gave in direct donations and PAC contributions to the very elected officials who will vote on her nomination.
Conclusion
During her confirmation hearing, Betsy DeVos made a series of statements that conflicted with her history as a career lobbyist and billionaire megadonor. At times, she simply refused to answer questions. Throughout the hearing, she bewildered Americans nationwide with falsehoods and her lack of understanding of the country's education system. As the new administration continues to disguise so-called alternative facts as real facts, the American people must continually seek out the truth and demand real answers.
Stephenie Johnson is an Associate Campaign Director with the K-12 Education team at the Center for American Progress. Coleton Whitaker is the Education Campaign Associate at the Center.
The positions of American Progress, and our policy experts, are independent, and the findings and conclusions presented are those of American Progress alone. A full list of supporters is available here. American Progress would like to acknowledge the many generous supporters who make our work possible.
Authors Stephenie Johnson
Associate Campaign Director Coleton Whitaker
Campaign Manager