Women's Role in a Warming World
Women's Role in a Warming World
An Untapped Resource in Climate Adaptation
One of the best climate adaptation strategies is involving women, writes Kari Manlove.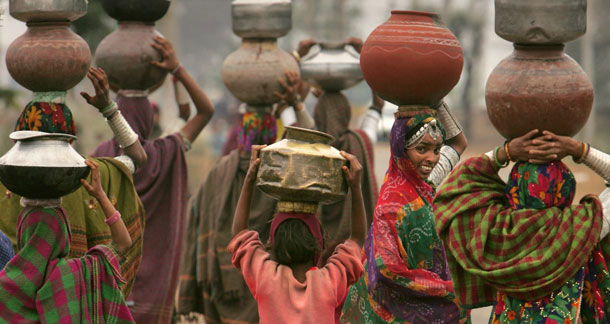 See also: Women's Role in the Clean Energy Economy
In June climate negotiators will reconvene in Bonn, Germany for an interim meeting to discuss the working text of the United Nations Framework Convention on Climate Change, or UNFCCC, the international treaty that aims to stabilize greenhouse gas concentrations in the atmosphere at a level that would prevent climate change's worst effects. A relatively new aspect of this conversation is how women can help adapt to climate change and their unique circumstances when it comes to the issue. They are severely affected by climate change yet underrepresented and not engaged in solutions.
Women are likely to be hit harder by climate change than men due their social roles and the simple fact that a majority—as much as 70 percent—of the world's poor are women. As a result, they are much more devastated by natural disasters than men. One researcher concludes that women are 14 times more likely than men to die in a natural disaster such as a tsunami. Experts predict climate change will only exacerbate such inequities.
But over the last few years the increasing portfolio of climate solutions is beginning to include gender-sensitive approaches and women's involvement. Observers realize that women need to be protected, engaged, and empowered for climate solutions to truly succeed. They also see that a vulnerable segment of the population is in fact one with mass potential to bring positive change.
Women are a largely untapped resource that we must use to effectively and justly combat climate change. They need to be harnessed to prepare communities for global warming's effects, particularly in developing countries where warming will have the most severe consequences.
Engaging women on adaptation strategies
Women in developing countries have an intimate knowledge of the social and natural systems global warming affects. They are at the heart of their families' and communities' resource management and well-being, notably in rural areas. Women and girls, for example, are responsible for gathering cook stove fuel and producing 60 percent to 80 percent of the food in developing countries. According to the United Nations, women in Sub-Saharan Africa spend 40 billion hours a year collecting water. They can therefore provide valuable insight when it comes to formulating adaptation policies and implementing projects as fuel and water become scarcer and agricultural yields shrink.
The first step to making women full participants in adaptation is recognizing their value in international climate negotiations and supporting advocacy group work (more on both of these below). Next is finding concrete ways to integrate women into the planning, development, and execution of climate adaptation strategies.
Climate adaptation strategy literature is minimal, but observers often turn to experience with disaster risk reduction to craft informed approaches. The disaster risk reduction community is also giving gender issues more consideration, which involves evaluating regional, national, and local response systems through a gender lens, collecting supplemental data, and ensuring women have equal access to early warning systems and the resources for preparedness and disaster assistance.
Further, these techniques are made much more possible and effective with targeted financing, which is why some advocates argue that part of adaptation funding should be set aside for gender-specific training, community workshops, and disaster plans. It's hard to disagree.
Progress in the UNFCCC
U.N. officials, UNFCCC country delegates, and nongovernmental organizations are beginning to integrate gender into their discourse and policy pushes. A handful of NGOs have more publicly championed ìgender justice,î such as the international antipoverty organization CARE and the Women's Environment and Development Organization, or WEDO. They held side events at the Copenhagen climate change conference last year on this very issue, and groups like Climate Wise Women have since taken their message on the road.
Negotiators seem to be listening. UNFCCC interim negotiating text released in Bonn, Germany in June 2009 made 13 mentions of gender and 17 of women—a significant advance over previous texts, which excluded both. During the December meetings, NGOs maintained pressure to include gender-sensitive language in the final text, and several governments were on board. Finland, Ecuador, Guatemala, Costa Rica, Bolivia, Iceland, Norway, the European Union, and several African countries supported gender-based language going into Copenhagen.
The Copenhagen Accord—the document that UNCCC delegates agreed to at the final plenary session of the conference—makes no specific mention of women or gender, but the tabled Ad Hoc Working Group on Long Term Cooperative Action, or AWG-LCA, text still contains gender-sensitive language (eight references) that will hopefully be retained through the 16th meeting of the U.N. Conference of Parties or COP16 in Mexico this year.
Groups like WEDO and GenderCC continue to push the United Nations to involve women at high-level climate negotiations. They note that at Copenhagen 30 percent of the country delegates were women. On the one hand, this was the peak for women's engagement, but on the other hand it does not mirror reality. Similarly, in March U.N. Secretary General Ban Ki-moon put together the Advisory Board on Climate Change Financing and appointed all men. The gender justice community subsequently voiced their concern over the apparent apathy to involve women in high-level discussions.
Going forward
U.S. Secretary of State Hillary Clinton—while not explicitly a U.S. climate negotiator—has unabashedly placed women as a strategic centerpiece in her foreign policy approach. She appointed Melanne Verveer as her ambassador at large for global women's issues and stated, ìWithout providing more rights and responsibilities for women, many of the goals we claim to pursue in our foreign policy are either unachievable or much harder to achieve.î
We should similarly place women on the front lines as we craft solutions to abate global warming and adapt to it. They embody much knowledge, responsibility, and unrealized potential, and are therefore essential if we're to achieve any meaningful degree of success.
Kari Manlove is a Research Associate for the Energy Opportunity team at American Progress.

For more information, see:
The positions of American Progress, and our policy experts, are independent, and the findings and conclusions presented are those of American Progress alone. A full list of supporters is available here. American Progress would like to acknowledge the many generous supporters who make our work possible.