Web 2.0 and Latin America's Upcoming Elections
Web 2.0 and Latin America's Upcoming Elections
As Latin America and the Caribbean enter a new round of elections, the region's analysts should take a close look at the Internet's role in shaping the electoral landscape, writes Stephanie Miller.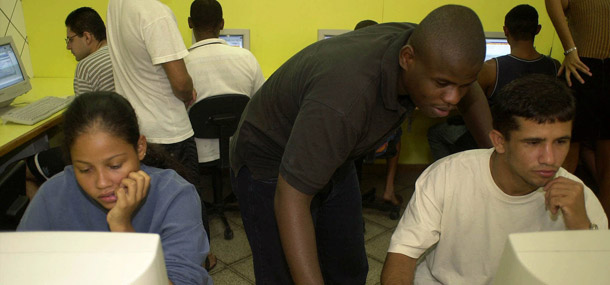 At least 10 countries in Latin America and the Caribbean will hold presidential elections by 2012, with eight occurring before 2011. At the same time Latin America's electoral landscape is marked by a dramatic rise in the number of Internet users and the increasingly sophisticated use of the Internet by politicians and citizens alike. The potential impact of political campaigns that harness the Internet in this new wave of regional elections is therefore greater than ever before. As a result, analysts of Latin American electoral politics—and Latin American politicians themselves—should pay attention to the Internet's role in these upcoming elections and the impact it may have on future political campaigns in the region.
The numbers illustrate the upward trend in Latin America's Internet use. Currently there are more than 160 million Internet users in the region, representing a penetration rate of 30 percent of approximately 560 million people. This may seem small level relative to the 75 percent penetration rate in the United States, but Internet growth rates in Latin America and the Caribbean top world charts: Regional Internet use is expected to grow at a rate of 60 percent annually until 2012, coinciding with the new round of elections. The region also tops worldwide wideband Internet access growth rates with a growth rate of 7.5 percent, ahead of Western Europe's 6.2 percent. And 71 percent of the region's 160 million Internet users use social networking sites as a primary method of communication.
Brazil has the largest number of Internet users of any Latin American country, followed by Mexico, Argentina, Colombia, and Chile. When comparing the number of Internet users in each country relative to population, however, Chile ranks first, followed by Argentina, Colombia, Costa Rica, and Brazil. Given the rising number of users in these countries it's no surprise that the media increasingly report the Internet's growing role in each of these countries' recent or upcoming national elections.
Chile, with the highest rate of Internet penetration in the region, is experiencing a revolution in online political campaigning. During the campaign for municipal elections in 2008, candidates such as Álvaro Undurraga and Ismael Calderón, running for the position of Santiago's City Councillor, used a variety of online media for citizen mobilization and online campaigning, such as blogs, Facebook accounts, and web pages.
The Internet is playing an even larger role in the campaign for Chile's upcoming presidential election in December 2009. La Concertación, a center-left coalition that has held power since the end of General Augusto Pinochet's dictatorship in 1990, did not allow then-Socialist Party candidate Marco Enríquez-Ominami to participate in their internal primaries, from which former president Eduardo Frei emerged as the coalition's presidential candidate. As a result, Enríquez-Ominami resigned from the Socialist Party and launched his campaign as an independent without the support of any established political party. Since then, he has used the Internet and media to form a public image liked by much of Chile's youth, and has managed in a few months to rise to third place in the latest polls—thereby changing the political landscape and frustrating Eduardo Frei's hold on the left and center-left vote.
A parallel story is occurring in Colombia. Although the May 2010 presidential campaign is only in preliminary stages, the three major political parties are expected to hold internal primaries at the end of September 2009. Independent candidate Sergio Fajardo, the former mayor of Medellín, has achieved noteworthy popularity and support largely due to his use of the Internet to recruit volunteers and gain the backing of Colombia's youth. In recent polls Fajardo has remained in either first or second place against former Defense Minister Juan Manuel Santos and depending on whether current President Álvaro Uribe is included in the polling as a potential candidate.
Colombia's Liberal Party candidate and former Defense Minister Rafael Pardo is also an important contender for the presidency. He's been dubbed the politician that gave birth to "Politics 2.0" in Colombia―a reference to the revolutionary influence that social networking and participatory technologies of Web 2.0 are having on politics. One of Colombia's most recent online initiatives dedicated to analyzing Colombian politics, "La Silla Vacía" (which translates as "The Empty Chair"), has called Pardo the "candidato cibernético," or "cyber candidate," highlighting Pardo's effective use of the Internet in his campaign.
The message for analysts is clear: As the countries of Latin America and the Caribbean enter a new round of elections that will continue through 2012, the increasing level of political campaigning and participation occurring via the Internet should not be overlooked. And the annual Internet use growth rate of 60 percent projected through 2012 means Latin America's candidates for office cannot afford to ignore the Internet's potential to change the electoral landscape.
Stephanie Miller is currently a consultant on U.S.-Latin America relations and was formerly the Research Associate for the Americas Project at the Center.
The positions of American Progress, and our policy experts, are independent, and the findings and conclusions presented are those of American Progress alone. A full list of supporters is available here. American Progress would like to acknowledge the many generous supporters who make our work possible.