Are Trump and DeVos Waging a War on Teachers?
Are Trump and DeVos Waging a War on Teachers?
Here are five ways in which President Trump and Secretary of Education DeVos have denigrated and devalued the teacher workforce, especially since taking office.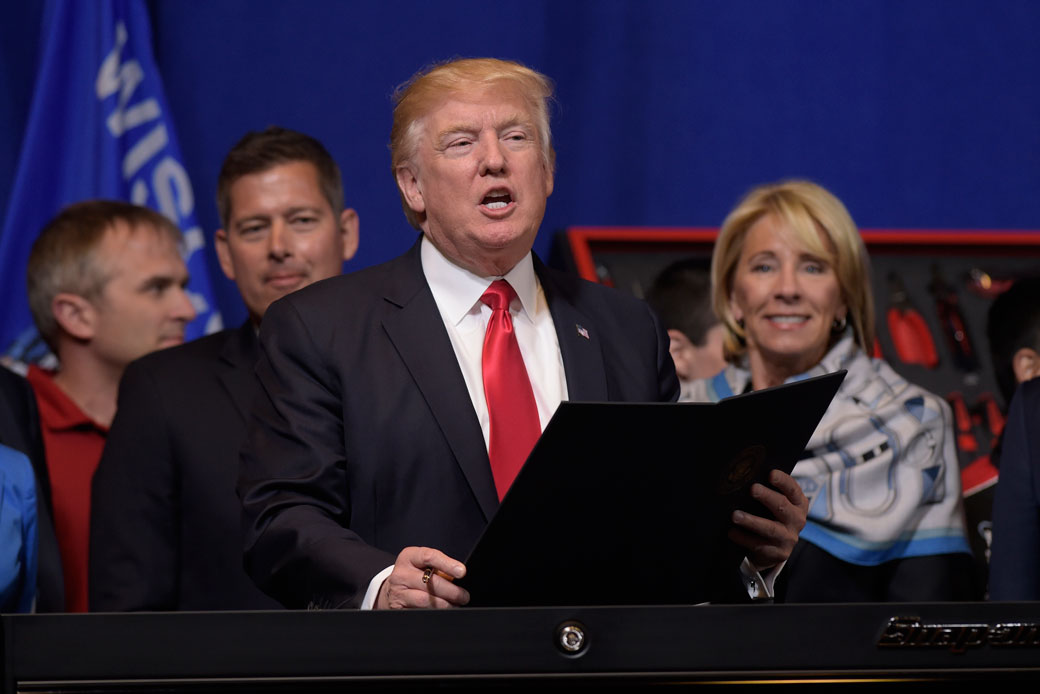 Throughout his campaign and time in office, President Donald Trump has touted being a "tremendous believer in education." And Secretary of Education Betsy DeVos has repeatedly called for "equal opportunity for all kids." However, neither Trump nor DeVos has demonstrated any interest in supporting or leveraging the most critical resource for improving student achievement—teachers. Indeed, research shows that well-supported, highly skilled educators achieve an average of 1.5 years of academic growth among their students.
In the most recent budget proposal, however, President Trump and Secretary DeVos have decided to completely withdraw federal investment from the educator workforce. This threatens every child's access to a quality education. Throughout their first several months on the job, Trump and DeVos have shown nothing but disrespect for teachers and the teaching profession.
Here are five ways in which Trump and DeVos have denigrated and devalued the teacher workforce.
1. DeVos said that she believes teachers are in 'receive mode'
Devos made her first public school visit as secretary to Jefferson Academy in Washington, D.C. After the visit, she criticized the school's teachers, claiming that they seemed to be in "receive mode." DeVos said that the teachers she observed were "waiting to be told what they have to do," something that is "not going to bring success to an individual child." The teachers at Jefferson Academy fought back on Twitter, highlighting the agency, passion, and skill that DeVos underestimated.
This moment made clear Secretary DeVos' lack of experience with public schools—both as a teacher and as a parent—and her lack of respect for the educators she visited.
2. DeVos eliminated the educator engagement provision required by law under ESSA
One month after insulting Jefferson Academy's teachers, Secretary DeVos released a new template for states to use as they plan to implement the Every Student Succeeds Act (ESSA). The updated template removes the requirement that states detail how they engage with stakeholders—including teachers—for their feedback and ideas on the state's ESSA plan.
Ahead of the template's release, DeVos said it would only require information that is "absolutely necessary," indicating that input from educators is nonessential. Sen. Patty Murray (D-WA) and Rep. Bobby Scott (D-VA)—both critical players in writing ESSA—as well as several education policy groups expressed their concern with the template's disregard for stakeholder input. They claimed that it is inconsistent with the intent of the bipartisan law.
Removing this requirement from the guidelines not only devalues the role of educators as thought leaders but also demonstrates a striking level of hypocrisy on DeVos' part. If one is truly concerned about teachers being in "receive mode," it seems counterintuitive to take away their ability to engage in the ESSA planning process.
3. At the White House Teacher of the Year ceremony, Trump declined to stand to honor the nation's top educators
In keeping with tradition, the White House welcomed all 2017 State Teachers of the Year for a ceremony in April 2017. However, this year's ceremony was anything but traditional. In past years, presidents have invited the State and National Teachers of the Year and their guests to a ceremony in the East Room or the White House Rose Garden. This ceremony is meant to honor their accomplishments and usually features prepared remarks from the National Teacher of the Year.
This year, President Trump invited the 2017 State Teachers of the Year to stand around his desk in the Oval Office, while he remained seated, for what appeared to be yet another photo opportunity. The teachers' family members and guests were not allowed in the room; instead, they were left in hot holding rooms without water. The 2017 National Teacher of the Year, Sydney Chaffee, was not permitted to give her remarks. Trump presented Chaffee with a trophy for her accomplishment, but in a showing of utter disrespect, remained seated while she stood. He did not even shake her hand when handing her the award.
Trump also remained seated as he gave his remarks. Seemingly unaware of the purpose of the Teacher of the Year program, he asked, "There are 55 teachers of the year who are here with us from every state. Every state in the union. Is that right? Every single state."
Wanting to demonstrate a sense of unity and shared values, Minnesota Teacher of the Year Abdul Wright then led the teachers in singing "Lift Every Voice and Sing," a song "often referred to as the Black National Anthem." Some at the ceremony observed that the lyrics and historical significance of the song seemed to be lost on the president and White House staff.
Trump's approach to the Teacher of the Year ceremony conveyed his administration's overall lack of respect for the teaching profession—and for the expertise and importance of the educators in the room.
4. In the fiscal year 2018 budget, the Trump administration proposed eliminating $2.1 billion in funding for programs that recruit, compensate, and support educators
While the White House Teacher of the Year event appeared thoughtless, the Trump-DeVos budget for FY 2018 demonstrates a more intentional move to devalue and deprioritize support for hundreds of thousands of teachers nationwide.
The Trump budget proposes eliminating the major federal funding stream that districts use to support and train their teacher workforces. The $2.1 billion cut to the Supporting Effective Instruction State Grants program, or Title II, of ESSA could pay for more than 35,000 teachers' salaries across the country.
The state of California, which is already facing a dire teacher shortage, would stand to lose $227 million in Title II funds that could pay for more than 3,100 teachers' salaries. Secretary DeVos' home state of Michigan would lose roughly $80 million in funding that could pay for nearly 1,300 teachers.
The administration's budget also doubles down on its attack on teachers by eliminating other major programs that support or train educators, including the Corporation for National and Community Service, or CNCS. CNCS provides competitive grant funding and educational awards for a number of major teacher training and support organizations, such as Teach for America and City Year. Cutting funding for CNCS would mean eliminating critical teacher training and support programs that often serve high-need schools.
The budget also proposes eliminating the Public-Service Loan Forgiveness Program. This program provides aid to borrowers in public-service jobs, including government organizations, tax-exempt nonprofit groups, and teachers in public schools. Under the program, the remainder of a student's debt is forgiven after he or she makes 120 qualifying payments, which typically takes 10 years. By planning to use the Public-Service Loan Forgiveness Program, many public service professionals are able to justify taking out student loans to enter a lower-paying profession such as teaching.
The budget proposal reiterated President Trump and Secretary DeVos' lack of commitment to elevating the teaching profession and ensuring that every student has access to an excellent educator.
5. Time and again, DeVos has paid lip service to the importance of 'great teachers' without committing to investing in their growth
During her short tenure as secretary of education, DeVos has proclaimed her support of "great teachers" on several occasions. However, she seems to believe that great teachers are born and cannot be made. In a 2015 speech at the South by Southwest conference in Texas, she stated, "Not everyone who tries can do it well. We need to admit that and act accordingly." In reality, brand new teachers are often not as effective as experienced teachers. Just like other professionals, teachers can improve as they gain more experience, as long as they have sufficient time, professional development, and resources to do so.
However, Secretary DeVos and the Trump administration have proposed cutting support and training for new teachers as well as eliminating funds for professional learning opportunities in the budget. It is impossible to support great teachers without investing time and resources into helping them achieve greatness.
In fact, when Secretary DeVos testified before the House Appropriations Subcommittee on Labor, Health and Human Services, Education, and Related Agencies last month to defend Trump's budget proposal, Rep. Rosa DeLauro (D-CT) raised this issue. Rep. DeLauro asked whether DeVos believed there is no use investing in teacher development, but DeVos dodged the question, stating that Title II was spread too thin to be effective. As a new report from the Learning Policy Institute demonstrates, however, investing in effective professional development is anything but unnecessary—it is crucial to teacher and student success.
Conclusion
In order to truly improve student outcomes, the federal government, along with states and districts, must invest in modernized systems that support and train the nation's educators. However, Trump and DeVos seem determined to pull the rug out from underneath teachers and the districts that need the resources to adequately support them.
Trump and DeVos must stop devaluing and disrespecting teachers and instead invest time and resources into elevating teachers as allies in the fight to provide an excellent education for all students.
Kami Spicklemire is an education campaign manager at the Center for American Progress. Stephenie Johnson is an associate campaign director with the K-12 Education team at the Center.
The positions of American Progress, and our policy experts, are independent, and the findings and conclusions presented are those of American Progress alone. A full list of supporters is available here. American Progress would like to acknowledge the many generous supporters who make our work possible.
Authors Kami Spicklemire
Education Campaign Manager Stephenie Johnson
Associate Campaign Director