The Gangs of L.A.
Reel Progress Interviews Stacy Peralta about "Made in America"
Reel Progress interviews filmmaker Stacy Perala about his documentary, "Made in America," which chronicles the cycle of violence and poverty in L.A.'s gangs.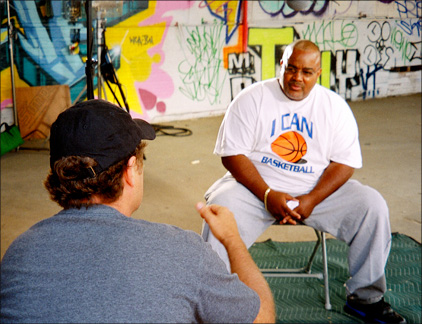 Acclaimed filmmaker Stacy Peralta's "Made in America" premiered to rave reviews at this year's Sundance Film Festival. The documentary chronicles the rise of the Crips and Bloods against the backdrop of the city's most historically segregated and economically depressed areas. Peralta, looking to change popular notions about gang members as ruthless criminals, strikes a remarkable balance between a fact-based historical examination and a compassionate exploration of the youth, men, and women who become trapped in a cycle of violence and poverty.
Reel Progress hosted a sold-out screening and discussion of this powerful film in May with the support of the Los Angeles-based Liberty Hill Foundation. The panel and audience included community leaders such as Connie Rice of the Advancement Project; Reverend Jeff Carr, Director of Gang Reduction and Youth Development Programs for the City of Los Angeles; filmmaker Stacy Peralta; and former and current gang members featured in the movie. A particularly moving moment in the program occurred when Connie Rice, a lawyer and community activist who has been working on gang-related issues for more that 20 years, invited three women to share the stage, all mothers who'd lost their sons to gang violence.
Reel Progress interviewed filmmaker and skate legend Stacy Peralta over email about the challenges he faced in making "Made in America," and why he felt it was important to set the record straight on gang violence.
Reel Progress: Why did you decide to make a film about the history of gang culture and the evolution of the Crips and the Bloods in Los Angeles?
Stacy Peralta: I was motivated to make this film because it's a film I personally wanted to see, and it's a subject I personally wanted to investigate. I was interested in investigating why it started, what sustains it, and if is there a way can we look at these young men that is different than the way society has been viewing them over the past decades; i.e., is it just possible we could look at them as human beings first and gang members second instead of the other way around.
RP: As a native Californian, what did you know about LA's gang scene going in to making the film, and what is the most significant thing you learned in the process? What were some of the surprises you encountered as you researched for this film?
SP: What I knew is that gang violence had existed for over 40 years, and that in that four-decade-long period, no lasting solution has ever been put in place. It made me wonder if the same problem occurring in white neighborhoods would go that long without a lasting solution. Would our society allow it to happen to white teenagers? The thing that most surprised me was how accessible and receptive these young men were.
RP: Once you decided to make this film, how did you go about selecting the people, insights, and stories you ended up featuring in the movie? Is the story you started out wanting to tell the same one you ended up telling?
SP: It was a process of research and meeting various individuals in the various neighborhoods I visited. Certain individuals that struck me as charismatic and particularly articulate I decided to follow and make a bigger part of the story. The story I ended up with is fairly close to what I had hoped—though it's much bigger in scope than my original intention.
RP: In "Dogtown and Z-Boys," you were the ultimate insider as an original Z-Boy yourself—which is part of what made that film so compelling. With "Made in America," you didn't have that same "inside" track. If it had any impact at all, in what ways did your "outsider" status help or hinder the process of making the film and telling this story?
SP: At first I thought it was going to be a problem, as in, who are you and what do you want? But the reaction I received was just the opposite. I was welcomed into every neighborhood I entered and found all of the different gang members I met to be willing and interested in talking about their experiences. I never went anywhere unannounced and without having done advance preparation and I never entered any neighborhood without being escorted in by someone of high esteem in that neighborhood.
RP: Unfortunately, when the mainstream media talks about American minorities, they are often cast them as separate and apart from mainstream America with issues that are altogether different and peculiar to certain communities. Given that, how did you come to the decision to call this film "Made in America"?
SP: We decided to call it "Made in America" because one of our main characters explains that this is a problem that is explicitly made in America and not somewhere else; as well, we decided to title it that as a result of exactly what you said of these minorities being referred to as "others." These kids, no matter how messed up, are pureblooded Americans, which we as a society sometimes or perhaps even want to forget.
RP: Looking at both "Made in America" and "Dogtown and Z-Boys," it seems that both movies highlight the way youth subcultures develop in the context of young people trying to make sense of their environment, their peers, while also searching for security and belonging, as well as relevant ways to express themselves. Why should society pay attention to what young people are doing?
SP: In this case we need to become involved because these are American teenagers who are easily obtaining automatic assault rifles within our country and killing each other year after year after year. This is not supposed to happen in America. We are supposed to be the land of liberty and human rights—how can we be when this is going on as long as it has been?
RP: Finally, any last thoughts you'd like to share with our readers?
SP: There is never a "right time" for anything that is important for you to do. "Now" is always the right time.
Reel Progress is the progressive film series sponsored by the Center for American Progress. Since March of 2005, the Center has hosted free screenings open to the public in DC and around the country. These screenings are followed by provocative panel discussions with leading policy experts, actors and filmmakers. We aim to advance a progressive agenda through innovative films that connect the arts to campaigns for social change and progressive public policy.
The positions of American Progress, and our policy experts, are independent, and the findings and conclusions presented are those of American Progress alone. A full list of supporters is available here. American Progress would like to acknowledge the many generous supporters who make our work possible.