Quadrennial Defense Review Should Spark Interagency Climate Conversation
Quadrennial Defense Review Should Spark Interagency Climate Conversation
The Pentagon's QDR was a critical step toward comprehensive approaches to climate change, but we should see more of this action in the future, write Michael Werz and Kari Manlove.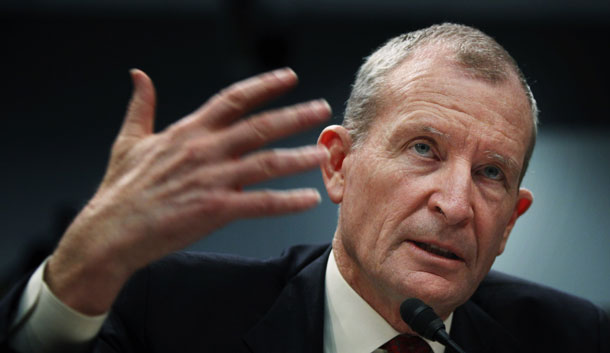 At long last, the world's top energy consumer is factoring climate change into its long-term strategies. The Department of Defense recently presented to Congress its Quadrennial Defense Review, or QDR, a strategy document that lays out the Pentagon's vision for its missions and force structure in the face of anticipated threats. The QDR identifies climate change as a destabilizing agent and discusses how military operations should respond to climate-induced disasters and how climate change will affect military operations. The QDR's recognition of climate change's threat should kickstart an interagency discussion among the Pentagon, the State Department, and the White House on a comprehensive approach to climate change that factors in its ability to drive migration and destabilize regions.
For the first time, the Pentagon measures the cost of its own tremendous energy use not only in dollars but also as a strategic disadvantage. Only days after President Barack Obama announced an executive order requiring the entire federal government to reduce its greenhouse gas emissions, the QDR takes an introspective look at the military's energy consumption, especially with regard to transportation on the battlefield.
It appropriately tags energy efficiency as a "force multiplier," and for good reason: Reliable energy supplies are of the utmost importance on military missions, which explains why troops protect energy supply routes and why support convoys are often the target of attacks. Reduced reliance on oil through energy efficiency will safeguard American troops, cut down pollution, and free up federal dollars for other priorities—fuel costs account for about one-third of the annual cost of deploying a service member to Afghanistan.
The Pentagon's increased attention to efficiency wasn't that surprising given its importance, but it also recognized that the U.S. military increasingly engages in disaster response, which broadens the military's responsibilities beyond traditional operations. The Center for Naval Analysis convened a board of military officials in 2006 who concluded that climate change is a "threat multiplier" and increases political instability in regions that are important to the United States. The new QDR takes these arguments one step further by conceding the necessity of a comprehensive approach to energy security, climate stability, and even the strengthening of weakened governments in areas particularly vulnerable to the effects of climate change, because such an approach is in the United States' national interest.
The QDR's authors mention the "significant geopolitical impact" that climate change will have around the world, "contributing to poverty, environmental degradation, and the further weakening of fragile governments." This acknowledgment is an important step in addressing the complex security and humanitarian challenges of coming decades. And it lays the ground for yet another step into the right direction: the notion that there isn't a military answer to every security threat.
The intelligence community also seized the opportunity to weigh in on climate change last week with its Annual Threat Assessment, presented to the Senate by the director of national intelligence, Admiral Dennis Blair. The DNI's assessment draws on expertise from various federal agencies that analyze the sources and effects of climate change. Blair wrote that, "As climate changes spur more humanitarian emergencies, the demand may significantly tax U.S. military transportation and support force structures, resulting in a strained readiness posture and decreased strategic depth for combat operations."
This assertion coincides with a similar point about emergencies made in the QDR that "climate change will contribute to food and water scarcity, will increase the spread of disease, and may spur or exacerbate mass migration." But these themes are only mentioned in passing and the report doesn't spell out the full range of potential humanitarian consequences. Climate scientists have developed many projections that predict intensifying storms, more severe hurricanes, and exacerbated drought and water scarcity. Each of these will affect worldwide agricultural capacity and output, access to food and water resources, and threaten the economic livelihood of millions. Experts estimate that 200 million people could become climate migrants by 2050 in extreme cases, and the entire globe from Bangladesh to Africa's Sahel zone will be affected.
The DNI report estimates that climate impacts in the Caribbean and Central America could fuel migration into Mexico and the United States, and swelling migration in Southeast Asia "increase[s] friction between diverse social groups already under stress from climate change." The Center for American Progress recently argued that Northwest Africa is a region to watch in regard to climate and its impact on security and policy, both for the United States and the European Union.
The outlook in the region is particularly worrisome according to Blair:
"The effects of climate change in North Africa are likely to exacerbate existing threats to the region's water and food resources, economies, urban infrastructure, and sociopolitical systems. Cities probably will face deteriorating living conditions, high unemployment, and frequent civil unrest. Climatic stress coupled with socioeconomic crises and ineffective state responses could generate localized social or governmental collapses and humanitarian crises. Climate change will likely increase the already substantial migration of North Africans to Europe. The region also will serve as a route for transmigration if Sub-Saharan Africans flee severe climatic stress."
A recent report by the Potomac Institute for Policy Studies also concludes that transit migration through the Maghreb—Morocco, Algeria, Tunisia, Libya, and Mauritania—to other locations contributes to the destabilization of Northern African societies. This instability in turn provides an operating environment for the rapidly growing regional branch of Al Qaeda, which operates in Algeria, Morocco, Tunisia, Libya, Mauritania, Mali, Chad, and Niger. "From their low point following 9/11, terrorist incidents in the Maghreb and Sahel have climbed to a staggering 204 in 2009, a new high level of intensity. This escalation represents a 558 percent increase in terrorist operations that have killed more than 1,500 people and wounded 6,000 others," writes Yonah Alexander in the report.
But the Maghreb is not the only place where migration at least partly caused by environmental change happens in volatile and unstable regions where substantial movement of people can give rise to conflict. Therefore, it is essential to factor these more subtle effects of climate change, such as migration, into the national security equation and acknowledge the fact that many of its consequences can only be addressed with innovative approaches that follow a sustainable security strategy that combines national security, human security, and collective security.
Adaptation strategies, such as handling climate-induced migration, should be integrated into all levels of development and foreign assistance in the future. And the interface between diplomacy, aid, and military operations must be redefined—because missions addressing the consequences of climate change and political destabilization will often be carried out in insecure environments. These policies need to be based upon principles of civilian leadership as well as durable and transparent legal frameworks. Disaster assistance, already difficult enough, may prove to be the easy part.
Climate change and its global security impact can't be addressed by the Department of State, the Pentagon, or the U.S. Agency for International Development separately. This is why the Department of State's forthcoming Quadrennial Diplomacy and Development Review, or QDDR, should pick up this conversation. Being the first such report, it could become a landmark in foreign policy by incorporating climate migration and other anticipated humanitarian impacts, and it could help start a debate about forward-looking strategic moves to shape the State Department and USAID's institutional vision of the 21st century.
Anne-Marie Slaughter, the director of policy planning at the State Department,, is a co-chair of the QDDR, which is expected to be made public late this September. During a recent U.N. Development Program event on the publication of this year's Human Development Report, she reiterated that human rights, development, and diplomacy are three separate goals that need to be brought together. The Department of State should take the Pentagon up on its promise in the QDR that it will work closely with other departments and agencies as well as "both traditional allies and new partners." This partnership must also extend to the White House, where the president should integrate the challenge of climate change into his first national security strategy. While this is no small order, addressing climate migration requires thinking about new mechanisms and interagency solutions that incorporate diplomacy, development, and defense—the cornerstones of sustainable security.
The Pentagon's analysis of climate change in the QDR was a significant first step and one that the State Department and the White House should take further. Following that, the federal government should make every effort to combine the efforts of the Pentagon, State Department, USAID, and others to build comprehensive interagency efforts under civilian leadership. This is necessary to tackle the challenges of the future and overcome institutional logjams that date back to the Cold War and hinder the necessary modernization of U.S. foreign policy in many of its facets.
Michael Werz is a Senior Fellow at American Progress, and Kari Manlove is a Research Associate for the Energy Opportunity team at American Progress.
More on this topic:
The positions of American Progress, and our policy experts, are independent, and the findings and conclusions presented are those of American Progress alone. A full list of supporters is available here. American Progress would like to acknowledge the many generous supporters who make our work possible.
Authors
Senior Fellow