Peña Nieto's Next Steps
Mexican President-Elect Needs to Govern Openly and Transparently
Eric Farnsworth and Michael Werz explore what Mexican President-Elect Peña Nieto needs to do as he prepares to take office.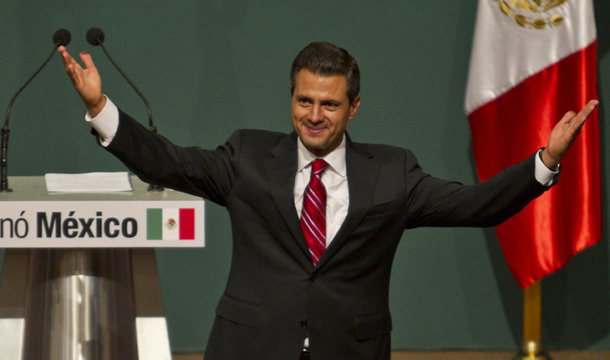 Mexican voters selected presidential candidate Enrique Peña Nieto yesterday in an open, free, and fair election. Peña Nieto's early and stable lead in the electoral campaign as well as his easy victory allowed him to campaign on generalities without having to clearly define his political philosophy or presidential agenda. He also didn't have to spend much time convincing voters that his party, the Institutional Revolutionary Party, or PRI—the "perfect dictatorship" that ruled Mexico for 72 years until 2000—had fundamentally changed into a modern party that can be trusted to govern democratically.
The president-elect will now have the opportunity—and the obligation—to fill in the blanks about his agenda and his party. He will need to govern openly and transparently, and build on the record of outgoing President Felipe Calderón to push through the economic and judicial reforms that Mexico clearly needs.
By most accounts, the new president is a politically savvy and personally compelling leader. His record as governor of the State of Mexico received solid marks, despite inevitably coming under fire during the campaign, especially by critical Internet activists and protesting students.
The reality is that Peña Nieto was elected with a plurality but not an outright majority—more than one out of every two Mexicans who voted pulled the lever for someone else. Many voters have a strong, almost visceral distrust of the PRI because of their autocratic past and Peña Nieto will need to make it crystal clear that this is "not your father's PRI."
Peña Nieto's next-generation image is a solid foundation, but observers will closely scrutinize the advisors appointed to surround him. More importantly, they will examine the way the incoming administration does business, and it will be incumbent upon the new team to bend over backward to avoid even the appearance of corruption. Mexico has fundamentally changed over the last 12 years, particularly with the development of a professional media culture, and increasing numbers of middle-class Mexicans are much less willing to ignore or excuse corrupt political practices. Building trust and broadening popular support early in his term will be crucial to Peña Nieto's presidency.
At the same time, Peña Nieto inherits a nation that, despite drug thugs perpetrating gruesome high-profile atrocities on an almost daily basis, has achieved solid economic growth. Projections indicate that Mexico—still overly reliant on a sluggish U.S. economy—will grow 3.5 percent this year, while regional darling Brazil—overly reliant on a slowing China—will grow at just more than 2 percent. This fact is also mirrored in reversed migratory flows: More people are now moving from the United States to Mexico than vice versa, due primarily to a relative rebalancing in economic opportunity for workers between the neighboring countries.
A new administration with a positive economic tailwind is the most favorable environment to pursue politically sensitive reforms, and Peña Nieto will have the opportunity—should he choose to act upon his campaign rhetoric—to press a reform agenda. He has promised to liberalize energy, improve education, reduce violence, and reform the tax code, among other priorities.
This is a daunting challenge, and progress on these priorities will require building support beyond the PRI not to mention a deft political hand. The good news is that, much as Nixon was able to achieve détente with China because of his reputation as a Republican hawk, the PRI institutionalized a nationalist approach to energy and a corporatist approach to the education sector and unions, and may therefore have the best chance to reform those policies, which have held back Mexico's development over the years.
The outgoing Calderón administration also bequeaths a strengthened global position, having placed Mexico within an interlocking web of international arrangements. Relations with the United States are solid, albeit overly concentrated on security issues, and Mexico has a real opportunity to take a lead in hemispheric affairs. Having just hosted a successful G-20 meeting last month and the COP-16 climate change conference in late 2010, Mexico has proven its ability to manage complicated international events both substantively and logistically.
From a hemispheric perspective Mexico is also a leader on trade integration and was recently granted entry into ongoing negotiations to build the Trans-Pacific Partnership with Asia. As the North American Free Trade Agreement approaches its 20th anniversary, Mexico has proven capable of meeting its obligations through good economic times and bad. This record of responsibility contrasts favorably with a number of other Latin American nations and has made Mexico an attractive place to invest and do business. Peña Nieto will have the opportunity to further develop this reputation.
President-Elect Peña Nieto now has to manage a lengthy five-month transition period until he takes office in December, made more complicated by uncertainty surrounding the U.S. presidential election results. The coming months will be the first major test of his political skills and present a great opportunity to engage the United States in a conversation about our joint future.
Eric Farnsworth is vice president of the Council of the Americas and Americas Society, heading their Washington, D.C., office since 2003. His area of expertise includes the role of Asia in the Americas, trade, energy, U.S. policy in the region, and national security affairs. Michael Werz is a Senior Fellow at the Center for American Progress where his work as a member of the National Security team focuses on the nexus of climate change, migration, and security and on emerging democratic powers in Turkey, Mexico, Brazil, and India.
The positions of American Progress, and our policy experts, are independent, and the findings and conclusions presented are those of American Progress alone. A full list of supporters is available here. American Progress would like to acknowledge the many generous supporters who make our work possible.
Authors
Senior Fellow