Making the Case for Chosen Family in Paid Family and Medical Leave Policies
Making the Case for Chosen Family in Paid Family and Medical Leave Policies
To ensure that LGBTQ individuals are included in paid family and medical leave policies, lawmakers must design the policies to cover diverse family relationships and allow for caregiving of chosen family.
Part of a Series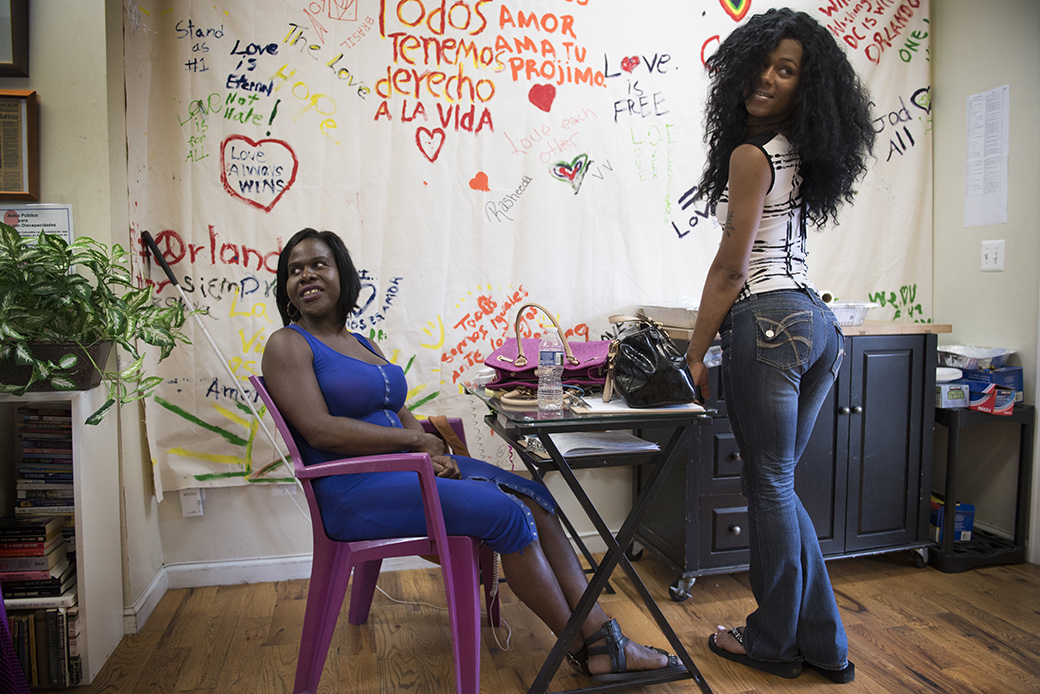 Learn about the state of inclusive caregiving in paid leave policies in 2023
A 2023 CAP article explores the importance of chosen family for LGBTQI+ workers and addresses the need for inclusive definitions of family in paid family and medical leave policies.
In the past year, the coronavirus pandemic has revealed that U.S. workplaces and work-family policies are ill-equipped to support workers with illnesses or caregiving responsibilities. This policy gap has affected LGBTQ individuals, who often have less access to care from traditional family structures, in particular ways. The United States' lack of any permanent, national paid leave policy makes it the sole outlier among industrialized countries and puts workers' jobs, economic security, and health at risk. With the recent expiration of temporary COVID-19 emergency paid leave, 4 out of 5 workers have been left without access to paid family leave. As this concern becomes a prominent part of the national conversation, policymakers must act to create a permanent paid family and medical leave policy and ensure that it reflects diverse caregiving relationships in order to meet the needs of LGBTQ individuals.
An essential component of a comprehensive, inclusive paid family and medical leave policy is an updated understanding of which individuals count as family. Critically, analysis of Census Bureau data in 2020 shows that just 18.4 percent of American households follow the traditional nuclear family structure.* Instead, millions of people rely on chosen family—individuals who form close bonds akin to those traditionally thought to occur in relationships with blood or legal ties—for caregiving support. This could include a partner to whom a person is not legally married, a close friend who helps around the house, or a neighbor who regularly comes by for dinner. Chosen families are particularly meaningful for LGBTQ individuals, many of whom have strained relationships with blood relatives or have close partners to whom they are not legally married. According to new, nationally representative data from the Center for American Progress—collected in June 2020, an update from a 2017 survey—fewer than half of LGBTQ Americans are most likely to rely on biological family for support when sick, and fewer than one-third are likely to rely on a spouse to whom they are legally married.** Original analysis of these data, presented below, highlights the importance of paid leave for LGBTQ individuals, as well as the integral role chosen family plays in caregiving arrangements.
CAP analysis illustrates the importance of chosen family for LGBTQ individuals
A significant percentage of LGBTQ workers do not currently have access to paid family leave. Data from the 2020 CAP survey show that 37 percent of LGBTQ workers reported not having access to paid family leave or paid sick leave at their current employer, a finding that holds consistent for LGBTQ people of color. A greater share of LGBTQ women and LGBTQ workers with disabilities—43 percent of both groups—reported not having access to paid family leave or paid sick leave. Nearly two-thirds, or 64 percent, of LGBTQ workers who earn less than $25,000 annually reported a lack of access.
Meanwhile, many LGBTQ workers lack access to traditional family support when they fall ill. Thirty-two percent of survey respondents reported moving away from family to avoid discrimination, including 38 percent of Black respondents and 47 percent of transgender respondents, demonstrating the inability of many to turn to blood relatives when in need of care for a serious health condition. Just 25 percent of respondents reported that they were married, likely reflective of both a larger societal push away from marriage and lower rates of marriage among LGBTQ individuals—who did not have nationwide marriage protections until just five years ago. One-quarter of respondents who were not married reported they were currently living with a partner.
These trends are particularly prominent among older LGBTQ individuals, who are both more likely to need caregiving and who have been legally denied family recognition for most of their lives. Fewer than 1 in 3 respondents over age 55 reported that they would be likely to turn to biological or legally recognized family members for support when sick. Meanwhile, 72 percent of respondents over age 55 reported that they have been called upon to support friends or chosen family due to a health-related need.
Without legal or familial connections, LGBTQ individuals often turn to their partners or chosen family for support when they have a health-related crisis. Twenty-nine percent of respondents overall reported that they would be most likely to turn to a partner to whom they are not legally married for care if they needed to take time off work for health-related reasons, including 32 percent of respondents of color. One-third of respondents reported that they would be most likely to rely on friends or chosen family members for caretaking during a health-related issue. These findings indicate that when ill, a large portion of LGBTQ individuals may look to loved ones who would be unable to get time off work to assist them under current federal laws. The need for chosen family has been further underscored during the coronavirus pandemic, as many individuals who live far away from biological family members have had to rely on friends and chosen family for care after becoming sick with COVID-19.
LGBTQ individuals are also highly likely to provide care to chosen family. Sixty-three percent of respondents who were working said that they have at some point been called on by a close friend or chosen family member due to a health-related need, including 71 percent of transgender respondents. However, only two-thirds of LGBTQ workers called on to care for a close friend or family member due to a health-related need reported having access to paid leave. These data underscore the need for paid leave policies that recognize and support diverse caregiving relationships, including chosen family.
The current state of U.S. family leave policies
There is significant precedent for an expanded understanding of family relationships in federal and state laws. The federal government first recognized the importance of an inclusive definition of family during the Vietnam War, when it allowed federal employees to take funeral leave for combat-related deaths of chosen family. In 1994, Congress permitted federal workers to take paid sick leave for family caregiving when it passed the Federal Employees Family Friendly Leave Act, defining family members broadly as "any individual related by blood or affinity whose close association with the employee is the equivalent of a family relationship." In 2015, an executive order from then-President Barack Obama extended this definition to include certain federal contractors, granting them paid sick and safe time.
Some states have also adopted expansive definitions of family, including chosen family, in their paid family and medical leave programs. New Jersey enacted its paid family leave law in 2008; in 2019, it became the first state in the nation to allow workers to take up to 12 weeks of paid leave to care for a chosen family member. Connecticut, Oregon, and Colorado have followed suit, including chosen family in their recently adopted paid leave laws, which are set to go into effect in 2022, 2023, and 2024, respectively. Some states and localities, meanwhile, have included chosen family in their paid sick leave laws, demonstrating that many employers are already familiar with inclusive paid leave policies.
Nationally, the Families First Coronavirus Response Act (FFCRA) codified the ability for millions of employees to take two weeks of COVID-19 emergency paid sick leave so that they could care for "individuals"—a term broadly defined as people with whom employees have relationships in which there is both the need for and an expectation of care. This was a major step in extending an inclusive family caregiving definition to private workers. Although the guarantee of emergency paid leave expired on December 31, 2020, and became voluntary in 2021, it demonstrated that an inclusive national paid leave policy is possible.
Conclusion
Expanding access to paid family and medical leave by establishing a permanent policy in the United States is critically important to support workers with caregiving responsibilities. But the policy must be designed to recognize the diverse reality of American families and caregiving relationships by codifying workers' right to use paid leave to care for their loved ones, regardless of blood or legal relation. This is critical to meet the needs of LGBTQ individuals, who report relying on chosen family for caregiving and providing care to close friends or chosen family. The meaningful progress made at the state and local levels to expand the definition of family in paid leave policies creates clear precedent for policymakers who craft a national policy.
Lindsay Mahowald is a research assistant with the LGBTQ Research and Communications Project at the Center for American Progress. Diana Boesch is a policy analyst for women's economic security with the Women's Initiative at the Center.
The authors would like to thank Shilpa Phadke, Sarah Jane Glynn, and Sharita Gruberg from the Center for American Progress and Jennifer Morales from Family Values @ Work for their thoughtful comments on this piece, as well as the Family Justice Network and all of its national partners for their contributions.
* CAP calculations are based on Bureau of the Census tables from the "Families and Living Arrangements: Historical Time Series": Table HH1: Households by Type: 1940 to present and Table FM-1: Families by Presence of Own Children Under 18.
** Data are from a nationally representative survey of 1,528 LGBTQ+-identifying individuals, jointly conducted in June 2020 by the Center for American Progress and NORC at the University of Chicago.
To find the latest CAP resources on the coronavirus, visit our coronavirus resource page.
The positions of American Progress, and our policy experts, are independent, and the findings and conclusions presented are those of American Progress alone. A full list of supporters is available here. American Progress would like to acknowledge the many generous supporters who make our work possible.
Authors Lindsay Mahowald
Former Research Assistant Diana Boesch
Policy Analyst, Women's Economic Security
Explore The Series
The Center for American Progress has worked with NORC at the University of Chicago to design a comprehensive, nationally representative survey that collects data on the lives, attitudes, and experiences of LGBTQI+ Americans. The survey results reveal LGBTQI+ communities' experiences in a wide range of situations in both the public and private spheres—including discrimination, physical and mental well-being, medical care, the workforce, education, and government services. It also breaks down participants' responses along demographic lines such as race and ethnicity, gender identity, age, disability status, and educational attainment. Survey results play a critical role in better understanding these groups' realities and informing policy responses to disparities as well as paths forward for potential future research.
Previous
The State of the LGBTQ Community in 2020
The State of the LGBTQ Community in 2020
Next
Discrimination and Experiences Among LGBTQ People in the US: 2020 Survey Results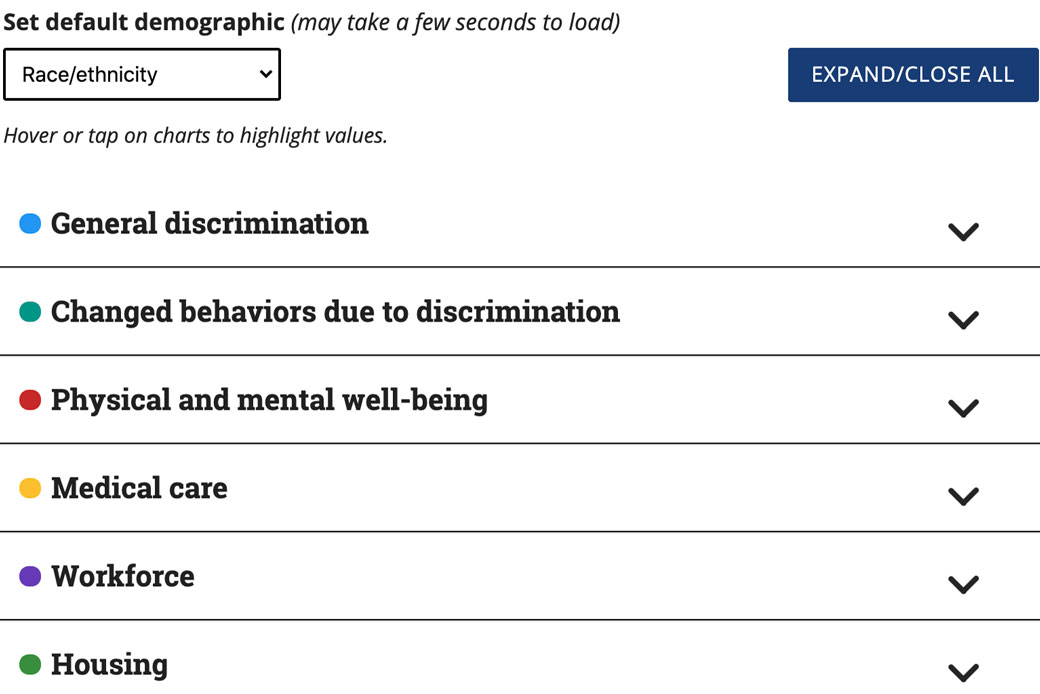 Discrimination and Experiences Among LGBTQ People in the US: 2020 Survey Results