Ivory Coast Teeters on the Brink
Ivory Coast Teeters on the Brink
Political Turmoil Could Lead to Civil War
A political stalemate in the Ivory Coast could quickly turn to civil war, says Sarah Margon. That would be disastrous for the region and bad for the United States.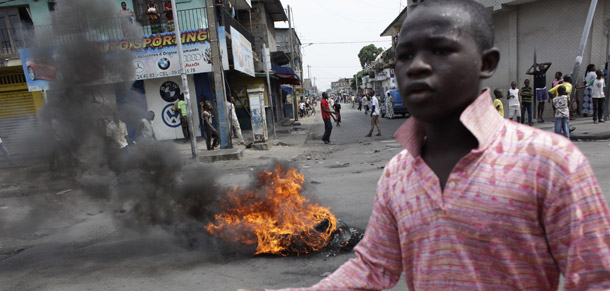 Fighting surges in Libya and tensions continue to rise between North and South Sudan. But another African country is also reaching a boiling point. The Ivory Coast, or Cote D'Ivoire, a small cocoa-producing nation in West Africa, faces a political stalemate that has gone virtually unnoticed despite clear signs that the country may be on the brink of civil war.
Our strategic interests in Ivory Coast are limited. Still, the Obama administration's sustained engagement is essential if we are to avoid a full-blown crisis and ensure the broader region doesn't collapse. It is still recovering from nearly a decade of war in neighboring of Liberia and Sierra Leone.
Over the years, U.S. government humanitarian assistance and diplomatic engagement in this region has been critical to the promotion of peace and reconciliation. Most recently, these efforts helped ensure progress on recovery and reconstruction—two vital conditions that can help stabilize the region over the long term. If the crisis in Ivory Coast were to jeopardize that effort it would likely result in a costly mop-up effort at a time when we are looking to cut our spending.
A dangerous standoff
Ivory Coast was once considered the only stable country in a region wracked by violence. The last decade, however, saw Ivory Coast come dangerously close to full-blown war many times. Efforts to resolve a 2002 coup-turned-conflict waxed and waned. And tentative peace deals gave way to repeated bursts of violence that ultimately split the country in two. Rebels claimed the north, the government held tight to the south, and some 10,000 U.N. peacekeepers patrolled in between.
The long overdue November 2010 presidential elections pitted sitting President Laurent Gbagbo against opposition leader Alassane Ouattara. They were supposed to bring political legitimacy to the country. Instead they further entrenched the standoff.
The first round of elections was too close to call, but the second round was decisive. Ouattara declared victory with 54 percent—a claim the country's Independent Electoral Commission endorsed. Many analysts expected that Gbagbo would not accept these results despite certification by the United Nations Operation in Côte d'Ivoire, or UNOCI, the U.N. special representative, and multiple regional organizations. They were right.
Gbagbo dug in his heels and rejected the election outcome. Statements of condemnation from the African Union, or AU, and Economic Community of West Africa States, or ECOWAS, did little. AU and ECOWAS have kept working the issue since late 2010 with support from the United States and European Union. But Gbagbo still refuses to go.
U.N. reports indicate that violent clashes are escalating, including attacks on U.N. peacekeepers, and all signs point to increasingly brazen attacks by Gbagbo's security forces. Six women were shot to death while participating in a peaceful protest in broad daylight earlier this week.. There are at least 300 reported violence-related deaths, and many Ivorians are reported as disappeared during this period of turmoil. Scores of Ivorians are now fleeing the country because they fear what may be around the corner. Increased engagement from the international community is critical if we are to avert a full-scale crisis.
How to prevent regional catastrophe
Here are a few steps the administration should take now to help quell the unrest. It is already acting on some of them.
Ensure unity at the African Union
The United States traditionally follows the European Union's diplomatic lead, and particularly the French, in matters related to the Ivory Coast. Nevertheless, we have a strong and direct interest in helping prevent a regional catastrophe. The region remains fragile, but the significant investments America has made to help stabilize the region over the last decade have contributed to an essential foundation for peace and security.
The United States, European Union, and key African organizations are aligned in their messages on Ivory Coast thus far. But this unity may be eroding and fragmenting.
First, the AU summit set for later this week will only be attended by president-elect Outtara despite invitations to both men as part of an effort to bring the crisis to a resolution. Gbagbo's decision not to attend creates room for further dissent among member states. Additionally, Gbagbo may take steps to deny Ouattara re-entry into the country, which would only strengthen his effort to reclaim the presidency.
Second, the high-level AU panel tasked with mediating the crisis delayed its final presentation by a month—another worrying sign of disagreement among key regional actors. The Obama administration should leverage its bilateral relations with key African countries to ensure a consensus agreement is reached. These include South Africa, Angola, Uganda, and Nigeria. It should also encourage them to take a strong stand against Gbagbo. The administration should further appeal to the important role each country can play as a leader on the continent by helping to prevent conflict and respecting election outcomes.
We will be hard-pressed to find a diplomatic solution that can avert the coming storm without regional unity.
Work the U.N. angle
Shortly after the second round election the U.N. Security Council released a statement supporting Ouattara's victory and condemning "in the strongest possible terms" any effort to subvert the popular will of the people or undermine the electoral process. Russia refused to support this presidential statement. But the unanimous resolution renewing the U.N. peacekeeping mission in Ivory Coast—which Russia supported—did also strongly condemn disregard of the election outcome.
Consequently, we should not dismiss pursuing other avenues to engage the Security Council on this issue. The United States, in tandem with the French, should work Security Council members to once again encourage peacekeepers to robustly and proactively interpret their mandate to ensure civilian protection, particularly in light of the recent Security Council agreement to deploy an additional 2,000 U.N. peacekeepers.
The United States should also press the Security Council to request the U.N. Panel of Experts for Ivory Coast prepare a new list of individuals for possible sanction with a particular focus on the postelection period. The Obama administration and the European Union imposed sanctions on Gbagbo and his inner circle in December 2010. These sanctions, combined with Ouattara's decision to ban cocoa exports—the main source of revenue for the country—have choked off funds and made it increasingly difficult for Gbagbo to pay his supporters. Casting a wider net to ensnare those who continue to prop him up can help pave his road to departure.
Prioritize regional stability
Liberia is historically the United States' top priority in the West Africa subregion. We've provided an average of $350 million annually for nearly a decade to help rebuild the war-torn country. Liberia remains fragile, though, and it sits directly to the west of Ivory Coast. Reports of more than 80,000 Ivorian refugees crossing into Liberia send ripples of concern throughout the humanitarian community. That number will grow significantly if the crisis in Ivory Coast deteriorates further.
The bottom line is that Liberia simply does not have the capacity or resources to respond to another crisis as it struggles to recover and rebuild from its brutal war. Other neighboring countries are equally ill-equipped and weak.
Fortunately the Obama administration already provided more than $12 million to humanitarian organizations working in the region to help address refugee flows. But this contribution alone will not fix the problem. The Obama administration should also deploy available experts from the State Department's reconstruction and stabilization bureau to help key regional governments develop a plan to handle the influx of refugees.
And while humanitarian assistance is an important initial response and a strong indicator of our concern, our contribution will be akin to sticking a band-aid on a gaping wound absent a broader and more comprehensive strategy to mend the deepening political strife.
This is not to diminish the important work of regional actors. But the administration needs to take more visible steps to help dislodge Gbagbo's grip on power. The window to help defuse this crisis can remain open if the administration combines a willingness to provide humanitarian assistance with senior-level diplomacy throughout the region and at the United Nations.
Sarah Margon is the Associate Director of the Sustainable Security and Peacebuilding Initiative at the Center for American Progress.
The positions of American Progress, and our policy experts, are independent, and the findings and conclusions presented are those of American Progress alone. A full list of supporters is available here. American Progress would like to acknowledge the many generous supporters who make our work possible.