Israel's Likely New Leader
Israel's Likely New Leader
Benjamin "Bibi" Netanyahu hopes to form a broad government in Israel, but his path is littered with challenges, writes Moran Banai.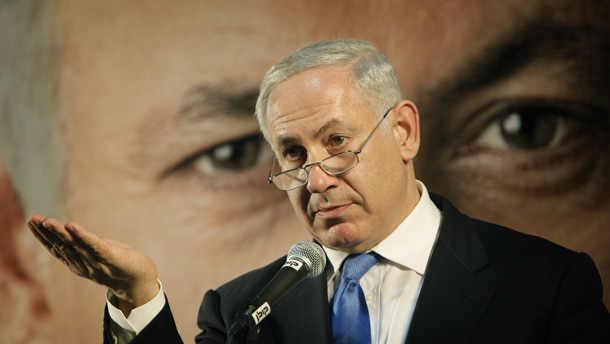 Israeli President Shimon Peres today tapped conservative Likud Party leader Benjamin Netanyahu to form the next government of Israel. This is a big step, but the shape of the next Israeli government is by no means clear. "Bibi" Netanyahu now has 42 days to form a coalition. As he goes about doing this difficult task he will no doubt consider carefully how his coalition government might work with the new U.S. government.
Netanyahu has three options: a broad unity government, a coalition that includes either his main rival Tzipi Livni's Kadima Party or the once-dominant Labor Party, or a narrow right-wing coalition. Almost inevitably, Avigdor Lieberman's nationalist Yisrael Beiteinu, the third-largest party in the Knesset, will be part of any of these coalitions. Lieberman, however, has already set his requirements for joining the government. He wants the justice, public security, and foreign policy portfolios in the cabinet, which could be hard to deliver because he is currently under investigation for bribery and corruption—an investigation that may well involve these same ministries.
Building a viable coalition, then, will be exceedingly difficult, but one voice that may echo in the back of Netanyahu's mind is that of U.S. Special Envoy for Middle East Peace George Mitchell, who is expected in the region next week. Mitchell, who has talked about the need for perseverance in his efforts to resolve the seemingly intractable Arab-Israeli conflict, reiterated Thursday the U.S. support for Israel and the U.S. commitment to a two-state solution in a conference call with Jewish American leaders.
Mitchell also stated explicitly that diplomatic and economic efforts "must be parallel, not sequential." He emphasized that "you can't have economic development when you're shutting the door in the face of any diplomatic development.'"
Mitchell made clear the United States is not in any way trying to influence coalition talks. Nevertheless, as Netanyahu cajoles and entices potential partners, he will remain aware of Mitchell and his boss, the very popular—in the United States and around the world—President Barack Obama, and their commitment to a negotiated two-state solution.
National unity
Netanyahu signaled in a speech on Friday that his preferred option is a broad national unity government with the Kadima and Labor parties. Both of these parties have stated they intend to go into opposition to rebuild themselves and their efforts to implement a two-state solution. Yet the pressures of the coalition-building process and the offers Netanyahu might make could potentially alter these declarations.
While Kadima and Labor want the negotiations with the Palestinians to continue, Netanyahu believes that first Palestinian economic and governance capacity must be built so that eventually the Palestinians can be partners for negotiation. If Netanyahu truly wants a national unity coalition, he will need to find a way to square this circle.
Kadima's Livni has demonstrated in the past that there are limits to her willingness to compromise on policy or with whom she will sit in government; for an example, see her failed efforts to form a coalition in October when she was elected to replace the current prime minister Ehud Olmert as the chair of their party, thus gaining the right to try to form a new coalition. And Labor did so poorly in the election that it might stand by its decision to go into opposition and rebuild.
Mix and match
If one of those parties is unwilling to join a coalition, then Netanyahu may try to form a government with just one of them in combination with a shifting group of right-wing parties. The difficulties with this choice abound and enticements would likely need to be deep and wide, as neither Labor nor Kadima want to be seen as a fig leaf for the actions of a right-wing government. A Likud-Kadima government in combination with a spectrum of right-wing groups faces that challenge, as Livni said Thursday she will not sit in a coalition with parties that will not allow discussions of a two-state solution.
Another possibility being tossed around is a government made up of Likud, Kadima, and Yisrael Beiteinu, with no religious parties. Yisrael Beiteinu's Lieberman is an advocate of civil marriages and other policies that would change the current religious-secular balance of the state. Such a coalition might be able to push through these types of legislation to the consternation of religious, right-wing groups that might otherwise be Netanyahu's natural allies.
The narrow right
If none of these combinations is possible, then Netanyahu can ultimately fall back on a narrow right-wing coalition. Such a coalition will be unwieldy. He will be beholden to small parties with big demands that will dramatically limit his maneuvering room. Netanyahu has been quoted as saying that his greatest mistake during his first term as prime minister from 1996 to 1999 was relying on a right-wing coalition. Forming a right-wing coalition will require making big concessions not only to Lieberman, but to parties like Shas, an ultra-orthodox party that refuses to allow discussions of dividing Jerusalem and demands funding for its religious education and social welfare systems.
As one analyst put it, these parties are Netanyahu's safety net as he forms a coalition, but in "some scenarios, this net may well turn out to be a noose." Nevertheless, as the clock ticks down on 42 days, a right-wing government—while hard to govern with and likely to fall apart at the sight of progress between Israel and the Palestinians—will likely be the easiest to form.
Moran Banai is U.S. Editor for Middle East Bulletin, a publication of Middle East Progress.
The positions of American Progress, and our policy experts, are independent, and the findings and conclusions presented are those of American Progress alone. A full list of supporters is available here. American Progress would like to acknowledge the many generous supporters who make our work possible.