Helping Syrian Refugees in Lebanon
Helping Syrian Refugees in Lebanon
Humanitarian and Security Concerns Require Action
Haydn Welch says this is one step the United States can take now to help Syrians and also stop violence from spilling into Lebanon.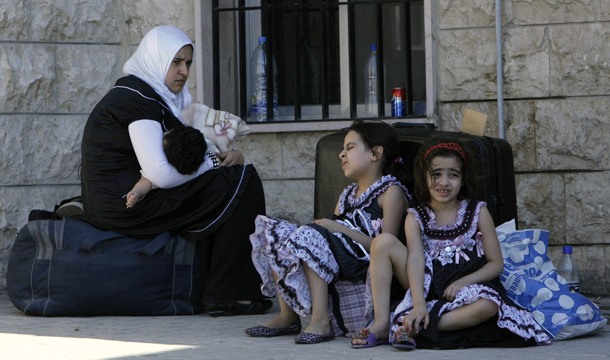 See also: U.S. Policy in Syria Enters a New Phase by Brian Katulis; Next Steps in Syria: A Look at U.S. Priorities and Interests by Ken Sofer; What Drives Russia's Unrelenting Position on Syria? by Nicholas Kosturos
Escape from Syria into Lebanon poses great threats—shelling, gunfire, snipers, and landmines.  But the dangers do not end after crossing the border. Finding food, shelter, and medical care become main priorities for the hundreds of refugees crossing the Syrian-Lebanese border each day.
While conflict creates or exacerbates humanitarian catastrophes, the converse is also true: Humanitarian catastrophes can exacerbate existing conflicts. For humanitarian reasons alone, the United States can and should do more to assist Syrian refugees in Lebanon. But in doing so, we can preserve our security interests in a stable Lebanon through increased aid to refugees and working to convince other countries to provide more financial assistance to humanitarian organizations in Lebanon.
The conditions for the thousands of Syrian refugees in Lebanon are growing increasingly dire. In the 48 hours after the July 18 bombing that killed the Syrian defense minister and several of Syrian President Bashar Al-Assad's top defense advisors, the United Nations reported as many as 30,000 Syrians crossed over the Syrian-Lebanese border seeking safety. Before this exodus, just less than 30,000 refugees were registered to receive humanitarian assistance in Lebanon. Some activists put the number of actual refugees as high as 90,000.
In spite of aid organizations' best efforts, basic needs for refugees, such as food, shelter, and medical treatment, are not being met. Many Syrian refugees are able to stay with family members or friends in Lebanon but others have no such connections.
A Syrian activist who assists Syrian refugees in Lebanon said his greatest challenge was to find housing for the thousands of refugees who flee Syria each week. He said refugee camps would make his job of providing shelter to refugees much easier. Unlike Jordan and Turkey, Lebanon has no refugee camps for Syrians. Instead, aid organizations have found creative yet inadequate ways to house the Syrians. Evacuated schools, shops, and temporary tents are a few of the places the refugees are currently living. With a fragile Lebanese economy, it will be difficult for refugees to find more permanent housing and means of living.
This is where aid organizations come in: Many are working hard to find better housing for refugees but the groups generally lack the funding to pay for decent housing. These crucial international and local organizations are unable to satisfy the needs of the thousands of refugees in Lebanon.
The problems facing relief agencies
One major obstacle to refugees getting proper assistance is the registration process with the U.N. High Commissioner for Refugees—a key process in tapping international aid. The United Nations reports only 35,141 Syrian refugees are registered in Lebanon, yet a recent report from its High Commission for Refugees states most Syrian refugees do not register. One reason why registration is so low is because many refugees are wary of providing their information to the United Nations for fear their information could be accessed by the Syrian regime. Another reason is that many refugees cross the border illegally and cluster in a wide array of places, ranging from Tripoli in the north, to the Bekaa Valley in the east, and to Beirut in the west.
The United Nations is attempting to establish more centralized registration locations in lieu of door-to-door registration to make it easier to track down Syrian refugees and boost the numbers of refugees officially receiving aid. Because most Syrian refugees in Lebanon are not registered, the bulk of Syrian refugees are not getting much-needed assistance from global aid agencies such as the U.N. World Food Programme, because the World Food Programme only provides food vouchers to those refugees who have registered.
Lack of funding for nongovernment organizations is another problem. Save the Children, which provides education for children and various supplies for their families, says it and other humanitarian organizations only have a third of the funding necessary to operate fully. As a result, organizations delivering food assistance, treatment for serious wounds to mental health problems, and shelter to Syrian refugees do not have sufficient resources to deal with the refugee crisis.
Local organizations helping Syrian refugees face their own problems as well. The Lebanese Higher Relief Committee, the official Lebanese aid organization, had to temporarily suspend medical aid to Syrian refugees on July 10, citing a lack of funds. Fortunately, the Lebanese cabinet approved a plan on August 2 to loan the local relief agency the funds it needs to resume providing medical assistance to refugees.
Spreading violence within Syria
The shortage of funds for these aid groups exacerbates a growing humanitarian crisis in Lebanon, which in turn is contributing to growing conflict between Assad supporters and opponents in Lebanon, where a long and fraught history with Syria and complicated sectarian politics presents a heightened risk of the conflict spilling over into Lebanon. From 1975 to 1990 a devastating sectarian civil war in Lebanon resulted in the death of at least 100,000 people. The war spiraled into a broader regional conflict when both Syria and Israel intervened in Lebanon.
The Lebanese Civil War officially ended in 1990 but Syrian troops did not pull out of Lebanon until 2005 after Syria was suspected of involvement in the assassination of former Lebanese Prime Minister Rafiq Hariri. And Syria remains entangled in Lebanese politics despite the 2005 withdrawal. A new Lebanese government was formed last year and replaced the government headed by Rafiq Hariri's son, Saad Hariri, who had the support of the United States, but who drew the ire of Syrian supporters in Lebanon, among them the Shia militant organization Hezbollah.
Not surprisingly, Lebanon's sectarian division between Sunnis and Shias has translated into either political opposition to or support for the Assad regime. The numerous Syrian refugees, most of whom are Sunni, have the support of fellow Sunnis in Lebanon. Unfortunately, the refugees face a far more hostile reception from Lebanese Shias. Furthermore, the U.S. government accused Hezbollah of aiding the Assad regime, signaling conflicting responses to the Syrian refugee crisis in the Lebanese government.
Thus far, the violence in Syria has been largely contained within the nation's borders, but there are examples of reverberations into Lebanon. Reports of exchanges of gunfire and shelling across the Syrian-Lebanese border have become commonplace, along with civilian clashes between pro- and anti-Assad neighborhoods. In the first days of June, the Lebanese newspaper The Daily Star reported at least 14 people were killed and another 52 wounded during clashes between the pro-Syrian opposition neighborhood Bab Al Tabbaneh and the pro-Assad neighborhood Jabal Mohsen in Tripoli, Lebanon. On July 28, 2012, 14 people were wounded after clashes broke out between the two neighborhoods.
Preventing violence in Syria from spilling over into Lebanon's border should be a priority for the United States. Given our desire to maintain Israel's security, lessen the influence of Iran and Hezbollah, and promote regional stability, ensuring Lebanon does not get dragged into another bloody conflict is tantamount.
What needs to be done
So far the United States has given $76 million to aid organizations helping Syrian refugees throughout the region. The assistance is divided so that the World Food Programme receives the largest share of the assistance, followed by the U.N. High Commissioner for Refugees, then the International Committee of the Red Cross, and then other nongovernment organizations and U.N. agencies. While $76 million is a substantial amount, it is not enough to meet the needs of Syrian refugees.
The United Nations says it and other humanitarian organizations require $193 million to assist Syrian refugees. The U.N. refugee commission reported this need was only 33 percent fulfilled by July 15, 2012. While the United States cannot be expected to provide all of the funds to satisfy the needs of aid organizations, it can provide more aid to organizations operating in Lebanon and use its influence to convince other countries—particularly wealthy Arab partners involved in the conflict in Syria—to do the same.
The United Nations' request itself may be severely understated because it chose to increase its budget in March of this year to $193 million from $84.1 million due to a dramatic jump in Syrian refugees. Given recent developments in Syria such as the possible exodus of 200,000 Syrians from Aleppo, Syria's largest city, this number will likely be revised again. Similarly, the World Food Programme said on June 28 that it needed $23.8 million to provide food for Syrian refugees for the rest of the year, but is now saying "it faces a $62 million funding shortfall."
On July 22, 2012, the United States generously promised an additional $100 million to Jordan alone to assist the estimated 140,000 Syrian refugees in the country, on top of $660 million already pledged to Jordan. The crisis in Lebanon demands similar aid in order to stop the unraveling of an already fragile situation.
Because international and national aid agencies that are active in Lebanon—among them UNICEF and the Danish Refugee Council—receive funding though coordinated efforts with the U.N. High Commissioner on Refugees, it is imperative the commission receives the assistance it needs. With more funding, private and public aid groups could establish refugee camps enabling broader access to Syrians in need as well as provide better medical treatment. Expanded food vouchers in particular could boost the local Lebanese economy, mitigating the economic stress on communities in northern Lebanon due to the high influx of refugees. Lessening the economic impacts on Lebanese communities could also serve to reduce the potential for increased sectarian tensions resulting from the influx of Syrian refugees.
There is no easy solution to guarantee stability in Lebanon. Even if refugee camps were built using increased financial assistance from the United States and its allies, the possibility of violence due to increased resource competition and sectarian tension could remain. But history need not repeat itself. A secure Lebanon, in spite of the civil war in Syria, can be a reality as long as sufficient financial assistance to Lebanon provides for food, shelter, and other necessities for the refugees.
In addition to supplying some more of its own money, the United States should work to convince other countries to increase their assistance. With greater aid, the United States and other countries can help relief organizations and the Lebanese government improve living standards for the Syrian refugees. More support to these organizations can also allow the Lebanese government to use its resources to establish a larger security presence in areas where sectarian clashes are high.
Saudi Arabia, already aiding and reportedly providing arms to the Syrian opposition, promised $3.7 million to Syrian refugees in Lebanon. Yet Saudi Arabia raised an incredible $125 million in aid intended for Jordan. Saudi Arabia recognizes the instability in Lebanon—as evidenced by the travel warning issued to Saudi citizens—yet provides only a small fraction of the aid needed.
By pointing out the dangers of poor humanitarian conditions and instability in Lebanon, the United States can persuade Saudi Arabia, Qatar, the United Arab Emirates, and Kuwait to increase their financial assistance to the U.N. High Commissioner on Refugees and other aid organizations. Perhaps the Friends of Syria, a group of countries resolved to end the violence of the Assad regime, can reach an agreement to establish a fund for aid organizations in Lebanon, similar to its fund for Syrian rebels.
The refugee crisis in Lebanon will only worsen if inadequate aid to organizations operating there to assist Syrian refugees persists in spite of developments in Syria. And if the crisis escalates and violence stretches into Lebanon, that country's fragile stability and sectarian balance will be threatened. The United States needs to step up its assistance, and soon.
Haydn Welch is a National Security intern at the Center for American Progress.
See also:
The positions of American Progress, and our policy experts, are independent, and the findings and conclusions presented are those of American Progress alone. A full list of supporters is available here. American Progress would like to acknowledge the many generous supporters who make our work possible.