Congress Should Extend Emergency Unemployment Benefits Now
Congress Should Extend Emergency Unemployment Benefits Now
If Congress fails to extend emergency unemployment benefits, the U.S. economy will create 300,000 fewer jobs next year and three in four unemployed Americans will receive no benefits.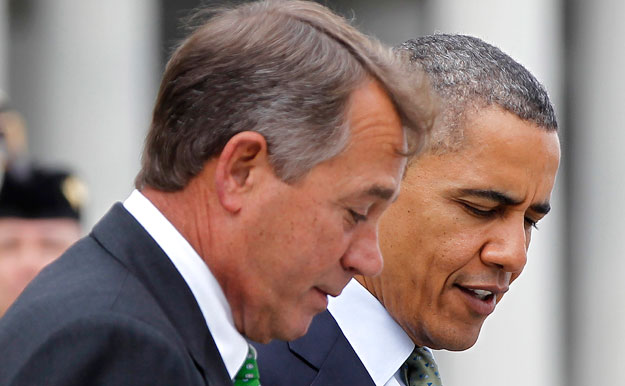 As President Barack Obama and Speaker of the House John Boehner (R-OH) work to resolve the fiscal showdown, lawmakers should at least agree that extending emergency unemployment insurance is the right thing to do in order to protect workers and encourage economic growth. Unfortunately, it seems increasingly likely that lawmakers may not come to a comprehensive agreement in time to avoid all the automatic spending cuts and tax increases scheduled to take effect at the beginning of January. But legislators don't need to wait for a grand bargain—Congress should agree right now to renew emergency unemployment compensation through 2013. Extending emergency unemployment insurance will prevent 2 million Americans from being abruptly cut off from benefits in January and will lead to the creation of 300,000 additional jobs next year.
The issue of emergency unemployment compensation may not command as much attention as some of the more contentious issues in the fiscal showdown negotiations, but allowing these benefits to expire would significantly harm both the economy as a whole and the families who rely on them. Since 2008 policymakers have provided extra weeks of unemployment benefits for Americans who want a job but cannot find one—a group that totals 12 million today. Recognizing that unemployment rates have remained high since the start of the Great Recession of 2007–2009, Congress has repeatedly enacted legislation to extend these benefits. Under the most recent extension, the Middle Class Tax Relief and Job Creation Act of 2012, emergency unemployment benefits will expire at the end of 2012. Failing to extend these benefits would be unprecedented in the history of emergency unemployment compensation—Congress has never allowed emergency unemployment benefits to expire when the unemployment rate was above 7.2 percent. The unemployment rate today is 7.7 percent.
If Congress does not extend emergency unemployment compensation before the end of the year, 2 million people will lose their benefits immediately and another 1 million Americans will lose their benefits early in 2013. As a result, according to an analysis by the National Employment Law Project, only one in four unemployed workers would be protected by unemployment insurance in 2013. (see Figure 1)
Unemployment insurance is a vital lifeline to Americans who are out of work due to no fault of their own. It allows them to pay the bills and put food on the table while they search for work, and, in doing so, keeps millions of adults and children out of poverty every year.
The U.S. economy is heading in the right direction—with the unemployment rate at its lowest point since December 2008—and renewing emergency unemployment compensation is one of the best policies to accelerate job growth in the new year. Unemployment benefits put money in the pockets of middle-class Americans who spend it, boosting demand and motivating businesses to hire. As a result of this, the nonpartisan Congressional Budget Office recently projected that fully extending emergency unemployment compensation in 2013 would boost gross domestic product by 0.2 percent and lead to the creation of 300,000 new jobs.
In an ideal world, the president and Congress will reach an agreement to resolve the fiscal showdown before year's end. But Congress should not wait for a deal in order to pass extended unemployment benefits. The economic and human costs of ending emergency unemployment compensation right now are too high, which is why Democratic and Republican lawmakers have always been able to agree to extend benefits when the unemployment rate has been above 7.2 percent.
Instead of pushing unemployed Americans off the cliff, Congress should immediately pass legislation that fully extends emergency unemployment benefits through 2013.
Sarah Ayres is a Research Associate in the Economic Policy department at the Center for American Progress.
The positions of American Progress, and our policy experts, are independent, and the findings and conclusions presented are those of American Progress alone. A full list of supporters is available here. American Progress would like to acknowledge the many generous supporters who make our work possible.