Communities of Color Bear the Brunt of Trump's Anti-Environmental Agenda
Communities of Color Bear the Brunt of Trump's Anti-Environmental Agenda
By weakening air and water protections and refusing to address climate change, the Trump administration is exacerbating environmental and health hazards in communities of color.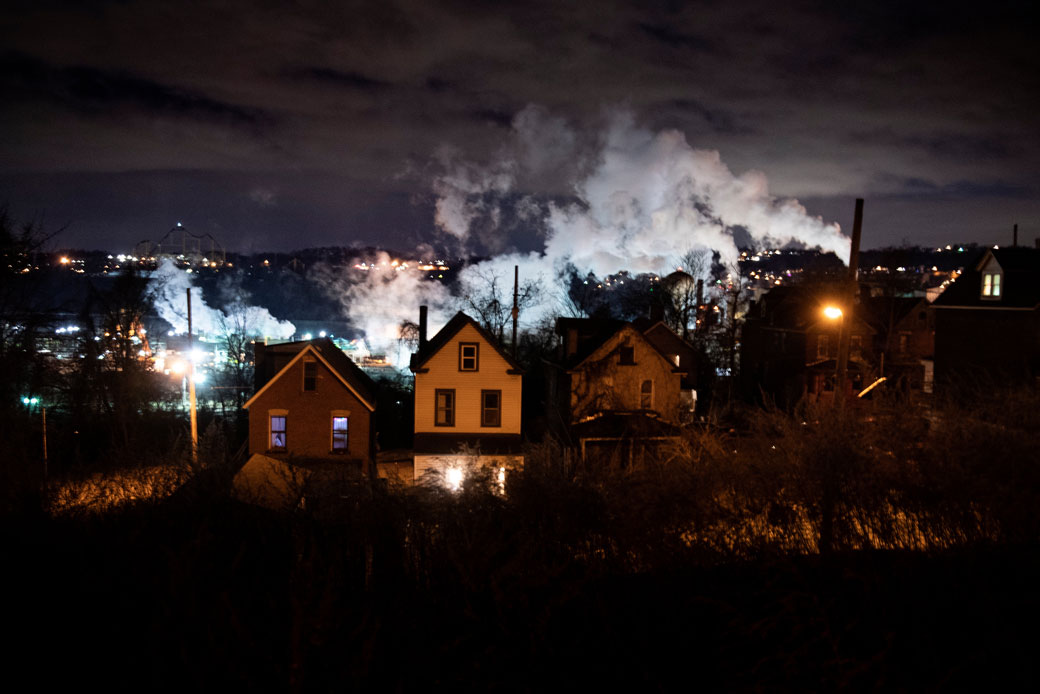 President Donald Trump has claimed that from his first day in office, his administration "has made it a top priority to ensure that America has among the very cleanest air and cleanest water on the planet." In reality, it has done the exact opposite—deliberately dismantling the United States' existing framework of environmental protections that safeguard the country's water, air, and public health.
Due to a history of systemic racism and segregation, low-income communities and people of color have been burdened with higher levels of pollution in their backyards. These groups are also disproportionately vulnerable to the increasingly devastating weather events occurring as a result of unchecked climate change caused by greenhouse gas emissions. Historic exclusion from political decision-making has only exacerbated this reality, further impeding these communities' ability to prepare for and respond to burgeoning climate risks.
This column lists examples of the Trump administration's notable anti-environmental actions in three areas: weakening air and water protections; threatening community health and safety; and his administration's refusal to act on climate change. It also uses stories of communities across the country who have been deeply affected by these environmental policies to illustrate the disproportionate harm to specific communities of color. These groups are facing the most severe repercussions of the Trump administration's continued environmental rollbacks.
1.  Weakening protections for air and water
Removed protections for one-third of U.S. drinking water sources: The Trump administration has gutted protections for clean water by weakening the Clean Water Act, finalizing a so-called dirty water rule, and delaying action to protect against toxic chemicals in drinking water. Additionally, under Trump's Environmental Protection Agency (EPA), communities of color in particular are seeing slow and inadequate enforcement of the Safe Drinking Water Act.
Weakened coal ash restrictions: The Trump administration eased health and environmental regulations surrounding the disposal of coal ash that ensure it does not leak into groundwater sources. Communities of color are disproportionately likely to live near coal ash dumping sites, which are associated with cancer, low birth weight, and premature death.
Proposed loosening restrictions on toxic mercury pollution: The Trump administration proposed rolling back the Mercury and Air Toxic Standards, which, since they were announced in 2011, have put limits on mercury emissions from coal- and oil-fired power plants. High levels of mercury pose significant health risks to pregnant women and their children. African Americans are disproportionately affected by this rule change, as this community is 75 percent more likely to live in close proximity to an oil or gas facility than people of other races.
Gutted the Clean Power Plan: The Trump administration repealed the Clean Power Plan, which was designed to reduce pollution that causes climate change and to improve public health. In addition to increasing climate impacts, the administration's decision harms people of color, since they are more likely to live near pollution-emitting power plants­—and thus are more susceptible to dangerous health problems such as asthma and cardiovascular disease. The Clean Power Plan's Clean Energy Incentive Program, which encouraged investment in energy efficiency improvements in economically disadvantaged areas to lower household energy bills, was also repealed with the rest of plan.
Allowed increased nitrogen oxide pollution: The Trump administration lowered the standards that industrial facilities use to monitor nitrogen oxide emissions from coal power plants, thereby allowing these facilities to lower the quality and accuracy of data used to measure air quality. This rollback affects certain vulnerable communities in particular, as nearly 40 percent of those who live within 3 miles of a coal power plant are people of color.
Deregulated petroleum refineries: In 2018, the Trump administration deregulated petroleum refineries through amendments to the New Source Performance Standards and the National Emissions Standards for Hazardous Air Pollutants—two Obama-era rules that were expected to lower cancer risks for more than 1.4 million people living near refineries. Across the country, 6.7 million African Americans live in counties with oil and petroleum refineries releasing toxins linked to cancer, such as benzene, and African Americans suffer from higher risks of cancer due to toxic air emissions from refineries compared with the national average risk.
Favored polluters in cost-benefit analyses: At the request of President Trump, the EPA will now consider social, economic, and energy effects when evaluating the National Ambient Air Quality Standards instead of solely focusing on health impacts, as required under the Clean Air Act. This allows the EPA to consider an energy company's cost of compliance as a criterion when measuring air quality for pollutants such as nitrogen dioxide—a highly toxic gas that's emitted when fossil fuels are burned at high temperatures and that can cause respiratory problems. Communities of color in the United States are exposed to 38 percent higher levels of nitrogen dioxide on average than white Americans and are more likely to live around pollutants overall.
2.  Threatening community health and safety
Undid climate and community protections under the National Environmental Policy Act (NEPA): At the beginning of the year, the Trump administration announced its plans to undermine NEPA—a 50-year-old bedrock law that requires environmental review and public input for federal projects, including for roads and bridges; oil and gas development; and pipeline construction. The proposed changes to the rule include limiting the role of public comment, removing the requirement to consider the cumulative effects of a project, and allowing conflicts of interest. NEPA has been critical in providing communities with a voice in projects that might affect them, and now, the Trump administration hopes to change that by taking away power from the people and placing it in the hands of corporate polluters.
Neglected cleanup efforts in toxic Superfund sites: The Trump administration recently proposed to slash funding for toxic Superfund cleanup by 10 percent, despite the current backlog of sites being the worst in 15 years. Moreover, research suggests that Superfund sites are more likely to be located in nonwhite communities. Beyond limiting the resources available for addressing Superfund sites, Trump's EPA is plagued with conflicts of interests surrounding the cleanup of these sites. For example, EPA Administrator Andrew Wheeler is a former chemical lobbyist who is now overseeing decisions regarding a Superfund site in New York and New Jersey—for which two of his past clients are responsible.
Declined to ban toxic pesticides: The Trump administration rejected a ban on chlorpyrifos—a pesticide that is linked to brain damage in children—which EPA scientists recommended after studying the chemical. The administration's refusal to ban this product will negatively affect agricultural workers, the majority of which are Hispanic or Latinx.
Slashed the capacity of the EPA: The Trump administration is continuing to chip away at the EPA's funding, putting communities with legacies of pollution at risk. Earlier this month, the White House released its proposed budget for the 2021 fiscal year, cutting $2.4 billion, or 26 percent, of the EPA's total operating budget. The budget also decreases the EPA workforce by 11 percent, bringing staffing levels to the lowest since 1985. The EPA is tasked with regulating industrial polluters, which a growing body of evidence suggests are more likely to be located in neighborhoods of color. As the EPA's budget and workforce shrinks under President Trump, so does the agency's capacity for enforcing environmental and public health protections.
Proposed gutting the EPA Office of Environmental Justice: The EPA's Office of Environmental Justice works to protect overburdened communities from environmental and health hazards such as toxic waste and air pollution. The Trump administration attempted to eliminate the entire office in its fiscal year 2018 proposed spending bill, jeopardizing the health and safety of countless Americans. While the office has remained funded due to congressional pushback, the administration again attempted to slash the program and management budget in both fiscal years 2019 and 2020. Additionally, the recently released fiscal year 2021 proposed budget includes a 71 percent decrease in funding for the Environmental Justice Office.
3.  Refusing to take action on climate change
Rolled back regulations and continued inaction on climate change: The Trump administration has actively worked against climate action at every turn during his presidency, resulting in increased greenhouse gas emissions and, in turn, increased extreme weather, to the tune of $45 billion of damages in 2019 alone. Trump's efforts to stop climate action at all costs—including withdrawing from the Paris climate agreement, gutting and replacing the Clean Power Plan, and proposing to roll back the clean car standards—mean that these climate impacts are only going to get worse, with the burden placed disproportionately on communities of color; these groups find themselves in worse financial situations after natural disasters such as flooding. Worse yet, the Trump administration has reversed efforts requiring infrastructure projects to be designed to survive the future consequences of climate change.
Impeded disaster relief: The Trump administration diverted Federal Emergency Management Agency (FEMA) funding to the U.S. Department of Homeland Security to increase immigration enforcement, less than a week after Hurricane Dorian approached the Southern coast. Funding totaling $115 million from FEMA's Disaster Relief Fund will now be directed toward U.S. Immigration and Customs Enforcement (ICE) to help supply new detention facility beds. The move leaves communities of color at greater risk for natural disasters and less able to recover after a disaster. Due to a variety of factors, such as a history of housing discrimination and disinvestment in infrastructure, communities of color are often the most vulnerable to flooding, and those who live near petrochemical plants or Superfund Sites are exposed to toxins that can overflow during a storm.
Conclusion
Without improvements and increased funding geared toward predisaster planning and post-disaster recovery—coupled with strong climate action—communities of color will continue to suffer the worst impacts of disasters.
Since 2016, the Trump administration has rolled back 95 environmental rules and regulations at the expense of the environment and the public health of Americans. While this administration continues to block climate action, the climate crisis is threatening the air, water, public health, and well-being of U.S. communities. Furthermore, the deregulation of polluting industries and lack of action on climate change exacerbates existing economic and racial inequality.
In the midst of this systemic elimination of federal protections and willful inaction on climate, the science is resoundingly clear: We must move to a 100 percent clean energy future with equity at the forefront. The Equitable and Just National Climate Platform, co-authored by the Center for American Progress, 12 environmental justice groups, and seven national environmental organizations, recognizes the importance of justice and equity as "central components of our climate agenda." Additionally, it calls for "healthy climate and air quality for all" as well as "[s]afe, healthy communities and infrastructure."
All communities, particularly communities of color, can no longer afford the Trump administration's attacks on public health and the environment—it is past time to move toward climate action that is equitable and just and that centers communities who have suffered the most.
Amy Patronella is an intern for the Energy and Environment War Room at the Center for American Progress. Saharra Griffin is a former research assistant for Economic Policy at the Center.
The authors would like to thank Sally Hardin for her contributions and review.
The positions of American Progress, and our policy experts, are independent, and the findings and conclusions presented are those of American Progress alone. A full list of supporters is available here. American Progress would like to acknowledge the many generous supporters who make our work possible.
Authors Amy Patronella Saharra Griffin
Research Assistant