Combating the White-Nationalist Terrorist Threat
Combating the White-Nationalist Terrorist Threat
Six practical steps to defeat white nationalist terrorism.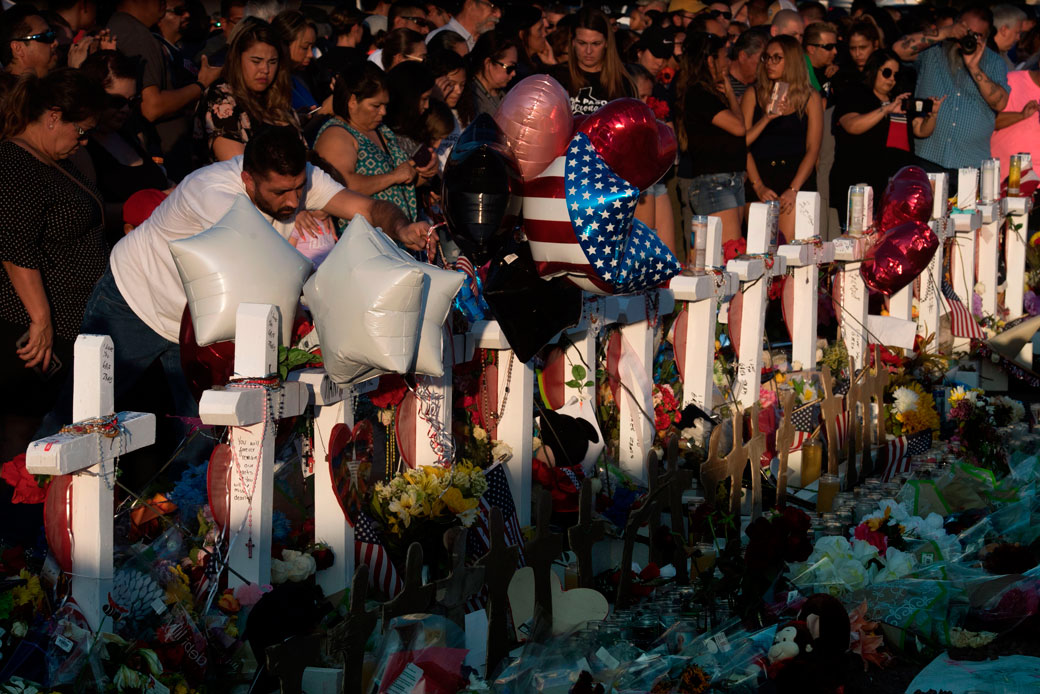 Introduction
Once again, white-nationalist violence has claimed American lives. The 22 innocents murdered in El Paso join too many other victims of this terrorist ideology. Eleven people were killed at the Tree of Life Synagogue in Pittsburgh. Nine worshippers were massacred at Emanuel AME Church in Charleston. And all but one of the U.S. terror victims last year were killed by white nationalists. Yet, the Trump administration continues to undermine efforts to take the threat seriously, all while the president and his supporters echo the xenophobic, racist, and eliminationist language of white nationalism.
The president and his enablers have shown us the opposite of what a serious and thoughtful response looks like. Minimizing the threat, as Trump did after the Christchurch massacres in New Zealand, is just one tactic of his presidency. Trump also gutted the U.S. Department of Homeland Security (DHS) office that protects Americans from white-nationalist attacks and then deflected blame for the El Paso attack on video games and mental illness. These are all hallmarks of an administration with no commitment to tackle the growing scourge of white nationalists.
What's more, there is plenty of evidence that Trump shares many of the beliefs that underpin white supremacy—most notably in his continued use of the tropes of invasion and infestation so typical of this genocidal ideology—and that his rhetoric in turn stokes violence. From his consistent description of immigrants as invaders—echoing the great replacement themes of white nationalists—to his dismissal of people of color as not real Americans, it is often hard to distinguish the president's language from that of the white-nationalist mass murderers. Most alarming is his incitement to violence. In May, Trump laughed off a call at his rally from a supporter who yelled out that border agents should shoot immigrants as they cross into the United States.
So, what would a serious policy to contain, limit, and ultimately defeat white-nationalist terrorism look like? In many respects, a counter-terrorism policy addressing this specific threat would look like any other effective counter-terrorism approach, relying on good police work built on investigation; infiltration; intelligence sharing; tracking of recruitment and radicalization; and targeted arrests. Crucially, as the law provides, these law enforcement efforts would be narrowly focused on acts dangerous to human life that violate U.S. criminal laws and appear to be intended to intimidate or coerce a civilian population; influence the policy of a government by intimidation or coercion; or affect the conduct of a government by mass destruction, assassination, or kidnapping. These efforts would not target any First Amendment related activity. Two other elements are required to destroy this homegrown menace: an end to the political rhetoric that fuels hate and the implementation of long-overdue gun-violence prevention legislation.
The following recommendations focus specifically on the security policy responses that could improve our ability to prevent these attacks.
Rebuild the DHS Office of Targeted Violence and Terrorism Prevention
The Trump administration cut the DHS's budget for domestic terrorism prevention from $21 million to $2.7 million; disbanded the only government-wide terrorism prevention office; and assigned its experts to other duties, all while cutting off funding for effective deradicalization programs aimed at white nationalists. The DHS should restore these programs, reassign experts to their duties, reinstate and increase funding for deradicalization programs, and require the acting secretary to present his roadmap to combat white nationalism to the appropriate congressional committees.
Prevent white-nationalist infiltration of the police
Since 1986, U.S. military guidelines have banned members of the military from engaging in white-supremacist activity, but police forces have no equivalent rules to prevent infiltration or detect radicalization. The Oklahoma police chief who ran white-supremacist sites, the officers in Florida who recruited for the Ku Klux Klan, and the assistant police chief in Kentucky who advocated shooting black kids who smoked marijuana are only some examples of racist attitudes on the part of law enforcement officers. The Department of Justice should encourage state and local police forces to adopt and enforce guidelines to weed out white supremacists and vigorously prosecute police-related hate crimes.
Make it an intelligence priority to investigate international networks
White-nationalist violence is an increasingly global phenomenon with attacks in the United Kingdom, Germany, New Zealand, Italy, and the United States. In 2011, in the bloodiest attack of all—which has become the inspiration for so many others—the Norwegian white nationalist Anders Breivik murdered 77 people and wounded 151 more in his attacks on a gathering of the Labor Party's youth camp. Russian funding for xenophobic political groups, including Italy's League Party and France's National Front has been well-documented. Reports of Russian groups offering paramilitary training to white nationalists deserve closer scrutiny and investigation. The National Counterterrorism Center (NCTC) should be tasked with coordinating its international partners to investigate the global links to white-nationalist violence, including any possible state sponsorship.
Join the Christchurch Call
After the two massacres at Christchurch mosques, New Zealand Prime Minister Jacinda Ardern and French President Emmanuel Macron convened governments and internet platform companies to agree on a common agenda to eliminate terrorist and violent extremist content online. The Trump administration cited "constitutional concerns" for its decision to snub this initiative even though the language was carefully crafted to take into account national free speech and privacy laws.
Mandate that the FBI open a domestic terrorism investigation when crimes prosecuted under state hate crime laws have links to white supremacy
As Mike German at the Brennan Center has explained, Title 18 U.S.C. § 2331(5) defines domestic terrorism as acts committed in the United States that are dangerous to human life and appear to be intended to intimidate or coerce a civilian population or influence the policy of a government. This is the highest priority crime for the FBI, whose Civil Rights Program Policy Implementation Guide sensibly requires it to investigate as domestic terrorism any federal hate crime with a link to white-supremacist groups. But where crimes are prosecuted under state hate crime laws, the FBI is not required to open a domestic terrorism investigation nor to track such crimes even when there is a link to white supremacy. Mandating an investigation or tracking would provide more resources for the prosecution of such crimes and enable a more accurate picture of the scope of the white-nationalist threat.
Require the U.S. Department of Justice to prosecute all terrorists equally
On average, prosecutors seek sentences three times as long for Muslim perpetrators of equivalent ideologically motivated violence as for non-Muslims. Terrorists should be charged equally, with the full weight of existing statutes. The U.S. Department of Justice should report regularly on prosecutorial decisions to enable Congress and the public to monitor the fairness of the choices made in domestic terrorism-related cases—no matter what actual charge has been made.
Conclusion
White nationalist terrorism is a threat that we must and can defeat. There is no reason to accept this scourge as a new, normal part of American life.
Law enforcement officials need to redouble their efforts to identify violent white nationalists. They must focus resources and efforts on vigorously combating this danger to American liberty while respecting the civil liberties they are sworn to protect and working with other democracies to fight this global menace.
Leaders of internet companies must ensure that their platforms are no longer used for radicalization. They must make certain that their services do not enable irresponsible companies that ignore the Christchurch Call.
Politicians must be held accountable for the use of white-nationalist rhetoric and any validation of those who choose violence. They must stop, reflect, and apologize for their actions. If they will not do so, then the responsibility lies with the American public to comprehensively and finally reject them and all they stand for.
We must come together to defeat those who attack us from within and those who abet, enable, and encourage them to do so—no matter what their position.
Simon Clark is a senior fellow at the Center for American Progress.
The positions of American Progress, and our policy experts, are independent, and the findings and conclusions presented are those of American Progress alone. A full list of supporters is available here. American Progress would like to acknowledge the many generous supporters who make our work possible.
Authors
Simon Clark
Senior Fellow