Climate Change and International Competitiveness
Climate Change and International Competitiveness
President Obama wants a global accord to combat climate change, but the U.S. Congress needs to ensure we can move forward to create a competitive low-carbon economy, says Jake Caldwell.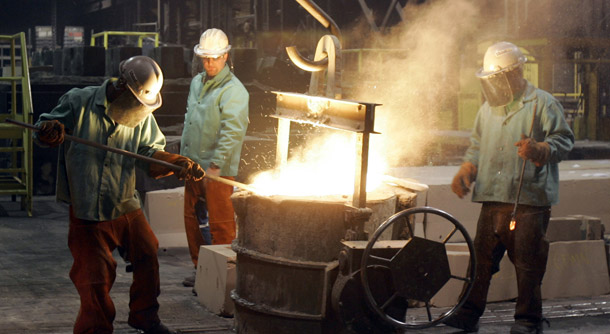 When President Barack Obama greets representatives from the world's largest developed and developing economies later this month in Washington, D.C, as part of his administration's reengagement with the rest of world to find solutions to global warming, expect him to argue in clear terms that a concerted, worldwide solution is required. U.S. action on climate change is obviously urgent after years of neglect by the Bush administration, but Obama's energy team knows that an international agreement with binding commitments from all major emitters of greenhouse gases remains the best means to meet the twin challenges of boosting global economic prosperity and protecting our planet.
Persuading our trading partners around the world to sign onto a global accord to limit greenhouse gas emissions is a central component of the administration's foreign policy. An international agreement is within reach through the U.N. Framework Convention on Climate Change and the Major Economies Forum on Energy and Climate processes. In the meantime, the U.S. Congress has to move forward with an energy bill to build the competitive and innovative U.S. clean-energy economy that Obama and the congressional leadership promised during the election campaign last year.
That process began early last week when House Energy and Commerce Chair Henry Waxman (D-CA) and Energy and Environment Subcommittee Chair Ed Markey (D-MA) released a draft energy and climate bill that would boost renewable energy, increase efficiency, and reduce pollution. The proposed legislation also presents a new plan to deal with the thorny but critical issue of maintaining U.S. manufacturing competitiveness in energy-intensive industries in a low-carbon global economy.
In particular, the draft legislation includes a proposal by Rep. Jay Inslee (D-WA) and Rep. Mike Doyle (D-PA) to provide rebates to eligible U.S. manufacturers that emit lots of greenhouse gas emissions in their production processes so that these companies are not placed at a competitive disadvantage in the global marketplace. Such a program is necessary, these legislators argue, to ensure manufacturing plants with high carbon emissions are not packed up and shipped to countries where carbon emission standards may be less strict, destroying in the process the good manufacturing jobs available in these industries and allowing carbon emissions to migrate—so-called "carbon leakage"—overseas.
These initial legislative efforts are designed to ensure our workers do not suffer when we as a country take the necessary action to confront climate change, but other nations do not. Make no mistake: The United States must act on its own, and as part of any global agreement. As the world's largest historical greenhouse gas emitter, we must take the necessary steps to commit to binding greenhouse gas reductions. At the same time, the United States must recognize and embrace the competitive advantage inherent in taking action on climate change. Limiting greenhouse gas emissions will enhance U.S. competitiveness. A carbon cap-and-trade program will reduce emissions and send a predictable price signal on carbon, which in turn will spur major investment in energy efficient and low-carbon technologies, foster innovation and upgrades, and create jobs and export led growth in clean energy technology.
Here's how the proposed legislation would work to ensure our high-carbon manufacturers are part of this conversion to a low-carbon economy. As part of the cap-and-trade program, the U.S. government would distribute rebates to manufacturing industries affected by foreign competition that doesn't have to pay for emitting carbon. These rebates would be limited to U.S.-based manufacturing industries with globally traded products, including iron, steel, pulp, paper, cement, rubber, basic chemicals, glass, and aluminum, which meet specific eligibility criteria. In the event that an international agreement cannot be reached soon, the rebates are designed to compensate those industries that will incur additional compliance costs for direct and indirect carbon emissions under a U.S. cap-and-trade regime and face competition from overseas manufacturers located in countries without similar greenhouse gas-reduction requirements.
The proposal provides for a regular review and report on the effectiveness of the rebate program. "Output-based" incentives—which measure the present-day greenhouse gas intensity of manufacturers' production processes—are used instead of historical emissions records because past carbon emissions tend to penalize early reducers. In contrast, output-based incentives encourage constant annual improvement in an industry's carbon emissions and efficiency levels based on comparisons with other comparable facilities in the sector.
Importantly, these rebates are designed to be temporary and are to be eventually phased out as evidence of carbon leakage declines and countries with competing industrial sectors take steps to reduce their own greenhouse gas emissions commensurate with U.S. action. In short, there are sunset provisions included in the language as greenhouse gas emissions are reduced on a global basis.
In the absence of an international climate change agreement, rebates are the preferred means to tackle international competitiveness issues here at home. But, in the unlikely event that the rebate provisions are determined to be ineffective, then the proposed legislation authorizes the president to implement a so-called "border adjustment" program, under which importers of greenhouse gas-intensive goods from nations that fail to police adequately their own industries' carbon emissions would be required to submit carbon emission allowances purchased from a newly-established international reserve allowance system to cover their imported products' carbon content. The U.S. government would set up this new international reserve system, and if a carbon allowance is not submitted then these imports could be prohibited from entry into the U.S. marketplace.
Both rebates and border adjustment carbon allowances could spark retaliation from our trading partners through the World Trade Organization, or WTO, which generally prohibits government subsidies for companies as well as non-tariff trade barriers that treat products from one country differently than domestic products. Notably, while the rebate provisions are not beyond WTO scrutiny, they are less likely than the border adjustments to raise trade or WTO issues as they do not involve potentially discriminatory treatment against imports.
Of course, the invalidation of U.S. climate policy by the WTO would be a major setback for the global climate, international climate negotiations, and for the global trading system, and must be avoided by all concerned.
Overall, an international agreement with binding limits on greenhouse gas emissions and other cooperative efforts are the best means to address U.S. manufacturing competitiveness in a global, low-carbon economy. Furthermore, an international agreement is the most effective means to address carbon leakage and WTO compliance concerns and should be the primary course of action by the United States and other major emitting nations as they sort out how to ensure a fair, equitable global climate change program.
But should that not happen soon or comprehensively, then prioritizing the distribution of rebates ahead of border adjustments allows for important heavy carbon-emitting industries in the United States to be included under the economy-wide cap-and-trade regime, and arguably provides for a much more effective and economically efficient means to address any potential compliance costs and carbon leakage concerns. In addition, the proposal allows U.S. manufacturers to remain competitive where it counts—in valuable export markets for U.S. goods. In contrast, border adjustments applied to imports will do little to open critical overseas markets for U.S. exports.
This proposed legislative language, however, needs to be further refined. The current incentives to improve efficiency and reduce carbon emissions in exchange for rebates should be increased. The overall costs and distribution of resources associated with the rebates will require constant monitoring and review. Rebates should only be distributed to carbon-intensive industries that demonstrate consistent and improved performance. As the program evolves, the phase-out and elimination of compensation and eligible sectors may merit acceleration.
In addition, eligible manufacturers for rebates should not be expanded much beyond such products as iron, steel, aluminum, chemicals, cement, glass, and paper. The current proposal also contains criteria to assist in the determination of the affected industries eligible for compensation, yet there will be inevitable pressure to allow rebates for a broader range of industries. The program's review process should ensure that the class of industries eligible for rebates is not expanded unnecessarily.
If border adjustments are eventually necessary, the proposal should allow a longer implementation period between the start of the U.S. cap-and-trade system and when major developing country trading partners must comply with the border adjustment requirement. As the border adjustments are invoked, the current proposed start date of 2017 should be shifted to 2020. Finally, all efforts undertaken in both the rebate and border adjustment programs must be as open and as transparent as possible.
As President Obama states so clearly, "We can let the jobs of tomorrow be created abroad, or we can create those jobs right here in America and lay the foundation for future prosperity." At the same time, the United States needs to ensure that all of the largest greenhouse gas emitting nations—including developed and major developing countries—commit to limiting greenhouse gas emissions. Major emerging economy countries are facing similarly pressing choices regarding the energy intensity of their industrial sectors and the attendant high costs carbon-intensive energy imposes on their respective economies and their national security.
Working together, the Obama administration and Congress can and should improve upon these rebate and border adjustments provisions in the draft energy legislation now before Congress. The current proposal is a constructive effort that must be built upon and refined, but it provides a path forward to address legitimate competitiveness issues while allowing the United States to take bold action to confront climate change at home and abroad alongside our major trading partners.
Jake Caldwell is Director of Agriculture, Trade and Energy at the Center for American Progress. To read more of our analysis and policy recommendations in these areas, please go to the Energy and Environment page of our website.
The positions of American Progress, and our policy experts, are independent, and the findings and conclusions presented are those of American Progress alone. A full list of supporters is available here. American Progress would like to acknowledge the many generous supporters who make our work possible.