Beyond Tuition: Promises for Affordability, Quality, and Accountability in Higher Education
Beyond Tuition: Promises for Affordability, Quality, and Accountability in Higher Education
CAP presents a new plan for tackling affordability, quality, and accountability in higher education through a racial and socioeconomic equity lens.
See also: "Beyond Tuition" by the CAP Postsecondary Education team
The Center for American Progress proposes Beyond Tuition, a sweeping vision for restoring the promise of affordable, high-quality postsecondary education for all and for reducing the burden of student debt. This plan will make college affordable for families from all walks of life, while emphasizing the need to overcome widespread inequity in opportunity and outcomes for students of color, those from low-income backgrounds, and other marginalized identities. It ensures that there will be supports along the way to get students to graduation. And it includes a strong accountability system that requires the federal government, states, institutions, and accreditors to fulfill their respective roles. These changes fulfill the promise of postsecondary education as a civil right.
Beyond Tuition would make three key promises to anyone seeking to earn a postsecondary credential:
Affordability: Students whose families earn below 150 percent of the federal poverty level—about $38,000 per year for a family of four—will have their tuition and fees covered and receive up to $10,000 for rent, food, books, supplies, and transportation expenses each year. At public colleges, middle-class families will pay no more than 10 percent of their income toward the cost of attendance, and no family will pay more than 20 percent. No student should have to borrow to pay for a college education, but should families not be able to afford their contribution, they can borrow an affordable federal loan.
Quality: To ensure that colleges offer students the education they deserve, they will conduct equity audits to identify gaps in policies, practices, and resources that may contribute to poor outcomes for students of color, low-income students, and other groups who are not traditionally well-served by higher education. Colleges will be expected to use the new federal funds from Beyond Tuition to bolster academic quality and nonacademic resources that can help close these gaps.
Accountability: Colleges, states, the federal government, and accreditors will sign performance contracts to ensure that each does its part in upholding the affordability and quality promises and in closing equity gaps. Colleges will be responsible for meeting performance benchmarks that are ambitious but tailored to their resources and student demographics—with reasonable time for improvement.
How Beyond Tuition compares with existing aid programs
Beyond Tuition will change the game for many American families. Table 1 and Table 2 demonstrate the benefits of Beyond Tuition across key groups of students and how it compares with what they experience today.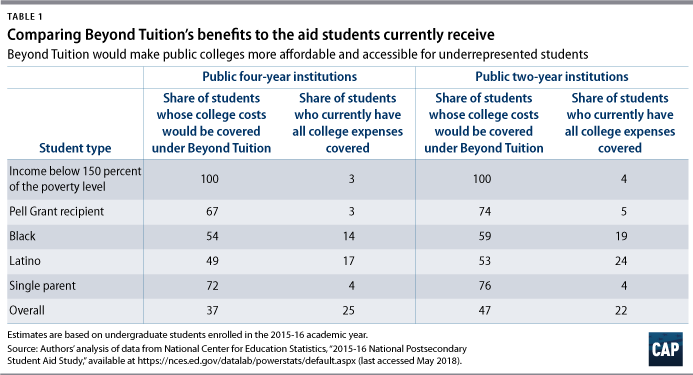 How Beyond Tuition compares with other affordability proposal
Beyond Tuition shares the goals of other bold plans that tackle college affordability. But it goes further than most by also addressing living expenses, as well as building in promises around quality and accountability. Table 3 shows how Beyond Tuition compares with other major free or debt-free college proposals, each presented with its lead sponsor.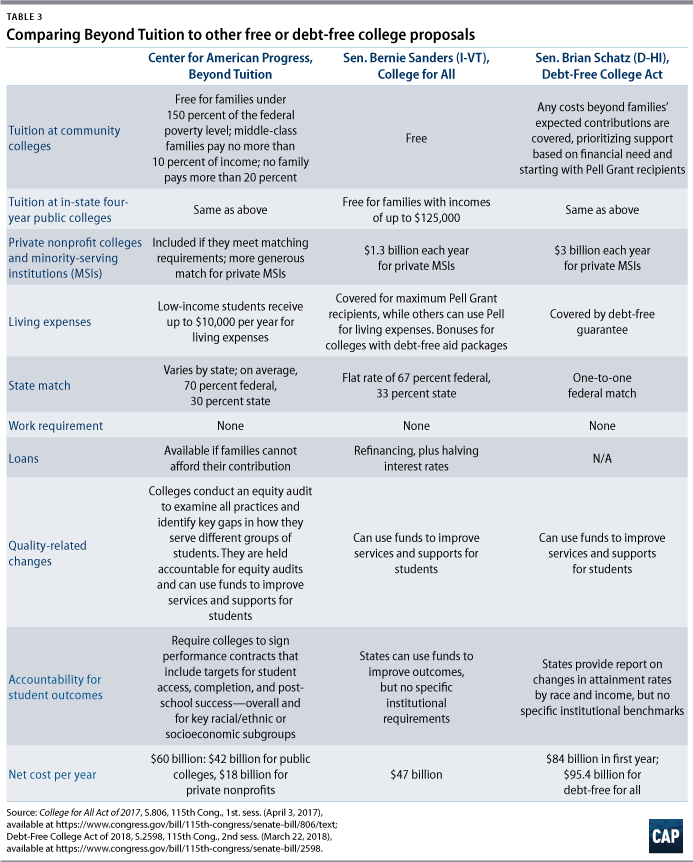 The Postsecondary Education team at the Center for American Progress advocates for solutions to improve equity, accountability, and quality in higher education.  
The positions of American Progress, and our policy experts, are independent, and the findings and conclusions presented are those of American Progress alone. A full list of supporters is available here. American Progress would like to acknowledge the many generous supporters who make our work possible.
Authors the CAP Postsecondary Education Team