An Economic Foundation for the Russia Reset
An Economic Foundation for the Russia Reset
Russian President Dmitri Medvedev Focuses on Economic Ties in U.S. Visit
Russian President Dmitri Medvedev is spending his visit to the United States this week focusing on how to bolster the U.S-Russia economic relationship.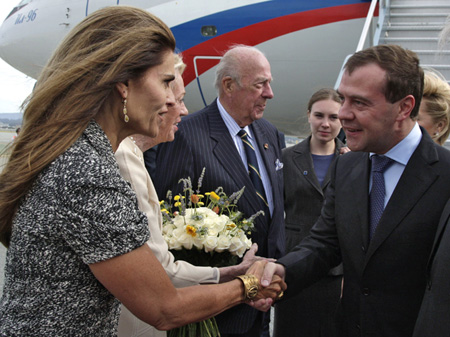 Russian President Dmitri Medvedev arrived yesterday in California for a three-day visit to the United States. His visit caps a year and a half of improved relations with Moscow that have produced a number of concrete benefits. These range from agreements allowing material and troops to transit through Russia on the way to Afghanistan, conclusion of the New START arms control treaty, Russian support for sanctions on Iran at the U.N. Security Council, and a deal to dispose of potentially dangerous nuclear materials.
There will be more deliverables during this visit on issues ranging from addressing the humanitarian situation in Kyrgyzstan to bolstering counterterrorism efforts, but Medvedev's visit will likely not result in the type of grand signing ceremonies that we have grown accustomed to following the presidents' first meeting in April 2009. The trip's focus is instead on economic ties, which remain weak. Russia was our 25th largest trading partner last year, even though it is the world's eighth largest economy.
The low starting point would suggest that we can make major gains in relatively short order. But there are important roadblocks on the path to improvements in U.S.-Russia trade. Russia's WTO accession has been complicated by Moscow's move to form a customs union with Belarus and Kazakhstan. Nagging bilateral disputes, such as a Russian ban on U.S. poultry imports (Russia was the largest export market for U.S. producers last year), have also thrown a wrench in the works. And the large number of state-controlled or state-owned firms in Russia and the Kremlin's capacity to influence private sector behavior create unreasonable expectations on the Russian side about what the U.S. government can deliver.
Improving economic ties can, without question, be in the U.S. national interest if properly developed. The United States could realize substantial economic benefits from new investment opportunities, increased exports, and greater Russian investment in the U.S. economy. Closer economic ties could also improve the overall climate of U.S.-Russia relations, facilitating progress on other, more divisive issues. And economic integration is a means by which the U.S. government can promote rule of law and liberalization in Russia—which is all the more true in the context of Medvedev's decision to make economic modernization the centerpiece of his presidency.
The Russian president clearly sees his visit in that context. He began his trip on the west coast with a visit to Silicon Valley to meet with leading entrepreneurs, such as Google CEO Eric Schmidt. Medvedev will seek their support for what is being called a "Russian silicon valley" that his government is in the process of establishing outside of Moscow. After he and President Obama lead government-to-government talks in Washington on Thursday, they will oversee the signing of several major commercial agreements, including a Russian firm's purchase of up to 65 planes from Boeing.
In short, Obama meetings with Medvedev will more closely resemble those he has with Chinese President Hu Jintao than it will a Cold War-era summit, which were inevitably dominated by security issues. And, as is the case in the U.S.-China relationship, the two countries disagree on important issues such as the situation in Georgia, which should not be swept under the rug. The U.S. and Russian political and economic systems also diverge significantly and the two countries conduct themselves very differently on the international stage, and these factors will inevitably produce problems in the bilateral relationship.
As if to remind us of this fact, Medvedev over the weekend ordered Gazprom to reduce natural gas supplies to Belarus, ostensibly because of Minsk's failure to pay an accumulated debt of approximately $200 million. Yet the Kremlin's motive is clearly to coerce Belarus to ratify the final agreements connected with the customs union, another in a string of examples of the Kremlin using its neighbors' dependence on Russian energy imports to influence their behavior.
This behavior, along with issues such as human rights abuses within Russia, has led some to say that Obama's "reset" of the bilateral relationship has failed. The implicit assumption of these arguments is that Obama's intention was to reset Russia itself. In fact, the focus has been on changing the atmosphere of the relationship to achieve concrete results, while not abandoning fundamental values or "sacrificing" U.S. allies. The administration's hope is that a more constructive bilateral relationship will provide a conducive atmosphere to address disagreements.
It is too early to judge whether this approach to addressing our differences with Moscow has worked, but it is clear that the previous administration's tactics of finger wagging, banging its collective fist on the table, and antagonizing the Russian leadership did not improve the situation. In fact, Russia experienced the greatest rollback of freedoms over the course of George W. Bush's presidency since Leonid Brezhnev put an end to Khrushchev's "thaw." That is not to suggest that one led to the other; it does, however, show that the old tactics got us nowhere.
There will be some signing ceremonies when Medvedev comes to Washington on Thursday. Yet the true significance of Medvedev's visit is that it brings us closer to a relationship that doesn't require Cold War-style summits to sustain itself. The lack of headlines is actually a sign of progress.
Samuel Charap is Associate Director for Russia and Eurasia in the National Security and International Policy Program at the Center for American Progress.
For more information, see:
The positions of American Progress, and our policy experts, are independent, and the findings and conclusions presented are those of American Progress alone. A full list of supporters is available here. American Progress would like to acknowledge the many generous supporters who make our work possible.