A Two-State Solution Is Still Essential
A Two-State Solution Is Still Essential
Moran Banai explains that despite support for right-wing candidates in Tuesday's Israeli election, a political solution is still possible for Israelis and Palestinians.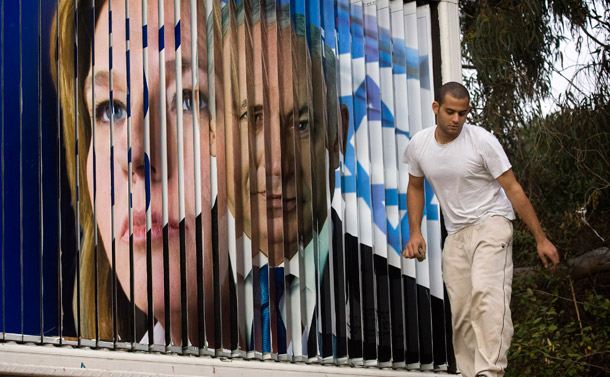 Tuesday's elections in Israel were guided by frustration and fear from the Israeli electorate. Tzipi Livni's centrist Kadima Party, the current coalition anchor, garnered the most mandates, but the majority of votes went to the right of the political spectrum and the left suffered a substantial beating. The formation of a new government could take several months and the outline of the eventual coalition is not yet clear. What is clear is that Israelis, Palestinians, and the international community must continue to work toward a sustainable two-state solution regardless of who becomes prime minister, and that the conditions for this work still exist.
Many Israelis reacted to what they saw as a delayed and insufficient response by their government to the barrage of rockets coming from Gaza by rallying to right-wing parties such as Likud. Voters who were upset by heavily Israeli-Arab protests during the Gaza conflict and who prefer a clear and strong message about what Israel should be rallied to Avigdor Lieberman's far right, nationalist Yisrael Beiteinu and his slogan of "no citizenship without loyalty." And left-wingers who were afraid of a right-wing government led by former Prime Minister Benjamin Netanyahu rallied behind Livni at the expense of parties such as Labor and Meretz.
Votes may have moved rightward, but the political spectrum has shifted over the past few years, as well. Belief in a two-state solution was once the province of the Labor Party and its left flank, but today neither Yisrael Beiteinu leader Avigdor Lieberman nor Likud party Chair Benjamin Netanyahu dispute that aim. The debate on the right and left is now about how to accomplish this goal.
It's true that some of the proposed right-wing paths would not lead to a sustainable solution, such as Lieberman's plan to trade Arab areas in Israel for Jewish settlements in the future Palestine and Netanyahu's indefinite and unsustainable focus on economics and governance at the expense of a political solution. But there are reasons to believe that even a right-wing government can work toward a sustainable two-state solution.
Right-wing Israeli coalitions have in the past made steps toward peace—Menachem Begin signed the Camp David Accords with Egypt and evacuated the Sinai, and even Netanyahu signed onto both the Hebron Accords and the Wye River Memorandum. What's more, polls again and again show that a majority of Israelis continue to believe in a two-state solution, and there is also strong outside support. The Obama administration has signaled its commitment to help resolve this conflict, and the Arab Peace Initiative still stands as an important foundation upon which to build.
Challenges do abound from all angles. Not only will Israel be politically frozen for the next few months, but the Palestinian side is also divided. Palestinian Authority President Mahmoud Abbas is ruling from the West Bank, and Hamas has de facto control of the Gaza Strip. The people of the West Bank and Gaza are also experiencing fears and frustrations of their own. Gaza's economy is virtually collapsed, and the people of Gaza are deeply affected by policies intended to isolate Hamas. The situation in the West Bank is better, but there is still little progress on issues such as movement and access that are the everyday experience of most Palestinians.
Yet the Israeli elections, as well as frustration on the Palestinian side, signal that now is not the time to give up on a political solution to the conflict. Efforts to move forward on a negotiated solution must continue in tandem with work on solidifying the ceasefire and opening Gaza's crossings in a manner acceptable to all sides; implementing both parties' commitments, including an Israeli settlement freeze and Palestinian efforts to combat terrorism; and developing the Palestinian economy and governance structures. The constituencies for this solution on both sides do still exist, but they must see that efforts are being made in order to give their leaders the support or pressure necessary to reach the end point of a sustainable two-state solution.
For more information, see Middle East Progress.
The positions of American Progress, and our policy experts, are independent, and the findings and conclusions presented are those of American Progress alone. A full list of supporters is available here. American Progress would like to acknowledge the many generous supporters who make our work possible.