A New Tack Toward Tehran
The IAEA confirms that Iran still won't come clean on its nuclear activities. More action is needed, writes Andrew Grotto.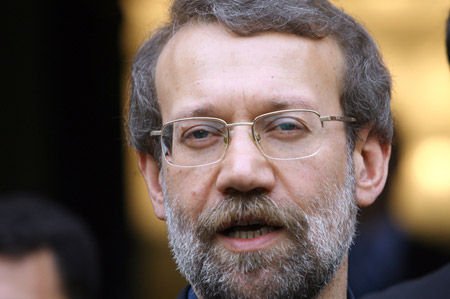 The latest report from the International Atomic Energy Agency on Iran's nuclear program concludes that Tehran is up to more of the same: stonewalling international inspectors, obfuscating its past nuclear activities, and flaunting a U.N. Security Council Resolution that it suspend its nuclear fuel-making programs. In response to the report, Iran's new parliament speaker warned today that the government could limit its cooperation with the IAEA. Iran's tack is simple: keep pushing ahead and eventually the Security Council will grow weary of keeping the pressure up.
Iran may well succeed unless the United States turns the tables. Another Security Council resolution that ratchets up the economic and political sanctions is unlikely to happen any time soon, at least not before America's elections this fall. The main opponents are China and Russia, and their reasons for being skeptical of sanctions are more complex than many analysts believe. It is of course true that economic considerations are at play; both countries have significant trade relations with Iran, particularly in the energy sector. But the two countries are also skeptical that sanctions will induce Iran to change its behavior. They are not alone: More and more experts are also beginning to adopt this view.
There is little question that economic sanctions—including laudable efforts by the U.S. Treasury Department to cut Iranian banks off from the international financial system—have wounded Iran's already dysfunctional economy, where inflation and unemployment are in double digits.
But the chances that economic sanctions alone will change Iran's behavior are slim, for two reasons. First, ordinary Iranians tend to support their government's defiance on the nuclear issue, thanks to a vigorous and effective propaganda campaign by their government. Iranians blame the United States and the Security Council for the sanctions, not the mullahs. Free and fair elections in Iran would not change this. Second, Iranians have displayed an extraordinary degree of resilience in the face of hardship since the 1979 Islamic Revolution made the country a global pariah.
Sanctions must remain in place, and further sanctions should stay on the table. But that's not enough. What's needed is a proverbial shock to the system that throws the Iranian government back on its heels. War would certainly do that, but it would neither serve America's national interests—the Middle East would explode in rage, Iran would rebuild its weapons program, and the Iranian people would rally behind their government—nor uphold the moral norm that war is waged as a last resort. And the status quo policy of negotiating with Iran via European proxies—what Joe Cirincione and I referred to as "muddling through" in a study on Iran's nuclear ambitions released last spring—shows no sign of producing the desired result: an Iran that has abandoned the business of nuclear fuel production.
That leaves as the foremost option some form of direct negotiation. Some conservatives, along with President Bush before the Knesset in Israel, have decried this tactic as appeasement, as if talking to the Iranians necessarily means that we have to say yes to any of their demands. Other commentators, such as Sens. John Kerry and Joe Biden, have effectively rebutted this absurd position as nothing more than a political attack.
More fundamentally, talking to the Iranian government would clarify the choice being presented to the Iranian nation by the international community: the poverty and isolation that extremism brings, or the prosperity and global respect that Iran would enjoy if it adopted a more constructive foreign policy. The Iranian government may well choose the former, but it could only do so at great cost to both its citizens and the regime's long-term stability.
Of course, such talks would have to be carefully structured to avoid giving Iran's leaders a platform for a public diplomacy campaign against the United States. That is a real risk, but it is one that America's diplomats are capable of managing.
To read CAP's legislative proposals and policy analysis on national security, please go to the National Security page of our website.
The positions of American Progress, and our policy experts, are independent, and the findings and conclusions presented are those of American Progress alone. A full list of supporters is available here. American Progress would like to acknowledge the many generous supporters who make our work possible.