4 Ways Secretary DeVos' Proposed Title IX Rule Will Fail Survivors of Campus Sexual Assault
4 Ways Secretary DeVos' Proposed Title IX Rule Will Fail Survivors of Campus Sexual Assault
Although sexual assault remains a pervasive issue on college campuses, Secretary of Education Betsy DeVos is planning to undermine survivors through new, regressive changes to Title IX.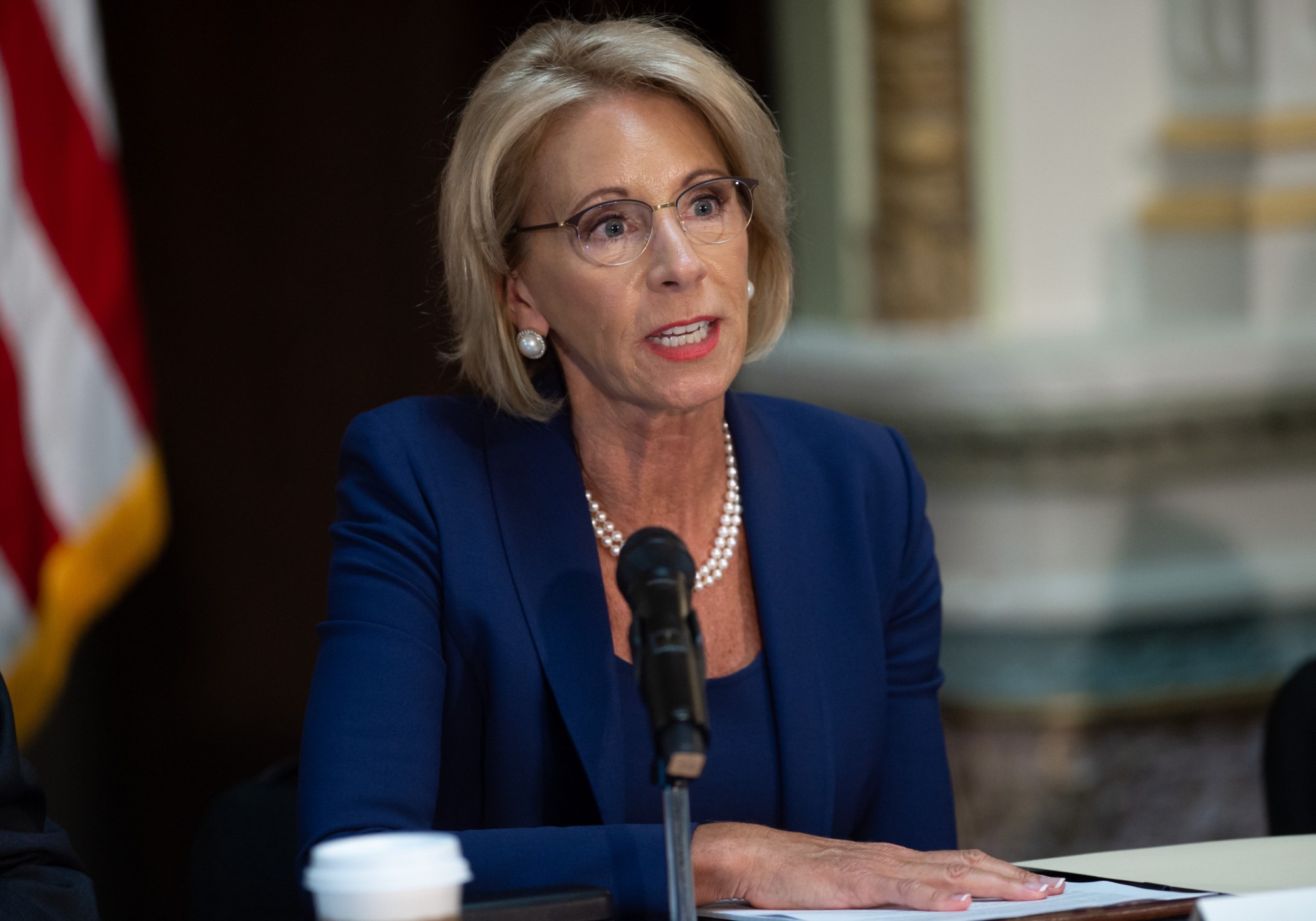 According to proposed regulations released on Friday, Department of Education Secretary Betsy DeVos is planning to once again undermine sexual assault survivors' rights by changing fundamental aspects of Title IX. This landmark civil rights law, passed as part of the Education Amendments of 1972, prohibits sex discrimination in federally funded education programs and seeks to address all forms of sex discrimination, including sexual assault, that would deny a student access to education. DeVos' new regulations—which attempt to reduce school liability in sexual assault cases, create dangerous imbalances between the rights of accused students and survivors, and potentially dissuade survivors from reporting sexual assault—run counter to the intent of this important civil rights law.
Campus sexual assault remains a significant problem across the country: 1 in 5 women and 1 in 20 men are reported to have experienced some form of sexual assault during their time in college. Women of color and LGBT students experience even higher rates of sexual assault compared with the general campus population. And although a large share of students experience sexual assault, 80 percent of student survivors choose not to report their assault out of fear of retaliation or privacy concerns, among other reasons. Weakening Title IX protections could further impede survivors' access to justice and would undermine society's advances toward increased gender equity in educational and professional spaces.
Here are four ways Secretary DeVos plans to roll back Title IX protections for campus sexual assault survivors.
1. Reducing school liability by narrowing the definition of sexual harassment and expanding religious exemptions
While the Obama administration more broadly defined sexual harassment as "unwelcome conduct of a sexual nature," Secretary DeVos plans to narrow the definition of sexual harassment to, in part, "unwelcome conduct on the basis of sex that is so severe, pervasive, and objectively offensive that it effectively denies a person equal access to the recipient's education program or activity." If DeVos' definition goes into effect, experts predict that those who experience sexual harassment, including survivors of sexual assault, will be less likely to report, as they may not know if their experiences are "severe" or "pervasive" enough to qualify as sexual harassment.
DeVos' proposed rule may also allow schools to disregard certain Title IX protections by expanding their religious exemptions. Under current guidance, schools are permitted to claim religious exemptions from certain Title IX provisions, such as admissions of certain students or counseling services, but must submit a letter to the U.S. Department of Education requesting specific exemptions, a process DeVos claims is "confusing or burdensome." The new rule will no longer require schools seeking religious exemptions to submit such a letter, explaining that "even if an institution has not sought assurance of its exemption, the institution may still invoke its religious exemption during the course of any investigation pursued against the institution by the Department [of Education]."
Advocates have argued that such religious exemptions can and have been used to discriminate against LGBT students and to deny women's reproductive rights on the basis of religious objections. Schools may also be exempted from responding to, preventing, or addressing the effects of sexual assault as required by Title IX if they seek religious exemptions from the manner and scope in which they are otherwise required to act. This means that students who attend religious institutions and experience sexual assault may have no recourse beyond the policies the school decides to implement and the resources—such as alternative schooling accommodations or counseling services—it offers them.
2. Allowing schools to choose the burden of proof required for sexual assault cases
The Obama administration's 2011 guidance directed schools to discipline accused students if evidence demonstrated that misconduct was more likely than not to have occurred, also known as the preponderance of evidence standard. The preponderance of evidence standard was deemed to be more aligned with past U.S. Supreme Court rulings related to discrimination claims, and other civil rights cases—under which violations of Title IX fall—consistently use this standard. Under DeVos' proposed rule, schools would have more latitude in choosing between the preponderance of evidence and clear and convincing evidence standards for Title IX cases.
The clear and convincing standard stacks the process against the survivor and sets an unreasonably high bar for evidence that is difficult to achieve in many sexual assault cases. By allowing schools to adopt this standard, the Department of Education is signaling to survivors that they will need even more proof of the assault, discouraging many survivors from reporting.
3. Dissuading survivors from reporting
Under the current guidance, students can report their sexual assault to anyone, including faculty or advisers, and a school is required to investigate when it "knows or reasonably should know" about a possible sexual assault. DeVos' proposed rule, however, states that in order for a school to be held liable for a Title IX violation, a student must report their assault to school officials "with authority to institute corrective measures"—forcing students to report to campus officials not of their choosing. The proposed rule will also require survivors or Title IX coordinators to produce and sign a formal document about the assault for the school to begin an investigation. Both of these changes will likely reduce the number of survivors who report, as many may not trust the campus officials in whom they will be forced to confide and may not want to pursue such a formal route after their assault.
DeVos has also proposed that survivors and accused students could have advisers that conduct a cross-examination to ask questions on behalf of the individual. Additionally, either party could request that "cross-examination to occur with the parties located in separate rooms with technology enabling the decision-maker and parties to simultaneously see and hear the party answering questions." Cross-examination is highly problematic and likely to jeopardize the rights and safety of student survivors. As the Obama administration's guidance states, "Allowing an alleged perpetrator to question an alleged victim directly may be traumatic or intimidating, thereby possibly escalating or perpetuating a hostile environment."
4. Bolstering accused students' rights over those of survivors
Beyond creating additional reporting and evidentiary burdens for survivors, DeVos' proposed rule would bolster the rights of accused students. These changes tap into a sentiment—which President Donald Trump's rhetoric against the #MeToo movement has stoked—that men have suddenly been put on trial without due process. For instance, the proposed rule underscores the importance of the presumption of innocence. The rule also requires schools to conduct individualized risk and safety assessments before removing an accused student from campus and allow the accused to immediately challenge their removal.
In the draft regulations, the department frames these changes as a fairer approach to handling campus sexual assault. In reality, the proposal is anything but equitable, as it creates a false narrative that accused students are being denied Title IX protections as a pretext for disempowering survivors. The rule would also place survivors in traumatic and potentially dangerous positions while schools conduct their assessments, since accused students may continue attending classes or share social circles with survivors. This could not only cause great mental and emotional stress for survivors who choose to pursue justice but may also disincentivize others from coming forward for fear of exposing themselves to additional trauma.
Conclusion
The Department of Education under Secretary DeVos is taking major steps backward when it comes to Title IX protections. But there are potential legal avenues to mitigate the damage. In one of a number of lawsuits filed against the department, civil rights and survivor advocacy groups cited DeVos' reversal of the Obama-era Title IX guidance as a harmful move that neglects campus survivors of sexual assault. Congress can also act by passing the Campus Accountability and Safety Act, a bipartisan effort that builds on the Clery Act of 1990 by expanding reporting requirements about sexual harassment, sexual assault, and related crimes on college campuses.
It is vital that policymakers and advocates push back on this proposed rule through legislation, public comments, and grassroots advocacy. Regardless of what the Department of Education does, educational institutions can continue to protect survivors through policies that treat them with dignity and respect. When it comes to education, young women and men should feel secure in the certainty that laws such as Title IX will protect their right to access education.
Victoria Yuen is a policy analyst for Postsecondary Education at the Center for American Progress. Osub Ahmed is a policy analyst for the Women's Initiative at the Center.
The positions of American Progress, and our policy experts, are independent, and the findings and conclusions presented are those of American Progress alone. A full list of supporters is available here. American Progress would like to acknowledge the many generous supporters who make our work possible.
Authors
Victoria Yuen
Policy Analyst Osub Ahmed
Former Associate Director, Women\'s Health and Rights