4 Ways to Improve Access to Mental Health Services in Asian American Communities
4 Ways to Improve Access to Mental Health Services in Asian American Communities
More than 7 million Asian Americans reported poor mental health status in 2017, but too many face systemic barriers to treatment.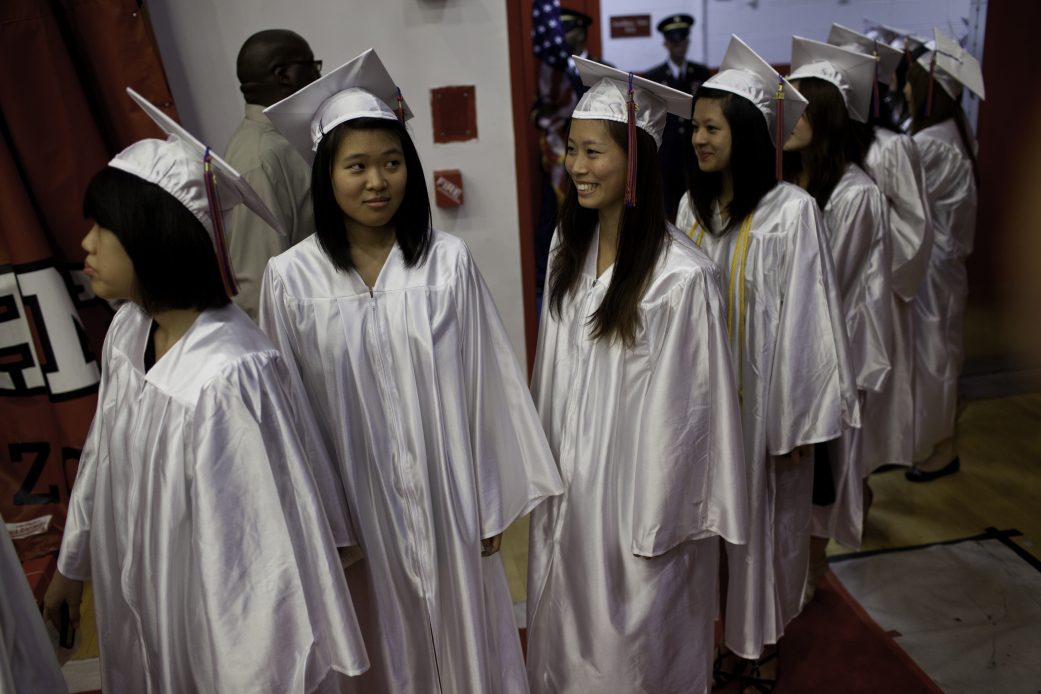 Insufficient access to mental health services in Asian American communities is a national problem.* According to Centers for Disease Control and Prevention (CDC) data that the Center for American Progress analyzed for this column, 37 percent of Asian American adults, or approximately 7.7 million people, report poor mental health status—defined by the Kaiser Family Foundation as "adults who reported that their mental health was 'not good' between one and 30 days in the past 30 days." Poor mental health status can include depression, stress, and emotional problems. Yet, Asian Americans are three times less likely than their white counterparts to seek and utilize mental health services.
Several factors contribute to this racial disparity in access to care. First, there is a persistent misconception that the needs of Asian Americans—a diverse group—are monolithic, or even nonexistent. Second, despite tremendous gains in coverage under the Affordable Care Act (ACA), high costs continue to prevent many Americans from accessing the care they need. Asian Americans are more likely than their white counterparts to experience poverty and to struggle to afford quality health care. Finally, language barriers, discrimination, insufficient diversity and cultural competency within the mental health field, and stigma further exacerbate this critical issue.
There are a number of steps lawmakers should take to ensure that members of the fastest-growing population in America obtain the care they need. This column details four ways to improve access to mental health services in Asian American communities.
1. Collect robust, disaggregated health data on Asian Americans
Asian Americans speak dozens of languages, have roots in more than 20 countries, and come from a wide range of socio-economic backgrounds. However, there is a harmful and inaccurate narrative of homogeneity in these communities, largely due to insufficient disaggregated data. When data are fully disaggregated, they reveal tremendous diversity in the mental health needs of different Asian American populations. For example, studies have found significant discrepancies among the mental health needs of the following Asian American groups:
Among Korean American adults, 33 percent experience symptoms of depression, compared with slightly less than 16 percent of Chinese Americans.
Among Filipino American women, 78 percent rate their mental health as excellent or very good, compared with just 45 percent of Chinese American women and 50 percent of Vietnamese American women.
Japanese American and Korean American men are at greater risk of suicide than all other Asian American men.
Too many analyses currently rely on aggregated data that provide an incomplete picture of these diverse communities. Collecting sufficiently large samples of data on Asian American ethnic groups is difficult; however, it is essential for crafting truly responsive public policy, especially health policy. Lawmakers should therefore expand the collection and publication of fully disaggregated health data on these distinct communities.
2. Provide affordable access to mental health services for all Americans
The ACA played a critical role in increasing people's access to health insurance. Between 2013 and 2016, the uninsured rate among nonelderly Asian American adults plummeted from 15 percent to just 8 percent. However, due to high costs, too many Asian Americans still remain uninsured, underinsured, or otherwise barred from accessing essential health services. Using national survey data from the CDC, CAP found that 1 in 3 Asian Americans who have been diagnosed with depression were unable to see a doctor at some point in the last year due to cost. A separate NPR study found that as many as 40 percent of Asian Americans did not seek medical care due to financial concerns.
Immigration status is another barrier to accessing affordable mental health services in Asian American communities. Five of the top six source countries of immigration to the United States between 1965 and 2015 were Asian countries, and Asians are projected to become the largest immigrant group in the country by 2055. Evidence suggests that improving access to coverage for immigrants can reduce disparities in prescription drug utilization and physician visits.
Lawmakers can enact several policies to boost mental health care utilization, such as guaranteeing universal coverage, eliminating underinsurance, expanding coverage for immigrants, and providing free access to mental health and substance use disorder services, among other benefits. Medicare for All proposals that have these features—such as CAP's "Medicare Extra for All"—could help eliminate coverage disparities and drive down health care costs.
3. Remove language and stigmatic barriers to mental health services
Language barriers can increase the likelihood of misdiagnosis and make it difficult for patients to understand treatment and medication instructions. Asian Americans are particularly affected by this issue: More than 35 percent are limited English proficient (LEP), and 77 percent speak a non-English language at home. As a result, Asian Americans—especially those who are foreign-born—would benefit from greater language accessibility in mental health services.
Under Title VI of the Civil Rights Act of 1964, LEP Americans have the legal right to access health care in their preferred language, free of charge. However, as of 2012, only 18 percent of hospitals offered their medical staff a formal assessment of foreign language proficiency, and less than one-third of hospitals required medical residents to receive any interpreter services training.
In order to bridge the communication gap between Asian American patients and mental health service providers, it is important for health care providers to offer professionally trained and culturally competent interpreters. Last year, Rep. Judy Chu (D-CA) introduced H.R. 2677, a bill that would provide, among other benefits, information about culturally and linguistically appropriate treatments and interventions for Asian Americans, Native Hawaiians, and Pacific Islanders. Policymakers should support these and other efforts to ensure that all Americans, regardless of language proficiency, have access to the health care they need.
Some Asian Americans may also be less likely to utilize mental health services out of fear of stigma. A 2010 survey revealed that the stigma surrounding disability is among the most significant obstacles to accessing mental health services. Stigma prevents individuals from utilizing civil rights protections such as the Americans with Disabilities Act, Section 504 of the Rehabilitation Act, and other laws. Disability rights activist and thought leader Alice Wong noted:
The model minority myth can prevent disabled APAs [Asian Pacific Americans] from asking for help, accessing appropriate services and accommodations, and self-identifying as a person with a disability. It is critical that the disability rights movement is aware of the model minority myth and addresses it in their programs and practices.
4. Promote cultural competency and diversity among mental health staff
Cultural incompetency and bias among health care professionals pose additional barriers for Asian Americans seeking mental health services. In 2017, 13 percent of Asian Americans reported that they experienced discrimination when visiting a doctor or health clinic. Among Asian American immigrants, the problem is even worse, with 1 in 6 reporting discrimination. Hospitals, medical practices, and universities should invest in cultural competency training to ensure that all Americans feel comfortable seeking care.
Certain organizations offer invaluable resources that can help health care providers improve their cultural competency. The National Asian American Pacific Islander Mental Health Association and the Asian American Psychological Association, for example, produce fact sheets and offer service providers technical assistance, as well as provide cultural competency, interpreter, and clinical training.
The lack of diversity among mental health professionals contributes to cultural incompetency in the mental health field. Asian Americans as a whole are underrepresented in the U.S. psychology workforce, and data disaggregation would almost certainly reveal even greater disparities within ethnic subgroups. For example, Japanese Americans and Filipino Americans constitute 7 percent and 19 percent of the Asian American population, respectively, but represent a respective 1.4 percent and 4.1 percent of Asian American applicants to U.S. medical schools. Colleges, universities, and professional associations should do more to ensure that the medical field is building a pipeline of health practitioners that are representative of the communities they serve.
Conclusion
Of the millions of Asian Americans who report poor mental health status, too many face systemic barriers to treatment and are therefore unable to access vital health services. Fortunately, the solutions to this persistent problem are within reach. Lawmakers and members of the health community can and must do more to ensure that all Americans—regardless of ethnic or socio-economic background—have access to the care they need.
Methodology
To determine the number of Asian Americans who report poor mental health status, the authors used the CDC's Behavioral Risk Factor Surveillance System (BRFSS), a nationally representative survey. This analysis used data from 2012 through 2017 in order to obtain a sample size of more than 2 million, which is sufficient for statistically meaningful disaggregation by race. The authors then used BRFSS data to estimate symptoms of poor mental health, rates of diagnosed depression, and cost barriers to health care among Asian American adults of all ages. Percentages were then weighted to reflect population characteristics.
Connor Maxwell is a research associate for the Race and Ethnicity Policy team at the Center for American Progress. Lisa Kwon is a former intern for the Race and Ethnicity Policy team at the Center.
*Authors' note: While Asian Americans are often studied alongside Pacific Islanders under the Asian American and Pacific Islander (AAPI) umbrella, this column focuses on Asian Americans, the community for which more data are readily available and whose needs differ from those of Native Hawaiians and Pacific Islanders (NHPIs). There is neither comprehensive data collection nor adequate reporting on AAPI communities in the United States. Despite the Office of Management and Budget directive that federal agencies collect and report data on NHPIs, this standard has not been adopted across all federal data. This disregard by some government agencies to collect and report robust disaggregated data on NHPI communities severely limits policymakers' ability to adequately address each group's unique concerns.
The positions of American Progress, and our policy experts, are independent, and the findings and conclusions presented are those of American Progress alone. A full list of supporters is available here. American Progress would like to acknowledge the many generous supporters who make our work possible.
Authors Connor Maxwell
Senior Policy Analyst Lisa Kwon