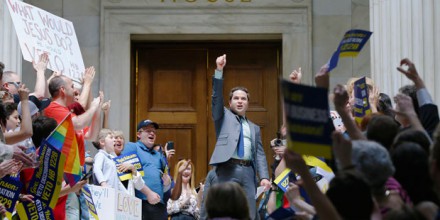 State Religious Freedom Restoration Acts Threaten True Religious Liberty
Under the guise of protecting religious freedom, states across the country are opening the door to discrimination by enacting misguided laws and policies. Read more →
15 Faith Leaders to Watch in 2015
Religious leaders and faith-based activists are poised to make significant progress on a range of social justice issues this year.

3 Ways to Celebrate Religious Freedom Day
It is important to mark the nation's progress in achieving religious freedom for all Americans, but the United States must also note the distance it still has to go.
Health Care that Heals
Pope Francis teaches that access to comprehensive health care, which acknowledges the dignity of the whole person at each stage of life, is necessary to build a more just world.
Education that Empowers
Pope Francis teaches that education is a tool for developing individuals, communities, and the world in service of compassion and fairness, suggesting that a commitment to quality, accessible education for all is a crucial element of building a more just world.
An Economy that Serves
Pope Francis has repeatedly highlighted the importance of work and his concern that the current economy values profit over people, urging people of faith and conscience to champion changes in business and the labor market that protect workers.

So-Called 'Cultural War' Issues Are Really About Justice
Marriage equality and women's reproductive rights are now being seen for what they always were: issues of basic justice.
Spirited and Faithful: An Interview with Rev. Marvin Ellison on the Role of Faith Leaders in the Reproductive Justice Movement
Sally Steenland interviews Rev. Marvin Ellison, a writer, educator, and advocate for reproductive rights, about his work to organize clergy for reproductive justice.

How Would Francis Vote?
Pope Francis has been a strong proponent of civic engagement during his papacy, calling for his billions of followers—and inspiring other admirers—to consider their faith and values when working to build more just societies.
Wise as Serpents but Harmless as Doves
The Obama administration's new birth control rules are generous and strategically smart, but some opponents still aren't happy.
Infographic: The Ripple Effect of the Hobby Lobby Decision
Allowing corporate religious liberty to trump employees' religious liberty can lead to a cascade of poor health outcomes for the nation.
Rep. Ryan's New Poverty Plan Is Not the Answer to the Pope's Prayers
Rep. Ryan needs to look toward Pope Francis's teachings and the true state of poverty in America in order to effectively address the nation's poverty crisis.
Working and Still Poor
When you try living on $77 a week for food, transportation, and entertainment—the budget of a minimum-wage worker—spending on things that many take for granted requires tough choices and carries significant consequences.
Hobby Lobby's Win Is a Loss for Religious Liberty
When for-profit corporations get the same privileges that have historically been given to religious groups that feed the hungry and care for the sick, religion itself is cheapened and devalued.
A Blueprint for Reclaiming Religious Liberty Post-Hobby Lobby
Report Religious liberty protections must strongly protect both individuals and religious institutions, but must be limited when the exercise imposes costs or burdens on others.