22 Faith Leaders To Watch in 2022
22 Faith Leaders To Watch in 2022
There's been no shortage of faith-based advocacy during the first year of the Biden administration.
Part of a Series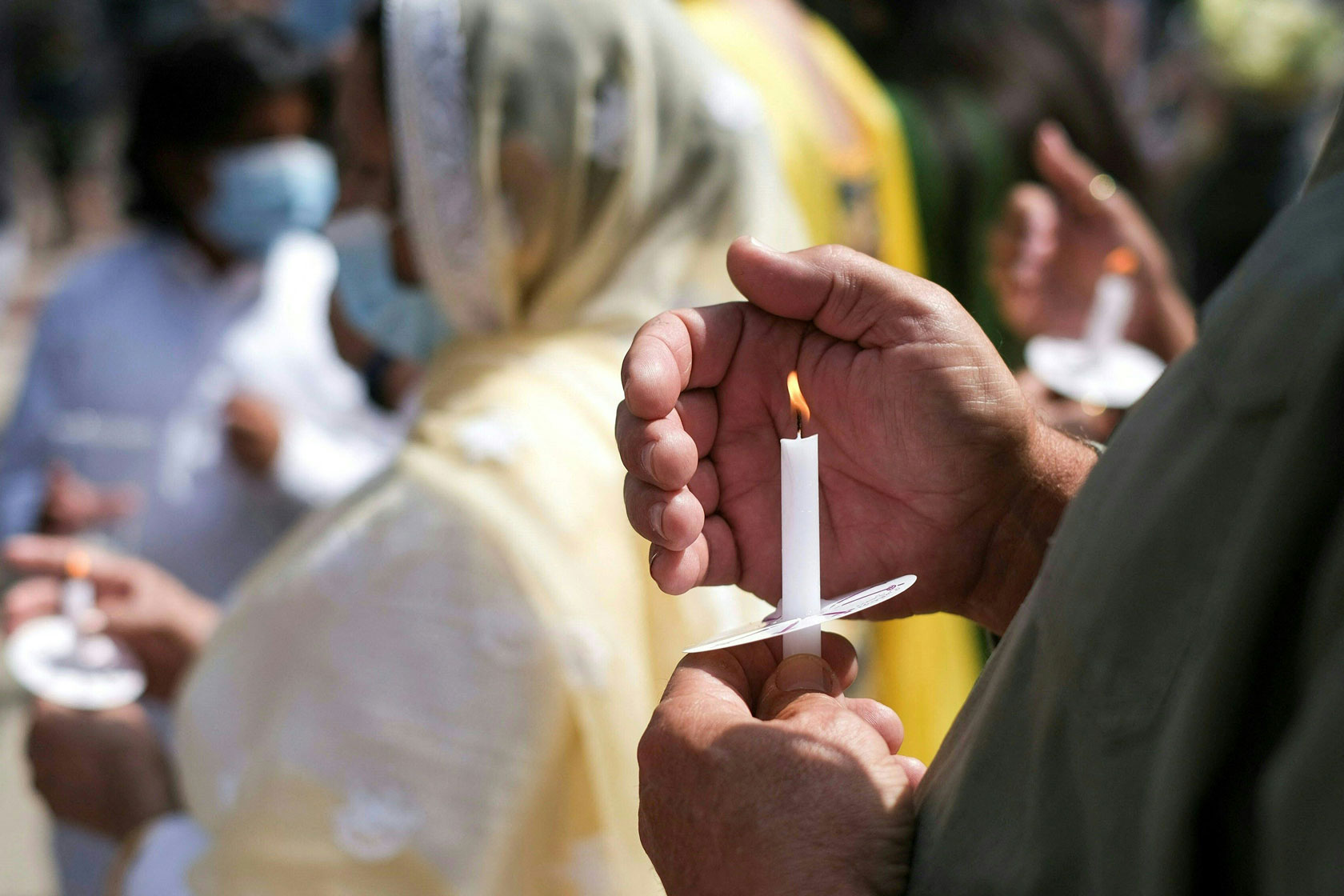 This column contains a correction.
Faith-based advocacy groups have been busy during the first year of the Biden administration. There is no shortage of powerful activism—from advocating for a wide range of policies concerning immigration and refugee issues, building an economy for all by expanding the social safety net, and defending democracy at home and abroad, to fighting for the dignity of LGBTQI+ people, addressing climate change, and stressing the spiritual elements of voting rights. But too often, these advocates' stories go unnoticed. The Center for American Progress publishes an annual list of Faith Leaders To Watch, now in its 11th edition, to showcase the diversity of religious voices advancing social justice.
This year's list of 22 Faith Leaders To Watch in 2022 includes advocates who have been in the righteous fight for justice for decades as well as those just starting out. Some focus on one issue in particular, while others engage across many issues. They are based in a range of settings, including local congregations, nonprofits, academia, and journalism. The throughline among these diverse leaders is that their fight for social justice is grounded in their faith and that policymakers, members of the media, and others should pay close attention to their accomplishments. The authors asked each faith leader to share how their faith informs their work.
Rabbi Jason Kimelman-Block
Rabbi Jason Kimelman-Block is the Washington director of Bend the Arc Jewish Action, a national organization helping to build a movement of progressive Jews across America who are committed to values of justice and equality for all. He is a compassionate and strategic leader in the fight for immigrant justice and racial justice and dedicated to combating anti-Muslim bigotry and mobilizing American Jews to bring Jewish traditions of justice into today's fights.
Rabbi Kimelman-Block told the authors: 
I have long been moved by the bold Jewish teachings and practices that have the power to transform lives and societies. Core to my understanding of Judaism is the idea that every human being was created in the divine image and has infinite value—as well as the story of the Exodus, which teaches that no person should have ultimate power and that all deserve to be free. Those ideas are as radical today as they were in ancient times and can inspire each of us to dismantle systems of oppression—from white supremacy, to economic exploitation, to authoritarianism.
Danté Stewart
Danté Stewart is a minister, essayist, cultural critic, and author of Shoutin' In The Fire: An American Epistle, a spiritual autobiography and an examination of Blackness, evangelicalism, and America's legacy of white supremacy. Named by Religion News Service as one of "10 up-and-coming faith influencers," his voice has been featured in The New York Times, The Washington Post, CNN, ESPN's The Undefeated (recently renamed Andscape), Sojourners, and more.
According to Stewart:
My work exists at the intersections of Black life, literature, and faith—weaving social and cultural criticism with theology seeking to uncover the everyday, ordinary power of Blackness. Doing this work, especially out of the Black progressive Baptist tradition, means going to literature, going to art, going to our bodies to see what type of revelation of the divine can be found in these places. It resists the many ways people tell us that Blackness is bad or opposed to faith or something to be devalued, distanced from, or destroyed. It is about seeing Blackness as something to be desired, embraced, explored, documented, and liberated. Though people do not believe it: Our art and literature and culture and bodies is sacred text, the stuff of the divine. Our lives are sacred history, the stuff of meaning. Therefore, my work is about uncovering that meaning and creating the type of work that heals, inspires, loves, and make us whole.
The Rev. Angela Williams
The Rev. Angela Williams is the lead organizer of the Spiritual Alliance of Communities for Reproductive Dignity (SACReD). She is a Presbyterian pastor and community organizer who has served as the outreach and faith strategist for Texas Freedom Network and its project Just Texas: Faith Voices for Justice. SACReD held a first-of-its-kind convening in January 2022 that brought together more than 450 people representing 40 states and more than 30 religious traditions to create a religious movement to share the message of reproductive dignity.
The Rev. Williams shared: 
I am proud to be one queer Presbyterian pastor among the cloud of witnesses struggling to bring more love, justice, and life to this world. I would not be proclaiming faith-based reproductive dignity if it were not for the movements that came before me: clergy providing access to safe abortion care pre-Roe v. Wade, LGBTQIA+ elders and ancestors imagining more abundant love in the church and world, and the 12 Black women who created the reproductive justice framework in 1994. I worship a God who sides with justice against oppression and restriction, a God who shows up at reproductive injustice and accompanies us through every reproductive decision free from shame, judgment, and stigma.
Aasees Kaur
Aasees Kaur is a civil rights advocate and community organizer who currently serves as the senior legal client manager at the Sikh Coalition. Based in Ohio, she works on cases nationwide that involve bias and profiling. She "successfully led anti-bullying efforts that have made schools safer for thousands of children in Georgia and have played a key role in raising bullying awareness at the national level" and has collaborated with the Sikh Coalition since 2012 in a variety of roles before joining the staff.
Kaur said:
My faith tells me that we are all one; we all share the same divine light, and that makes us innately equal and deserving of dignity. Sikhi remains at my core, and it drives me to do better by all of humanity every day. It is my privilege to put this value into action through my work in the civil rights and scientific research spaces.
The Rev. Dr. Emma Jordan-Simpson
The Rev. Dr. Emma Jordan-Simpson became the president of Auburn Seminary on October 1, 2021. Auburn is a leadership development and research institute that "equips leaders with the organizational skills and spiritual resilience required to create lasting, positive impact in local communities, on the national stage, and around the world." Jordan-Simpson also serves on the pastoral team at the Concord Baptist Church of Christ, as president of the board of directors of American Baptist Churches of Metropolitan New York, and on the board of directors of FPWA.
She told the authors:
Jesus identified with those who had been discounted by society and welcomed women and children. Therefore, I cannot proclaim a gospel that is not good news to marginalized people. I believe that God chooses to side with the oppressed; and there I stand. My life is about choosing the power of God's love. God's love is the power that holds us together in the face of calamity. God's love is the power to resist, the power to celebrate, the power to keep pressing on. And if we are held together by God's love, well then everybody has a place in God's love because there is "plenty good room" in the kin-dom.
Qasim Rashid
Qasim Rashid is a human rights lawyer, author, and host of SiriusXM's "The Qasim Rashid Show." He was the Democratic nominee for Virginia's 1st Congressional District in the 2020 election. He speaks frequently about his Muslim faith and his ongoing work to protect freedom of conscience for people of all faiths and no faith.
Rashid said:
Islam's founder, Prophet Muhammad (sa), established that every person has two foundational obligations—to God and to humanity—and that one cannot fulfill the duty to God unless they first fulfill their duty to humanity. If you love the Creator, you must love His creation. If you love an artist, you must love his art. As a Muslim and member of the Ahmadiyya Muslim Community, I strive to maintain my connection to God by doing my best to serve all humanity regardless of differentiating factors with my words, my time, and my actions. I believe that is the path to peace and justice.
Guerline Jozef
Guerline Jozef is the co-founder and executive director of the Haitian Bridge Alliance, an organization that, under her leadership, has been working to "elevate the issues unique to Black migrants and build solidarity and collective movement toward policy change." She is also co-founder of the Black Immigrants Bail Fund and the Cameroon Advocacy Network and the creator of a program called the Faith in Action and Immigration Justice Movement in Southern California. Jozef has dedicated her career to local and global work on addressing issues of immigration, socioeconomic and racial justice, domestic violence, child sexual abuse, and other human rights issues. She abides by the motto "Anpil men chay pa lou," a Haitian Creole proverb that means "Many hands lighten the load."
Jozef told the authors her work was "for such a time as this," citing the Bible (Esther 4:14) and adding:
As a member of the mission team of my church here in Orange County, I always enjoyed seeing the faces of missionaries going around the world and then coming back and sharing their stories. God, in His infinite wisdom, brought the mission field to me in 2015 as Black migrants were starting to come to the U.S.-Mexico border in search of refuge. Although the Haitian Bridge Alliance, Black Immigrants Bail Fund, and the Cameroon Advocacy Network that I have been blessed to co-create and lead are not typical faith-based organizations or projects or programs, I can tell you every aspect of what we do, of what I do, is solely based on faith. Our daily work is guided by the mercy and grace of God. It has been a painful journey, especially the past five years, but through it all, I have been able to see and know the very heart of God. It has been a blessing to be the feet and hands of Christ to some of the most vulnerable and to welcome and serve them with love and compassion. We have indeed been called for such a time as this.
Rabbi Jennie Rosenn
Rabbi Jennie Rosenn is the founder and CEO of Dayenu, a new organization mobilizing the Jewish American community to address the climate crisis. Dayenu has organized Jews to take action on federal legislation, engaged in get-out-the-vote work, and mobilized the Jewish community at key moments for climate justice, such as supporting Indigenous leaders in Minnesota resisting the Line 3 tar sands pipeline. Prior to founding Dayenu, Rosenn served as vice president for community engagement at HIAS, where she mobilized the Jewish community to respond to the global refugee crisis.
According to Rabbi Rosenn:
Jewish tradition calls me to be a partner with God in the ongoing work of creation to bring about a more whole and just world. What is at stake now—in this perilous moment in history—is nothing less than whether life will continue l'dor v'dor, generation to generation. Will there be a world for our children and grandchildren, and what kind of world will it be? I founded Dayenu to mobilize the American Jewish community to confront the climate crisis with spiritual audacity and bold political action. Holding both urgency and hope, we must come together and build a more just, livable, and sustainable world for all people, for generations to come.
Anantanand Rambachan
Anantanand Rambachan holds a doctorate and is a professor emeritus of religion at St. Olaf College. He is the president of the board of Arigatou International NY, the co-president of Religions for Peace, and board of directors chair of the Minnesota Multifaith Network. He is the author of several books, including A Hindu Theology of Liberation: Not-Two Is Not One and Pathways to Hindu-Christian Dialogue.
Rambachan said:
At the heart of my Hindu tradition is the teaching that the one infinite divine abides identically in every being. This is the most fundamental ground of human dignity and equality. This teaching requires me to bring to every human relationship a sacred reverence and respect, knowing that in each one, I am encountering the divine. I welcome and celebrate human diversity as divine expression. This vision also demands of me an active commitment to work that promotes and rejoices in the flourishing of everyone. The Bhagavadgita speaks of such work as lokasamgraham, or devotion to the universal common good. Deep reverence and value for human beings and their flourishing also require that I work to overcome structures of injustice and oppression, rooted in hierarchies of racism, sexism, casteism, or exclusive ideologies of nationalism, that impede the ability of human beings to realize their potential.
Olga Segura
Olga Segura is the author of Birth of a Movement: Black Lives Matter and the Catholic Church, published in 2021, and the opinion and culture editor at the National Catholic Reporter. Previously, she was an associate editor at America Media, where she covered race and culture. She is a co-founder and former co-host of the podcast "Jesuitical."
Segura told the authors:
My Catholic faith is grounded in the life and work of a brown man killed by the state. This means my work is committed to critiquing oppressive systems and the power and privileges white bodies are allowed to hold in America. It also means I am committed to centering the most marginalized voices in our world and church, from my editing to my writing and reporting.
Kritee
Kritee (spiritual name Kanko), who holds a doctorate, is a Buddhist Zen priest and a senior scientist in the Climate-Smart Agriculture program at the Environmental Defense Fund. She is a meditation teacher in the Rinzai lineage of Cold Mountain Zen, a founding Dharma teacher of Boundless in Motion, a co-founder of Rocky Mountain Ecodharma Retreat Center, and a climate educator-activist.* She has spoken about the need to focus on the impact of climate change on the nation's mental health systems.
Kritee told the authors:
The practice of Zen Buddhism makes us realize that we are fundamentally interconnected to everything across time and space and that our well-being cannot be separate from any other's well-being. As a climate scientist, Zen priest, and grief ritual leader, I constantly engage with the pressing questions of: How do we design our social justice and climate movements in a way that embodies this spiritual reality, and how do we collectively compost the pain of our losses so that we can courageously stand against the systems of oppression to minimize further harm and stop our right hand from hurting our left hand?
The Rev. Dr. Leslie Copeland-Tune
The Rev. Dr. Leslie Copeland-Tune is the chief operating officer of the National Council of the Churches of Christ in the USA. She was previously the director of the Ecumenical Advocacy Days for Global Peace with Justice, which brings faith-based advocates from across the country to Washington, D.C., each year, and the minister of congregational life for Clifton Park Baptist Church in Silver Spring, Maryland. She is also an associate minister of Alfred Street Baptist Church in Alexandria, Virginia. Her forthcoming book, 24/7 Embodying Christ-like Leadership, will be published by Judson Press in the fall of 2022.
The Rev. Dr. Copeland-Tune said:
As a Christian from a Black church context, specifically the Black Baptist church, my faith and my work for justice are grounded in my belief that to be a disciple of Christ and embody the life and ministry of Jesus means to advocate for the most vulnerable in our society. I believe that advocating for the God-given dignity of all people, especially those from marginalized communities, is a part of my living my faith out loud in the public square, of showing love of God and neighbor in the fight for justice and equity. My faith centers, sustains, and fortifies me for this work and helps me not to give up or turn around, regardless of how things appear.
Bishop Megan Rohrer
The Rev. Dr. Megan Rohrer leads the Sierra Pacific Synod of the Evangelical Lutheran Church in America. They are the first openly transgender bishop in a major Christian denomination. Bishop Rohrer is also a filmmaker, musician, historian, and author. They were featured on an episode of "Queer Eye" on Netflix and have become one of the most prominent LGBTQI+ religious voices in the country.
Bishop Rohrer shared: 
My faith compels me to listen deeply, speak out bravely, act boldly, and actively join in the liberation of those on the margins and with the least in these fearful times. Some days, I can effect great change in the world, other days it is enough to faithfully embody parts of God's fabulous diversity that others have written off.
Salima Suswell
Salima Suswell is an American Muslim leader, entrepreneur, political strategist, and the first Muslim woman appointed to the Pennsylvania Commission for Women. She is the founder and CEO of Evolve Solutions LLC and a commissioner on the city of Philadelphia's Mayor's Commission for Faith-Based and Interfaith Affairs.
Suswell shared in response to this recognition:
The responsibility of advocating for the rights of American Muslims is not one I take lightly. Truly, this recognition is a tribute to the parents that raised me to be an advocate of Islam and benefit to the Ummah (community) through hard work. This honor belongs to them. I fully expect to be held accountable in this life and in the hereafter, for my actions on behalf of the Muslims. And although the accolades in this life are appreciated, it is the reward of Allah in the afterlife that I seek.
Calvin Burke
Calvin Burke is a queer activist and a member of the Church of Jesus Christ of Latter-day Saints. He is known for his activism for LGBTQI+ equality while at Brigham Young University and currently works as a research assistant at the Graduate Theological Union. His writing has been published in By Common Consent and LDS Living, and his work has been covered by The Salt Lake Tribune, NPR, and The Daily Beast.
Burke told the authors:
At baptism, the Latter-day Saints "covenant" with God and each other is to "mourn with those that mourn," "to comfort those who stand in need of comfort," and "to stand as witnesses of God at all times, and in all things, and in all places." My advocacy efforts are an outgrowth of this promise of fidelity I made to God and to my neighbor when I was baptized into Mormonism as a child. It is a great personal tragedy to me that the same religious community that taught me to love and to serve others is responsible for so much exclusion, division, and prejudice today; the examples of many of my Latter-day Saint ancestors who both advocated for and built with their hands better and more inclusive worlds convinces me things do not need to be this way, and I am honored to carry on that great cause with many of my friends today.
Sister Helen Prejean, CSJ
Sister Helen Prejean, CSJ, is a Catholic religious sister, spiritual counselor to people on death row, and a leading American advocate for the abolition of the death penalty. She is the author of three books: Dead Man Walking: An Eyewitness Account of the Death Penalty in the United States, published in 1994; The Death of Innocents: An Eyewitness Account of Wrongful Executions, published in 2004; and River of Fire: My Spiritual Journey, published in 2019.
Prejean said:
For me, the spiritual energy of faith is the most inspiriting and sustaining energy for justice that I know. Following the path of Jesus, who took the side of poor, "disposable" people, led me into the execution chamber. Now it energizes me to work daily, hourly to end government-sanctioned killing.
Rabbi Sandra Lawson
Rabbi Sandra Lawson began her role as the inaugural director of racial diversity, equity and inclusion at Reconstructing Judaism in March 2021. In this role, Lawson is helping "Reconstructing Judaism realize its deeply held aspiration of becoming an anti-racist organization and movement." She is also the founder and leader of Kol HaPanim, an inclusive Jewish community. She was previously the associate chaplain for Jewish Life at Elon University in North Carolina.
Rabbi Lawson said:
We have this famous line in the Torah, "Justice, justice shall you pursue." We are commanded to pursue justice not only for ourselves but also for others. The Torah teaches that any society we create must be based on compassion, fairness, and justice for all. We must create a system where all can live in communities with a sense of security and know that they will be treated fairly and honestly. And we are responsible for those most vulnerable in our society.
The Rev. Jennifer Butler
The Rev. Jennifer Butler is a Presbyterian minister and the CEO of Faith in Public Life, which mobilizes its network of 50,000 faith leaders to advance just policies at the local, state, and national levels. She also chaired the White House Council on Faith and Neighborhood Partnerships from 2015 to 2016. Butler is the author of Who Stole My Bible? Reclaiming Scripture as a Handbook for Resisting Tyranny.
According to the Rev. Butler:
Growing up as a white Southerner in the Bible Belt, I was surprised to discover that Scripture is actually a handbook for resisting tyranny and authoritarianism. I discovered spiritual practices in Scripture to ground my resistance to heresies such as Christian nationalism by rejecting idolatry, remembering the truth about who we are, and recognizing the innate dignity of every person made in the image of God. As I work to defend and expand a multifaith, multiracial democracy, I continue to find hope in Jesus' mission statement in Luke 4:18-19 to "proclaim good news … [and] set the oppressed free."
Rabbi Dr. Shmuly Yanklowitz
Rabbi Dr. Shmuly Yanklowitz is a modern orthodox rabbi and the founder and president of Uri L'Tzedek, an orthodox Jewish social justice organization. The organization engages in education, leadership development, and action to discourse; inspires leaders; and empowers the Jewish community toward creating a more just world. Yanklowitz is also the president and dean of Valley Beit Midrash; founder and CEO of Shamayim: Jewish Animal Advocacy; and founder and president of YATOM: The Jewish Foster and Adoption Network. He is the author of 22 books on Jewish ethics.
Rabbi Yanklowitz said: 
My Jewish faith, rooted in Torah, reminds me daily to never accept the world as it is but to always work to reduce suffering and combat injustice. For me, this is about participating in a spiritual revolution for empathy, compassion, and self-transformation that is deeply interconnected with a social transformation. For me, I'm left with the question: How can we be religious pluralists embracing epistemic humility and bridge-building while also embracing a morally robust vision for progress that leads us to challenge others' truths that lead to oppression?
Sahar Pirzada
Sahar Pirzada is the manager of movement building at HEART Women and Girls, which works to "advance reproductive justice and uproot gendered violence by establishing choice and access for the most impacted Muslims." She is a Pakistani American Muslim woman from the Bay Area and currently lives in Los Angeles. Pirzada is a co-founder and steering committee member of Vigilant Love, where she organizes against the mosque-to-prison pipeline. Her work with HEART has been featured in Teen Vogue, NPR, KPCC, Fusion's "Sex.Right.Now," and "#GoodMuslimBadMuslim."
Pirzada told the authors: 
As a Muslim American woman, my faith not only serves as a moral compass for how to conduct myself on a daily basis, but is a political marker. I am guided by my faith values to build a future where all in and beyond my religious community are free from state, communal, and interpersonal violence.
Nikki Toyama‑Szeto
Nikki Toyama-Szeto is the executive director of Christians for Social Action, previously Evangelicals for Social Action. The organization "combine[s] biblical scholarship with astute policy analysis to further economic justice, support interdependence, promote racial and ecological justice, and generally try to make the world a better place." Prior to joining Christians for Social Action, Toyama-Szeto worked for International Justice Mission, the Urbana Conference, and InterVarsity Christian Fellowship.
Toyama-Szeto told the authors:
My Christian faith planted in me the belief that people (and the natural world) reflect the beauty and image of God. Recognizing the worth of people informs my work advocating for dignity, full-flourishing, and spacious places for people. In addition, my faith gives me hope, a hope that justice will find a way. This sustains me in the face of deep disappointments and setbacks. My Christian faith both stirs my imagination, creating a picture of a more just society, as well as fuels me toward that work.
The Rev. Melissa Florer-Bixler
The Rev. Melissa Florer-Bixler is the pastor of Raleigh Mennonite Church. She is also the author of multiple books, including the recent How to Have an Enemy: Righteous Anger and the Work of Peace. She is the chair of L'Arche North Carolina and a steering committee member in broad-based organizing in her county.
The Rev. Florer-Bixler said:
In the gospel of Luke, Jesus returns from his temptation in the wilderness to proclaim freedom for prisoners and the release of captives. This prophetic announcement is central to my work to build thriving communities where we meet harm with accountability and repair without resorting to punishment and isolation. What is the world we want? How does our cooperation in building this world free us from cycles of violence? These are the questions that animate my work, and they are grounded in the generative, upending love of God.
Conclusion
In the years ahead, faith-based advocates will continue to actively engage the executive branch, Congress, the U.S. Supreme Court, and state and local policymakers. The challenges of rebuilding after the pandemic, creating a sustainable and fair economy, and rooting out systemic racism and other interlocking injustices will take generations. Thankfully, generations of faith-based advocates have preceded the current cohort of faith leaders, each of whom is working for a better world for future generations. The leaders featured in this article are rooted in their own faith traditions and are part of building a more inclusive and just society where all people can flourish.
* Correction, March 31, 2022: This column was updated to accurately state the nature of Kritee's work and her role at the Environmental Defense Fund.
The positions of American Progress, and our policy experts, are independent, and the findings and conclusions presented are those of American Progress alone. A full list of supporters is available here. American Progress would like to acknowledge the many generous supporters who make our work possible.
Authors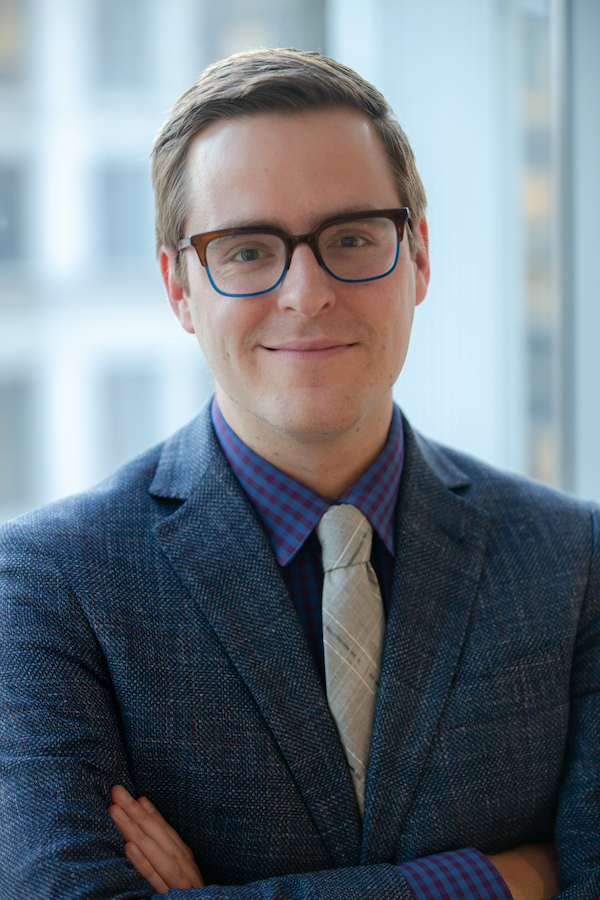 Guthrie Graves-Fitzsimmons
Former Fellow, Religion and Faith Maggie Siddiqi
Former Senior Director, Religion and Faith
Explore The Series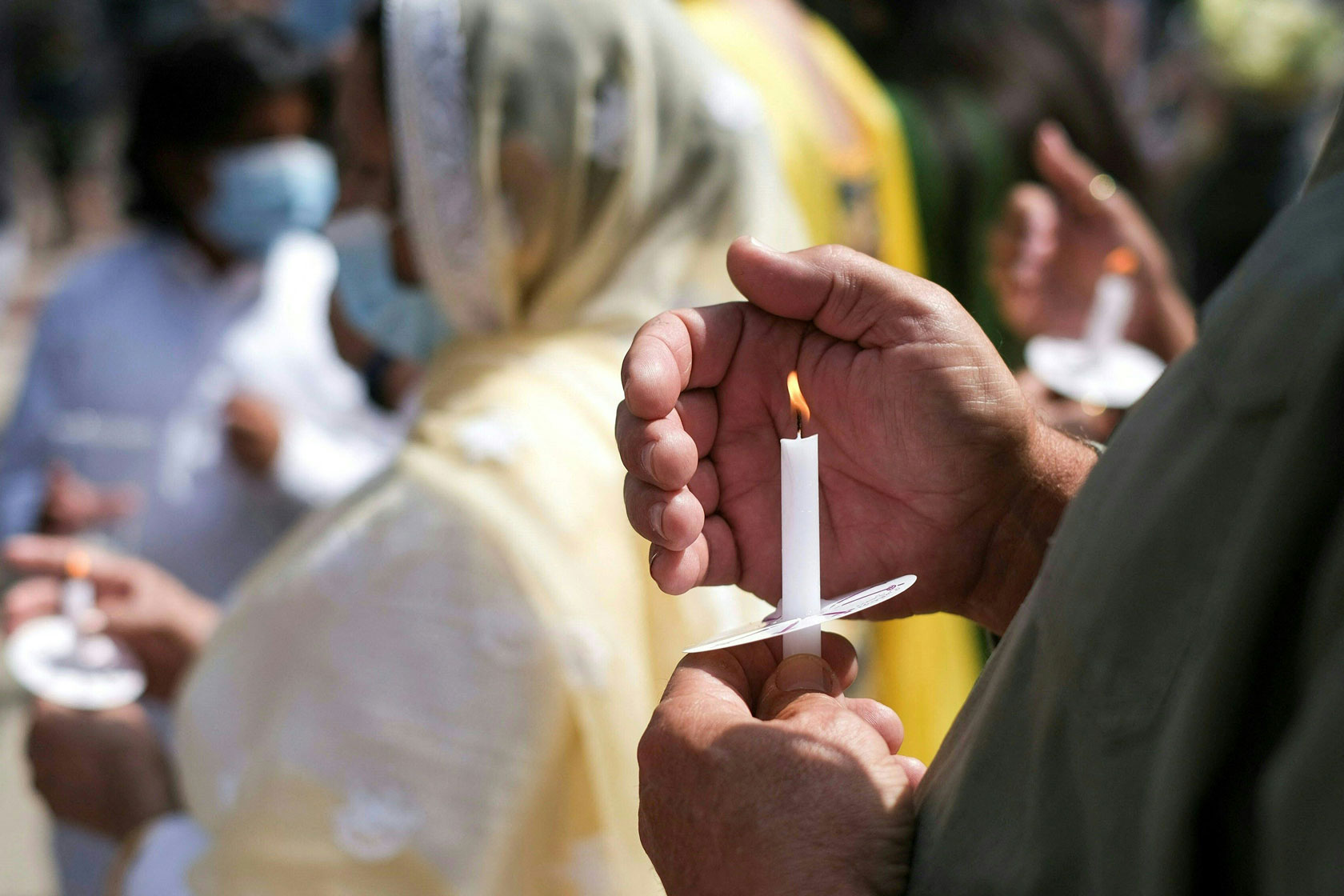 The Religion and Faith team at the Center for American Progress publishes an annual list of faith leaders to watch. These clergy and lay leaders are infusing the progressive movement with moral clarity. From immigration reform and gun violence prevention efforts, to foreign policy and the climate crisis, faith communities are a critical constituency across every area of public policy.
Previous
21 Faith Leaders To Watch in 2021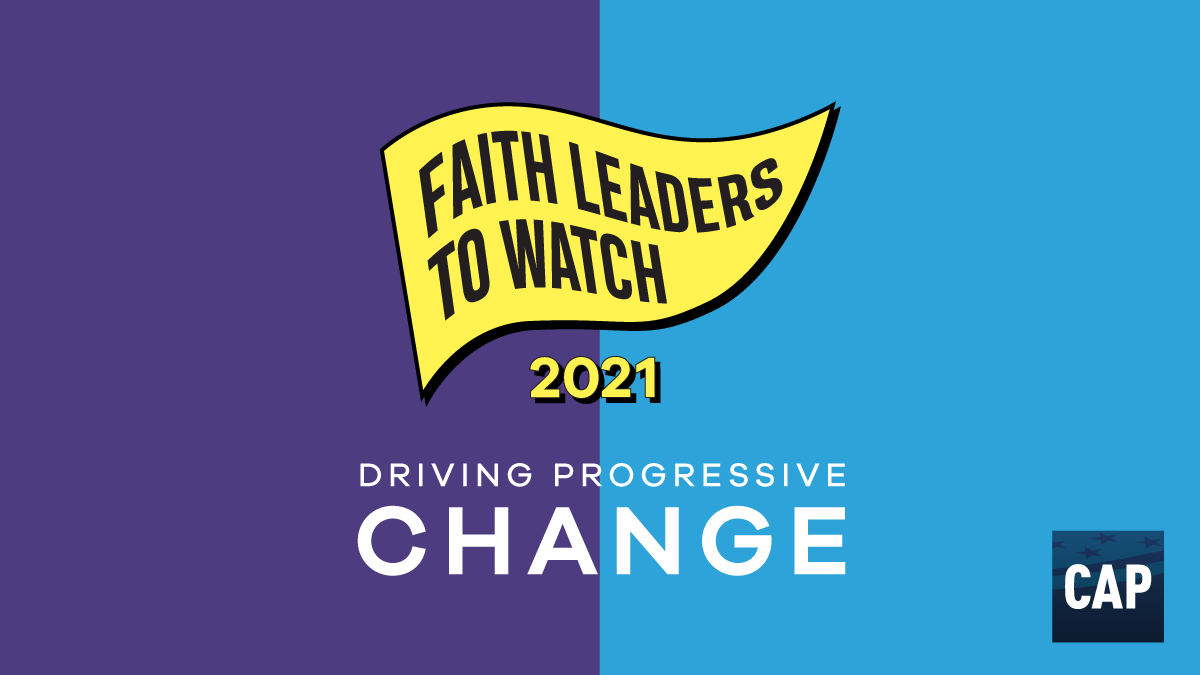 21 Faith Leaders To Watch in 2021