: 7th Annual Gun Violence Prevention Conference

7th Annual Gun Violence Prevention Conference
Thank you for joining us for the seventh annual Gun Violence Prevention Conference.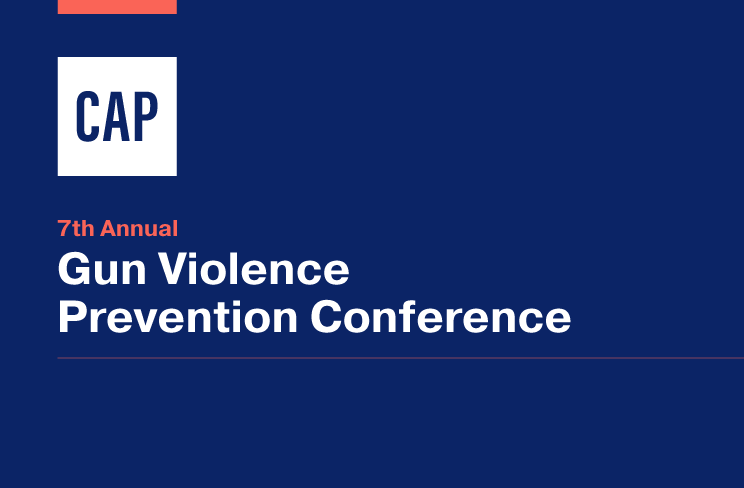 Welcome to the seventh annual Gun Violence Prevention Conference. We're so thrilled you can join us and look forward to two great days. If you have any questions, please contact Allison Jordan at ajordan@americanprogress.org or Alex Barrio at abarrio@americanprogress.org.
We are excited to work and build with you all and we invite you to be a part of this year's meeting to dive into the important questions facing policy experts, researchers, survivors, activists, students, veterans, organizers, parents, allies, and others who are committed to creating a world free of gun violence.
The purpose of the 2021 Virtual Gun Violence Prevention Conference is to explore some of the most urgent questions that face the movement and to equip ourselves with the skills, knowledge and resilience to make change in our local, state and national communities.
ALL are invited to attend, build relationships with your fellow colleagues, and strategize on how we can end our gun violence epidemic together. The meeting will be FREE. This event is closed to members of the press. Please reach out to Tricia Woodcome at twoodcome@americanprogress.org with any questions.
To join the sessions, please click on the session titles. All sessions will be hosted on Zoom. Please note that the times listed on the Zoom app may differ slightly from the times below. Please defer to the session start times below.
Emotional support specialists will be available throughout the conference. Please follow this Calendly link for a time to talk to someone.
Conference sessions are being recorded and may be broadcast. If you choose to participate in a discussion on camera or audio, you are presumed to consent to the use of your comments and your image in these recordings. If you do not wish to be recorded, please contact Alex Barrio at abarrio@americanprogress.org.
Monday, December 6
Welcome remarks and introductions
Keynote remarks by Denisha Gingles – "Committing to a Better World: How to be a Better Change Agent Using Our Values and Committed Action"
1:00 p.m. ET: Break
This panel will cover Community-Based Violence Intervention Programs with an in-depth discussion from practitioners doing the work in hospitals and in the streets across the county, from the Midwest to Puerto Rico, including a detailed conversation of how COVID has changed gun violence prevention.
Speakers:
Javier Lopez
Dr. Larita Rice-Barnes, Executive Director-Metro East Organizing Coalition
Tania Rosario Méndez, MPH, Executive Director, Taller Salud
Moderator:
Masika Gadson
2:30 p.m. ET: Break
2:45 p.m. ET: Breakout sessions
Speakers:
Susan Bender, Chair, GVP Committee, Bethesda United Methodist Church; Chair, GVP Social Action Team, Baltimore-Washington Conference of the United Methodist Church
Rabbi Joel Mosbacher, Senior Rabbi, Temple Shaaray Tefila, New York City, National Co-Chair, "Do Not Stand Idly By" Campaign of the Metro Industrial Areas Foundation
Rev. Rob Schenck, President, Dietrich Bonhoeffer Institute, Washington, DC; Administrative Bishop, Methodist Evangelical Church USA; Executive Advisor to the Secretary General, World Evangelical Alliance
Moderator:
Steve Klitzman, Chair, Temple Sinai Gun Violence Prevention Group; Co-Organizer, DC Area Interfaith Gun Violence Prevention Network
Robert More, Council member, Pax Christi Metro DC-Baltimore; Coordinator, Pax Christi, St. John Neumann Church, Reston, Virginia
This panel will feature a discussion on the ways in which states are working to address regulatory and policy gaps left by the Federal government, as activists and policymakers work to keep guns out of the hands of those who should not have them.
Speakers:
State Sen. Zellnor Myrie (D-NY)
Erica Rice, City Program Manager, Combating Crime Guns Initiative, Brady
Kathleen Sances, Interim President and CEO, OneAim
Moderator:
Josh Scharff, Senior Counsel & Director, Programs, Brady
This panel will feature a discussion of how the AAPI community has been targeted in this country not just by the gun industry, but by misinformation campaigns that make us all less safe.
Speakers:
Christine Chen, Co-Founder and Executive Director of Asian Pacific Islander American Vote (APIAVote)
Cydney Hargis, Senior Researcher for Guns and Public Safety, Media Matters
Janelle Wong, Senior Researcher, AAPI Data
Moderator:
Gloria Pan, Vice President, Gun Safety, MomsRising
97Percent/Beacon Research Survey of Gun Owners
Hosted by 97Percent, this session will cover and dig deep into a new poll released by 97Percent and Beacon Research of more than 1,000 American gun owners. The poll reveals gun owners overwhelmingly support key gun safety policies, even as pro-gun organizations and the mainstream media underestimate gun owners' support for these policies.
Speakers:
Matt Littman, Executive Director, 97 Percent
Matthew Shelter, Beacon Research
3:30 p.m. ET: Break
This panel will feature of discussion by experts in the field of trauma-informed communication, policymaking, and approaches to healing. Two years into the COVID pandemic, with gun violence hitting record numbers, what can we do to address the trauma our communities and the people we love are suffering, in order to be more effective advocates for gun violence prevention?
Speakers:
Dr. Traci Kurtzer, Medical Director of Trauma Informed Care and Education, Northwestern Medicine
Joseph Richardson, The Joel and Kim Feller Professor of African-American Studies and Anthropology, University of Maryland
Reverend Sharon Risher
Moderator:
Dr. Arkaprava Deb, Medical Officer, CMS, U.S. Department of Health and Human Services
Tuesday, December 7
12:00 p.m. ET: Day two opening session
Tune in here to view some brief opening remarks from Eugenio Weigend Vargas, Research Director for the Gun Violence Prevention team at the Center for American Progress.
12:15 p.m. ET: Breakout sessions
As we look to 2022 and beyond, what have we learned about extremist legislatures and the policy they have been pursuing? What can we look forward to as we continue the fight for better gun violence prevention legislation at the state and local levels?
Speakers:
Annette Magnus, Executive Director of Battle Born Progress and Institute for a Progressive Nevada
Zandra Rice Hawkins, Executive Director, Granite State Progress
Gyl Switzer, Executive Director, Texas Gun Sense
Moderator:
Molly Voigt, Senior State Legislative Manager, Giffords
Speakers:
Dr. Hsing-Fang Hsieh, Assistant Research Scientist, University of Michigan Prevention Research Collaborative
Eric Lundy, Deputy Engagement Director, Giffords
Dr. Kellie Lynch, Associate Professor of Criminology & Criminal Justice, University of Texas at San Antonio
Dr. Michael Siegal, Visiting Professor in the Department of Public Health and Community Medicine at the Tufts University School of Medicine
Dr. Tsu-Yin Wu, Professor and PhD Program Director, Eastern Michigan University School of Nursing and Center for Health Disparities Innovation and Studies
Moderator:
Igor Volsky, Executive Director of Guns Down America; Author of "Guns Down: How To Defeat The NRA And Build A Safer Future With Fewer Guns."
Panelists will discuss the various ways in which GVP work is done on tribal lands. This will include discussions on intimate partner violence, suicide prevention, and legal issues.
Speakers:
Caroline Bishop LaPorte
Debra O'Gara, Senior Policy Analyst, Native Women's Resource Center
Tyler Stone, Native Connections Project Director, Muscogee (Creek) Nation Behavioral Health
Moderator:
Alexis Jimenez
Speakers:
Tim Carey, Law and Policy Staff Attorney, EFSGV
Josh Horwitz, Executive Director, EFSGV
Patrice Sulton, Executive Director, DC Justice Lab
Silvia Villarreal, Research Translation Manager, EFSGV
1:15 p.m. ET: Break
When considering what equity looks like in this movement, this panel will feature people who have done the work of making their organizations more equitable—not just in the gun violence prevention space but in other organizations and movements as well. What are things organizations can and should be doing to address these issues?
Speakers:
Lisa Fujie Parks, Associate Program Director, Prevention Institute
Ifeoma Ike, Partner, Pink Cornrows
Pastor Brenda Mitchell
Moderator:
James Bell, State Assistant Administrator, Michigan Department of Health and Human Services
2:45 p.m. ET: Break
3:00 p.m. ET: Breakout sessions
This panel will feature a discussion of the gun violence prevention crisis as it affects a broad and diverse array of communities, united by a shared language and heritage, stretching from California to Puerto Rico.
Speakers:
Jesenia Pizarro, Associate Professor in the School of Criminology and Criminal Justice, Arizona State University.
Rosa Clemente
Moderator:
Astrid Dominguez, RGV Welcoming Committee Coordinator
This panel will feature young people sharing their stories about suicide among today's youth and how our nation's gun culture connects with the broader issue of keeping our kids safe.
Speakers:
Janel Cubbage, Director of Strategic Partnerships and Equity, Coalition to Stop Gun Violence (CSGV)
Kennedy Fridia
Devin Hernandez, Junior at Red Cloud High School, Oglala Sioux Tribe
Lucas Johnson, Junior at Bowdoin College
Aashi Mittal, Senior at Del Dorte High School, Sandy Hook Promise Youth Advisory Board Member
Moderator:
Elizabeth Murphy, National Policy Director, Sandy Hook Promise
This panel will feature a peak behind the curtain of America's most dangerous gun group: The National Sports Shooting Foundation.
Speakers:
Ryan Busse, Senior Policy Advisor,Giffords; Former Senior Executive, Kimber Arms
David Chipman, Senior Policy Advisor, Giffords
Po Murray, Chairwoman, Newtown Action Alliance
Moderator:
Sara Knizhnik, Director of Community Engagement,Newtown Action Alliance
3:45 p.m. ET: Break
4:00 p.m. ET: Breakout sessions
This session will look at how PLCAA has transformed our country since its passage and what attorneys, policymakers, advocates, and governments are doing to work within the law to bring accountability to the gun industry.
Speakers:
Alejandro Celorio, Principal Legal Adviser, Mexico's Ministry of Foreign Affairs
Josh Koskoff
Jonathan Lowy, Vice President, Legal and Chief Counsel, Brady Campaign to Prevent Gun Violence
Moderator:
Molly Thomas-Jensen, Deputy Director of Affirmative Litigation, Everytown Law
Every year, thousands of U.S. guns are trafficked to other countries of the region. According to the latest data from ATF, from 2015 to 2020, more than 6,000 firearms that originated in the U.S. were recovered in crimes across Caribbean countries, more than 1,900 alone were recovered in Jamaica. During that same period, more than 13,000 guns that originated in the U.S. were recovered in Central American countries, close to 88 percent of those were recovered in Guatemala, El Salvador, or Honduras. Finally, from 2015 to 2020 more than 62,000 guns that originated in the United States were recovered in Mexico. These guns are used to perpetrated homicides, robberies, extortions, and kidnappings, directly fueling levels of violence in these countries. The objective of this panel is to discuss the flow of these guns, how they impact these countries, as well as policies and actions to address this challenge.
Speakers:
Eliasib Amet Ramirez Herrera, a promoter of peace and interculturality at Casa Refugiados
Bertrand Laurent, Executive Chair, Caribbean Institute for Sustainable Development
Mark Ungar, Professor of Political Science and Criminal Justice, Brooklyn College and Graduate Center, City University of New York
Moderator:
Congresswoman Debbie Mucarsel-Powell, Senior Advisor at Giffords
We heard YOU! Based on your feedback at the in-person CAP Conference in 2019, we've created a panel to address the topics of interest most commonly shared. The pandemic left many of us more isolated than we would like. This panel will share a range of resources to help you connect with others who understand the trauma of being both a victim and survivor of gun violence.
Speakers:
Pam Bosley, Mother of Terrell Bosley; Co-Founder of Purpose Over Pain. Peer to Peer Options for Support (local, national & social media) – Chicago
Sheriff Garry McFadden, Mecklenburg County Sheriff; Working with Law Enforcement – Most Commonly Asked Questions & Answers/First Responder – Charlotte
Roger Roberts, Director of Crisis Response Services, National Organization for Victim's Assistance (NOVA), NOVA Resources – London, Ohio
Angela Schellenberg, Trauma Therapist LMHCA, Lakeside Counseling Center, PTSD (modalities to help us with trauma) Survivor- Seattle
Moderator:
Camila Kuntz, Sharing Our Stories/Witness, Victim, Survivor, Author – Minneapolis