Xcel-erating Natural Gas in Colorado
Xcel-erating Natural Gas in Colorado
Colorado's Largest Utility Switching to Natural Gas
Colorado has struck a deal with its largest utility, Xcel energy, to phase out coal plants in favor of natural gas in a potential clean energy game changer, writes Tom Kenworthy.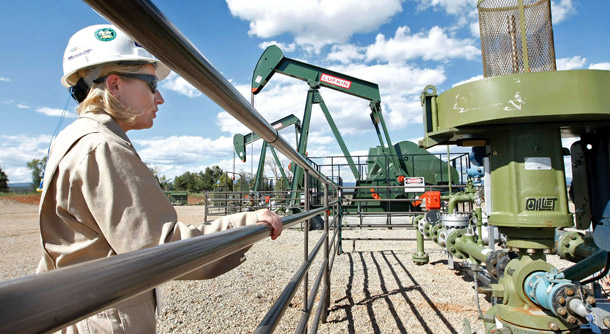 Natural gas has gotten a lot of attention in recent months as a potential game changer in the battle against climate change. And Colorado has some welcome news on this front. The state's largest utility, Xcel Energy, has come to an agreement with the state government where it would retire coal plants powering about 900 megawatts by 2017 and replace them with natural gas-fired power. This move will mean a 30 percent reduction in Xcel's Colorado coal fleet and a cut of as much as 5 million tons a year in carbon pollution. And this is all without federal legislation requiring cuts in emissions.
Advances like Colorado's are being made possible by technological advances in developing shale gas fields, which mean that the domestic supplies of the natural gas that can power electric plants with half the CO2 emissions of coal are 39 percent larger than previously thought. Gas-powered electricity can make it far easier to meet global warming pollution reduction limits established in the American Clean Energy and Security Act passed by the House last year. And a shrinking limit on carbon pollution that establishes a price on these emissions should propel the electric power industry to retire aging coal plants and utilize spare capacity in building natural gas plants. Gas electricity will mesh well with rising levels of clean electricity from wind and solar power since gas plants are easier to power up when the wind doesn't blow or the sun doesn't shine.
Gov. Bill Ritter unveiled Colorado's innovative agreement with Xcel Energy in a March 5 announcement of the Colorado Clean Air – Clean Jobs Act. And the state is now moving swiftly to enact the bill, backed by an unusual coalition of lawmakers from both parties, the gas industry, environmentalists, and Xcel, Colorado's largest utility. The State House passed the measure 53-12 on March 22, and the State Senate will take it up early next week.
Some of the urgency comea from anticipated new clean air directives from the Environmental Protection Agency that will require Colorado to ease pollution on the state's populous Front Range region that includes Denver. The plan to retire some of Xcel Energy's coal-fired plants, said Ritter, "will keep Colorado at the forefront of America's energy revolution. It will protect consumers, clean our air and protect public health, and create new jobs by increasing demand for Colorado-produced natural gas."
Yet the bill could face a challenging environment in the State Senate despite the broad coalition supporting the coal-to-gas bill. Organized labor is worried about a potential loss of coal-mining jobs in western Colorado, though most of the state's coal production is exported. And some conservation groups from the same region are wary about ramping up natural gas development after a big run-up in drilling during the last decade brought a range of problems ranging from reduced air and water quality to increased costs for providing county services.
When the EPA relaxed oversight of the industry during the Bush administration, drilling permits soared in Colorado, more than quintupling from 1,529 in 2000 to 8,027 in 2008. Colorado responded to that surge in oil and gas development in 2008 by enacting a comprehensive overhaul of its rules governing oil and gas drilling with a much greater emphasis on protecting public health and safety and the state's water and wildlife. Jim Martin, executive director of Colorado's Department of Natural Resources, says the new rules are already doing a better job of better protecting the values that state residents cherish. And he expects the Clean Air-Clean Jobs Act will only marginally increase drilling activity in western Colorado, which is well below its peak in large part because of the prolonged national economic downturn.
As Colorado increases its clean energy investments, its largest utility "got religion," too. Xcel Energy opposed a state ballot initiative just six years ago to impose Colorado's first Renewable Electricity Standard—a modest 10 percent by 2015. Yet Xcel has since then determined that clean energy is the future of Colorado and supports many efforts to invest in the clean energy technologies of the future. It supported legislation that ratcheted up the RES to 20 percent and did not oppose the most recent increase to 30 percent, which Ritter signed into law just last week. Xcel is the state's largest utility with 1.1 million residential customers and is backing Ritter's Clean Air-Clean Jobs Act, which will require Xcel to submit by Aug. 15 a plan for cutting nitrogen oxide emissions at its coal plants by up to 80 percent to meet current and upcoming federal requirements under the Clean Air Act.
And Colorado isn't the only western state pursuing a clean energy future. The week, the developers of a planned 750-megawatt coal plant in Nevada announced they will shift to a 700-megawatt gas-fired plant combined with a 50- to 100-megawatt solar PV plant. Company officials said environmental concerns were the main driver behind the change. And Senate Majority Leader Harry Reid (D-NV) said that, "Clean natural gas projects like this will help us use this clean energy source to strengthen our economy while protecting Nevada's great outdoors."
The positions of American Progress, and our policy experts, are independent, and the findings and conclusions presented are those of American Progress alone. A full list of supporters is available here. American Progress would like to acknowledge the many generous supporters who make our work possible.
Authors Tom Kenworthy
Senior Fellow