Turning Momentum into Votes
Turning Momentum into Votes
Republican Support Grows to Repeal "Don't Ask, Don't Tell"
Crosby Burns and Jeff Krehely identify the key Republican senators whose support is necessary to repeal "Don't Ask, Don't Tell" this year.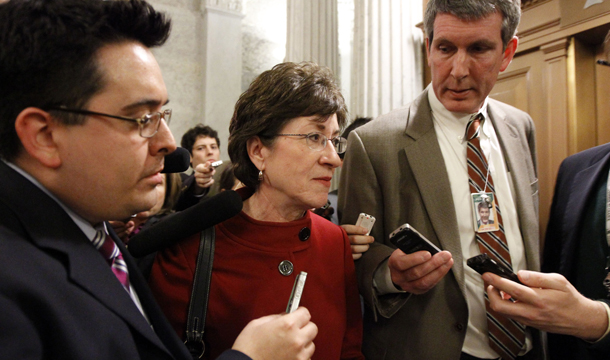 The Senate last week failed to proceed to debate the Fiscal Year 2011 National Defense Authorization Act, which includes language to repeal "Don't Ask, Don't Tell" policy for gays and lesbians serving in the U.S. military. But there is evidence that repeal efforts supported by the Joint Chiefs of Staff of our armed forces, the Obama administration, and a majority of Congress can still win the day.
Last week's setback for repeal advocates in the Senate was due to disagreement over procedure rather than a specific fight over repeal itself. Republicans who support repeal state that their votes are contingent upon two requirements. First, they insist on a fair and open process to debate and offer amendments to the National Defense Authorization Act. Second, they only support repeal if the Senate passes legislation to deal with the expiring Bush-era tax cuts.
When Senate Majority Leader Harry Reid (D-NV) held a critical vote to start the defense authorization debate last week, neither requirement was satisfied. The tax issue remained unresolved, and Republicans in particular expressed dissatisfaction with procedural issues related to the bill. As a result, Sen. Reid could not muster the 60 votes needed to begin debate, which effectively killed the bill's chances of moving forward.
Still, a small but growing number of Republicans in the Senate do, in fact, support repeal, led by Sen. Susan Collins (R-ME). These senators have reviewed the Pentagon's comprehensive report on "Don't Ask, Don't Tell," as well as the testimony of our military leaders before the Senate Armed Services Committee, and have arrived at the same conclusion: Repeal poses minimal risk to our military's combat effectiveness and readiness.
Fortunately, the Senate will likely have another opportunity to vote on the "Don't Ask, Don't Tell" repeal during the remaining days of the 111th Congress. On Friday, December 10, Sens. Joe Lieberman (I-CT) and Susan Collins (R-ME) introduced a standalone bill that would repeal the "Don't Ask, Don't Tell" policy. And Majority Leader Reid promises to bring this bill to the floor for a vote before this session of Congress adjourns later this month.
Success, however, will require not only open support from Republicans in the Senate, but also their votes. A standalone repeal effort will require Republican support to overcome a filibuster from those senators who oppose repeal. Besides Sen. Collins, three Republican senators have publicly come out in favor of repealing this policy.
Sen. Scott Brown (R-MA) says that "having reviewed the Pentagon report, having spoken to active and retired military service members, and having discussed the matter privately with Defense Secretary Gates and others, I accept the findings of the report and support repeal based on the secretary's recommendations." Sen. John Ensign (R-NV) agrees. "It is my firm belief that Americans, regardless of their sexual orientation, should be able to fight and risk their lives in defense of this great nation," he says.
"America is the loser when it denies those who are willing to make great sacrifices demanded of our men and women in uniform the opportunity to do so on grounds of sexual orientation," concurs Sen. Lisa Murkowski (R-AK). "I agree with Defense Secretary Gates' view that the military can successfully implement a repeal of the 'Don't Ask, Don't Tell' law provided that proper preparations are implemented."
With their support, repeal proponents will have more than the 60 votes required to overcome a filibuster in the Senate. And with the Senate set to vote on a tax package soon, and with fewer procedural issues facing a standalone "Don't Ask, Don't Tell" repeal bill, these Republicans should no longer have a reason to vote against repeal.
When a standalone bill comes before the Senate in the remaining days of this Congress, these Republicans should abide by their promises and vote to repeal DADT.
Jeff Krehely is Director of the LGBT Research and Communications Project at the Center for American Progress. Crosby Burns is a special assistant on that project.
The positions of American Progress, and our policy experts, are independent, and the findings and conclusions presented are those of American Progress alone. A full list of supporters is available here. American Progress would like to acknowledge the many generous supporters who make our work possible.
Authors Crosby Burns
Policy Analyst Jeff Krehely
Former Senior Vice President, Domestic Policy