Trump Administration's Proposed MATS Rollback Is Direct Attack on Women and Children
Trump Administration's Proposed MATS Rollback Is Direct Attack on Women and Children
The Environmental Protection Agency's proposed move to roll back crucial mercury standards threatens the health of the American public and will be harmful to women and children, especially those in marginalized communities.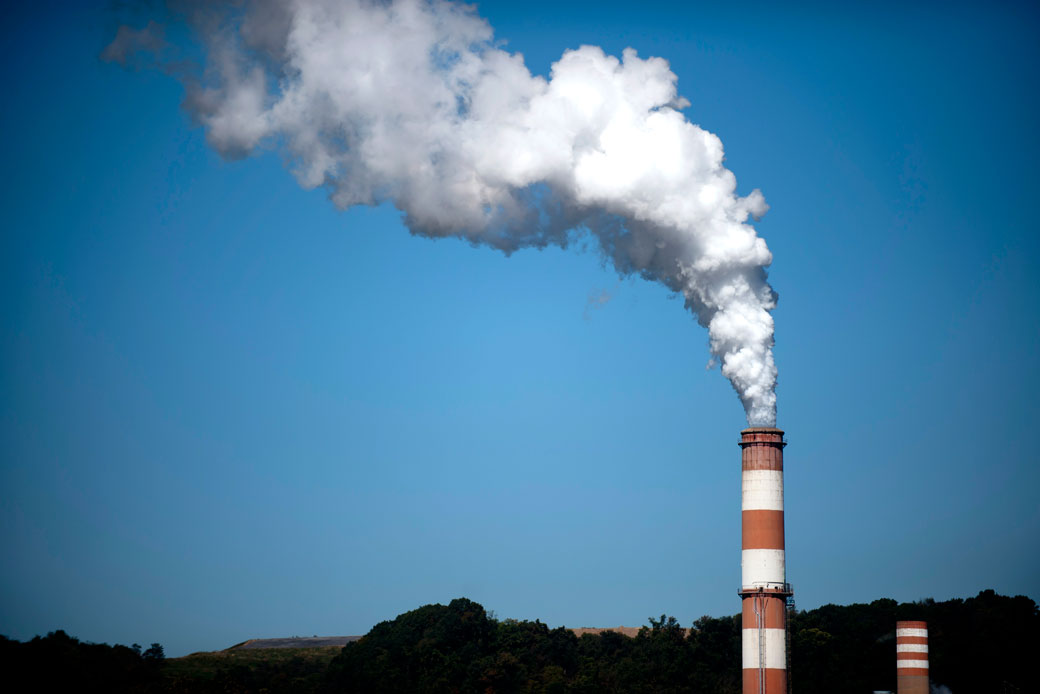 This week, the Trump administration plans to take initial steps to allow power plants to spew toxic mercury and other hazardous pollution into the air, threatening the health of the American public. Like so many of the Trump administration's rollbacks, this proposed change to undo the existing Mercury and Air Toxics Standards (MATS) comes with devastating health impacts for pregnant women and children. For this reason, the rollback has been criticized by many and is even opposed by a coalition of utilities and union groups.
Worst of all, rolling back the MATS is likely to have a disproportionately negative impact on pregnant women and children—in particular, those living in communities located near coal- and oil-fired power plants. Furthermore, data show that people of color and people with disabilities are more likely to live in these communities, further increasing the health disparities that exist between these groups and the general population. Mercury exposure has been linked to severe damage to the lungs, brain, and other organs, and those who are exposed often later experience developmental disorders.
This rollback is just the latest in a long and devastating series of attacks by Environmental Protection Agency (EPA) Acting Administrator Andrew Wheeler—a former coal lobbyist. Since he stepped into the role of acting administrator in early July 2018 following the resignation of disgraced former Administrator Scott Pruitt, Wheeler has followed in Pruitt and President Donald Trump's footsteps, prioritizing profits for polluters over the health of the public.
Current MATS prevent more than 11,000 deaths every year
Implemented in 2012, the MATS have been successful in reducing the amount of mercury and other toxic air pollution from oil- and coal-fired power plants. Importantly, all of the affected power plants have already fully complied with this rule, installing a collective $18 billion worth of control technology. As a result, mercury pollution alone has decreased by nearly 70 percent since the rule's implementation. In fact, when the EPA updated the rule following a 2015 Supreme Court ruling, it found that the safeguards helped prevent more than 11,000 premature deaths each year and that the benefits of the rule far outweighed the costs to industry.
Many states rely on federal standards like the MATS to regulate toxic air pollution within their own boundaries. Therefore, rolling back these safeguards would leave many states without an overarching standard to protect their residents. For example, Texas currently has six of the country's top 10 mercury-polluting power plants. In 2010, the state was also ranked as the country's worst airborne mercury emitter, with its coal-fired power plants producing 11,127 pounds of mercury that year. While these numbers are high, the MATS have ensured that states like Texas work toward controlling their mercury emissions. In fact, as a result of the MATS, the EPA predicted that in 2016 alone, Texas was able to avoid 1,200 premature deaths that would have been caused by exposure to mercury and other toxic air pollutants. Unfortunately, EPA Acting Administrator Wheeler and the Trump administration are now aiming to roll back this important rule by rewriting the entire process for conducting cost-benefit analyses, a move that would invalidate the entire basis for the MATS: protecting the public health of all Americans.
To make matters worse, if this rollback later finds itself in court—which is very likely given the path of the 2015 Supreme Court case—it could end up in front of Supreme Court nominee Brett Kavanaugh, who has a track record of choosing industry over the American people and the environment. In 2014, while serving as a judge for the District of Columbia Circuit Court of Appeals, Kavanaugh heard a case on the MATS, in which he dissented from the majority, inaccurately maintaining that the EPA's rule completely ignored costs to the industry.
Overturning the MATS is a direct attack on the health of women and children
By proposing to roll back these standards, the Trump administration is making another brazen attack on public health. Eliminating the MATS represents an especially grievous threat to women across the country who are either pregnant or trying to get pregnant. Heavy metals, such as mercury and lead, have significant deleterious effects on women: Mercury exposure can cause menstrual cycle disorders, delayed conception, low birth weight, and increased risk of miscarriage, while lead can remain in the bones for years after initial exposure and lead to gestational hypertension and preterm deliveries.
Standards for harmful air pollutants are also important for women in the general population, as exposure to these pollutants can lead to negative reproductive health outcomes such as breast cancer and changes to fertility-related hormones.
Generally, pregnant women and children are also especially vulnerable to environmental threats; however, mercury and the toxins included in the MATS are uniquely damaging. Since it is a neurotoxin, mercury disrupts the central nervous system function when ingested or absorbed through the skin. In pregnant women, fetuses can be exposed to mercury when developing brains and other organ systems are most at risk. Importantly, even when pregnant women do not show any symptoms, developing fetuses can still be exposed to mercury. In addition, infants can swallow mercury in breast milk, contaminated food, water, dust, and dirt. In fact, developmentally appropriate activities for young children—such as crawling on the floor and exploring new objects by putting them in their mouths—put them at risk of consuming dangerous levels of mercury. The impacts of mercury on pregnant women's and children's health and development are tremendous, as studies have linked early mercury exposure to delays or dysfunction in language, attention, and memory well into adolescence.
Marginalized communities, including communities of color and people with disabilities, would face the brunt of negative health outcomes
When looking broadly at the impacts of mercury poisoning on public health, the fields of environmental justice, racial justice, and disability justice are intricately linked in a causal and comorbid relationship. Exposure to various toxins creates disabilities and chronic health conditions. Data also indicate that people with disabilities and their families are more likely to live in communities that are affected by pollutants, which often exacerbates or amplifies existing health issues.
Furthermore, studies have found that the most toxic polluting facilities are located in low-income communities and communities of color. African Americans are 75 percent more likely to reside in fence-line communities—communities that are near polluting facilities—and face a 54 percent higher health burden as a result of air pollution, compared with the general population. Similarly, Latino communities are disproportionately affected, with more than 1.81 million Latinos living within a half-mile of polluting facilities. When local regulatory agencies and zoning boards are able to concentrate polluters in poorer or less well-resourced communities, it becomes an issue of environmental and reproductive justice, as women of color, low-income women, and these women's children are forcibly exposed to harmful pollutants.
One need look no further than Flint, Michigan, to see the impacts of environmental racism on reproductive outcomes. Flint's predominantly African American population was exposed to lead after the city changed its drinking water source without regard for public health and safety. Since then, women in Flint have experienced decreased fertility rates and increased rates of fetal death. The rollback of the MATS would not only result in significant health hazards but would also exacerbate existing social inequities that disproportionately harm women of color, low-income women, and their children.
Conclusion
With the Trump administration's proposed rollback, there are very clear losers. However, there is only one obvious winner: the coal industry. Even many power plants and the workers that keep them running oppose rolling back this commonsense, effective safeguard against toxic metals in the air and environment. Children are this country's future, and it is important that safeguards are in place to protect them from dangerous air pollutants. However, Acting Administrator Wheeler and his friends in the coal industry are once again prioritizing industry profits over public health.
A rollback of the MATS could result in serious future health issues for children and pregnant women—particularly people of color and people with disabilities, who are more likely to be exposed to pollutants. In order to protect these populations and the health of the American public, the EPA should deeply consider the consequences of its actions.
Sally Hardin is a research analyst for the Energy and Environment War Room at the Center for American Progress. Osub Ahmed is a policy analyst for the Women's Initiative at the Center. Cristina Novoa is a policy analyst for Early Childhood Policy at the Center.
The authors would like to thank Rebecca Cokley, Jamila Taylor, Shilpa Phadke, and Steve Bonitatibus for their contributions.
The positions of American Progress, and our policy experts, are independent, and the findings and conclusions presented are those of American Progress alone. A full list of supporters is available here. American Progress would like to acknowledge the many generous supporters who make our work possible.
Authors
Sally Hardin
Former Senior Director, Energy and Environment Campaigns Osub Ahmed
Former Associate Director, Women\'s Health and Rights Cristina Novoa
Senior Policy Analyst