Top 5 Ways for Public Schools to Better Support Talented Students of Color
Top 5 Ways for Public Schools to Better Support Talented Students of Color
Students of color continue to be underrepresented in rigorous and selective academic programs, and schools must work to ensure that talented students of color are adequately supported and challenged.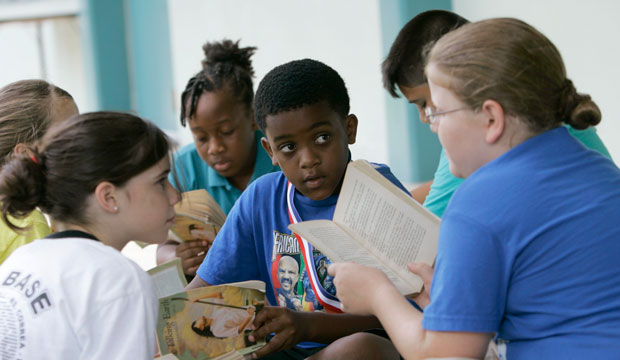 See also: Race and Beyond: Where Are the Gifted and Talented Black Students? by Naomi Kellog
More than 50 years after the U.S. Supreme Court's unanimous decision in Brown v. Board of Education, the nation's public school system has yet to fulfill its promise of equal educational opportunity for all. Schools are now more segregated than ever. Deep and stubborn racial achievement gaps persist. Students of color even graduate from college at lower rates than their white peers. A hidden contributor to these critical issues is a shortage of challenging and rigorous elementary and secondary instruction for talented students of color.
Within U.S. schools, African American and Latino students are dramatically underrepresented in academically rigorous programs. This means that some high-achieving and high-potential students of color are being left out of what can be a pipeline to the most desirable higher education and career opportunities. For instance, although Hispanic students make up 24 percent of the total student population, they only comprise 17 percent of those enrolled in gifted and talented programs. Black students are similarly underrepresented: About 16 percent of the nation's public school students are black, compared with only 9 percent of students enrolled in gifted and talented programs. Furthermore, while Native American and Pacific Islander students represent a much smaller portion of the total student population, they are also underrepresented in selective academic programs.
This underrepresentation will become a more pressing issue as the share of students of color in American schools continues to grow. Since 2014, students of color have made up the majority of students entering public schools, and these demographic trends will only continue. Gifted programs should not become the new centers of racial segregation in America.
Given the history of inequity that underlies the U.S. public education system, how can policymakers and educators ensure that all kids—including students of color—receive the tools, support, and encouragement they need? Proactive, progressive policies must be put in place to ensure that the growing numbers of students of color have the opportunity to thrive and live up to their full potential. Schools and districts should implement the following policy solutions to support, challenge, and value high-achieving and high-potential students of color.
1. Improve access to selective and academically rigorous programs
Black and Hispanic students are dramatically underrepresented in gifted programs, regardless of their age or socioeconomic status. These programs start tracking children as early as kindergarten and can set students' academic trajectory for their entire schooling. New research has shown that traditional referral systems for identifying gifted children tend to overlook significant numbers of talented students of color.
Schools and districts should take proactive steps to increase access to gifted programs for black and Hispanic students. By ending teacher and parent nominations, for example, districts and schools can remove referral bias as a factor that currently drives black and Hispanic student underrepresentation. Universal screening, which involves assessing every student in a given grade or class for giftedness, can also help eliminate the issue of referral bias. The use of nonverbal tests can help better identify gifted English language learners.
In addition, schools should develop more holistic admissions processes and use criteria beyond just performance on intelligence and achievement tests. Expanding the definition of giftedness to include criteria such as creative behavior can lessen exclusive reliance on tests, which themselves can be biased by, for example, centering white culture and norms. A comprehensive solution must also include creating gifted programs in places where they do not currently exist: schools with high populations of black and Hispanic students, especially those in urban areas.
2. Promote innovative alternative methods of instruction
Supporting and challenging gifted students does not have to involve pull-out programs—wherein students are placed in separate classrooms comprised only of their gifted peers—and all of their associated ailments. In working to ensure that all students are properly engaged and challenged, inclusive models can work to better support talented students of color.
One such model is personalized learning, which has shown promising results for improving student outcomes. Personalized learning is an academic system that enhances student learning through individually tailored instruction, educational experiences that move students toward college and career readiness, and teacher ownership of pedagogy. Personalized learning better meets the needs of students because it is designed to fit the learning preferences and specific interests of each student. In this regard, personalized instruction makes learning a much more exciting, engaging, and meaningful experience for all students, including students of color.
Another alternative to gifted programs is the Schoolwide Enrichment Model, or SEM, which researchers developed to address the needs of underchallenged students. The Enrichment Triad Model, an early adaptation of SEM, has been successful in many schools. The Enrichment Triad Model seeks to promote creative productivity through three types of enrichment offered to all students: exposure to a wider variety of disciplines, development of thinking and feeling processes, and self-selection. Such alternative models can help ensure that talented students of color receive enough content and level differentiation.
3. Ensure that pedagogy reflects the racial, ethnic, and cultural backgrounds of students of color
For students of color, improving on existing curricula and pedagogies can have an enormous impact. All teachers should receive comprehensive and effective cultural competency training as part of their professional development. This training could minimize the impact of their implicit bias on students. Schools and districts should also incentivize teachers to develop culturally relevant curricula. By shaping their classroom practices and content to connect with the cultures their students have lived in and experienced, teachers can increase engagement and improve outcomes for students of color.
These solutions also necessitate increased diversity in the teacher workforce. Even though the share of students of color in public schools has been steadily increasing, teachers across the nation are still overwhelmingly white. Schools and districts must improve their practices for recruiting and retaining more teachers of color. While increasing teacher diversity is beneficial for all students, it is especially so for students who share aspects of teachers' identities. For example, teachers of color can better identify and promote giftedness in students of color: These students score higher on standardized tests when taught by teachers of color. These teachers can improve outcomes for their students of color by holding them to a high standard, recognizing their talent, developing meaningful relationships, acting as role models, and providing culturally relevant teaching that draws from their own experiences. Teacher pipeline reform is an integral piece of developing a holistic support system for talented students of color.
4. End the use of excessive discipline measures against students of color
Students of color, especially black and Hispanic boys, are disproportionately subject to disciplinary action in schools, starting as early as preschool. These punishments often have direct negative effects on the students' academic performance. The adoption of zero-tolerance policies often leads schools to refer students to law enforcement and ultimately feed them into the school-to-prison pipeline. In Florida, for example, black students accounted for 53 percent of school-based arrests in the 2013-14 school year, even though they make up just 23 percent of the state's total student population. Moreover, punishments given out by school administrators, such as suspensions and expulsions, are three times more likely to be meted out to black students than to their white peers. Suspension, expulsion, and in-school detention lead students to miss classroom time and fall even further behind in their coursework.
One step that schools should take is to discourage suspensions and expulsions for more subjective infractions such as willful defiance. Schools should invest in counselors and training for administrators and teachers on how to best implement discipline. Restorative justice programs can also reduce misbehavior. In such programs, a student who vandalized a classroom, for example, may work with the janitor to repair the damage. Moreover, schools may use prizes and other rewards to incentivize good behavior. While these solutions would likely require extra funding, they are promising means to promote a healthy, safe, and positive environment in school while avoiding disproportionately punishing students of color.
5. Improve college match services
For students of color, choosing the right college is important in determining their odds of graduating and, more broadly, their future career path. Students of color are also more likely to be first-generation college students, who have a greater tendency to sell themselves short and apply to less selective schools. One way to address this challenge is to improve college match services. The Knowledge is Power Program, or KIPP, charter school network, for example, emphasizes college match as a central tenant of its model through the KIPP Through College program. The program outlines "four keys" to finding the right college match: focusing on GPA and taking rigorous courses in high school; making a well-researched list of reach, match, and likely schools to apply to; preparing for the cost of college; and getting an early start on the application process. KIPP encourages students, especially students of color, to consider colleges' four- and six-year graduation rates, as well as underrepresented, first-generation, and low-income student enrollment.
In addition, providing college access to talented students of color requires diligent college counselors. Schools should also work with programs such as the Posse Foundation, which provides guidance and scholarships for students who might have otherwise been overlooked by the traditional college selection process. By providing guidance and scholarships to high-achieving and high-potential students of color, these programs help ensure that such students are not left behind.
Conclusion
The persistence of the racial achievement gap means that a disproportionate share of the population of underperforming students is comprised of students of color. Moreover, students of color are markedly underrepresented in enrichment programs and, therefore, in the top tier of student achievement. This discrepancy means that some talented students of color do not reach their full potential, do not attend the most selective colleges and universities, and thus do not have full access to areas of the job market that require an elite education. Too often, gifted and talented programs are at risk of becoming a new site of racial segregation in schools. Instead, schools should improve supports for bright and talented students of color. By doing so, schools can ensure that they are fulfilling their true purpose: to provide a high-quality and equitable education for all students.
Sricharitha (Cherry) Mullaguru is the Special Assistant for the Education Policy team at the Center for American Progress.
The positions of American Progress, and our policy experts, are independent, and the findings and conclusions presented are those of American Progress alone. A full list of supporters is available here. American Progress would like to acknowledge the many generous supporters who make our work possible.
Authors Cherry Mullaguru
Special Assistant