CNN: America's Easiest 'Ref?' (Just Ask the Tea Party)
CNN: America's Easiest 'Ref?' (Just Ask the Tea Party)
The network's decision to co-host a Republican presidential debate with the Tea Party Express is just another in a long line of concession to conservatives, writes Eric Alterman.
Part of a Series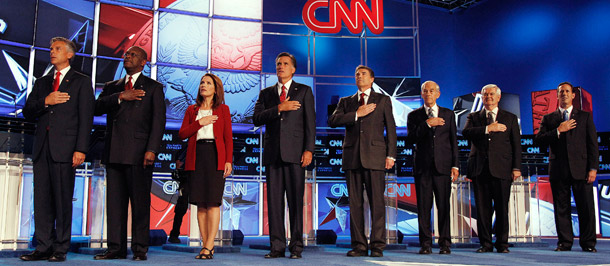 Has there ever been a group of "refs" that has been as successfully (and easily) "worked" as the folks at CNN?
CNN likes to advertise itself as playing the news straight down the middle. But for decades now, right-wingers have been calling CNN either the "Clinton News Network," or the "Communist News Network," and insisting that its anchors and guests make a greater and greater effort to report the news according to their prejudices. Their success has been astounding.
When former Time editor Walter Isaacson was made president of CNN in 2001, among his first actions was to fly to Washington to meet with a group of congressional Republicans to try to convince them that he and his network weren't so evil after all. (There had been talk of a boycott of the network by Republicans.)
His successors have been traveling the same road over and over, if only metaphorically. Over the years, CNN has tried to kowtow to conservatives by hiring a neverending parade of right-wing pundits and professional agitators: Robert Novak, William Bennett, Jonah Goldberg, Dana Loesch, and perhaps most egregiously, though this is not an easy call, Erik Erikson, who called Supreme Court Justice David Souter a "child molester" and Michelle Obama a "Marxist harpie."
Even so, it's hard to recall a more desperate move by the network as its desire to co-host a Republican debate with the political action committee the Tea Party Express on September 12. As Alternet's Adele Stan points out, this is an organization that during the 2010 midterm elections raised $7.7 million in support of candidates such as Christine O'Donnell, Sharron Angle, Joe Miller, and Marco Rubio. The PAC also, Stan notes, "donated the maximum allowable amount to the congressional campaign of Rep. Michele Bachmann." All this spending put Tea Party Express in the top 20 PACs, and now CNN just made a massive in-kind contribution.
Why in the world would CNN—whose advertisements like to claim a lack of partisanship in either direction—want to partner with such an organization? It can't be because it respects the intellectual credibility of the Tea Party.
It is, after all, an organization that chose as its spokesperson to respond to the president's State of the Union address—another event that was crazily covered by CNN—Michele Bachmann, a woman who believes that the famous "shot heard around the world in Lexington and Concord," was fired in New Hampshire, not Massachusetts, and who thinks "the very founders that wrote" the U.S. Constitution "work[ed] tirelessly until slavery was no more in the United States," among a lot of other nutty things.
What's more, this same organization employed a spokesperson by the name of Mark Williams, who thought it clever to author a letter reading:
Perhaps the most racist point of all in the tea parties is their demand that government "stop raising our taxes." That is outrageous! How will we Colored People ever get a wide screen TV in every room if non-coloreds get to keep what they earn? Totally racist! The tea party expects coloreds to be productive members of society?
Mr. Lincoln, you were the greatest racist ever. We had a great gig. Three squares, room and board, all our decisions made by the massa in the house. Please repeal the 13th and 14th Amendments and let us get back to where we belong.
And it can't be because the Tea Party's political positions are so popular that nonpartisan viewers—of the type CNN says it seeks to attract—are demanding a more sympathetic hearing for its extremist brand of politics.
As the political scientists Davie E. Campbell and Robert D. Putnam have recently pointed out, "The Tea Party is increasingly swimming against the tide of public opinion: among most Americans, even before the furor over the debt limit, its brand was becoming toxic."
They note that "in April 2010, a New York Times/CBS News survey found that 18 percent of Americans had an unfavorable opinion of it, 21 percent had a favorable opinion and 46 percent had not heard enough. Now, 14 months later, Tea Party supporters have slipped to 20 percent, while their opponents have more than doubled, to 40 percent." Tea Party types, one cannot help but notice, are even less popular than "atheists" and "Muslims." (To be fair, there's an easy explanation for that. Atheists and Muslims have beliefs that most Americans find less objectionable than those of Tea Party types.)
A study of the views and attitudes of 2000 voters sympathetic to the Tea Party presented to the 2011 annual meeting of the American Sociological Association by four academics added that their attitudes could be characterized as reflective of "four primary cultural and political beliefs" in greater measure than in other Americans: "authoritarianism, libertarianism, fear of change, and negative attitudes toward immigrants and immigration."
The audience for the CNN debate showed why this may be the case the other night. The audience cheered the death of a sick man who lacked health insurance. They booed when one of the candidates pointed out that not all Muslims were responsible for 9/11.
Obviously, CNN is envious of Rupert Murdoch's Fox Network's superior ratings and could not help but notice that they too promote the Tea Party and provide its members with millions worth of free publicity. Perhaps next they will also start wiretapping the phones of murdered young girls as well.
Eric Alterman is a Senior Fellow at the Center for American Progress and a Distinguished Professor of English at Brooklyn College and the CUNY Graduate School of Journalism. He is also a columnist for The Nation, The Forward, and The Daily Beast. His newest book is Kabuki Democracy: The System vs. Barack Obama. This column won the 2011 Mirror Award for Best Digital Commentary.
The positions of American Progress, and our policy experts, are independent, and the findings and conclusions presented are those of American Progress alone. A full list of supporters is available here. American Progress would like to acknowledge the many generous supporters who make our work possible.
Authors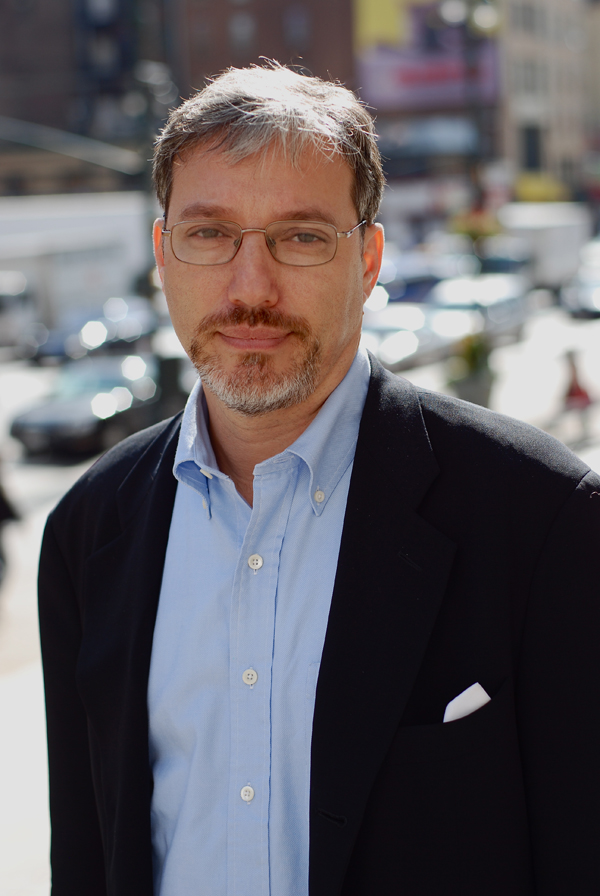 Eric Alterman
Senior Fellow
Explore The Series
Previous
It's Not What Bill Keller Believed About Iraq—It's Who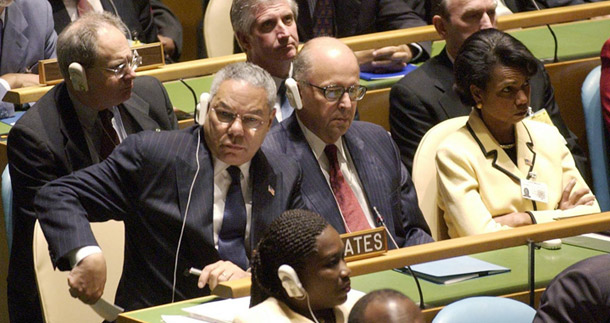 It's Not What Bill Keller Believed About Iraq—It's Who
Next
Israeli/U.S. Right-Wing Conspire to Undermine Israeli/U.S. Security in the Middle East
Israeli/U.S. Right-Wing Conspire to Undermine Israeli/U.S. Security in the Middle East