The U.S.-India Strategic Partnership Is Vital
The U.S.-India Strategic Partnership Is Vital
Colin Cookman and Brian Katulis outline India's strategic importance to the United States on global and regional issues as India's prime minister arrives for the first state visit hosted by President Obama.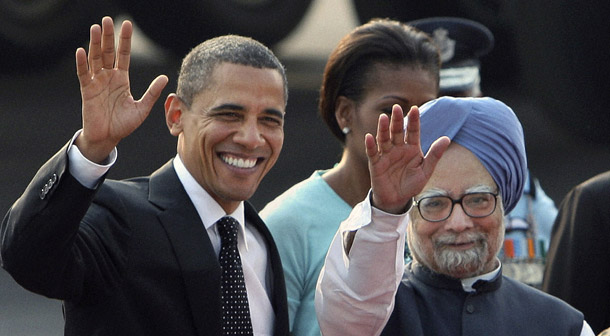 Indian Prime Minister Manmohan Singh visits Washington this week for a four-day state visit to discuss a range of issues crucial to the developing strategic partnership between the United States and India. The U.S.-India partnership is critical to President Barack Obama's national security agenda on climate change, economic growth, and nuclear proliferation. There's also the question of how the United States can balance efforts to deepen bilateral ties while simultaneously working to normalize the tense relations between India and its neighbor, Pakistan, as the one-year anniversary of the Mumbai terrorist attacks approaches.
The Indian leader's trip marks the first official state visit of the Obama administration, with a ceremonial welcome and a black-tie dinner later today. That the Obama administration chose India as the first country to receive the honor of a state visit is not surprising given the country's importance to several Obama administration national security priorities. Major topics of discussion between the two teams will likely include climate change cooperation in advance of international talks next month at Copenhagen, growing economic ties between India and the United States and the ongoing global economic crisis, and the careful balance of nuclear proliferation cooperation with a desire to make good on the 2008 civil nuclear trade deal.
Prime Minister Singh's visit comes during a sensitive period for U.S. diplomacy around the world. The luster is wearing off from the Obama administration's initial honeymoon period of foreign policy, leading to growing questions about what the Obama administration has tangibly achieved with its new style of diplomatic outreach. President Obama's trip to Asia last week raised some concerns in India that the United States was acceding to China's growing power without demonstrating India's important role, and this state visit is aimed at signaling the importance of U.S.-India ties. Gaining India's cooperation on a range of issues will be an important test of the Obama administration's ability to achieve results in his foreign policy.
The trip also comes at a critical juncture for U.S. policymaking in the South Asian region, as President Obama decides on a new strategy for U.S. forces in Afghanistan and the Pakistani government's position becomes increasingly precarious in the face of internal political and militant opposition. All of this takes place against the backdrop of the upcoming one-year anniversary of the November 26, 2008 attacks in Mumbai, India, which killed 172 people and set Indo-Pakistani relations on a precarious edge that continues today.
U.S. policymakers and their counterparts in the region face a major challenge as they attempt to shape forward-looking regional and bilateral policies while anticipating and guarding against threats by spoiler groups seeking to derail progress toward achieving those goals.
The possibility of another Mumbai-style attack looms as one of the major dangers that could have ripple effects throughout the region. Earlier this month India sent its sixth major dossier of evidence in connection to the Mumbai attacks to the Pakistani Interior Ministry, which promised to study the materials but gave little other public comment. The U.S. intelligence and diplomatic communities—with ties to both India and Pakistan—have played an important role in facilitating these transactions, but Pakistani authorities have been slow to show tangible action against domestic terror groups that target its neighbors, as Indian officials have repeatedly demanded.
Pakistan has instituted criminal proceedings in a special antiterror court against seven members of the Lashkar-e-Taiba, or LeT, a militant group responsible for carrying out the Mumbai attacks despite the group's long-standing ties to the military and intelligence services. But those proceedings remain closed to public view and have been subject to repeated poorly explained delays. Charges against LeT founder Hafiz Saeed were dismissed earlier this summer after nearly six months of his being placed under house arrest, part of a broader problem of inconclusive prosecutions by Pakistan's weak institutions against figures associated with but not directly implicated in terrorism in Pakistan. The group's political and charitable wings have been active in relief efforts for ongoing military operations against Tehrik-e-Taliban Pakistan militants who target the state in Pakistan's northwest.
The Mumbai attacks came early in Pakistani President Asif Ali Zardari's term as president, when he had been publicly downplaying the country's long-standing rivalry with India and just a month after a direct trade route had been opened across the Line of Control separating India- and Pakistani-controlled Kashmir for the first time in 60 years. Indian policymakers showed welcome restraint in the aftermath of the attacks, but unfortunately the attacks effectively derailed a tentative "composite dialogue" process begun in 2004 that has yet to be repaired despite meetings between Prime Minister Singh and his Pakistani counterpart Yousaf Raza Gilani on the sidelines of a number of multilateral forums over the past year.
The Pakistani government has called for a resumption of the dialogue and both sides reaffirmed a "resolve to fight terrorism and cooperate with each other to this end" at a July conference in Sharm-el-Sheikh, Egypt. But India shows little appetite for concessions absent a demonstrated ability on the Pakistani side to rein in groups like LeT or the sectors of the military establishment that have supported it.
President Zardari now finds himself beset by domestic political crises and unable to deliver effective measures to build confidence in his government. For example, the Pakistani military establishment places much of the blame on Zardari for provisions in the recent $7.5 billion Kerry-Lugar aid bill passed by the U.S. Congress, which it considers an infringement on its authorities. The military also distrusts Zardari's earlier overtures toward India and ties to the United States. Opposition parties continue to press Zardari to make good on promises to surrender powers of appointment gathered in the office of the presidency during the Musharraf regime that Zardari has yet to deliver upon.
Meanwhile, the Pakistani governing coalition has failed to hold together and pass the reauthorization of the National Reconciliation Ordinance in parliament, which provides amnesty for key party members from outstanding corruption charges —Zardari himself enjoys presidential immunity under the constitution—and is set to expire November 28 after the Supreme Court found its 2007 promulgation by former president Pervez Musharraf unconstitutional. This failure has further churned the waters of the Pakistani political establishment and distracted it from ongoing military operations in South Waziristan and any further serious efforts at rapprochement with India.
While most Indian political leaders recognize that Pakistan's internal problems and their spillover effects cannot be resolved by direct military action, the danger of escalating tit-for-tat responses in the face of future spoiler attacks during this period of ongoing uncertainty is real. Although the United States cannot and should not attempt to orchestrate internal politics on either side of the border, it is critical to maintain a clear sense of what our policies in the South Asia region are working toward achieving in the long term, and to apply the necessary leverage consistently to all parties to shape the strategic calculations of the countries to advance stability in this tense area of the world
So what steps should we take? Our priorities should be increased cooperation between the U.S. and Indian intelligence and police services as well as with Pakistani civilian agencies like the Federal Investigation Agency and the Intelligence Bureau. This cooperation has improved in the wake of last year's attacks, but more can be done to help protect innocent civilians in India and Pakistan from future attacks. America should work toward renewing the composite dialogue process between India and Pakistan and resuming a meaningful exchange of confidence-building measures, in both the security and economic spheres.
If formal, government-to-government dialogues between India and Pakistan are difficult to restart at this time, the Obama administration should encourage unofficial, track two contacts between not only India and Pakistan but all of the countries in South Asia—to discuss ways to deescalate tensions and introduce confidence-building measures. For too many years, U.S. policy in South Asia has been reactive to events and in crisis management mode, and outlining a plan to achieve a sustainable regional security framework in South Asia must be done in close coordination with friends in India and other countries in the region.
The primary goal of U.S. policy toward the region over the next decade should be the development of a framework for the durable normalization of relations between India and Pakistan. Achieving this goal requires a delicate balancing act with a close strategic partner like India—deepening the bilateral ties and cooperation that the Bush administration enhanced between the United States and India while at the same time working multilaterally to advance regional stability and achieve progress on global challenges.
Colin Cookman is the Special Assistant for National Security at American Progress and Brian Katulis is a Senior Fellow.
The positions of American Progress, and our policy experts, are independent, and the findings and conclusions presented are those of American Progress alone. A full list of supporters is available here. American Progress would like to acknowledge the many generous supporters who make our work possible.
Authors Colin Cookman
Policy Analyst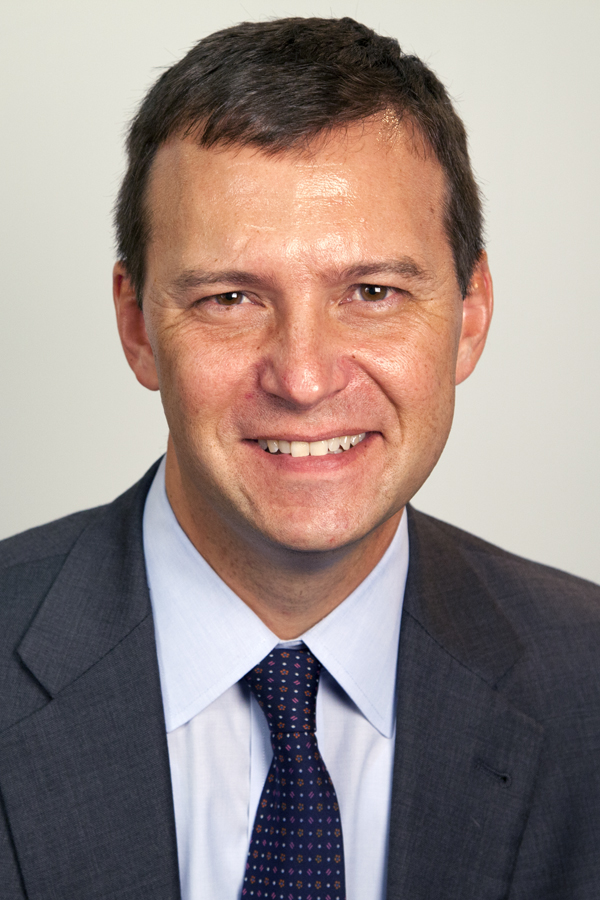 Senior Fellow