The North American Leaders Summit Should Put Fish on the Menu
The North American Leaders Summit Should Put Fish on the Menu
If the leaders of the United States, Canada, and Mexico work together, they can curtail illegal fishing, reward honest fishermen, and act to save two critically endangered species.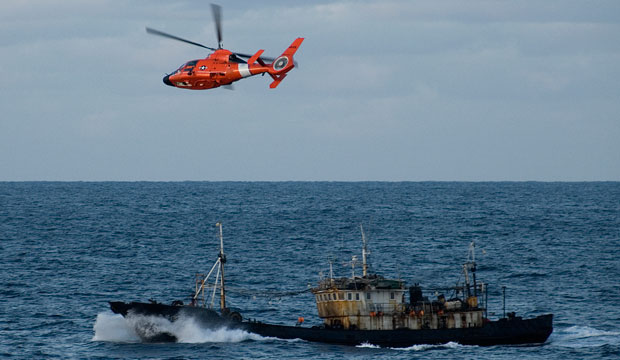 See also:  The Future of Seafood Security: The Fight Against Illegal Fishing and Seafood Fraud by Michael Conathan and Avery Siciliano
The United States and Mexico have mutually benefited from decades of shared social, commercial, and intergovernmental ties. Yet the looming extinction of two distinctive marine species endemic to the Gulf of California—the vaquita, the world's smallest cetacean, and the totoaba, a long-living, slow-breeding croaker fish that can grow to more than six feet long—has become emblematic of the inadequacy of the countries' efforts to eliminate illegal fishing and the growing illicit international trade in protected species.
Fortunately, there are new opportunities to expand existing North American cooperation on illegal fishing and illicit trade in fish products. On June 29, Mexican President Enrique Peña Nieto, U.S. President Barack Obama, and Canadian Prime Minister Justin Trudeau will meet in Ottawa for the North American Leaders Summit. This is the first meeting of the three heads of state since 2014, as well as the first since Prime Minister Trudeau assumed office in November 2015. While there is no shortage of urgent agenda items that are of high importance to each country, addressing major challenges to the health of North American oceans would represent an investment in core priorities for all three nations: the rule of law; the long term economic sustainability of marine fisheries; and the vitality of marine ecosystems.
Illegal fishing: a threat to North American economies and ecosystems
Illegal, unreported, and unregulated, or IUU, fishing is a vast and urgent global problem. The U.S. National Oceanic and Atmospheric Administration, or NOAA, estimates worldwide economic losses from IUU fishing to be between $10 billion and $23 billion annually. IUU fishing persists as a problem off North American shores, particularly in waters that flow across the U.S. and Mexican maritime borders. A recent report from the World Wildlife Fund concluded that two-thirds of fish stocks in the Eastern Central Pacific and Western Central Atlantic oceanic regions—the latter of which includes the Gulf of Mexico—are at "High Risk" of IUU fishing, meaning that the level of IUU fishing is estimated to exceed the global average of 18 percent.
In the Gulf of Mexico, the U.S. Coast Guard estimates that despite regular interdictions, unpermitted Mexican vessels poach 1 million pounds of red snapper annually in incursions into U.S. waters, straining an American fishery already struggling to satisfy all law-abiding U.S. permittees.
In the Gulf of California, insatiable Chinese demand for the totoabas' Frisbee-sized swim bladders, which can sell for $10,000 each in Chinese fish markets, have pushed the stock to the brink because of a barely-controlled gillnet-based harvest. The gillnets—floating walls of nylon mesh—also cause unmitigated bycatch of vaquita, sharks, and other marine life. Because of the collapse of the totoaba and vaquita populations, Mexican regulators closed the totoaba gillnet fishery in 2015 and offered fishermen small cash incentives to stay off the water. However, steadily rising demand and prices for totoaba have eclipsed the government's countermeasures and enforcement efforts; a nongovernmental conservation group using a drone and thermal imaging regularly observes totoaba gillnetters operating under cover of night.
NOAA's Southwest Fisheries Science Center estimates that fewer than 100 vaquita remain today, making it the most endangered of the world's 128 marine mammal species. The lack of progress in stopping the unintentional killing of vaquita has led scientists to predict that the species will be extinct by 2022. It would be the second marine mammal species that human society drove to extinction in the 21st century, following China's Yangtze River dolphin, which was declared extinct in 2006.
Illegal trade is flourishing, and responsibility is broadly shared
While the coupled plights of the totoaba and vaquita suggest a bilateral conservation challenge between China and Mexico, the United States is an inextricable link in the swim bladder supply chain. Major interdictions of loads of hundreds of swim bladders have occurred in U.S. border towns such as Calexico, California, resulting in the arrests of Chinese nationals by U.S. agents and indicating that American airports are key export points.
The totoaba trade is just one component of a much broader trend facing North American fisheries—the dramatic rise of Chinese demand for imported seafood products, legal and otherwise. Seafood exports from the United States to China grew 370 percent between 2004 and 2014, while exports from Mexico to China expanded an astounding 850 percent between 2002 and 2012. This includes so-called luxury seafood items that are often illegally harvested or poorly managed, such as totoaba swim bladders, shark fins, sea cucumbers, and geoducks; in Mexico, landings of these products spiked by an estimated 77 percent between 2009 and 2012.
The United States remains the biggest consumer of Mexican and Canadian seafood exports. However, rising incomes and demand for seafood among China's 1.4 billion people are causing a seismic shift in North America's seafood production and exportation patterns. The surge in demand is stimulating fishing effort that is straining legal and ecological limits in North American waters. Furthermore, the Asian demand surge shows that new measures to fight illegal fishing—and enforce current and future policy in North America—need to be as international as the markets driving it.
Opportunities for action
Fortunately, the three North American leaders can initiate new action and expand on existing tools to enforce the rule of law in North American waters, support the long-term health of marine fisheries, and protect the continent's marine ecosystems.
First, the United States and Canada must work to extend to Mexico the successful collaboration that exists between their coast guards in fighting IUU fishing activity in the Northern Pacific and Northern Atlantic. Multilateral enforcement efforts in these regions have changed the behavior of North Pacific pirate drift netters, driving them out of fishing grounds for longer portions of the year; the World Wildlife Fund reports that these two regions face dramatically lower risk of IUU fishing than waters shared by the U.S. and Mexico. A good start would be to invite Mexico's Secretariat of the Navy—which serves as the nation's maritime law enforcement agency and performs search and rescue functions—to participate in the North Atlantic Coast Guard Forum and the North Pacific Coast Guard Forum. These multilateral platforms coordinate and enhance maritime security against transnational threats in their respective regions and have helped formulate and execute international counter-IUU programs, including one targeting North Pacific pelagic drift netting. Mexican participation in these platforms could help extend this cooperation further throughout North American waters. The United States and Canada should also explore opportunities to help build Mexico's fisheries enforcement capacity within the Gulf of California.
Second, the U.S., Canadian, and Mexican agencies for marine fisheries and food safety could coordinate to unify seafood supply chain reporting requirements and increase traceability. This could be achieved through creating a common set of codes to categorize seafood and fish products that are traded across national borders. Common standards would increase transparency and facilitate legal trade between the countries, to the benefit of marine ecosystems and consumer interests. This initiative could build on the seafood traceability rules that NOAA is developing and be modeled on the EU's development of internationally standardized reporting requirements.
Third, Mexico and Canada should join the United States in adopting the Port State Measures Agreement. This treaty requires that ports deny access to foreign vessels that have engaged in IUU fishing—such as those that have been blacklisted by other countries or Regional Fisheries Management Authorities—and inspect foreign vessels for illegal catch. Following ratification by 29 countries and the European Union, the agreement officially entered into force on June 5, 2016. Should Canada and Mexico join, they would help close North American markets to illegal fish products, and expand the international counter-IUU network. Until then, the three countries should cooperate to share information and build capacity to make North American ports as inhospitable as possible to harvesters and traders of illicit fish products.
Fourth, Canada, Mexico and the United States could jointly implement emerging vessel tracking tools based on remote sensing technologies, including unmanned aerial vehicles and satellite- and automatic identification system-based tracking. Anti-IUU platforms built on these technologies—such as Sea Scout, Global Fishing Watch and Project Eyes on the Seas—help identify illegal fishing over vast areas and direct scarce enforcement resources to maximize chances of successful interdictions of pirate fishermen.
Implementation of policy recommendations such as these that reduce the illegal catch and sale of fish products will increase the productivity and health of marine ecosystems throughout North America, and reward the continent's honest fishermen with markets that are less distorted and therefore provide them with more competitive prices for their product.
Conclusion
American, Canadian, and Mexican coastal waters and the living marine resources within them are assets of immense economic, cultural, and ecological value to their respective countries. But they flow and migrate freely across maritime borders, entwining the nations' fates and binding them through shared stakes in the surrounding seas. The three countries also engage extensively in seafood trade with one another, and their nongovernmental organizations and research institutions have for decades shared in diverse and significant marine science and conservation initiatives.
Enhancing trilateral cooperation to end illegal fishing and trade and bring transparency to North American seafood markets will build on this tradition of continental friendship. It will also improve the lives of seafood consumers and honest North American fishermen and protect the vitality and productivity of the continent's interconnected marine ecosystems for future generations.
Shiva Polefka is a Policy Analyst for the Ocean Policy program at the Center for American Progress. Avery Siciliano is the Research Associate for the Oceans Policy program at the Center.
The positions of American Progress, and our policy experts, are independent, and the findings and conclusions presented are those of American Progress alone. A full list of supporters is available here. American Progress would like to acknowledge the many generous supporters who make our work possible.
Authors Shiva Polefka
Associate Director, Ocean Policy Avery Siciliano
Research Associate, Ocean Policy