Tackling Climate Change by Saving Forests
Tackling Climate Change by Saving Forests
The Waxman-Markey legislation's tropical forest provisions are essential to reverse or end deforestation, writes Glenn Hurowitz.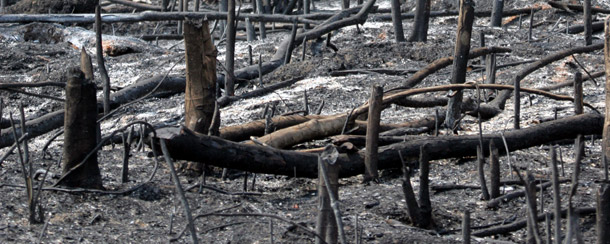 One of the little-known ingredients of the deal that allowed the American Clean Energy and Security Act, H.R. 2454, to pass the Energy and Commerce Committee was a breakthrough agreement on ending tropical deforestation, which is responsible for about 20 percent of global climate pollution—more than the emissions from all the cars, trucks, planes, and ships in the world combined.
The Waxman-Markey legislation contains two primary tropical forest provisions that, combined, help meet the bill's goals for reducing pollution in a way cost effective enough to win the support it needs to pass. First, it sets aside 5 percent of the bill's pollution allowances to fund tropical forest conservation. Second, it allows emitters to get credit for investing in tropical forest conservation subject to a set of strict requirements.
Set-aside funding. The revenue from the 5 percent set aside can be used for a variety of purposes, including:
Protecting forests, wetlands, and carbon-rich peatlands that might not be protected through private efforts.
Preparing countries and communities to participate in international private conservation efforts by helping them develop the resources and expertise to figure out how much forests they have, how much carbon is stored in those forests, the rate of deforestation, and the impact of conservation activities. These efforts would, most importantly, produce a national baseline against which to measure reductions in deforestation and a national plan to help these countries achieve their forest conservation and climate protection goals.
Pilot projects aimed at reversing deforestation, especially at the state and province levels.
Improved governance and enhanced enforcement aimed at reducing illegal logging and other forms of deforestation and helping indigenous and other forest-dependent people.
Private investment. The bill also includes powerful incentives for private investment in forest conservation and subject to strict requirements. The bill allows emitters to offset a portion of their pollution by investing in forest conservation. However, they can only get credit after reductions in deforestation have already occurred and, in major emitting countries such as Brazil and Indonesia, only if those reductions come as part of a national plan that ensures a countrywide reduction in deforestation, not just a local one. Conservation projects run through states and provinces will also be eligible—if the state or province would be considered a major emitting country in its own right and if it has a plan for reducing deforestation statewide.
Finally, for the program's first years, small emitting countries and the least-developed nations will be eligible to participate while they build their national plans for reducing deforestation. This ensures that conservation can start immediately and we can avoid a deforestation race to the bottom. No conservation will receive credit unless biodiversity is protected, and indigenous and forest-dependent people benefit from it.
These provisions provide major cost savings. EPA has estimated that without international offsets—most of which will be forest based—the bill would have been 96 percent more expensive. The consulting firm McKinsey & Co. recently conducted a greenhouse gas abatement cost curve analysis and found that tropical forest conservation has the potential to reduce carbon pollution at just a fraction of the cost of other essential strategies such as installing clean energy or improving agricultural practices. In the words of a recent New York Times editorial, "the economics make sense."
The private investment incentives helped win the support of power producers such as American Electric Power and Duke Energy by lowering the costs of the bill. They also helped ensure that the 5 percent set aside would remain as part of the bill, even as other environmental spending was cut—the utilities and other companies had previously agreed through a negotiating process convened by Avoided Deforestation Partners to support these government funding provisions if the private investment provisions were also included.
That's great news for tropical forests. Based on figures from the EPA, the tropical forest provisions of the bill would reduce pollution by 1 billion tons annually by 2015—equivalent to eliminating all of Germany's pollution. And one-third of those reductions—those achieved through the set-aside funding—come in addition to the bill's pollution cap. That provides a big carbon saving bonus not accounted for in most estimates of the bill's impact.
Despite the benefits, the bill has a long way to go before it becomes law—and there are threats at every turn. The House leadership can ensure that the bill's forest provisions stay intact by not giving one of the many committees that are likely to mark up the Waxman-Markey bill the jurisdiction to weaken them, which would put both the bill's climate goals and affordability at serious risk.
The Waxman-Markey bill's forest provisions provide a model for action by other countries. If the bill passes and other industrialized countries adopt similar tropical forest conservation measures, deforestation could be ended or even reversed—a huge global achievement that, until Waxman-Markey, seemed tragically out of reach.
Glenn Hurowitz is the Washington Director of Avoided Deforestation Partners, and the author of the book Fear and Courage in the Democratic Party.
The positions of American Progress, and our policy experts, are independent, and the findings and conclusions presented are those of American Progress alone. A full list of supporters is available here. American Progress would like to acknowledge the many generous supporters who make our work possible.