Strengthening Our Diversity
Strengthening Our Diversity
A Look at Muslim-American Immigrants
Muslim-American immigrants' work with other immigrant groups and communities will make our country stronger and more diverse, write Eleni Towns and Philippe Nassif.
Part of a Series
America is home to a large and diverse immigrant population. The immigration debate usually focuses on Latino communities but the reality is more complex. Muslim-American communities, for instance, encounter their own sets of challenges that are both similar to and unique from other immigrant groups in the United States.
Muslim-American immigrants have taken a proactive approach to dealing with these problems. They are working with other immigrant groups and communities to create a dialogue around solutions and these efforts will ultimately make our country stronger and more diverse.
Muslim-American immigrants face common challenges with other immigrants
Muslim Americans are one of our most diverse and vital immigrant communities. They have come here from more than 100 nations and range from high-skilled professional and technical workers to service and factory workers in lower-paying jobs. By some estimates, 65 percent of Muslim Americans are immigrants, while one-fifth of those born here are second-generation Americans.
Muslim-American immigrants face many of the same challenges that other immigrant communities do. But like other communities, they have created organizations to provide constituent services, do community outreach, work with interfaith leaders, advocate for fair policies, and more. A number of Muslim-American organizations also are collaborating with Latino and other immigration groups to work on issues of mutual interest and need.
The Muslim Public Affairs Council, for example, recently joined the Interfaith Immigration Coalition in the fight for comprehensive immigration reform. In New York City, where South Asians make up the second-largest undocumented population, DRUM, or Desis Rising Up and Moving, is working with non-Muslim immigrant groups to empower low-wage workers. And in the lame duck session of the last Congress, many Muslim-American immigration groups worked with Latino groups to pass the DREAM Act, a bill aimed at providing relief to qualifying undocumented young people who complete college or military service.
Muslim Americans work as immigration advocates just like other immigrant groups. They fight deportation cases, file asylum appeals, and guide clients through naturalization procedures. They also wait on backlogged family reunification lists and they are affected by limited high-skilled work visa quotas.
In addition, many immigration groups help ease the transition for those who came from authoritarian countries and aren't familiar with democracy. These groups provide tools and skills to enable newcomers to exercise their rights and engage in our civic institutions. In Chicago, for instance, the Illinois Coalition for Immigrant and Refugee Rights works with Latino, Muslim, Arab, and South Asian communities to deliver services, increase voter registration, and offer civic education.
Muslim Americans share another similarity with Latino immigrant groups in that they are also affected by stricter enforcement of certain recently enacted national policies. For instance, the 287(g) program deputizes local law enforcement agencies to carry out federal immigration law while the Secure Communities strategy is another tool used by local law enforcement officers to identify undocumented individuals. Secure Communities is not without its flaws despite its intention to identify immigrants with criminal records and target them for deportation.
These programs have resulted in racial profiling and they've caused some Muslim and Latino community members to be afraid of reporting crimes or suspicious activity to police for fear of immigration-related repercussions.
Likewise, the anti-immigrant law passed in Arizona last year, SB 1070, has triggered copycat laws likely to be introduced in other states that will affect a range of communities, including Muslim, Arab, and South Asian communities.
Muslim-American immigrants also face unique challenges
Certain issues largely affect Muslim-American communities—especially those involving national security. National security became closely linked to immigration in Muslim-American communities after 9/11, and sometimes in unwarranted ways.
The Immigration and Naturalization Service, or INS, launched the National Security Entry-Exit Registration System, or NSEERS, in September 2002. It is an extreme measure that mandates that adult men visiting the United States from 24 Arab and Muslim-majority countries officially register with their local enforcement agency. Thousands of young men who registered with NSEERS have been detained and 14,000 have been deported. At the same time, the law has caught no terrorists and no individual has been charged with a terrorism-related crime. The program is especially complex besides being unjust. Immigrants can be in unintentional violation of a technicality and subject to deportation.
Broadbrush programs such as NSEERS can be ineffective and they also can be counterproductive by targeting entire racial, ethnic, and religious communities. What's more, loose definitions of "terrorism support" have cast an overly wide net in the hunt for terror suspects. Innocent people have been denied legal immigration status and turned away from jobs in crucial national security areas where they have language and cultural expertise that is sorely needed.
Numerous terrorism and security experts have pointed out the problems with these programs and called for a more "sophisticated response" to terrorist threats while civil rights and community organizations such as the American-Arab Anti-Discrimination Committee have highlighted the negative impacts the programs have had on the larger community.
National security is of paramount importance to the United States and to immigrant communities. Poorly thought-out programs, however, too often lead to flawed enforcement and strained community relations. They also lead to severe immigration delays and entry denials that separate families and adversely affect innocent newcomers.
In some cases the alleged fight against terrorism has led to a serious abuse of the law. A community leader and imam in Florida, Foad Farahi, was approached by the FBI in 2004 and asked to be a secret informant in his community. Farahi had a recently expired student visa when the FBI talked to him. Agents promised him permanent residency and money to continue his education if he agreed. Farahi did agree to serve as a community liaison but he refused to be a secret informant.
When Farahi, an outspoken pro-democracy leader who fears persecution in Iran, petitioned for political asylum, Immigration and Customs Enforcement agents threatened him with false terrorism charges and coerced him to withdraw his application. Only after the Council on American-Islamic Relations in South Florida and the Muslim American Society mobilized the community and brought public attention to his circumstances was his "voluntary departure order" overturned and his case for political asylum reopened.
Foad's political asylum hearing takes place on February 23, 2011. Hopes remain high in Miami that justice will prevail.
Until recently, the connection between immigration and national security has mainly been aimed at Muslim Americans. Latinos on the southern border of the United States, however, are now facing similar discriminatory practices. Latino communities are increasingly targeted by law enforcement agencies, politicians, and vigilantes in the escalated war on drugs. This is happening despite the fact that studies show that counties along the southwest border have some of the lowest rates of violent crime per capita in the nation, with rates dropping by more than 30 percent since the 1990s while immigration has soared.
Both Latinos and Muslim Americans are targets of hate-filled rhetoric depicting them as "other" and as dangerous to society. Hate crimes against Muslim and Arab Americans increased by 1,600 percent immediately following 9/11, and even today hate crimes are five times what they were in 2000. Latinos are increasingly the victims of immigrant violence, too. According to the Southern Poverty Law Center, hate crimes targeting Latinos jumped 40 percent from 2003 to 2007.
Toward a welcoming America
Our identity as a nation of immigrants goes back hundreds of years. Immigrants from Asia, Europe, and Central and South America built our railroads and cities, worked in our factories and on our farms, and powered America into an economic world leader. Many immigrant communities faced prejudice, discrimination, and persecution when they arrived on our shores, but over time our nation has made progress living up to one of our most treasured ideals—that of equal opportunity and freedom for all. Our progress has been significant—but we still have work to do to transform our ideals into reality.
One effective strategy of immigrant groups has been to reach out to communities that have been here a long time—so-called "receiving communities"—and work with them to address the uncertainties and fears they might have because of newcomers in their neighborhoods. An initiative called Welcoming America creates dialogue between receiving communities and newer immigrant communities to build familiarity, understanding, and acceptance. Welcoming America has programs in Tennessee, Massachusetts, Idaho, Nebraska, and other places. It trains grassroots volunteers, does media campaigns, conducts research to determine community attitudes, and more.
In efforts such as these, newcomers and native-born Americans are working side by side to embrace our rich immigrant history and our growing diversity. Such a focus strengthens civic participation, national security, and our moral leadership at home and around the world.
CAP's Muslim Immigration Roundtable
The Center for American Progress has launched its own effort in this regard. Last December CAP's Progressive Faith and Policy Initiative at CAP held a roundtable meeting with 18 Muslim-American leaders working on immigration issues at the state and national level. Leaders discussed challenges and successes they faced as well as pressing issues confronting their communities in the days ahead. We hope programs such as these can cut through stereotypes, promote awareness of the issues Muslim Americans face, and give a voice to these promising young leaders.
These were the participants:
Jamal Abdi, National Iranian American Council
Kasar Abdulla, Tennessee Immigrant and Refugee Rights Coalition
Abdirahman Ahmed, U.S. Committee for Refugees and Immigrants
Sameer Ahmed, Asian American Legal Defense and Education Fund
Alejandro Beutel, Muslim Public Affairs Council
Rabia Chaudry, Chaudry Immigration Law
Nadia Firozvi, Arab American Institute
Sara Ibrahim, American Immigration Lawyers Association
Ahlam Jbara, Council of Islamic Organizations of Greater Chicago
Muhammed Malik, American Civil Liberties Union of Florida
Monami Maulik, Desis Rising Up & Moving, DRUM
Farooq Mitha, EMERGE-USA
Priya Murthy, South Asian Americans Leading Together
Amina Najib, National Immigrant Justice Center
Khalilah Sabra, Muslim American Society
Linda Sarsour, National Network for Arab American Communities
Azadeh Shahshahani, American Civil Liberties Union of Georgia
Remziya Suleyman, Tennessee Immigrant and Refugee Rights Coalition
Eleni Towns is a Special Assistant to the Faith and Progressive Policy Initiative and Philippe Nassif is an Intern for Ethnic Media at the Center for American Progress. For more on this initiative, please see its project page.
The positions of American Progress, and our policy experts, are independent, and the findings and conclusions presented are those of American Progress alone. A full list of supporters is available here. American Progress would like to acknowledge the many generous supporters who make our work possible.
Authors Eleni Towns
Policy Analyst
Explore The Series

Previous
Congressional Hearings May Inflame Islamophobia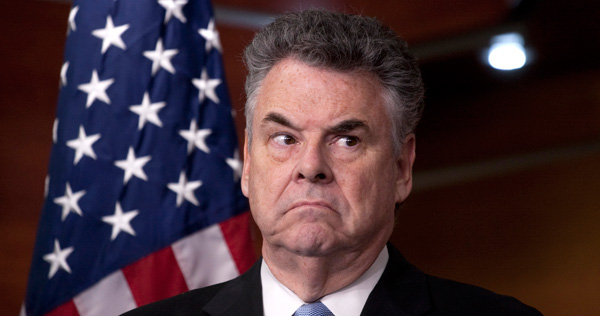 Congressional Hearings May Inflame Islamophobia
Next
Setting the Record Straight on Sharia

Setting the Record Straight on Sharia