Stories from U.S.-Affiliated Iraqis
Stories from U.S.-Affiliated Iraqis
Iraqis give their personal accounts of what it's like living in Iraq and having affiliations with the United States.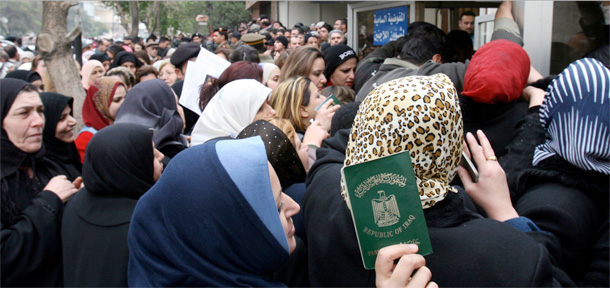 Report: Operation Safe Haven Iraq 2009: An Action Plan for Airlifting Endangered Iraqis Linked to the United States
Video: An Iraqi Refugee Story
Note: All names have been changed to protect the identity of these Iraqis.
Stuck in Iraq: A marked man hiding in Iraq
No way out: Fleeing to Jordan and ultimate return to Iraq
A story of successful U.S. resettlement: The contribution and sacrifice of two young Iraqi sisters
Stuck in Iraq: A marked man hiding in Iraq
Yousif and his family have lived in fear since his nephew was killed and his daughter was abducted over one year ago. Yousif has worked as an interpreter for the U.S. Army since 2003, and he and his family have been harassed, stalked, and shot at because of this affiliation. To make matters worse, Yousif has been stuck in the middle of the sectarian and ethnic cleansing in Iraq because he is a Christian.
Yousif is a man in his early fifties, and his story is one of sacrifice and tragedy. Soon after he began his work as an interpreter for the U.S. Army in 2003, a local mosque named him as a collaborator and he became a marked man. Yousif continued to work with the U.S. military despite staggering personal sacrifices. The lethal consequences of his affiliation began with the assassination of his nephew in September 2004. Yousif's house was shot in January 2008 while he and his family hid inside. Yousif and his family are continually forced to move from neighborhood to neighborhood in Iraq, yet the militias find them each time.
Yousif's daughter Alia was abducted on her way to class in December 2007 and has not been found or returned. The only information Yousif has managed to find out is that she was smuggled out of Iraq to Syria and sold to traffickers. The insurgents have demanded $50,000 in exchange for his daughter's return, yet Yousif can't be sure that they even know where Alia is anymore. He is frightened that speaking to anyone about the abduction will get her killed. Yousif continues to receive phone messages and letters threatening his life and the lives of his wife and son. This tragedy stems from his association with the United States, and yet he is still stuck in Iraq.
Yousif was at a loss for how to navigate the complicated process of applying for resettlement, and the American military had misplaced the paperwork he initially submitted. Yousif was rapidly losing hope. However, in June 2008, Yousif contacted the List Project to Resettle Iraqi Allies. The List Project and one of their partnering law firms, Proskauer Rose LLP, began working on his case. The majority of the Iraqis on the List have extensive documentation and are able to produce badges that are only issued after security checks. But the process remains slow. His paperwork was finally gathered and submitted in September 2008 after weeks of persistent work by the law firm. It will likely take at least one year before Yousif makes it to safety in America.
No way out: Fleeing to Jordan and ultimate return to Iraq
The threats that Alia and Hamada faced after working as interpreters for the U.S. Army's 10th Mountain Division and the National Democratic Institute for three years were so terrifying that in 2006 they packed their lives into a suitcase and fled Iraq.
The young married couple entered Jordan illegally, where they immediately applied to be resettled to the United States and wrote to the List Project to Resettle Iraqi Allies for help. They kept to themselves, rationed out their life savings, and prayed for a helping hand from the United States since Iraqis cannot obtain work permits anywhere in the Middle East.
Alia and Hamada waited for the next 18 months. The List Project began to push the couple's case with officers at the State Department, and it progressed slowly through the system. Alia and Hamada allowed themselves to hope and considered a life in America free of death threats or the possibility of being forced back to Iraq, where their colleagues continue to be hunted, kidnapped, tortured, and assassinated.
During this time, Alia got pregnant. She and Hamada waited, clearing hurdle after hurdle, patiently retelling their story to the array of officers who struggled to move their application through a labyrinthine resettlement process.
After successfully clearing the penultimate step of the process—approval from the Department of Homeland Security—all they had left was to pass a medical test and they would be on their way. Alia and Hamada were elated at the prospect of refuge in America, but were terrified of one aspect of the medical test—a chest X-ray for Alia used to check for tuberculosis.
Knowing that an X-ray might be a risk for her unborn child, Alia and the List Project inquired about whether or not the X-ray might be waived or an alternate method utilized. She only had a few months before it would be unsafe to fly, so Alia faced an impending deadline. She was terrified at the uncertainty of delivery in a Jordanian hospital, where her husband might be arrested or denied care because she was illegal. Days, weeks, and months passed, yet the couple could not get the waiver and their dream of living in safety in the United States crumbled.
The couple and their unborn child were forced to return to Iraq because of a tuberculosis test and bureaucratic red tape. They delivered their baby in hiding and remain in fear of the continued threat faced by those who signed up to help the United States.
A story of successful U.S. resettlement: The contribution and sacrifice of two young Iraqi sisters
"Iraq was like a jail, not a country" under Saddam Hussein, according to Rana, a young Iraqi woman. Rana and her sister Farah welcomed the toppling of Saddam's government and the American invasion. Soon after the invasion, Rana and Farah, both in their twenties, graduated from a university in Iraq with degrees in computer science; however, they quickly realized that the changes brought by the war had altered their chosen paths.
Rana and Farah's family was one of only two Sunni families left living in a Shi'a dominated city in Southern Iraq, and a Shi'a militia threatened them with death in 2003. The family was unsure of how to react and continued to live in their home until the insurgents burned part of their property. Rana and Farah moved to another neighborhood in the area to remain safe, but were repeatedly threatened at school for their religious beliefs. During this time, insurgents kidnapped Farah's fiancé because of his affiliation with a U.S. company. Farah and her family were shown a video in 2004 of the brutality he faced and it's believed that he was killed soon after.
Despite their family's insecurity and personal trauma, Rana and Farah saw the American invasion as a way to help the Iraqi people and sought to assist the United States by becoming interpreters. As two Muslim women, their decision was dangerous. These women were seen as traitors by the Shi'a extremists who place utmost importance on family tradition and honor. Their family was threatened again in the months after they were employed by the U.S. Army and U.S. companies, and the women were moved to the American base for safety. Rana and Farah were threatened three times during their work with the United States, and a bounty was put out on Rana. After learning that two sisters working at the same site were killed, Rana and Farah realized just how precarious their situation was.
The sisters left Iraq for Egypt in November 2006 after living in terror for four years. Rana and Farah realized they could never return to Iraq, and they wrote to the List Project to Resettle Iraqi Allies in desperation. Holland + Knight LLP worked tirelessly with the List Project to help them navigate the labyrinthine resettlement process.
The sisters arrived in America in May 2008. Both are proud to have worked with the United States and have started to make a life here in the United States. The List Project partners with Upwardly Global, a non-governmental organization helping highly qualified immigrants find jobs, which helped both women find work in the United States as translators and media analysts for the U.S. government. These sisters are a stunning example of the contribution that Iraqis have made to the United States; in Iraq and in the United States, they have worked to help us despite the personal trauma they endured.
Report: Operation Safe Haven Iraq 2009: An Action Plan for Airlifting Endangered Iraqis Linked to the United States
Video: An Iraqi Refugee Story
The positions of American Progress, and our policy experts, are independent, and the findings and conclusions presented are those of American Progress alone. A full list of supporters is available here. American Progress would like to acknowledge the many generous supporters who make our work possible.