Staying the Course on Diplomacy with Iran
Staying the Course on Diplomacy with Iran
In the face of Iranian intransigence, the hard work of diplomacy requires continued commitment.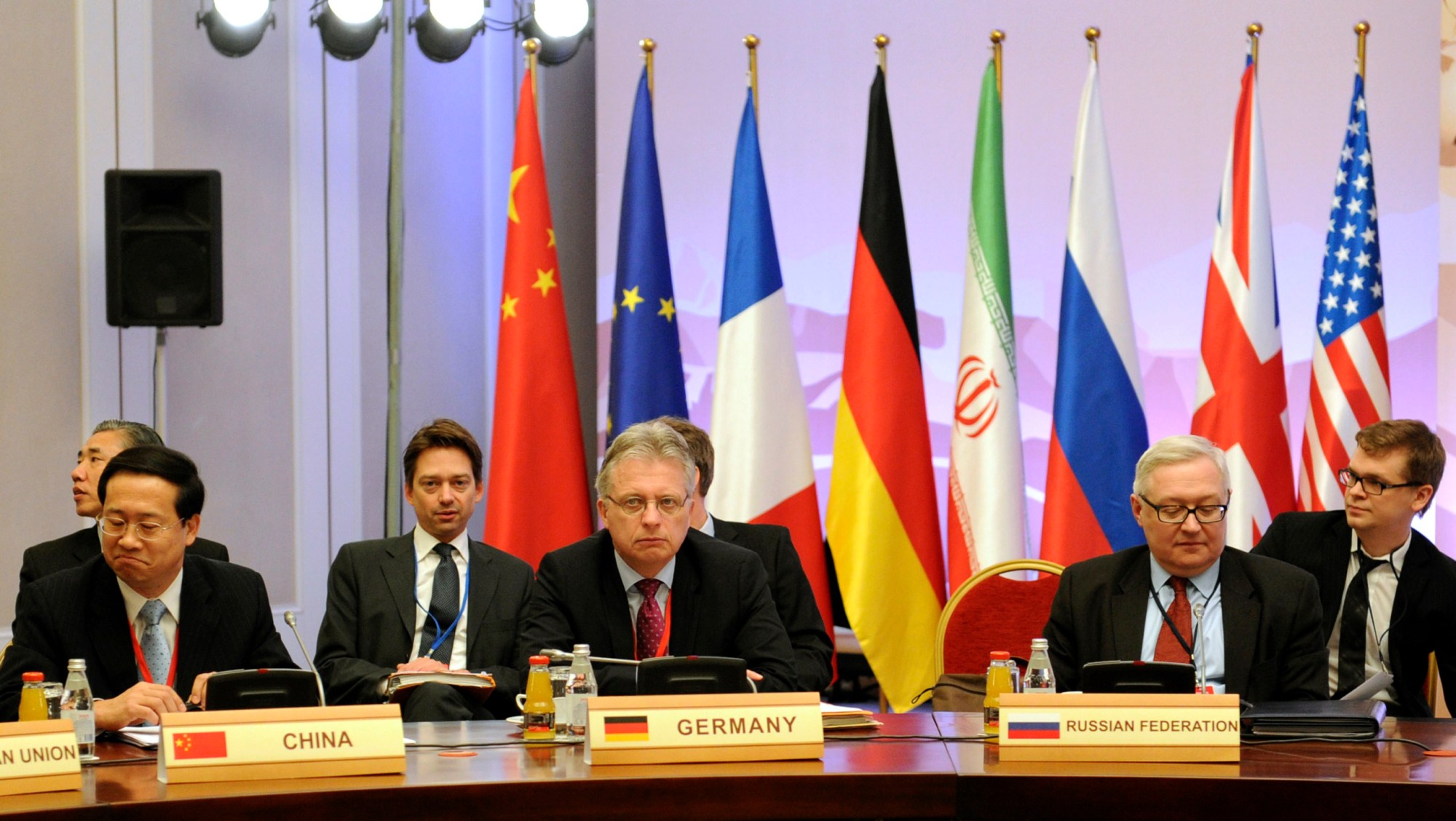 The latest round of talks between the Islamic Republic of Iran and the five permanent members of the U.N. Security Council—the United States, the United Kingdom, Russia, China, and France—as well as Germany, also known as the P5+1, ended last week without notable progress on answering the outstanding questions about Iran's nuclear program.
The P5+1 put a new proposal on the table that would require Iran to suspend, but not completely shut down, enrichment at its Fordo facility. Located near the city of Qom, the facility was first revealed in September 2009 and is now the main location of Iran's medium-level enrichment work. For its part, Iran continued to insist that recognition of its right to enrich uranium is an essential step in negotiations.
While sources present at the talks indicated that substantial discussions occurred over these proposals, the gaps between the two sides clearly remain considerable. One Western diplomat told Reuters that, "The Iranians indicated readiness to take some steps but they were small." According to Lady Catherine Ashton, the EU foreign policy chief and lead negotiator for the P5+1, "It became clear that our positions remain far apart."
The key issue surrounding Iran's nuclear program relates to unanswered questions posed by the International Atomic Energy Agency, or IAEA, which is the U.N. body responsible for monitoring compliance with the Nuclear Non-Proliferation Treaty under which countries agree not to pursue nuclear weapons in exchange for access to peaceful nuclear technology. Iran joined the treaty in 1998, but in 2005 the IAEA discovered that Iran was not complying with the treaty's terms because of failure to report its nuclear activities.
On Monday the head of the IAEA, Yukio Amano, said that his agency could not rule out the possibility that Iran was actively seeking nuclear-weapons technology, and that it is up to Iran to clarify the agency's outstanding question.
Beginning in 2009 the Obama administration and its partners in the P5+1 have participated in several rounds of negotiations with the Iranian government in an effort to bring its nuclear program into compliance with the treaty and to satisfactorily answer the IAEA's questions regarding the possibility of any military dimensions of Iran's nuclear work.
Speaking at a press conference on April 7, Secretary of State John Kerry acknowledged that the Iranian election scheduled for June 2013 "complicates the choices with respect to the politics of Iran. And we're aware of that." But he added, "The President is determined to continue to pursue the diplomatic channel. We will continue to have discussions through the P-5+1 process. And we remain open and hopeful that a diplomatic solution can be found."
Some members of Congress already announced that they will propose yet more sanctions against Iran, which is already dealing with the most stringent economic limitations ever applied to any country. According to Bloomberg News, this new measure "would penalize foreign countries that do business with any Iranian entity controlled by the government. It also would bar Iran from using earnings from oil exports to purchase anything other than food and medicine."
While frustration over Iran's intransigence is understandable, it's unclear whether applying more pressure can accomplish what a considerable amount of pressure has thus far failed to achieve. A recent report from the Carnegie Endowment for International Peace examining Iran's behavior over the past decades determined that economic pressure is unlikely to halt Iran's nuclear work, which "is entangled with too much pride—however misguided—and sunk costs simply to be abandoned." The report concluded that, "The only sustainable solution for assuring that Iran's nuclear program remains purely peaceful is a mutually agreeable diplomatic solution."
As for next steps, it's important to remember that there is time to deal with the problem. In an Israeli television interview in March, President Obama, citing U.S. intelligence data, said it would take Iran a year or more to build a nuclear weapon in the event that it chose to do so—which U.S. intelligence services believe it has not yet done.
As President Obama said in his speech in Jerusalem on March 21:
Strong and principled diplomacy is the best way to ensure that the Iranian government forsakes nuclear weapons. Peace is far more preferable to war, and the inevitable costs, the unintended consequences that would come with war means that we have to do everything we can to try to resolve this diplomatically. Because of the cooperation between our governments, we know that there remains time to pursue a diplomatic resolution.
Matthew Duss is a Policy Analyst with the National Security and International Policy team at the Center for American Progress.
The positions of American Progress, and our policy experts, are independent, and the findings and conclusions presented are those of American Progress alone. A full list of supporters is available here. American Progress would like to acknowledge the many generous supporters who make our work possible.
Authors Matthew Duss
Policy Analyst