State Antigay Adoption Policies Need to Go
State Antigay Adoption Policies Need to Go
Laws Have High Economic and Social Costs
Barring same-sex couples from adopting or fostering children harms all involved, explain Jerome Hunt and Jeff Krehely.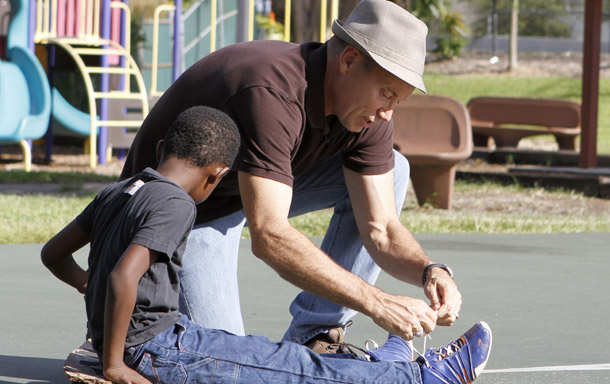 A Florida appeals court unanimously decided last month that a state ban on adoption by gay men and lesbians was unconstitutional (Florida Governor Charlie Crist also said that the state will stop enforcing the law). This is a reminder that the struggle for LGBT equality extends far beyond the headline issues of repealing "Don't Ask, Don't Tell," passing the Employment Nondiscrimination Act, and achieving marriage rights for gay couples.
The victory in Florida is a huge win for advocates of children's rights and well-being as well as those working for LGBT equality. But several states still unfairly target gay men and lesbians who want to adopt or foster children.
These policies should be overturned. They do nothing to serve our nation's foster children and have high economic costs. What's more, evidence shows that gay men and lesbians make just as good parents as their heterosexual counterparts, and the public increasingly supports gay adoption rights.
Current antigay policies
The Family Equality Council finds that only six states have laws or policies that expressly prohibit discrimination against gay and lesbian adoptions (California, Maryland, Massachusetts, Nevada, New Jersey, and New York). The Florida appeals court's ruling now decreases the number of states that expressly restrict adoption by same-sex couples to three—Michigan, Mississippi, and Nebraska.
The Michigan attorney general issued an opinion in 2004 that prevents same-sex couples married in other jurisdictions from adopting children in Michigan. Single gay and lesbian individuals, however, may petition to adopt. The director of Nebraska's Department of Social Service issued a directive in 1995 that prohibits adoption by gay individuals and unmarried, cohabiting individuals. Mississippi, on the other hand, simply prohibits adoption by all same-sex couples.
Three states (North Dakota, Utah, and Arkansas) currently have laws or policies on their books that may effectively restrict adoption by gay men and women. North Dakota allows social workers to make decisions about potential adoptive parents on the basis of their moral or religious convictions. Utah passed two provisions on adoptions in the last 10 years. The first, in 2000, prohibited unmarried cohabiting individuals from adopting. The second, in 2007, gave preference to married heterosexual couples over single adults in placement decisions. Finally, Arkansas prohibits unmarried, cohabitating individuals from adopting.
These states' policies make it nearly impossible for gay men and women to adopt children even if the law doesn't specifically single them out. If a state bars unmarried couples from adopting—and the state doesn't recognize any form of same-sex relationship—then gay people are prohibited from being adoptive parents. Fundamentally, these policies are based on nothing more than antigay bias. They shortchange children who need permanent homes and cost states a lot of money.
The policies' human and financial costs
These policies equal high costs both in terms of state budget dollars and the number of children affected. The Williams Institute, a legal and policy think tank at the UCLA School of Law, estimates that the Florida ban kept 165 children in foster care, costing the state $2.5 million per year. Williams also estimates that 219 children will be adopted by same-sex couples now that the ban is lifted, saving the state $3.4 million.
The Williams Institute partnered with the Urban Institute to calculate the cost of a nationwide ban on foster care by same-sex couples. They found it would cost somewhere between $87 million to $130 million a year. This ban would also remove an estimated 9,300 and 14,000 children from their current foster homes. Costs to individual states would vary widely based on their share of children in foster care and the adult gay and lesbian population. At the low end of the spectrum South Dakota would incur $100,000 in costs, while California would be hit with a $27 million bill.
Same-sex parents are good parents
Child development experts point out that gay men and lesbians are as good at parenting as their heterosexual peers. Abbie E. Goldberg, in Lesbian and Gay Parents and Their Children, finds that same-sex parents are not markedly different from heterosexual parents. Dr. Michael Lamb, a developmental psychologist who provided expert testimony in the Proposition 8 case in California over same-sex marriage, stated during his testimony before the District Court that research shows children raised by a gay or lesbian parent are just as likely to grow up well-adjusted adults as children raised by heterosexual parents. Similarly, researchers at the University of Virginia find that children adopted by lesbian and gay couples develop no differently than children adopted by heterosexual couples.
An increasingly supportive public
Public opinion about gay rights, including adoption rights, is changing. Quinnipiac University conducted a poll of Florida residents in 2009 showing that 55 percent opposed the just-overturned state law that prohibited gay men and lesbians from adopting children. Quinnipiac also conducted a national poll the same year showing 53 percent of Americans support allowing same-sex couples to adopt children.
Further, a Gallup poll reveals a seven-point increase (46 percent to 53 percent) in public support of adoption rights for gay men and lesbians from 2000–2009. And finally, the Public Religion Research Institute finds that the percentage of Americans who think it's bad for society to have gay and lesbian couples raising children declined 14 points from 56 percent in 1997 to 42 percent today.
The federal response
Some legislators are taking steps to help. Rep. Pete Stark (D-CA) recently introduced the Every Child Deserves a Family Act to help as many children as possible find loving and permanent homes. Stark's bill would prohibit an entity that receives federal assistance and is involved in adoption or foster care placements from discriminating against prospective adoptive or foster parents solely on the basis of their sexual orientation, gender identification, or martial status.
Both child advocacy organizations as well as LGBT equality groups applaud this proposal, including the American Bar Association, Child Welfare League, American Civil Liberties Union, American Psychological Association, Family Equality Council, and the Human Rights Campaign.
The American Civil Liberties Union stated in a letter of support:
The goal of our adoption and foster care systems is to provide all children with permanent, stable homes with loving and supportive parents, but discrimination on the basis of sexual orientation, gender identity and marital status hinders that. The [Act] will help to ensure that children are not needlessly kept waiting for families because willing and able loving families are being turned away. … The ACLU urges your support for the Every Child Deserves a Family Act.
The American Bar Association echoed similar sentiments when they thanked Representative Stark for "introducing [the Every Child Deserves a Family Act], which will promote permanency for the hundreds of thousands of children waiting in foster care by removing sexual orientation as a bar to child placement decisions when the placement is in the best interest of the child."
Time for these laws to go
State policies banning gay men and lesbians from fostering or adopting children hurt everyone involved. State governments bear discrimination's economic costs, same-sex couples are denied the ability to build a family, and, most importantly, children in need of loving and permanent homes are left in unstable caregiving situations.
During a time of state budget crunches it makes no sense to continue these discriminatory policies. Such laws and regulations are based on animus toward gay men and women, not on sound economic or social science. It's time to erase them from the books.
Jerome Hunt is a Research Associate and Jeff Krehely is Director of LGBT Research and Communications Project at American Progress.

See also:
The positions of American Progress, and our policy experts, are independent, and the findings and conclusions presented are those of American Progress alone. A full list of supporters is available here. American Progress would like to acknowledge the many generous supporters who make our work possible.
Authors Jeff Krehely
Former Senior Vice President, Domestic Policy