"Sí Se Puede"
A Phrase with a Rich History
As we celebrate Hispanic Heritage Month, Teresita Perez takes a moment to reflect on the phrase's history and power.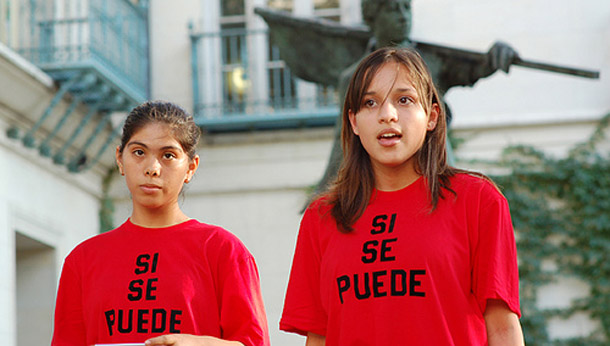 Much to my surprise, over the past few years the rallying cry "Sí se puede" has become pretty ubiquitous. This phrase, which literally translated means, "yes, it can be done," was the chosen phrase used by participants in the immigration reform marches in 2006. Later on, Senator Barack Obama (D-IL) adopted the English equivalent "Yes we can" as his presidential campaign slogan.
Having grown up in the agricultural town of Oxnard, California, the phrase "Sí se puede" has a lot of political significance for me personally. That's why this month, as we celebrate Hispanic Heritage Month, I would like to take a moment and remember where it comes from.
"Sí se puede" is a term rooted in the struggle of working-class Latinos. It was the rallying cry of the United Farm Worker's Union in the 1970s. Co-founders Dolores Huerta and Cesar Chavez adopted the motto during a 25-day fast in Phoenix, Arizona where they were trying to organize farm workers to demand fair wages and better working conditions. This mantra was meant to galvanize workers and inspire them. Yes, we can start a movement against all odds. Yes, we can stand up against exploitation. Yes, we can fight for fair wages and medical and pension benefits. Over the years, "Sí se puede" has also been adopted by other civil and labor rights groups involving Latinos around the country.
But use of this phrase comes with the obligation to truly honor its history and deliver on its promise. We simply cannot ignore the fact that Latinos have been left by the wayside and currently face tremendous economic disparities. Consider the following statistics:
The poverty rate among Latinos was 21.5 percent in 2007 compared to 8 percent among their white counterparts.
The percentage of Latinos who lacked health insurance in 2007 was nearly three times higher than their white counterparts.
And in 2007, the median family income for a white family was $54,920, compared to a Hispanic median family income of $38,679.
As a nation that values equality and human dignity, we cannot ignore these disparities. The future of our nation depends on being able to make the ladder of opportunity accessible and increase economic mobility for working class people everywhere, all while embracing our nation's diversity and talent.
Our nation faces many challenges today, but a key priority should be to integrate this growing population so that we can capitalize on this demographic change. The next president will therefore need to ensure that we promote more equal opportunity programs and that we make more progress toward reducing these disparities.
With 45.5 million Latinos, the United States has a larger population of Latinos than just about any country in Latin America. What this means is that this voting bloc is emerging as a pivotal constituency for the presidential candidates and will play a key role in our economic future. This is no passing trend. Latinos are projected to become nearly a quarter of the U.S. workforce by 2050, and they will account for almost 30 percent of the projected population of 429 million people in the United States by that same year.
As we celebrate Hispanic Heritage Month this year, let's not forget the history and power of the phrase "Sí se puede." As we strive to create a more equitable and just nation, let us remember where it comes from and honor intent of its creators Dolores Huerta and Cesar Chavez, who have challenged us to create a better society–one that values and provides all its people with equal opportunity to succeed. As Chavez once said:
"We shall strike. We shall organize boycotts. We shall demonstrate and have political campaigns. We shall pursue the revolution we have proposed…We will build power through boycotts, strikes, new union – whatever techniques we can develop. These attacks on the status quo will come, not because we hate, but because we know America can construct a humane society for all its citizens…."
"Sí Se Puede!"
The positions of American Progress, and our policy experts, are independent, and the findings and conclusions presented are those of American Progress alone. A full list of supporters is available here. American Progress would like to acknowledge the many generous supporters who make our work possible.