Sanctions Are Causing Major Headaches for Iran's Nuclear Program
Sanctions Are Causing Major Headaches for Iran's Nuclear Program
6 Reasons Why the Obama Administration's Iran Strategy Is the Best Way Forward
The second piece in a new series on the Obama administration's Iran strategy shows how sanctions are affecting Iran's ability to carry out its nuclear activities.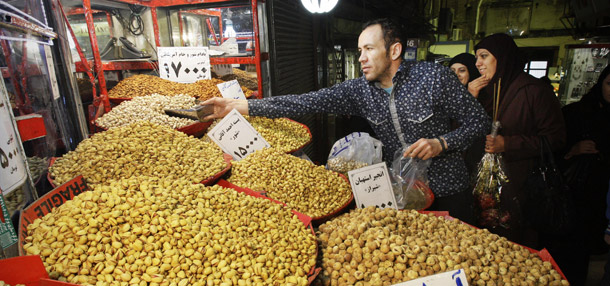 This is the second in a six-part series explaining why the United States should continue to pursue an integrated strategy of diplomacy and tough economic sanctions to prevent Iran from obtaining nuclear weapons. It builds on the recent Center for American Progress report, "Strengthening America's Options on Iran." Each piece in the series looks at reasons why diplomacy is an effective approach to achieving this end.
This week we look at how current sanctions are crippling Iran's economy and hindering its ability to advance its nuclear program.
Though Iran has survived for more than 30 years under sanctions, the sanctions imposed by the international community over the past three-and-a-half years have pressured the Iranian economy to levels unseen in the history of the Islamic Republic. These and other measures appear to be seriously hindering Iran's ability to advance its nuclear research, thus delaying Iran's nuclear weapons ambitions. They have forced the leadership in Tehran to return to the negotiating table.
Current sanctions on Iran consist of mostly trade, investment, arms, and banking restrictions, as well as more stringent cargo inspections and shipping regulations. But it is important to distinguish between U.S. unilateral efforts since 2010—which have arguably caused enough damage to the Iranian economy for Iran to give diplomacy another try—the EU oil embargo that will go into effect on July 1, and the recent efforts of other nations to scale back their dealings with Iran.
In May 2011 a report by a special panel of U.N. experts stated that multilateral sanctions adopted under a June 2010 U.N. Security Council resolution were "constraining Iran's procurement of items related to prohibited nuclear and ballistic missile activity and thus slowing development of these programs."
The Institute for Science and International Security reports that international sanctions have slowed down Iran's nuclear program significantly—to the point where the organization believes Iran would have already produced nuclear weapons without sanctions and other measures against its nuclear effort.
Most importantly, sanctions—international, regional, and unilateral—make it more difficult for Iran to acquire the necessary resources from overseas to further its nuclear program. As ISIS notes, Iran "is by no means self-sufficient in making all the goods it needs for its nuclear program or is it able to solve problems encountered in its deployment of nuclear technologies."
Indeed, Iran is dependent on imports to sustain its centrifuge enrichment program, relying on foreign suppliers for maraging steel—a specific type of steel especially suitable for use in centrifuges—carbon fiber, vacuum pumps, and vacuum measuring equipment, all of which have been restricted by U.N. sanctions that have been enforced with unanimity and stringency. As a result, it is unclear whether Iran can actually acquire the materials necessary to build the centrifuges it desires at Natanz and Fordow, two nuclear facilities in Iran.
In the final analysis, ISIS explains that sanctions "are forcing Iran to make less than desirable design choices and these choices further slow its progress and increase the technological risks that complicate any Iranian decision to dash to a bomb."
In addition, public reports indicate that the Stuxnet computer worm that struck Iran's nuclear program in 2011 hampered its nuclear efforts by directly destroying 1,000 centrifuges and likely exacerbating existing regime paranoia over penetration of the program by foreign intelligence agencies.
Further cyber warfare against Iran's nuclear program could cause additional physical damage to Iran's nuclear infrastructure in similar ways or could serve to gather more information about its capabilities and intentions. The fall 2011 discovery of the Duqu worm by computer security firm Symantec Corporation appears to indicate that further cyber attacks against Iran's nuclear program are likely.
Moreover, ISIS states that more traditional forms of sabotage and information gathering via penetration of Iranian smuggling networks by foreign intelligence agencies have also caused setbacks to Tehran's nuclear efforts. Indeed, efforts to prevent Iran from smuggling components for its nuclear program have been ramped up: U.S. law enforcement officials are investigating 30 percent more cases this year than they were three years ago.
Increased international scrutiny of and pressure on Iran's nuclear program may also be slowing its progress. The apparent success of foreign intelligence agencies in penetrating Iran's nuclear program will likely increase the inherent suspicion of Iranian security services and could lead to actions intended to decrease the nuclear program's vulnerability to foreign intelligence agencies. This would further slow the program's progress.
More concretely, increased international scrutiny of Iran's nuclear program forced several of its more troubling aspects underground and diverted Iranian resources to attempts to avoid the prying eyes of the international community. Despite its failure to come clean to the International Atomic Energy Agency on its past and possibly present nuclear weapons efforts, Iran's 2003 decision to shut down its unified weapons program after its clandestine nuclear facilities were discovered the previous year effectively fragmented its weapons efforts.
Even if Iran is continuing to work on various aspects of nuclear proliferation, Iran's lack of a unified program makes progress toward a weapon more difficult. The compartmentalized nature of the program inhibits information-sharing and excessive secrecy, both of which are necessary to prevent discovery of patently illegal weapons.
In addition, the halt of Iran's nuclear weapons program has apparently demoralized top Iranian nuclear scientists, who, according to U.S. intelligence intercepts, continued to complain about the decision years after it was made.
International sanctions also appear to be taking a toll on Iran's economy. The sanctions are significantly harming the nation's critical oil industry and the country's access to much-needed trade financing and foreign investment. This in turn is putting the Iranian leadership under tremendous strain and could well influence its decision whether to pursue nuclear weaponry.
Along with the economic toll, sanctions have also brought intense domestic political pressure for Iran's supreme leader, Ayatollah Khamenei. Although his ultimate goal is to get the international sanctions removed as quickly as possible in order to revive Iran's crippled economy, he is receiving pressure from the government and clerical powers not to relinquish Iran's right to enrich uranium to 20 percent, at which point it becomes highly enriched and can be turned into weapons-grade material more quickly.
Khamenei is stuck between a political rock and an economic hard place, so to speak. The supreme leader cannot afford to let international sanctions strangle the Iranian economy much further, lest he expose the survival of the regime to further instability.
The decision to make a nuclear deal ultimately rests on Khamenei's guidance, and the deal that allows him to save Iran's economy is likely not the same deal that would allow him to maintain power. When the third round of diplomatic talks resume on June 18 in Moscow, how Khamenei balances these competing pressures will likely be the determining factor in Iran's willingness to come to a temporary settlement with the negotiators.
Next week we examine what actions the United States and its allies could take to counter disruptions in Iranian oil supply or a closing of the Strait of Hormuz by Iran in response to sanctions.
See also:
The positions of American Progress, and our policy experts, are independent, and the findings and conclusions presented are those of American Progress alone. A full list of supporters is available here. American Progress would like to acknowledge the many generous supporters who make our work possible.