Recent Legislative and Executive Acts Represent Promise for Women's Economic Security
Recent Legislative and Executive Acts Represent Promise for Women's Economic Security
Women and their families should find some current financial pressures—fueled partly by the gender wage gap—alleviated by recent policy wins, particularly if policymakers prioritize implementing new pathways to good jobs for women in the years ahead.
New data from the U.S. Census Bureau reveal that the gender wage gap narrowed slightly in 2021. This progress, while modest, reflects the robust economic recovery—fueled in part by the American Rescue Plan (ARP)—that saw women's employment expand by more than 3 million jobs since the passage of the ARP in March 2021. In another win for women, the Biden administration's transformative economic achievements—including the Inflation Reduction Act, student loan relief, the CHIPS and Science Act, and the Infrastructure Investment and Jobs Act (IIJA), also known as the bipartisan infrastructure law—will help alleviate many families' and individuals' economic pressures in myriad ways.
Despite these gains, the gender wage gap continues to weigh down women and their families. Large numbers of women report struggling to pay their regular household expenses, which is not surprising given that women consistently have less money in each paycheck than their male counterparts. To fully realize the potential of recent policy wins—and to help ease the economic challenges the wage gap presents—the Biden administration and policymakers must prioritize creating pathways for women to access, stay, and thrive in the good jobs these victories will help create.
Women continue to struggle to pay regular household expenses, partly due to the wage gap 
In 2021, all women—regardless of the number of hours worked during the year—made 77 cents compared with each dollar earned by all men. (see Figure 1) Put another way, in 2021, median earnings for all women was $39,201—$11,782 less than that of their male counterparts. This earnings gap is roughly equal to the average household's combined annual spending on clothing, utilities, and health care.
The gender wage gap persists, despite some recent progress
84 cents
Amount earned by women working full time, year-round compared with every dollar earned by their male counterparts, 2021
77 cents
Amount earned by all women compared with every dollar earned by all men, 2021
Women working full time, year-round earned 84 cents on the dollar compared with their male counterparts. And, as usual, Black women and Latinas—who are more likely than white women to be their families' breadwinners, upon whom their families rely to make ends meet—faced even larger wage gaps.
Figure 1
Given these numbers, it's unsurprising that the gender wage gap continues to burden women's finances, and particularly those of women of color. Analysis of the Household Pulse Survey reveals that women, more so than men, across all age groups and races and ethnicities are struggling to pay regular household expenses, including rent, mortgage, medical expenses, and student loans. (see Figure 2)
Black and Latina women suffer the greatest financial strains. And while middle-aged and older women are less likely than younger women to report having trouble paying bills, they are still more likely to have difficulty paying these expenses compared with their male counterparts, reflecting the fact that the gender wage gap persists, and even widens, with age.
Figure 2
Recent policy wins will help alleviate some financial pressures facing women and families
The Biden administration's recent efforts to reduce critical household expenses—from medical expenses, to student loans, to energy costs—will help alleviate some of the financial pressures women and families currently face:
Medical expenses: Women overall spend significantly more on health care than men, and women, particularly women of color, are more likely to struggle to buy prescription drugs. That's why the Inflation Reduction Act—which will cap out-of-pocket costs for prescription drugs at $2,000 annually for Medicare beneficiaries—will transform the lives of older women, who outnumber men on Medicare. The Inflation Reduction Act also will enable Medicare to negotiate lower prices and prevent drug companies from taking advantage of Americans, further helping women access lifesaving drugs. In addition, the law will extend enhanced Affordable Care Act marketplace subsidies through 2025, which will make it easier for women to buy health plans on their own and avoid becoming uninsured.
Student loans: Women hold roughly two-thirds of all student debt in the United States. The administration's student debt relief plan will provide $20,000 in student debt relief for Pell Grant recipients and $10,000 for those who didn't receive Pell Grants. Significantly, the plan also works to reduce the racial wealth gap, as Black women are most likely of any racial and gender group to hold student debt.
Energy expenses: The Inflation Reduction Act will also help women save on energy costs by helping families switch to cheaper electricity for home heating. This will be important for women, particularly women of color, who often tend to be breadwinners and the primary payers of all household expenses, including their energy bills. The average household will save up to $1,800 per year, and even households that don't make the switch will save around $1,000 per year and see lower electricity and natural gas prices.
Prioritizing women in implementation will be critical for realizing the potential of recent reforms
The Inflation Reduction Act, the CHIPS and Science Act, and the IIJA will help create millions of quality jobs in a range of industries, including construction, manufacturing, and clean energy. However, these sectors have historically been male-dominated and are prime examples of occupational segregation—a consistent driver of the persistent wage gap and of women's economic insecurity. Policymakers tasked with implementing these laws should recognize this reality and prioritize addressing these disparities in the months and years ahead.
Read more on occupational segregation
Occupational Segregation in America
Report
Occupational Segregation in America
---
There are clear opportunities to do so. For example, the Inflation Reduction Act includes additional tax credits for employers that employ registered apprentices, a type of workforce development program than combines hands-on job training with classroom instruction. The existing pool of registered apprentices is already more diverse than the makeup of the construction industry. And bolstering women's inclusion in apprenticeship programs will go far in ensuring these tax credits disrupt the male-dominated nature of the industries set to rapidly grow in the years ahead. Further, those outside of government appear eager for such change, presenting opportunities for collaboration. In September, for example, Chicago Women in Trades debuted the Women in Infrastructure Workforce Initiative, which will bring together key partners to create equity plans for infrastructure in their regions. And as another example, the CHIPS and Science Act includes provisions that provide new resources for understanding, preventing, and responding to sexual harassment in the STEM workforce, including the STEM academic workforce; maximizing the impact of these provisions will help women enter and thrive in these fields.
Overall, to fully realize the potential of these reforms for women, a whole-of-government approach is needed to ensure that gender equity is at the center of implementation, including:
Recruiting more women for training programs in well-paid, male-dominated sectors
Fostering more mentorship, internship, and professional development opportunities for women
Holding contractors that receive taxpayer dollars accountable to hire equitably in all male-dominated industries
Increasing funding for both the Equal Employment Opportunity Commission and the Office of Federal Contract Compliance Programs in the president's next budget to ensure better enforcement of federal anti-discrimination and -harassment laws
Working to create safe workplaces, free of harassment and violence, for all women
Conclusion
With the wage gap continuing to harm the pocketbooks of women and their families, policymakers must prioritize women in the implementation of recent policy victories, which present an unprecedented opportunity to advance gender equity in the months and years ahead. These efforts will help address financial pressures women are facing today and, in so doing, will lay important groundwork to ensure women in the future can work and thrive in good jobs.
The authors would like to thank Marina Zhavoronkova and Arohi Pathak for their contributions to this column.
The positions of American Progress, and our policy experts, are independent, and the findings and conclusions presented are those of American Progress alone. A full list of supporters is available here. American Progress would like to acknowledge the many generous supporters who make our work possible.
Team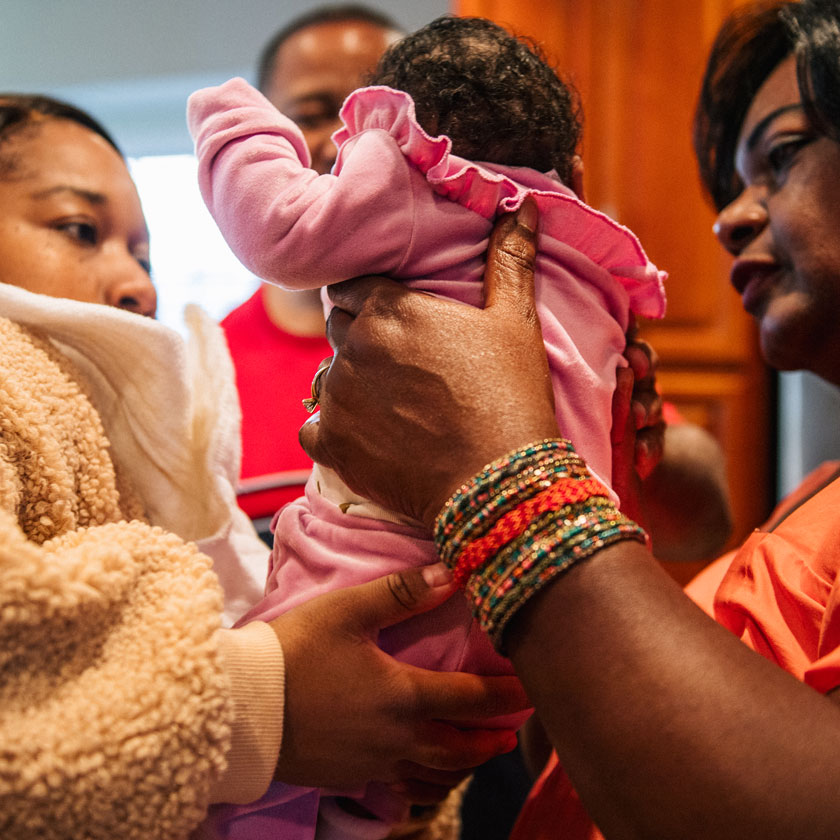 The Women's Initiative develops robust, progressive policies and solutions to ensure all women can participate in the economy and live healthy, productive lives.