Real Money for Farmers
Jake Caldwell outlines how comprehensive clean energy legislation can help raise farmers' incomes while delivering a healthier climate for all Americans.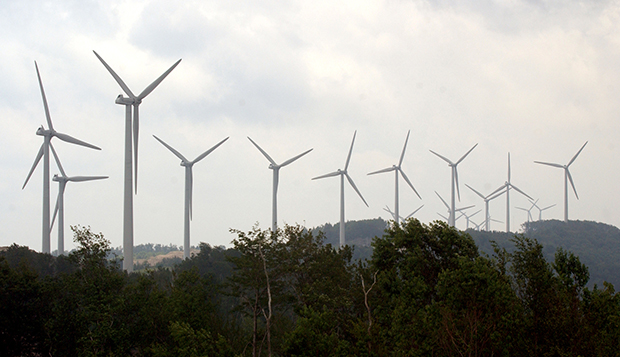 The future prosperity of U.S agriculture is tied to clean energy and the effects of climate change. Farmers are particularly vulnerable to the increased water shortages, widespread drought and floods, and lower crop yields that would result from global warming. And they are on the front lines every day, living and working the land, highly aware of these devastating consequences to farm productivity.
Curbing global warming pollution now through comprehensive, bipartisan clean energy and climate legislation in Congress that establishes a price on carbon pollution will bring real financial benefits to farmers, while reducing America's dependence on oil and enhancing our overall competitiveness in agriculture and the wider economy.
Comprehensive clean energy and climate energy legislation will triple potential revenue streams for farmers and rural communities. Farmers can earn real money in at least three different ways in the new low-carbon economy. Farmers can receive new income for leasing wind turbines or providing land for other clean energy production, growing switchgrass or other feedstocks for advanced biofuels, and sequestering carbon under their crops and forestland.
Here are the facts:
The Department of Energy estimates that if 5 percent of the nation's energy comes from wind power by 2020, rural America could see $60 billion in capital investment. Farmers and rural landowners would derive $1.2 billion in new income and see 80,000 new jobs created over the next two decades.
A University of Tennessee and 25×25 study predicts that a well-designed carbon offsets trading system that pays farmers to conserve carbon through good soil and forest management practices will grow farm revenue by $13 billion a year.
Other producers will be able to receive matching payments through programs such as the Biomass Crop Assistance Program that promote growing energy crops and biomass to feed the nation's need for advanced biofuels and lessen our dependence on oil.
U.S. agriculture is a critical bridge between global warming challenges and solutions. Our agricultural and forest lands sequester 246 million metric tons of carbon annually, absorbing 13 percent of U.S. greenhouse gas emissions. And the Congressional Budget Office has suggested that this number could rise to 50 percent of U.S. greenhouse gas emissions with the appropriate incentives.
But agriculture is also carbon intensive. Our farms produce more than 413 million metric tons of carbon dioxide equivalent emissions per year and generate two-thirds of all nitrous oxide emissions and significant methane emissions. Nitrous oxide and methane are both more potent greenhouse gases than carbon dioxide. The agricultural sector is responsible for 6 percent of total U.S. greenhouse gas emissions overall.
Farmers' central role in carbon production and sequestration makes them critically important players in the clean energy and climate change legislative efforts. Comprehensive clean energy and climate legislation must clearly define a role for U.S. agriculture that reduces carbon emissions, invests in rural-based clean energy to enhance our national security and lessen our dependence on oil, and provides new sources of revenue to boost incomes and jobs in rural America.
We simply will not reduce global warming pollution successfully without American farmers' full participation.
The following policy provisions are key components of comprehensive reform that can help ensure that energy and climate legislation provides real benefits to America's farmers:
Increase rural clean energy production
Comprehensive clean energy and climate change legislation must promote energy cost savings and rural-based clean energy in wind, solar, geothermal, bioenergy, and other renewables immediately by setting a price on carbon, reducing emissions, and establishing consistent and high-level national renewable and energy efficiency standards. Other recommendations include:
Extend the federal American Recovery and Reinvestment Act grant financing program for wind, solar, geothermal, and bioenergy projects that benefit rural communities. This Section 1603 provision has been a particularly powerful incentive to encourage community-based renewable energy projects, including wind, in rural areas. But Congress should improve the transparency and data-gathering components of Section 1603 to expand its capacity to track the grants' supply-chain aspects so as to ensure the program continues to create good, well-paying jobs for U.S. companies and workers.
Provide direct grants for clean energy projects. Congress should dedicate $300 million toward increasing farm-based clean energy, including the Rural Energy for America Program, by providing grants and loan guarantees directly to farmers, ranchers, and rural small businesses seeking to design and construct their own clean energy projects. Projects and technologies might include bioenergy facilities, manure digesters, energy efficiency projects, and wind and solar power.
Increase funding for Clean Renewable Energy Bonds to finance wind, bioenergy, and geothermal projects. Revenue raised from Clean Renewable Energy Bonds should be shared between state and local governments, public power producers, nonprofit utilities, and electric cooperatives.
Reinvest direct payment commodity subsidies in renewable energy and energy efficiency. The federal government automatically pays $5.2 billion in commodity-based ìdirect paymentî subsidies each year to people who may or may not even farm. The Government Accountability Office has found that USDA paid 69,120 individuals who had been dead at least three years between 1999 and 2005. We should reinvest the $5.2 billion per year in outdated direct payment commodity subsidies into initiatives to promote low-carbon, agriculture-based energy in USDA programs. This funding can provide incentives to encourage energy efficiency on farms and renewable energy such as wind turbines, solar, biomass, and geothermal power.
Establish time-limited agricultural offsets to carbon-intensive industries
Investments in agriculture and forestry can help curb greenhouse gas emissions. The agriculture and forestry sectors are good candidates to provide offsets to reduce the greenhouse gas reduction costs for major emitters in the initial stages of a carbon pollution reduction program. Comprehensive clean energy and climate change legislation should:
Establish a carbon offsets market. The offsets market would be part of a carbon pollution reduction program and would allow farmers to create and sell carbon offsets to polluting entities. This would reduce the cost of emissions reductions for polluters, and farmers would be paid for what they do so well—their longstanding carbon sequestration and land stewardship efforts.
Designate USDA as the lead agency for agriculture and forestry offset projects. Establish a list of eligible projects with precise definitions that rewards early adopters, including producers that practice reduced tillage agriculture today.
Ensure that carbon offsets are measurable, additional, verifiable, and permanent. Efforts that fall short of full compliance threaten to undermine the integrity and achievement of pollution reductions.
Provide incentives to encourage global emissions reductions. The federal government should utilize carbon offsets or other means to effectively encourage emissions reductions on a global scale from permanent avoided deforestation through such initiatives as the United Nations Collaborative Programme on Reducing Emissions from Deforestation and Forest Degradation in Developing Countries.
Encourage farmers to reduce emissions and sequester carbon
Farmers should be rewarded for other activities in the agricultural sector that reduce greenhouse gas emissions or sequester carbon, but may not qualify as an eligible carbon offset project. Legislation should set aside a number of allowances to fund an incentive program for activities that:
Promote U.S. agricultural lands as a carbon sink. Incentives can encourage farmers to undertake projects in agriculture or forestry that reduce greenhouse gases, or sequester carbon, and prevent the conversion of land that would otherwise release emissions.
Enhance soil quality. Reducing disturbance of the soil, producing more biomass, and ensuring that biomass is absorbed by the soil will all help increase the amount of carbon in the soil. The result: fewer harmful greenhouse gas emissions in the air.
Encourage restoration of federal forest and grazing lands. These restored lands can be used to sequester additional carbon.
Promote activities with carbon benefits and improved carbon management. The federal government can utilize conservation easements, carbon sequestration contracts, and similar tools to encourage better carbon benefits on public and private lands, and should monitor and verify all activities in an open and transparent manner.
Promote energy efficiency in rural communities
Energy efficiency retrofitting is the most cost-effective way to reduce household energy costs while providing manufacturing and construction jobs in local rural communities.
Implement a Rural Energy Savings Program to allow rural homeowners to obtain low-interest loans to help pay for many of the upfront costs of weatherization and energy efficiency home improvements. Farmers can pay back the low-interest loan through utility bills or attached to property taxes, so payback continues even if the homeowner moves away from the property. The USDA estimates such a program could cost $995 million to issue $4.9 billion in low-interest loans. More than 1 million rural homes would become energy efficient, and 34,000 auditing and weatherization jobs, mostly in rural communities, would be created by 2020.
Help manufacturers in rural areas build clean energy products. Provide low-cost loans or tax credits, such as the incentives in the proposed IMPACT Act and the Clean Energy Manufacturing Tax Credit program, to help manufacturers located in rural areas to retool to produce clean energy technologies and improve industrial efficiency.
Increase support and availability of USDA's Home Repair Loan and Grant Program for rural areas. Low-income families who own homes in need of repair under the current program are eligible to receive loans and grants to undertake home renovations, including replacing heating and water systems. The program's priorities should be expanded to include energy efficiency improvements and modernization of homes.
Invest in clean energy research, development, and deployment
Any comprehensive clean energy legislation should support the establishment of a Clean Energy Deployment Administration, or Green Bank, to rapidly and affordably develop and deploy emerging and existing clean energy and energy efficiency technologies in all regions of the country. It should also:
Establish an overarching clean rural energy venture capital fund. The fund of $2 to $3 billion would act as a catalyst for further private and public sector capital to promote research, development, and deployment of clean energy technologies in targeted regional areas. It would jumpstart capital to be injected into regional areas with a strong mix of private and public research institutions, natural resources, businesses, nonprofits, and a workforce conducive to clean energy development.
Expand funding of the farm bill's existing Title IX overall clean energy initiatives. This should include clean energy research and development programs such as the Rural Energy for America Program. And it should increase support for renewable energy and energy efficiency program research, development, and deployment activities in wind, solar, biomass, and geothermal technologies beyond current $600 to $800 million levels.
Provide additional research and development funding for carbon sequestration in agriculture and forestry. Research should examine the significant potential of biochar to sequester carbon. Other areas of research should include efforts to reduce methane and nitrous oxide emissions, as well as carbon dioxide and improvements in measuring greenhouse gas reductions.
Support sustainable bioenergy and biofuels
Comprehensive clean energy legislation must bring advanced biofuels—made from agricultural waste, wood chips, or dedicated energy crops such as switchgrass—to commercial scale as rapidly as possible. Biomass growers are primarily located in rural areas, and the high costs of collecting and transporting biomass means that many production facilities are also in these communities. We must ensure a stable long-term market for advanced biofuels by making targeted short-term investments in the current generation of biofuels' fuel infrastructure needs.
Support loan guarantees for the construction and deployment of advanced biofuel refineries. USDA's Biorefinery Assistance program has in the recent past been the sole federal source of loan guarantees to develop, construct, and retrofit commercial-scale advanced biorefineries attempting to produce cellulosic biofuels at commercial levels, and it should receive an additional $300 million. This core funding will allow the program to issue loan guarantees for biorefinery projects established primarily in rural communities.
Provide incentives to farmers to begin growing advanced biofuel crops. USDA's Biomass Crop Assistance Program provides funding to producers and farmers of renewable energy crops of up to 75 percent of the cost of establishing the energy crop and annual payments for up to 15 years for crop production, and should receive additional support.
Increase support for the current national Renewable Fuel Standard. This will require better funding and interagency strategic implementation of the program, particularly regarding its emphasis on rewarding biofuels' performance characteristics. Congress should also ensure that legislative definitions of "renewable biomass" adhere to certifiable environmental and land use safeguards on ecologically valuable and vulnerable public and private lands, and provide a means to measure lifecycle greenhouse gas reductions.
Encourage farmer-owned and -operated biorefinery and biofuel plant cooperatives and biomass enterprise zones. Direct producer payments and other targeted incentives can help farmers engaged in the establishment of farmer and locally owned biorefineries and biofuel facilities, but should be temporary and phased out over a 10-year period, and should have majority local ownership. Farmers will also need technical and financial assistance to encourage them to pool resources and enter into larger biomass enterprise zones that would maximize economies of scale and regional geographic proximity. Biomass enterprise zones could facilitate the co-location of biomass growing, production, and processing. And marketing alliances could encourage collaboration on facility construction, storage, and transportation infrastructure to enable biobased products to enter the retail market efficiently.
Spur consumer demand and retail infrastructure. The United States must create requirements and strong incentives to make biofuel blends reliably available at filling stations by promoting the installation of new blender fuel pumps and distribution infrastructure that allow drivers to choose between traditional 100 percent gasoline blends and 85 percent biofuel blends. It should increase renewable fuel infrastructure grants to $100 million in each fiscal year.
Spur rural innovation in clean energy
Innovation clusters—designated regional centers where local businesses, universities, public sector institutions, and others interact in a coordinated manner to push forward research, development, and deployment of innovative technologies—should be encouraged in rural areas. Local leadership and communities can set innovation priorities appropriate to their regions and strengthen U.S. competitiveness in the global marketplace. Innovation clusters, if properly implemented, can drive the commercialization of new technologies and products, create jobs, generate revenue, and attract skilled workers to rural areas.
Invest $150 million in clean energy innovation hubs. The hubs will tackle high-priority technological challenges in the clean energy sector by linking highly integrated solution-oriented teams in designated regions to move technology from the laboratory to pilot phase to commercialization. Support for clean energy hubs will solve energy challenges, create jobs, and promote economic growth in regional rural and urban areas.
Invest $100 million in regional economies and applied innovation to support the creation of regional innovation clusters in rural areas. The clusters should build on the momentum generated by the clean energy innovation hubs and seek to address national economic and strategic priorities, including clean energy and energy efficiency. They should also rely on local (and often rural) leadership to design and implement the initiatives. A key component of establishing regional innovation clusters is to allow local decision makers to deploy their knowledge of local and regional advantages and strengths of particular geographic areas. Local leadership in rural communities should work to bind together local businesses, nonprofits, universities, and research and development institutions. These can combine with natural resources advantages to pursue applied innovation in a manner that will move clean energy technology from research to commercialization.
Promote U.S. agricultural exports
Clean energy legislation should strengthen agriculture's role in meeting the National Export Initiative's goal to double U.S. exports by 2015. The federal government should also:
Support and conclude trade negotiations. The United States should work on a variety of international trade fora and agreements that provide market access for U.S. agricultural products, including: the WTO Doha round of negotiations; bilateral free trade agreements with Korea, Panama, and Colombia; and the newly launched Trans-Pacific Partnership.
Conclusion
Comprehensive clean energy and climate legislation will deliver real, tangible benefits to America's hardworking farmers. New income opportunities will emerge in clean energy generation, including wind power produced directly on the farm and a variety of carbon conservation efforts. Farmers growing energy crops for advanced biofuels will earn matching payments while lessening our dependence on oil and enhancing our national security. Clean energy and action on climate change represents real money in farmers' pocketbooks, and a healthier climate for all Americans.
The positions of American Progress, and our policy experts, are independent, and the findings and conclusions presented are those of American Progress alone. A full list of supporters is available here. American Progress would like to acknowledge the many generous supporters who make our work possible.