Poll Workers Are Indispensable to the November Election
Poll Workers Are Indispensable to the November Election
An estimated 1 million poll workers, who will voluntarily help administer this year's election, are essential to strengthening our democracy and preserving the hallowed right to vote.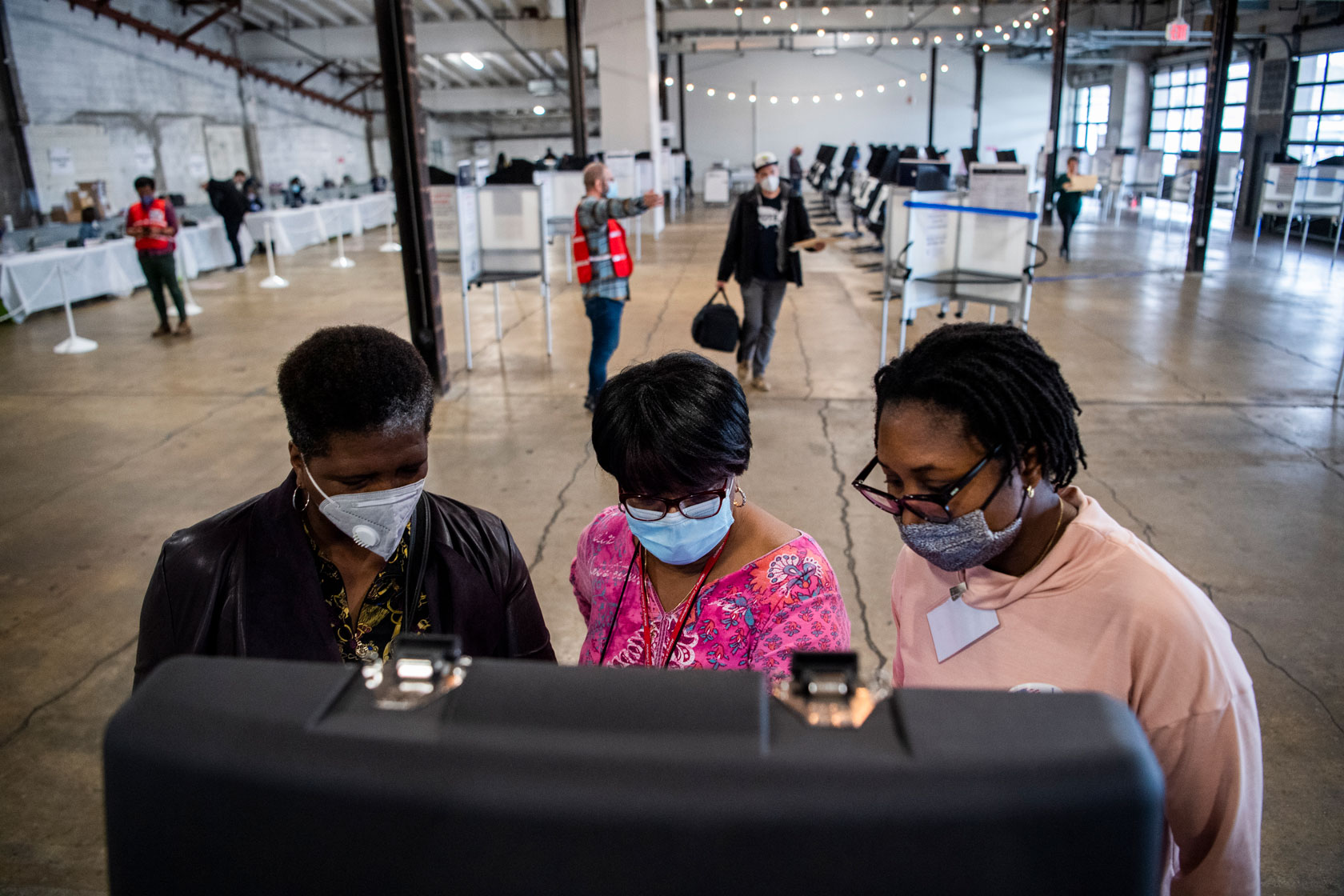 With our democracy being challenged in unprecedented ways, it is imperative to strengthen free and fair elections. Poll workers are vital to achieving this goal. These individuals—who temporarily staff polling stations and perform other election administration duties, often voluntarily—help ensure that elections run smoothly and that their communities have a meaningful voice in the democratic system.
An estimated 1 million poll workers are needed for the election cycle that culminates in November, and recruitment and training efforts are already underway. A dependable and diverse cadre of poll workers will help generate a democracy that more fairly represents all Americans.
Poll workers play an important role in elections
City or county offices, staffed by permanent employees, typically oversee the administration of elections. But when Election Day approaches, these employees rely on temporary poll workers—sometimes called election workers or election judges—to assist with a wide variety of tasks. These tasks can include setting up and staffing polling locations, checking in voters, assisting with voting machines, answering call center phones, and even processing and counting ballots. Importantly, poll workers must perform their assignments impartially and using keen judgment, and they must not disrupt or interfere with election administration. Impartiality is especially critical at a time when some conservative activists have launched a coordinated effort to recruit and train people with a political agenda to serve as poll watchers.
Poll workers are the customer service face of our democracy. EAC Commissioner Benjamin Hovland
Inadequate numbers of poll workers can result in anti-democratic outcomes. For example, insufficiently staffed polling precincts can force people to wait in longer lines to vote. Shortages of poll workers can also cause some polling locations to close or be consolidated with other locations, making it more challenging for voters to access the new polling place. All of this can lead to disenfranchisement and reduced trust in elections, especially among communities of color and other marginalized communities facing entrenched barriers to voting.
In the 2020 election, there were 132,556 polling places nationwide staffed by 775,101 poll workers, according to data from the Election Assistance Commission (EAC). Each state sets its own rules for poll worker qualifications, including residency and age. And while some jurisdictions pay poll workers, others rely on volunteers, especially when election administration is woefully underfunded. Regardless, most jurisdictions must invest time and resources to train poll workers so that they can proficiently carry out their duties and use technical tools such as electronic poll books and ballot scanners.
As EAC Commissioner Benjamin Hovland told the Center for American Progress:*
Poll workers are the customer service face of our democracy. It is an opportunity to welcome your neighbors and ensure their voting experience is a positive one regardless of their party. If you want to see firsthand the safeguards and safety measures that protect the integrity of our elections, there is no better way than serving as a poll worker.
Read CAP's 2021 interview with Benjamin Hovland
Democracy in Peril: A Q&A About the Future of Elections with EAC Commissioner Benjamin Hovland
Article
Democracy in Peril: A Q&A About the Future of Elections with EAC Commissioner Benjamin Hovland
---
More must be done to recruit and retain poll workers
It is crucial to recruit and retain a diverse set of poll workers to help run elections. This is especially true when large numbers of permanent election officials are leaving their jobs due to threats, harassment, and burnout, among other factors.
For the past 2 1/2 years, the nation has suffered the effects of the COVID-19 pandemic, which made it risky for poll workers—especially elderly people—to staff crowded polling locations. Specifically, health concerns led to poll worker shortages in 2020. Now, stakeholders are recruiting a new cohort of younger poll workers to replace older ones. This trend began in 2020, when the percentage of poll workers ages 18–40 increased and the percentage of poll workers ages 61 and older decreased, compared with 2016. In some jurisdictions, people as young as 16 can serve as poll workers.
52%
Share of election jurisdictions that reported it was difficult to obtain a sufficient number of poll workers for 2020 election
Coinciding with the pandemic, there has also been an unfortunate increase in threats of violence against election employees and poll workers based on the "big lie" of widespread voter fraud.
It is unsurprising, then, that 52 percent of election jurisdictions reported that it was difficult to obtain a sufficient number of poll workers for the 2020 election, according to EAC data. Clearly, government agencies and private organizations must continue to conduct sustained efforts to recruit poll workers—especially young, diverse, bilingual, and tech-savvy individuals.
For example, the EAC spearheads National Poll Worker Recruitment Day, connecting people with information about applicable requirements. Power the Polls, a group founded by civic groups and businesses, attracted 700,000 poll workers in 2020 and has signed up more than 125,000 people in 2022. And the National Bar Association recruits lawyers to serve as poll workers, while Vet the Vote recruits veterans and their family members. Similar efforts exist to recruit Hispanic and LGBTQ+ poll workers.
In 2020, CAP published a report detailing a wide range of innovative methods to recruit and retain diverse poll workers—including recommendations for individuals, state and local governments, professional associations, political parties, high schools, colleges and universities, nonprofits and philanthropic organizations, and religious communities.
Read CAP's full set of recommendations on recruiting and retaining poll workers
Recruiting and Retaining Poll Workers During the Coronavirus Pandemic
Report
Recruiting and Retaining Poll Workers During the Coronavirus Pandemic
---
Poll workers must be supported so they can continue to strengthen their communities
Poll workers are champions of democracy who are committed to their country and their communities. In interviews conducted by PolitiFact, poll workers reflected that they want "to give back to their communities, gain a closer look at the election process and enable their neighbors to cast ballots." Others expressed wanting to "make sure that everybody feels good about their elections in their neighborhood."
Poll workers are champions of democracy who are committed to their country and their communities.
In this age of rampant political disinformation, these public servants are also using their voices to counter falsehoods about stolen elections—explaining to friends, family, and coworkers how elections are properly administered in an effort to help reduce the spread of disinformation, mistrust of election results, and political violence.
Simply put, poll workers deserve to be heralded for the vital function they play in our democracy. At the same time, law enforcement authorities and election administrators must take all measures necessary to ensure the safety of poll workers, protecting them against extremist threats of violence or intimidation.
Conclusion
Because protecting democracy is a duty shared by all Americans, the more people who are involved in the administration of free and fair elections, the better. Both civic engagement and trust in elections are enhanced when community members staff local polling places and help their neighbors navigate the voting process. By creating a virtuous cycle, poll workers are helping build a democracy where all Americans can fully exercise their political power.
*Author's note: Quote is on file with the author.
The positions of American Progress, and our policy experts, are independent, and the findings and conclusions presented are those of American Progress alone. A full list of supporters is available here. American Progress would like to acknowledge the many generous supporters who make our work possible.
Author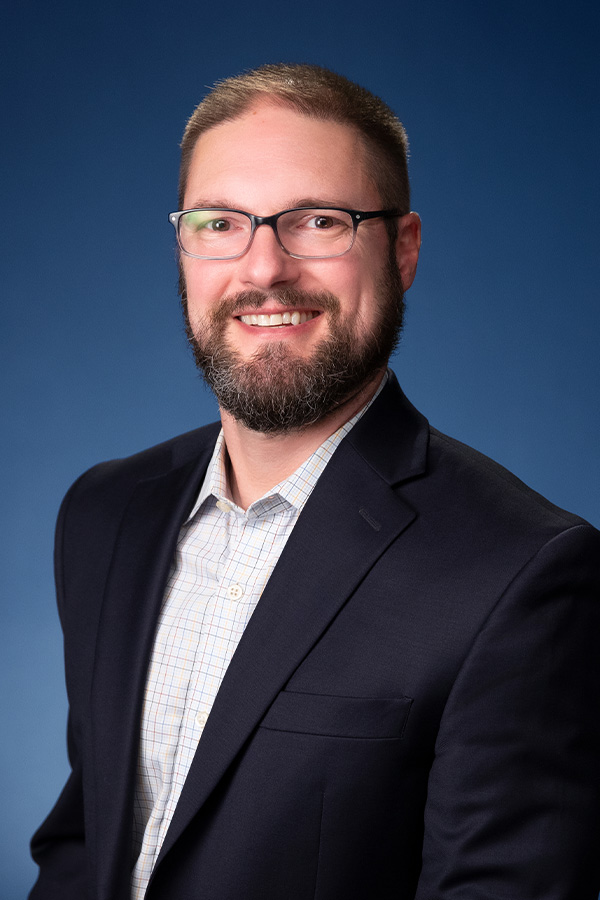 Senior Fellow
Team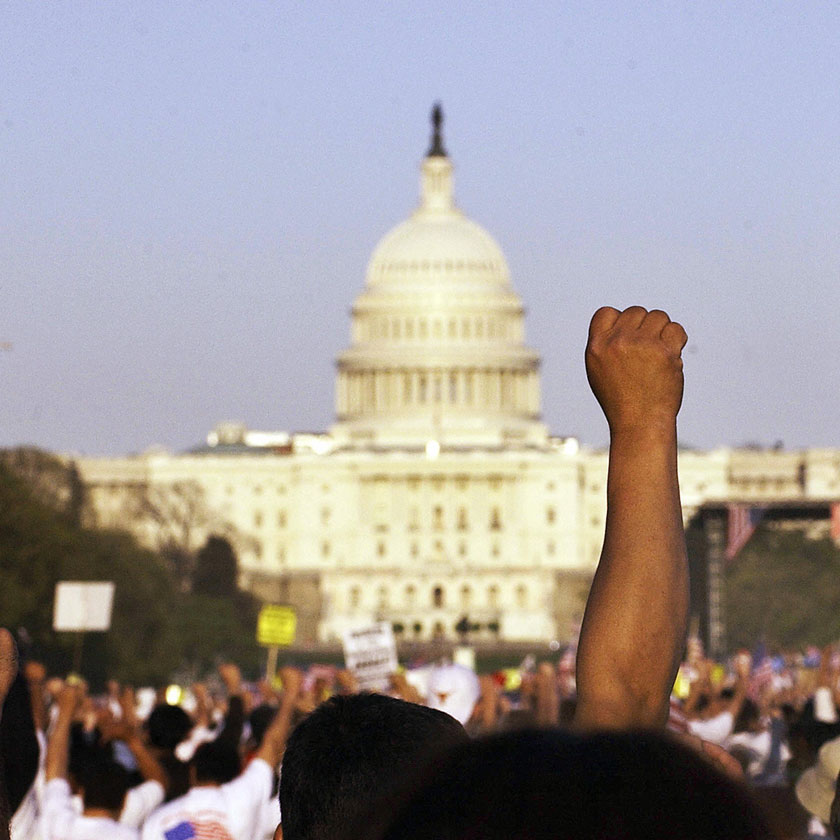 The Democracy Policy team is advancing an agenda to win structural reforms that strengthen the U.S. system and give everyone an equal voice in the democratic process.