North American Climate Cooperation at a Crossroads
North American Climate Cooperation at a Crossroads
Canadian Prime Minister Justin Trudeau's visit to Washington highlighted that the North American relationship on climate change is in danger of regressing—but states, provinces, and cities can push it forward.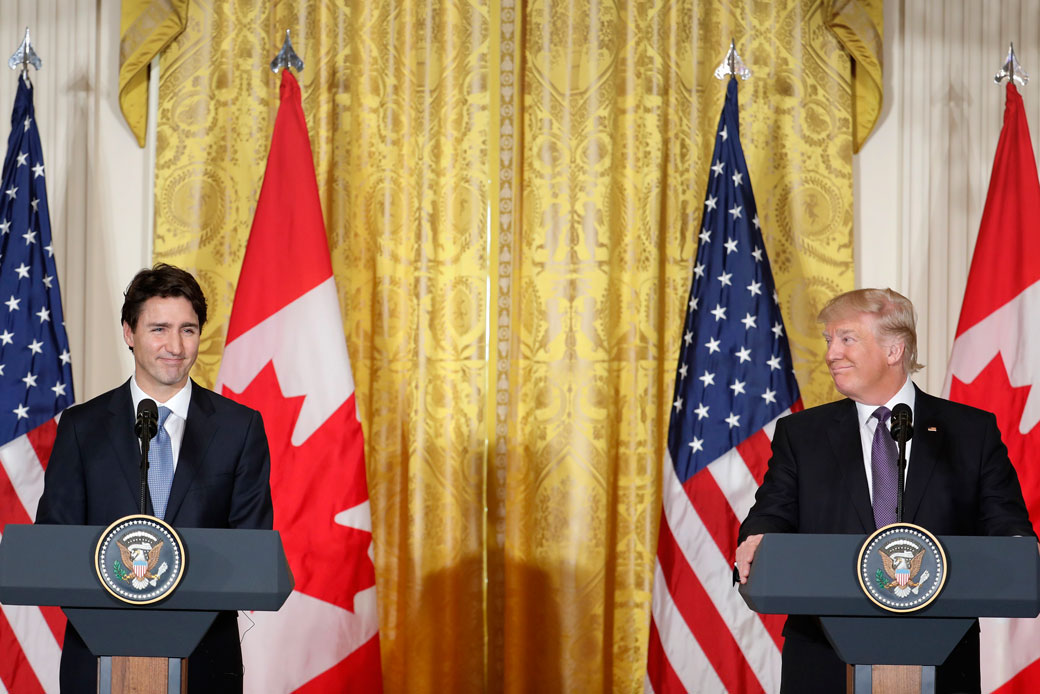 This column contains a correction.
Over the past year, there has been significant progress in the North American effort to address climate change. One case in point is the North American Climate, Clean Energy, and Environment Partnership, which the national governments of the United States, Mexico, and Canada created in June 2016. Outside of the European Union, it is the most ambitious attempt yet to integrate environment, energy, and climate priorities and policies at a regional level.
Since the November 2016 U.S. presidential election, however, the North American relationship on climate change—as well as the North American relationship on a range of other issues—has been uncertain at best. This uncertainty came to the fore during Canadian Prime Minister Justin Trudeau's visit with President Donald Trump on Monday, when climate change was mentioned in neither the leaders' joint statement nor the joint press conference. Although it is possible that the leaders discussed it behind closed doors, there is so far no indication of this.
With climate change causing escalating damage across the United States, Mexico, and Canada, any backsliding on North American climate commitments would harm not only the global climate system but also the prosperity of the North American people. Extreme weather already causes tens of billions of dollars in damage continentwide each year. Going forward, the effects of climate change will pose increasing risks to much of the continent's infrastructure and economic activity.
North American governments are well-positioned to pursue cooperative efforts to reduce greenhouse gas pollution and build resilience to the effects of climate change. The economies, ecosystems, and populations of the United States, Mexico, and Canada are highly integrated, as are North American energy systems. Electricity trade between the United States and Canada is particularly strong, totaling 77 million megawatt-hours or $2.6 billion in revenue in 2015.
Although isolationism has recently flared in the United States, the nation's well-being cannot be divorced from that of other countries, particularly its neighbors. With this in mind, North American leaders—at the national, state, provincial, and city levels—should carry forward the collaboration to create a low-carbon and climate-resilient continent. In the event of a rollback of U.S. federal commitments, there are a number of reasons why subnational cooperation can and should continue.
The North American Climate, Clean Energy, and Environment Partnership and its benefits
The national governments of the United States and Canada agreed in March 2016 to reduce methane emissions—a greenhouse gas that is many times more potent than carbon dioxide—from the oil and gas sector 40 percent to 45 percent below 2012 levels by 2025. With the formation of the North American Climate, Clean Energy, and Environment Partnership in June 2016, Mexico joined the U.S.-Canada pledge. Achieving this trilateral commitment would have the equivalent climate effect of removing 85 million cars from the road. It would also be low-cost: ICF International found that methane emissions can be reduced 42 percent continentwide using proven technologies at a cost of less than 1 cent per 1,000 cubic feet of produced natural gas. Moreover, the co-benefits of these cuts are substantial, as methane reductions can reduce surface ozone and increase crop yields.
The three nations also agreed to reach 50 percent clean electricity generation across the continent by 2025—a target that builds on the existing trend toward nonpolluting energy. In the United States, for example, economic growth and emissions once went hand in hand but now have separated: From 2000 to 2014, the economy grew 28 percent while greenhouse gas pollution declined 6 percent. Renewable energy costs are falling, and employment in the clean energy sector is flourishing: The U.S. solar industry alone employs approximately 300,000 people, and its workforce has increased 20 percent each year for three consecutive years.
The North American turn toward nonpolluting energy—boosted by trilateral initiatives such as the North American Climate, Clean Energy, and Environment Partnership—will protect communities and ecosystems across the continent from unchecked climate change. It will also help protect the economies of North America: High levels of greenhouse gas pollution are costly because of climate-driven storms, wildfires, extreme heat, sea-level rise, and harms to human health and agriculture. In the United States alone, there were 15 severe weather and climate-related events in 2016 with losses of more than $1 billion.*
Benefits of policy harmonization and electricity integration
Integrating policies across borders can produce both climate and economic benefits. Avoiding a patchwork of policies can minimize transaction costs, for example, for regulated companies that are active across North America. Policy harmonization can also help countries realize gains from efficiency: Canadian hydropower, for instance, can be imported to the United States through cross-border transmission lines, potentially preventing the costs and greenhouse gas pollution associated with building a new power plant. Linked cap-and-trade programs—such as the California and Quebec systems—offer another example of economic gains through increased coordination: Integrated programs can increase price stability and improve cost effectiveness by allowing emissions reductions to occur at the lowest cost.
Canada and the United States already have closely interconnected electricity markets, with several northern states relying on Canadian electricity exports as an important component of their supply. This trading can increase system stability and help grid operators better respond to local disruptions. Additionally, it can benefit consumers, with one study finding that reduced electricity prices from Canadian hydroelectric imports produced $103 million to $471 million in annual benefits for New England alone.
Cross-border transmission infrastructure between the United States and Canada can also support the growing amount of variable wind and solar energy on the grid. It has already made the U.S. grid more flexible and can prevent the curtailment of U.S. renewable generation—a situation in which excess supply or transmission constraints lead to reduced production. Currently, there is limited electricity trade between the United States and Mexico. However, there has been trading between San Diego and renewable energy generators in the Mexican state of Baja California, with the potential for increased coordination in the future.
Advancing the North American climate relationship from the subnational level
States, provinces, and cities have played key roles in reducing greenhouse gas pollution. In recent years, for example, the Conference of New England Governors and Eastern Canadian Premiers pledged to reduce greenhouse gas pollution 35 percent to 45 percent below 1990 levels by 2030. California and Mexico, for their part, signed a memorandum of understanding to collaborate on clean vehicles, air quality, wildfires, and the mitigation of greenhouse gas pollution. California also launched the Under 2 MOU initiative, in which subnational governments agree to reduce emissions 80 percent to 95 percent below 1990 levels by midcentury. The initiative now covers one-third of the global economy and has 167 signatories—23 of which are subnational governments from North America.
Subnational governments—in addition to the national governments of Mexico and Canada—have also played a leadership role on carbon pricing over the past several years. It is possible that a cap-and-trade system that spans California, Quebec, Ontario, and Mexico could emerge in the near term: Ontario is starting a cap-and-trade program that it plans to link with the California-Quebec system, and Mexico has announced a 12-month cap-and-trade pilot program that will evolve into a national system scheduled for 2018. Meanwhile, Washington state legislators proposed a carbon tax that would direct some revenues to clean energy projects, and Canada announced a minimum carbon price to be implemented by 2018. These recent developments build upon an ecosystem of existing carbon pricing instruments in North America—including a carbon tax in British Columbia and a cap-and-trade system in the Northeast and Mid-Atlantic United States—and create momentum toward a continentwide price on carbon pollution.
With the 2016 U.S. presidential election, long-standing U.S. alliances and U.S. participation in multilateral efforts are now in question. Leadership and collaboration at the subnational level are therefore more important than ever. Ultimately, however, cooperation on climate and clean energy—at all levels of government—is essential to move to a low-carbon and climate-resilient continent.
Gwynne Taraska is the Associate Director of Energy Policy at the Center for American Progress. Sam Adams is the Director of the World Resources Institute-United States. Howard Marano is a Research Assistant for the Energy Policy team at the Center for American Progress. Andrew Light is a Distinguished Senior Fellow at the World Resources Institute and a professor at George Mason University.
* Correction, February 21, 2017: This column incorrectly stated the total number of U.S. extreme weather events with losses of more than $1 billion in 2016. The correct number is 15. 
The positions of American Progress, and our policy experts, are independent, and the findings and conclusions presented are those of American Progress alone. A full list of supporters is available here. American Progress would like to acknowledge the many generous supporters who make our work possible.
Authors Gwynne Taraska
Director, International Climate Policy Sam Adams Howard Marano
Research Assistant Andrew Light
Senior Fellow