Keeping Cool in a Hotter United States
Keeping Cool in a Hotter United States
Congress must increase assistance to help low-income households adapt to the hotter weather brought by climate change.
Climate change, once considered an issue for a distant future, has moved firmly into the present … Summers are longer and hotter, and extended periods of unusual heat last longer than any living American has ever experienced.
— National Climate Assessment
The National Climate Assessment concluded that the United States will experience a significant increase in hot summer days due to climate change compared to recent years. Scorching temperatures threaten the most vulnerable members of our communities—young children, the elderly, ill people, and low-income households—with dehydration, heat exhaustion, heat stroke, and even death. We must address the public threat posed by this hotter weather due to climate change.
Fortunately, there is a relatively simple solution to help protect these vulnerable people from the sweatier days and steamier nights linked to climate change. Congress must significantly increase appropriations for two existing programs: the Weatherization Assistance Program, or WAP—which makes low-income households more energy efficient—and the Low Income Home Energy Assistance Program, or LIHEAP—which helps low-income families pay their electricity bills. The Center for American Progress recommends that Congress fund these programs for fiscal year 2015 at the fiscal year 2009 level, which was the highest in the past decade. Restoring funds for these programs would reduce the health and economic threats to low-income families that are posed by heat waves and other effects of climate change.
Global temperatures have increased over recent decades. Based on a review of National Oceanic and Atmospheric Administration, or NOAA, data, the National Climate Assessment concluded, "The last five decades have seen a progressive rise in the Earth's average surface temperature." According to the report, the 1980s was the "warmest decade on record at the time," but each subsequent decade has been even hotter. Each year in the 1990s was "warmer than the 1980's average [temperature]," and each year from 2002 to 2012 was "warmer than the 1990's average."
And this is only the beginning. The National Climate Assessment predicts that most interior regions in the United States will become even hotter in the years to come. It warned:
Evidence indicates that the human influence on climate has already roughly doubled the probability of extreme heat events such as the record-breaking summer experienced in 2011 in Texas and Oklahoma. The incidence of record breaking high temperatures is projected to rise.
For instance, in the Southeastern United States the assessment noted that "major consequences of warming include significant increases in the number of hot days (95°F or above)." The number of days hotter than 95 degrees in the Southeast will rise from a range of 10 days to 20 days annually to 30 days to 50 days in most parts of the region. Most other areas of the country will also experience a measurable increase in hot days.
This heat increase has grave health implications. The American Red Cross reports, "In recent years, excessive heat has caused more deaths than all other weather events, including floods." In a 2013 study, the Centers for Disease Control and Prevention found that "7,233 heat-related deaths occurred [from 1999 to 2009], an average of 658 per year" from 1999 to 2009. This annual average is nearly 25 percent higher than the heat-related mortality that occurred from 1979 to 2003.
As temperatures rise, Americans use more air conditioning to keep cool and reduce the threat of heat-related ailments. The Energy Information Administration, for example, reported:
Since 1993, electricity consumed for air conditioning in the South has increased 43% and now accounts for 21% of all electricity consumption in the region. Nationally, electricity consumed for air conditioning has increased 39% since 1993.
This increase in the use of air conditioning follows the Centers for Disease Control's guidance for coping with hot weather, which states, "Air-conditioning is the number one protective factor against heat-related illness and death." In fact, researchers found that "having a working air-conditioner reduces the risk of death [from extreme heat] by 80 percent." But the need for more air conditioning will, in turn, increase electricity bills.
This increased need for air conditioning can be a problem for low-income households. For instance, the Energy Information Administration determined that, "Overall, 18 percent of households below the poverty line do not have any air conditioning equipment at all." An increase in days with temperatures that are 95 degrees or higher will increase the health threat to people living in low-income households while driving up their electric bills.
A Center for American Progress report identified that low-income families are often more vulnerable to heat waves and extreme weather due to substandard housing and economic insecurity. Another Center for American Progress analysis found that low-income families are at a greater risk of heatstroke than the general population. Those living in densely built cities are especially at risk because these locations are frequently hotter due to urban heat islands, where streets and buildings have replaced vegetation and trees that cool the air by releasing water vapor.
Importantly, the National Climate Assessment predicts that the increase in hotter days will not be offset by an equivalent decrease in colder days. The report states, "While deaths and injuries related to extreme cold events are projected to decline due to climate change, these reductions are not expected to compensate for the increase in heat-related deaths." In other words, families will spend more to cool their homes but will not save an equivalent amount of money from lower winter heating costs.
WAP and LIHEAP are the two federal programs designed to help low-income households cope with their electricity and heating bills, but both have suffered from decreases in federal funding.
The WAP increases the energy efficiency of low-income homes via deployment of more efficient windows, insulation, and other simple, inexpensive technologies. The average home saves $250 to $480 per year from lower energy use after WAP contractors install these technologies. More than 1 million homes were weatherized under a $5 billion investment in weatherization under the American Recovery and Reinvestment Act, or ARRA, which "supported … an average of more than 12,000 direct jobs per quarter from 2009 to 2012 alone," according to the U.S. Department of Energy. Since the ARRA stimulus ended, however, funding for WAP dropped to its lowest level since 2007.
The LIHEAP program helps low-income households pay their energy bills for both heating and cooling. The LIHEAP program aided 6.9 million households with an average grant of $406 in FY 2014, values that are 15 percent and 22 percent lower, respectively, compared to FY 2010. (see LIHEAP allocations for individual states over time here) Both WAP and LIHEAP provide crucial supports for low-income families that are trying to cope with the effects of climate change.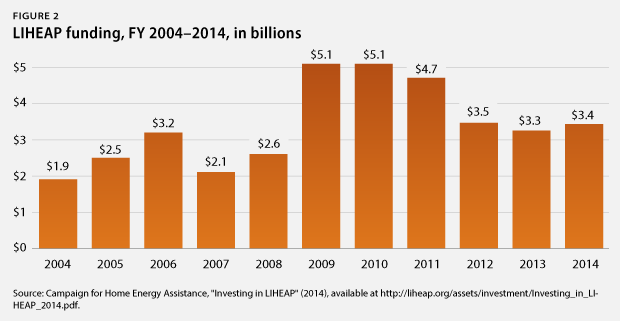 Sen. Roy Blunt (R-MO) and 21 other senators wrote to President Barack Obama, saying that "we … should not burden ratepayers and consumers, especially middle and low-income families, with new costs." To achieve this goal, these legislators should support the Environmental Protection Agency's forthcoming proposal that would finally reduce the carbon pollution from existing coal-fired power plants—the largest domestic source of climate pollution. This major step, along with other pollution reductions, should slow the onset of climate-change-related, destructive, costly extreme weather that harms low-income families.
Sen. Blunt and his 21 colleagues can also help these low-income households adapt to climate change. Sen. Blunt should use his seat on the Senate Appropriations Committee to significantly boost the FY 2015 funds for WAP to at least $400 million—the FY 2009 level—and the highest level in the past decade. This would make additional homes more energy efficient and reduce families' spending on utility bills. Likewise, Sen. Blunt and his 21 colleagues can work to considerably increase FY 2015 funds for LIHEAP to $5.1 billion—also equivalent to the FY 2009 funding and the highest level in the past decade. This would help more low-income households pay for the higher electricity bills caused by hotter weather.
By supporting these actions, the aforementioned legislators can address their concern about the impact of utility prices on low-income families while partially shielding the same families from the impact of hotter temperatures caused by climate change.
Daniel J. Weiss is a Senior Fellow and Director of Climate Strategy at the Center for American Progress.
The author would like to thank Cathleen Kelly, Senior Fellow on the Energy Opportunity team at the Center for American Progress; Tracey Ross, Senior Policy Analyst with the Poverty and Prosperity Program at the Center; and Miranda Peterson Special Assistant for the Energy Opportunity team at the Center.
The positions of American Progress, and our policy experts, are independent, and the findings and conclusions presented are those of American Progress alone. A full list of supporters is available here. American Progress would like to acknowledge the many generous supporters who make our work possible.
Authors Daniel J. Weiss
Senior Fellow