Jumping Beyond the Broom
Why Black Gay and Transgender Americans Need More Than Marriage Equality
Aisha C. Moodie-Mills looks at issues facing black gay and transgender Americans, and makes recommendations on how to improve the lives of those in this community.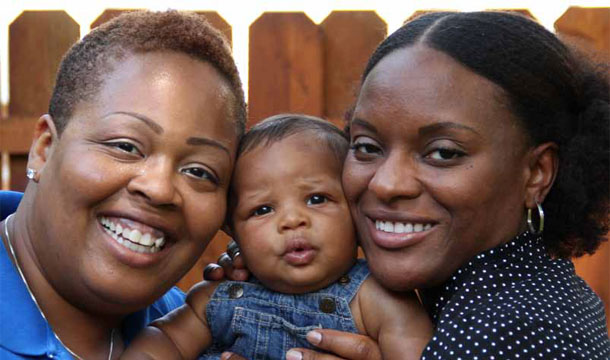 Download this report (pdf)
Download the introduction and summary (pdf)
Read the full report in your web browser (Scribd)
Liberty and justice for all is not yet a reality in America. Despite the election of our nation's first African American president, black Americans continue to trail behind their white counterparts in education, employment, and overall health and wellbeing. And while some states and the federal government continue to expand protections for lesbian, gay, bisexual, and transgender people, more than half of all states still deny them basic civil rights. Such systemic inequities render people of color who are also gay and transgender among the most vulnerable in our society.
Black gay and transgender Americans in particular experience stark social, economic, and health disparities compared to the general population and their straight black and white gay counterparts. According to the data we currently have, families headed by black same-sex couples are more likely to raise their children in poverty, black lesbians are more likely to suffer from chronic diseases, and black gay and transgender youth are more likely to end up homeless and living on the streets.
These issues, along with the others laid out in this report, can and should be addressed through a policy agenda that seeks to understand and tackle the structural barriers—discriminatory systems, conditions, and institutions around socioeconomic status, race, sex, sexual orientation, and gender identity—that perpetuate negative economic, health, and other life outcomes among this population. The strength of our society depends on the resilience, health, and wellbeing of all Americans, especially marginalized groups such as black gay and transgender people. They too deserve to be counted and to have their needs met, so we must work to bridge these gaps.
Doing so will require fresh thinking about the root causes of these problems as well as the political will needed to employ new strategies to address them. As this report highlights, the quality of life of many black gay and transgender people remained relatively unchanged over the last decade despite the significant gains the gay and transgender movement achieved. This suggests that some of the gay headline policy priorities that garnered the most research, analysis, and advocacy—such as marriage equality—underserve this population when taken alone even though they are important for overall progress. This also applies to broad racial justice priorities that overlook gay and transgender people within their constituencies.
In short, black gay and transgender people fall through the cracks when lumped under either a gay or black umbrella. Such categorical thinking ignores the fact that black gay and transgender people are at once both gay and transgender and black. As a result they experience complex vulnerabilities that stem from the combination of racial bias and discrimination due to their sexual orientation and/ or gender identity. So advocacy agendas that prioritize the eradication of one bias over the other do not fully respond to the needs of the population—nor will they eliminate the inequities discussed in this report.
Going forward, it is necessary to find policy solutions that will empower black gay and transgender people rather than fragment them. And we need to move beyond the dichotomy of race versus sexual orientation or race versus gender identity to do so. Scholars such as Kimberle Crenshaw, Cathy J. Cohen, and C. Nicole Mason offer frameworks for applying this intersectional lens to policy analysis and advocacy in order to understand how race, class, gender, sexual orientation, and gender identity influence public policy choices at the national, state, and local levels, as well as individual outcomes. Our analysis is drawn in part from their theories.
At the most basic level, we believe that this fine-tuned approach will best capture how public policy shapes the day-to-day experiences of the black gay and transgender population. We also believe it will encourage both gay and transgender and racial justice advocates and policymakers to understand how their approaches engage constituents who are members of other groups as well. By doing so, we can highlight new opportunities to address their needs.
This report by the Fighting Injustice to Reach Equality, or FIRE, initiative at the Center for American Progress offers the foundation on which to build this approach. We aim to establish a common understanding and knowledge bank of the data and policy research on black gay and transgender people since no consolidated inventory of literature or data on the population's issues currently exists. Through our review, we developed a high-level summary of what we know about the black gay and transgender population in terms of economic security, educational attainment, and health and wellness.
We define these issues and frame policy measures that will enhance quality of life for black gay and transgender people. Our recommendations for dealing with the issues include policies that can be enacted by Congress, as well as changes to administration policy. These include gay and transgender specific measures along with others with a broader focus that would best tackle the issues we've identified.
Recommendations for addressing economic insecurity
Adopt inclusive family policies and safety net programs.
Pass housing antidiscrimination laws.
Take a comprehensive federal approach to gay and transgender youth homelessness.
Make consumer financial protection a priority.
Pass employee nondiscrimination laws.
Support gay and transgender entrepreneurs.
Legally recognize same-sex relationships.
Recommendations for addressing low educational attainment
Adopt school safety policies.
Enforce existing federal civil rights laws.
Review school discipline policies.
Recommendations for addressing health and wellness disparities
Implement the Affordable Care Act.
Work toward health equity.
Examine domestic violence among same-sex couples.
Our key finding, though, is that there is a dearth of data available to fully understand the disparities faced by this population. This limits our ability to develop a credible, data-driven agenda that will help policymakers, advocates, and researchers craft effective solutions for eliminating them.
The need for high-quality data to inform policy decisions and help design effective programs that will address the needs of black gay and transgender people cannot be underscored enough. High-quality data is an indispensable part of any policy or advocacy work because it allows us to paint a more precise picture of society as a whole and focus on hard-to-reach populations—such as black gay and transgender people—who are most at risk of slipping through the cracks.
Unfortunately, few federal and state surveys ask respondents their sexual orientation and gender identity, which severely limits our ability to analyze and understand the needs of gay and transgender Americans regardless of their race or ethnicity. In order to fully understand and be responsive to the needs of this population, every opportunity to expand data collection at all levels of government should be pursued.
Nonetheless, existing research and literature reveal that exposure to antigay and/ or antitransgender policies and institutionalized racial discrimination derails black gay and transgender Americans' financial stability, creates barriers to accessing quality health care, and erodes safeguards for black gay and transgender families. We teased out areas that we found or hypothesized to disproportionately affect the black gay and transgender population and each of these warrants additional research, analysis, and/or advocacy to begin to address these issues.
The research and advocacy roadmap outlined below presents an opportunity to insert black gay and transgender perspectives into the policy dialogue, and inform the policy and regulatory work currently underway in these areas. These are components for a long-term approach to tackling disparities among this population.
Data collection advocacy
Collect comprehensive data on gay and transgender populations across all federal agencies and health measures.
Areas for additional research
Ensuring inclusive family policies and safety net programs
Addressing unfair punishment of black gay and transgender youth in schools
Reducing barriers to quality health care for black lesbians
Protecting black lesbian and bisexual women from violence
Protecting gay and transgender prisoners of color
Identifying structural barriers that perpetuate high rates of HIV/AIDS in the black community
Instituting antibullying policies and safe spaces in schools serving predominantly black populations
Analyzing the impact of conservative political and cultural climates on black gay families in the South
Supporting black transgender and gender nonconforming populations
Reducing housing discrimination and homelessness among black gay and transgender populations
This report is just a starting point in identifying policy areas beyond the gay and transgender headline issues that would go a long way toward addressing the disparities black gay and transgender populations face. In the meantime it is important that the issues discussed in this report be actively inserted into mainstream conversations and policy debates on both gay and transgender equality and racial justice.
Aisha C. Moodie-Mills is the Advisor for LGBT Policy and Racial Justice at the Center for American Progress. Her work with the Fighting Injustice to Reach Equality, or FIRE, initiative explores the intersections of race, economics, sexual orientation, and gender identity.
Download this report (pdf)
Download the introduction and summary (pdf)
The positions of American Progress, and our policy experts, are independent, and the findings and conclusions presented are those of American Progress alone. A full list of supporters is available here. American Progress would like to acknowledge the many generous supporters who make our work possible.
Authors Aisha C. Moodie-Mills
Senior Fellow and Director, FIRE Initiative