It's Easy Being Green: How Green Is Your New iPad?
It's Easy Being Green: How Green Is Your New iPad?
The iPad 2's eco-credentials are decidedly mixed.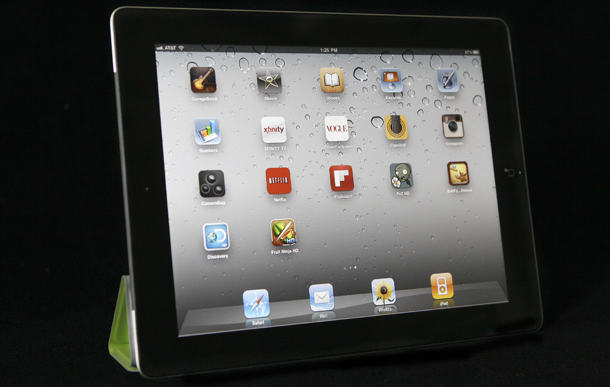 Read more articles from the "It's Easy Being Green" series
There's no denying the iPad is a hot item. Apple's tablet computer, which is primarily used for audio-visual media such as e-books, movies, games, music, the web, and talking live, got an upgrade in March. If it sells like the first iPad, you can expect the figures to reach the tens of millions. But is it an eco-conscious product?
Apple sure thinks so. They put out an environmental profile of the iPad that cites several features designed to reduce its impact on the planet, including:
Mercury-free LED-backlit display
Arsenic-free display glass
Brominated flame retardant free
PVC free (polyvinyl chloride is a common plastic that's raised health concerns)
Recyclable aluminum and glass enclosure
Power adapter that outperforms the strictest global energy-efficiency standards
You can at least say the company has made a clear effort to mass produce a high-quality product with attention to the environment and human health. Whether the e-reader function of the iPad makes it even greener is very debatable. (In the end, the greenest option is probably walking to your local library.)
The manufacturing emissions are where things get tricky. As Ken Silverstein points out in Harper's, the iPad is made in China. Under a federal emissions program—which Apple has lobbied for and Congress has failed to pass—the company would pay for the 400,000 tons of carbon dioxide it emits every year in its U.S. buildings and domestic operations as well as the 500,000 tons emitted shipping its products. But this pales in comparison to the 3.8 million tons of CO2 emitted from its manufacturing—that's 81 percent of the company's total—that would be exempt from the program because they're belched in China.
The fact that the iPad 2 is being released just a year after the first one also brings up the issue of how fast consumer electronics become obsolete. This should be an environmental concern. Sure, users will recycle their old iPads or maybe resell them when they buy the new one. But not all e-cycling is done legally. And e-waste is still a huge problem worldwide.
Plus, as we've pointed out in this space before, the constant drive to update new products leads to more consumption of raw materials and more emissions from extracting the materials, manufacturing, and transporting the finished products.
The manufacturers of consumer electronics such as the iPad have little to no incentive to take on the extra effort to make their products usable over the long term. Keeping profits up means they need to keep the consumer buying the latest and greatest products. And to be fair, it's difficult to design a product with all the features consumers want on the first time out.
These problems will likely not be resolved anytime soon. Consumers should keep up the pressure on companies such as Apple to green their entire supply chain—foreign and domestic—and ask themselves if they really need that extra gadget, and if so, whether they can wait a few months until it's available on eBay.
The positions of American Progress, and our policy experts, are independent, and the findings and conclusions presented are those of American Progress alone. A full list of supporters is available here. American Progress would like to acknowledge the many generous supporters who make our work possible.