Inside the Financial Holdings of Billionaire Betsy DeVos
Inside the Financial Holdings of Billionaire Betsy DeVos
Americans should take a closer look at the investments held by the secretary of education nominee and the troubling picture they paint.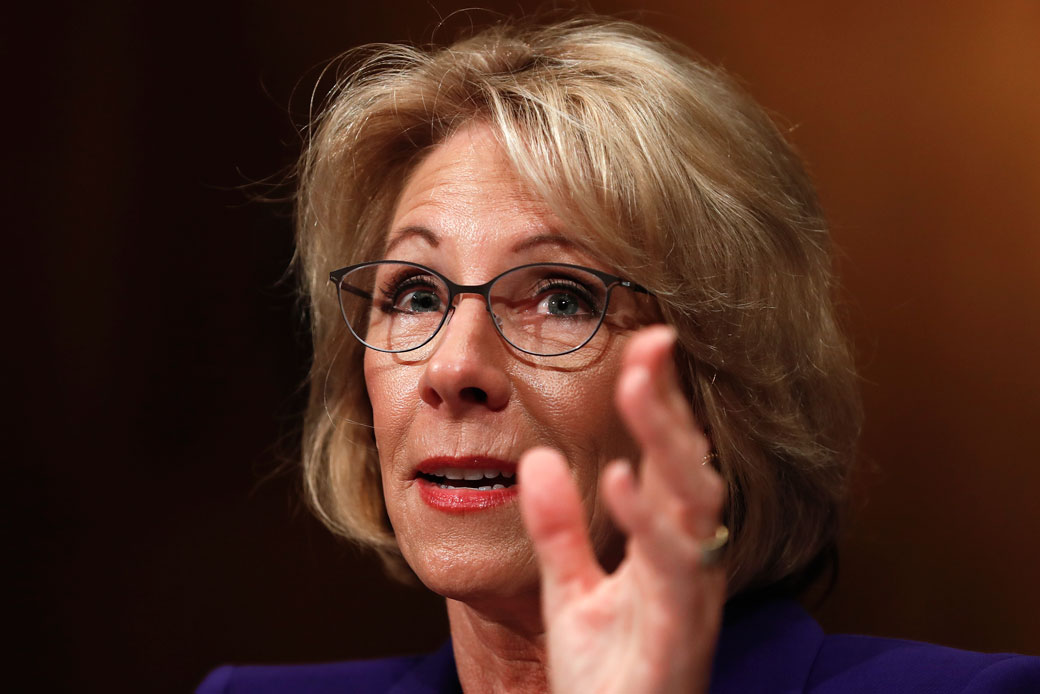 On Friday, January 20, 2017, the U.S. Office of Government Ethics, or OGE, released the paperwork and pledge for President Donald Trump's secretary of education nominee Betsy DeVos. The 108-page document is rife with private equity and hedge fund investments that are opaque to the public.
Overall, DeVos' paperwork showcases an extensive web of investments, several of which raise eyebrows. She has investments in companies that hound students to pay their federal loan debts, as well as in psychiatric hospitals under federal investigation for Medicare fraud. She also has more than $1 million in an undisclosed venture related to education. And although her filings do not show any direct ownership stake in a private for-profit college, she has chosen to put some of her money into firms that are invested in that industry.
Unfortunately, senators could not ask DeVos any questions about what is in the OGE paperwork during her confirmation hearing last week. In an unprecedented move that applied to no other Trump nominee, DeVos' hearing went forward before the paperwork was finished. Since members of the U.S. Senate Committee on Health, Education, Labor, and Pensions, or HELP, never had a chance to ask about it, here is what you need to know from the ethics paperwork.
DeVos profited from student loan misery
Before Devos' confirmation hearing, The Washington Post reported suspicions that she had a financial stake in a company that, until recently, held a lucrative contract from the U.S. Department of Education to pursue the loans of defaulted student borrowers. Page 70 of the ethics paperwork confirmed that suspicion as fact. Located within a fund labeled "MCF CLO IV, LLC" is an investment in Performant Recovery Inc., which previously operated as Diversified Collection Services Inc. According to a Department of Education spreadsheet for the end of the 2016 federal fiscal year, Performant had more than $458 million in federal student loans in collections. It is not currently receiving any new loans because it lost out on a new contract last year—a decision it is currently challenging.
DeVos has a connection to a major for-profit college
Pages 15 and 45 of the ethics paperwork list investments in Avery Point VII CLO. While the full investments of that fund are not clear, it does show up as a key investment in an amended loan agreement with Laureate Education—a private for-profit college operator. Laureate is also the company for which former president Bill Clinton served as an honorary chancellor. Laureate, which has a substantial international presence, also owns Walden University—the largest recipient of federal graduate student loans. Laureate is expected to produce an initial public offering soon, which could mean substantial windfalls for the company. Notably, the ethics agreement that DeVos signed in relation to her nomination does not require her to divest her holdings in Avery Point VII.
DeVos has investments at firms that also own for-profit colleges
Beyond the Laureate loan agreement, the documents do not show other investments in private for-profit colleges. She has however, chosen to place some of her wealth in organizations that own or owned for-profit colleges. The amount of her investments in those organizations range in size.
It is unfortunate that the Senate HELP Committee did not have an opportunity to explore these arrangements in greater detail because while DeVos may not have a direct financial stake in for-profit colleges, her relationships with the firms nonetheless do present the possibility that those investors could have her ear when issues in this sector arise.
Consider, for example, the firm Snow Phipps. Page 32 of DeVos' paperwork shows that she has more than $1 million invested in the second round of funding raised by the private equity firm that closed in 2011. Snow Phipps was part of the group that took Laureate Education private in 2007 and is poised to realize substantial gains once the company goes public again. If an issue arises between Laureate and the Department of Education before Snow Phipps sells off its stake, is there a risk that someone DeVos worked with on her investment may contact her about Laureate? Senators at the very least should have had the chance to ask.
The inability to explore financial connections matters in particular because of the two most significant executive actions involving for-profit colleges carried out by the Obama administration: the gainful employment rule and the termination of one of the agencies that approves colleges to receive federal financial aid. The gainful employment rule is a regulation designed to protect graduates from career training programs that load them up with debt above their ability to pay. DeVos pointedly refused to endorse that rule during her hearing. The college approval issue involves the Accrediting Council for Independent Colleges and Schools, or ACICS. This is a private agency that previously could review and approve colleges so they could receive federal financial aid. The Department of Education terminated ACICS' ability to grant access to federal financial aid after finding that it was incapable of properly overseeing college quality. ACICS is suing the department to have that decision overturned.
DeVos has money in Apollo Investment Corp., which currently has investments in Delta Educational Systems Inc., a company that operates several dozen private for-profit college campuses. According to a spreadsheet of the first official gainful employment results from the Office of Federal Student Aid, Delta has 40 programs at risk of losing access to federal financial aid under the gainful employment regulation. Moreover, Delta also has accreditation through ACICS. DeVos' investment in Apollo is also noteworthy because it is a subsidiary of Apollo Global Management, the company expected to purchase the University of Phoenix in the next few weeks.
Similarly, DeVos does not appear to have any direct ties to foreign for-profit colleges, but she does have money invested with firms that do. The education secretary nominee has investments with Cuyahoga Capital Partners. According to pages 56 and 66 of the ethics paperwork, this company has investments in HarbourVest Partners. That company in turn has interests in New Zealand's largest private education provider. Meanwhile, a fund listed on page 9 of the ethics paperwork as Pangaea One Parallel Fund (B) is owned by Cartesian Capital Group, which also invests in Grupo Ser, a Brazilian private for-profit college.
DeVos dismissed early childhood education but profits from it
During her hearing, DeVos would not answer a question from Sen. Bernie Sanders (I-VT) about the need for universal early childhood education, only responding that she supports families having "opportunities." What she failed to mention is that widespread affordable pre-K would cut into her own investments. According to the OGE paperwork, DeVos has holdings in KinderCare Learning Centers—a massive national chain of private for-profit day care facilities. It is unclear how much KinderCare costs because it does not publicly disclose its prices.
The $1 million-or-more mysterious education holding
One of the strangest DeVos investments is in a fund called Albert Co-Investment Holdings LP. Unlike other funds with a description in the paperwork endnotes, it is labeled only as "education." DeVos has between $1 million and $5 million invested in it. It is concerning that there is not more information in the document about the purpose of such a significant investment.
DeVos sold her SoFi investment in early January
DeVos received attention before her hearing for having an investment in SoFi, a company that refinances federal student loans into private student loans. The OGE form shows that DeVos just recently liquidated her stake in the firm that had invested in SoFi, RPM Ventures, in January 2017.
DeVos has several additional education holdings
The ethics paperwork also shows that DeVos has holdings at a variety of smaller businesses related to education. These include:
Questionable health care investments
Education is not the only area in which DeVos' financial choices raise questions about where she chooses to place her wealth. Her paperwork also includes details on a number of investments in health care companies that have faced legal problems. The most prominent of these is Theranos, a blood-testing company that allegedly lied about its capabilities. The company has since closed all of its labs but has promised to defend itself against lawsuits.
Most troubling is her stake in Universal Health Services, or UHS, which she owns through an LLC known as Lake Shore Asset Management. UHS is a nationwide chain of psychiatric hospitals. In December 2016, Buzzfeed published a yearlong investigation into the company, documenting a litany of disturbing allegations. For instance, Buzzfeed noted that the company receives one-third of its revenue from Medicare or Medicaid and is under federal investigation for alleged Medicare fraud. UHS has allegedly institutionalized people who did not need assistance in order to receive insurance payments, fill beds, and cut staffing costs without regard to the effects on patient safety. The company has denied all allegations and has not admitted to any wrongdoing.
The UHS investment is concerning because it is not the first time that DeVos has invested in health care companies that allegedly failed to serve their patients well. In 2000, the RDV Corporation, the family business from which DeVos is stepping down but not removing her financial interests, lent $200 million to and acquired a substantial—and possibly even controlling—share of Alterra Healthcare Corp., a chain of assisted living facilities. A 2007 investigation by the Philadelphia Inquirer found that from 1999 until its 2003 bankruptcy, Alterra had paid more than $15.9 million in wrongful death or injury settlements. This included allegations such as failing to look after a resident with dementia who climbed out a window and was struck by traffic in February 2003; a resident who froze to death in 2002 after wandering out of a facility; and a World War II veteran who was stomped to death in September 2000. In none of the settlements did Alterra admit to any wrongdoing.
Opacity rules the day
The DeVos investments include substantial holdings in private equity companies and hedge funds. These firms do little to no public reporting, especially about individual funds. This makes it impossible for the public to discern what is actually in these funds beyond the minimal details provided by OGE paperwork. And it gets more complicated. Many of these funds also have holdings in other funds, creating financial trails several layers deep that are exceedingly difficult to unpack. Without more information and significantly more time, DeVos' investments—and therefore her judgment—cannot be adequately assessed and evaluated.
What can be ascertained is that Betsy DeVos has complicated finances across the U.S. and global economies. She also has no compunction about investing in debt collectors, troubled medical providers, and other companies that fail to do well by their customers. It is a shame that the Senate committee tasked with overseeing her nomination never got a fair chance to ask about these investments. For the sake of transparency and to ease the concerns of millions of Americans, committee members should be given more time to seek further clarification.
Ben Miller is the Senior Director for Postsecondary Education at the Center for American Progress. Laura Jimenez is the Director of Standards and Accountability at the Center.
The positions of American Progress, and our policy experts, are independent, and the findings and conclusions presented are those of American Progress alone. A full list of supporters is available here. American Progress would like to acknowledge the many generous supporters who make our work possible.
Authors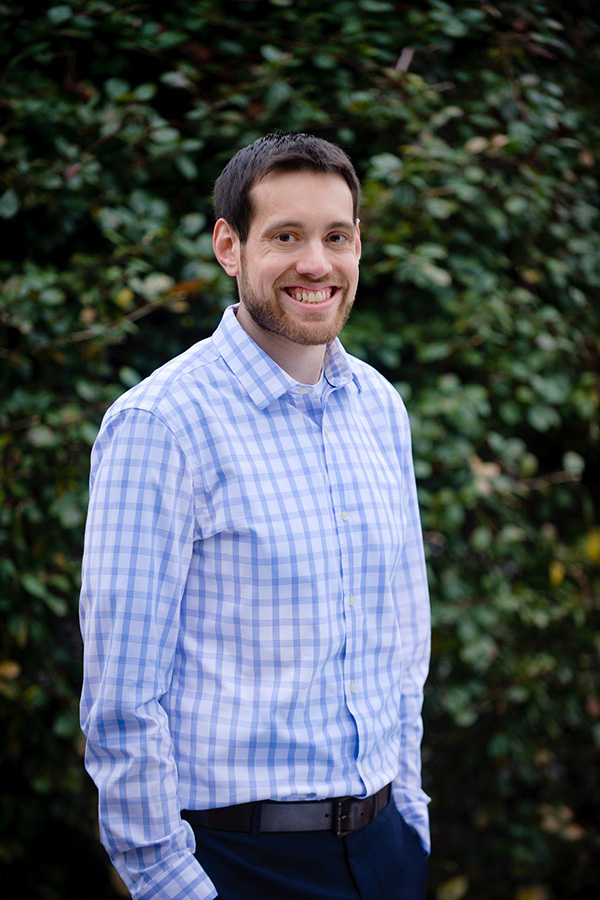 Ben Miller
Vice President, Postsecondary Education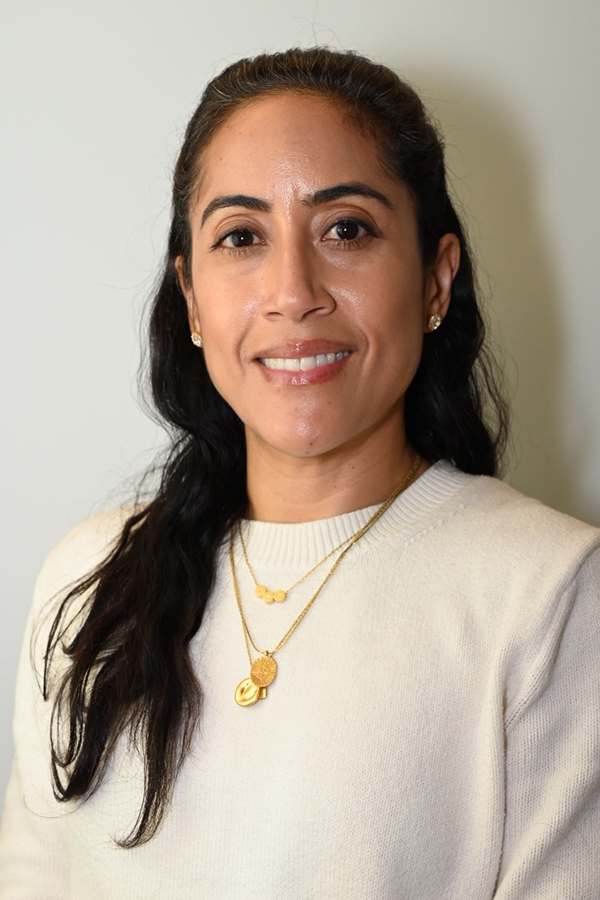 Laura Jimenez
Former Director, Standards and Accountability